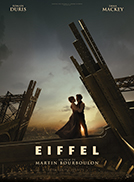 Original title:
Eiffel
Director:
Martin Bourboulon
Release:
Cinema
Running time:
109 minutes
Release date:
03 june 2022
Rating:
Having just finished his collaboration on the Statue of Liberty, celebrated engineer Gustave Eiffel is on top of the world. Now, the French government is pressuring him to design something spectacular for the 1889 Paris World Fair, but Eiffel simply wants to design the subway. Suddenly, everything changes when Eiffel crosses paths with a mysterious woman from his past. Their long lost, forbidden passion inspires him to change the Paris skyline forever. You will never look at the Eiffel Tower the same way again!
Mulder's Review
"Eiffel tells a great romantic love story against the background of the construction of the Eiffel Tower. We reworked the original script with Caroline Bongrand and Thomas Bidegain, before Tatiana de Rosnay - who brought the idea of the construction of the story in flashbacks - and Natalie Carter intervened later. "Martin Bourboulon
The cinema likes to take a step back from time to time in order to transcribe reality, but rarely does this process lead to a truly ambitious result that holds our attention. Eiffel shows once again with brilliance the strength of French cinema when it gives itself the means and especially brings to a film a resplendent and almost perfect framework. Far from wanting to tell us about the life of a gifted visionary who changed our society forever, the film Eiffel prefers to draw a line under the difficult moments, notably the Panama scandal that almost sent Gustave Eiffel to prison and brought him into disrepute in the eyes of the public. Eiffel tells us in a way that is a little far from reality how the Eiffel Tower was built, but above all it tells a story of love between two people of two different classes who will meet again after a long and difficult separation.
From the first images of the film, Eiffel holds us in suspense and is as much an academic film carried by a solid interpretation with a very neat photography but also benefiting from a music sticking to the action creating a real immersion. The strength of Caroline Bongrand's excellent screenplay is to put in parallel historical elements while developing a very romantic setting in which Gustave Eiffel (Romain Duris) will find the beautiful Adrienne Bourgès (Emma MacKey discovered in the Netflix series Sex Education is perfect). By developing these two axes and by telling us an important part of Gustave Eiffel's past, the film really pays homage to him and shows that this engineer from the Ecole Centrale de Paris has always been totally committed to his ambitious and varied projects. It would be easy to draw a parallel between James Cameron's Titanic and this film in which elements of reality are juxtaposed with real success on fictional elements making this film both universal and unforgettable.
Eiffel tells us how one of the most visited historical monuments in Europe was built with no less than 300 million visitors, making it one of the most visited tourist sites in France after Disneyland Paris, the Louvre Museum and the Versailles Estate. This 324 meter high iron tower required a lot of work and no less than two years to be ready for the Universal Exhibition of Paris in 1889. A true global phenomenon, this monument has appeared in several films including Superman 2 (1980) and A View to a Kill (1985) and more recently Tomorrowland (2015). The influence of American cinema is clearly visible in the direction of Martin Bourboulon. We think in particular of directors like Damien Chazelle, P.T Anderson for the great care given to the characters and to make them go through difficult moments of life that will only make them grow.
After two comedies Mom or Dad 1&2 (2015, 2016) nothing seemed to destine the director to change genre and approach the adventure film. However, the result shows that he not only masters his film but also knew perfectly surround himself and the main duo Romain Duris and Emma Mackey works wonderfully. While Romain Duris continues to show that he excels in all genres, he gives his character a special aura that we can only go in the direction of his character ready to fight until the end so that his creation The Eiffel Tower is completed including paying double his employees to motivate them and avoid strikes and union demands. In the same way, Emma Mackey brings to the film all her fragility and gives off a real emotion that is palpable on the screen.
As in many American films, the importance of the main roles is here the source of the success of this film of great spectacle which will please a very large panel of spectators. In this way, Eiffel is one of the must-see films of this summer and easily competes with the flood of American blockbusters that we will soon be able to discover in theaters. We are now impatiently waiting for Martin Bourboulon's two new films dedicated to the Three Musketeers, hoping to find the same epic breath of fresh air as in the film Eiffel.
Eiffel
Directed by Martin Bourboulon
Produced by Vanessa Van Zuylen
Written by Caroline Bongrand
Starring Romain Duris, Emma Mackey, Pierre Deladonchamps, Andranic Manet, Armande Boulanger, Alexandre Steiger, Julien Sarazin, Philippe Herisson, Jeremy Lopez, Damien Zanoly, Clémence Boué, Frédéric Merlo, Michèle Clément, Josselin Baillarguet
Music by Nicolas Godin
Cinematography : Matias Boucard
Edited by Virginie Bruant
Production companies : VVZ Production, Pathé, M6, Constantin Film Produktion GmbH
Distributed by Pathe (France)
Release date : October 13, 2021 (France)
Running time : 119 minutes
Seen on June 17, 2021 at Gaumont Disney Village, Room 3 place B19
Mulder's Mark:
Marianne Velma's Review
Not enough ambition in French cinema? Martin Bourboulon's feature film only takes a few minutes to prove the contrary. This historical reconstruction of late 19th century Paris impresses. Its lightly ambered photography and its candlelight ambiences. Its wisps of smoke. Its sumptuous and precisely fitted period costumes. The picture deprives us of neither charm nor height. An entire foot of the famous tower was built for the needs of the shoot. From up there, the spectacle appears even more grandiose.
Eiffel does not lack resources. Contrary to its main character who will have to go into debt to give Paris its future emblem. The latter is about to take its place under the gray Parisian sky, the fight looks epic. Especially since the scenario also promises us a beautiful love story, supposedly secret, between Gustave and a certain Adrienne. A woman who would have inspired the idea and the shape of the metal construction.
If the image appears attractive on paper, once transposed to the screen, the magic does not work. However, the chemistry between Romain Duris and Emma Mackey is palpable. The two actors give themselves body and soul in this game of love and offer us some feverish sequences. So much so that these scenes totally overshadow the context of the construction of the tower. Instead of skillfully weaving sentimental and historical issues, the film offers us a romantic and tragic ballad, forgetting to give Gustave an extra creative soul. One had to be much more than a languid lover to build such an edifice, right?
This plot, imagined by Caroline Bongrand in the late 90s (whose many adventures are recounted in the book Eiffel et moi), was probably not fully expressed. For all that, Eiffel has the slightly old-fashioned grace of those historical frescoes of the past. It transports us to a place halfway between reality and fiction. It is up to the viewer to sort out the real from the fake or to let himself be carried away.
Eiffel
Directed by Martin Bourboulon
Produced by Vanessa Van Zuylen
Written by Caroline Bongrand
Starring Romain Duris, Emma Mackey, Pierre Deladonchamps, Andranic Manet, Armande Boulanger, Alexandre Steiger, Julien Sarazin, Philippe Herisson, Jeremy Lopez, Damien Zanoly, Clémence Boué, Frédéric Merlo, Michèle Clément, Josselin Baillarguet
Music by Nicolas Godin
Cinematography : Matias Boucard
Edited by Virginie Bruant
Production companies : VVZ Production, Pathé, M6, Constantin Film Produktion GmbH
Distributed by Pathe (France)
Release date : August 25, 2021 (France)
Running time : 119 minutes
Seen on September 9, 2021 at the Jérôme Seydoux Pathé Foundation
Marianne Velma's Mark: