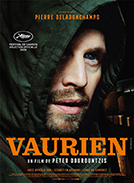 Running time:
96 minutes
Director:
Peter Dourountzis
Release:
Cinema
Release date:
09 june 2021
Rating:
Djé arrives in Paris without a penny, with only his charm as a weapon. He seizes every opportunitý to work, love, sleep. And to kill.
Mulder's Review
After several short films, the director and screenwriter Peter Dourountzis saw his first feature film in the official selection Cannes 2020 and also selected in the programming of the crime film festival Reims polar. We discover a young adult Djé (Pierre Deladonchamps) who arrives in town without a penny, with only his charm and bad manners as weapons. His way of life makes him seize every opportunity that is offered to him to work, love, sleep and also turn into a real killer when things go wrong for him. Dje seems to want to live his life according to his own codes, whether it is by disturbing a young woman on a train, another on the platform of a station in Paris or other people around him.
While the script could have explained to us how Dje has become a real rascal who seems to know no limits to his will to enjoy life at all costs, whether by stealing, by working when a short mission is offered to him but also to find a woman who corresponds to his expectation as here May Ophelie Bau, a young woman with a very full character that he meets in a bar The director Peter Dourountzis takes a step back from his character and thus directs his film towards social drama and especially by drawing a portrait of a character that we can not fully understand the real reasons for his behavior. Despite his soft and quiet appearance, Dje is not really what he seems.
By adapting his short film Errance (2014) to the cinema, the director not only changes the actor to play the main role but also manages to give a real meaning to his film by setting the scene in our current time and constantly playing on the unspoken. One suspects that not all of Dje's actions are shown on screen in order to create a disturbing climate and make this character a true monster born in our current society capable of pouring out all his violence when he is forced to survive and find money. The director and his cinematographer Jean-Marc Fabre take particular care of the film's image and paint a portrait of Paris that is just as disturbing as the main character.
Vaurien by its short duration is watched with interest as the perfectly mastered scenario knows how to perfectly capture our reality and give life to its characters. Far from a commercial French cinema too often mechanical, Vaurien brings enough originality to have retained our interest and the presence of the young actress Ophélie Bau adds as much a touch of sensuality as of fragility to a film which amply deserves to be discovered.
Rascal
A film written and directed by Peter Dourountzis
Produced by Guillaume Dreyfus & Sébastien Haguenauer
With Pierre Deladonchamps, Ophélie Bau, Sébastien Houbani, Candide Sanchez
Music by Constantin Douroutzis
Director of photography : Jean-Marc Fabre
Editing : Valentin Durning
Production : 10 :15 productions
Distribution : Rezo Films (France)
Release date : June 9, 2021 (France)
Running time : 96 minutes
Seen on May 28, 202 (Reims polar)
Mulder's Mark: