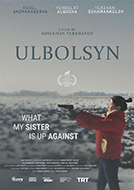 Running time:
71 minutes
Director:
Adilkhan Yerzhanov
Release:
Cinema
Release date:
21 november 2020
Rating:
Ulbolsyn, strong-willed and determined, lives in the city while her younger sister Azhar finishes her studies in the village of Karatas. Ulbolsyn has big plans for her beloved sister's future; she has saved enough money for Azhar to enter a prestigious foreign university, which would allow her to pursue a career while becoming free and independent. But when Ulbolsyn comes to pick up Azhar in Karatas, she discovers that the girl has been kidnapped by the local healer who wants to make her his young wife. But Ulbolsyn has no intention of leaving things as they are and enters into a battle with the patriarchal world of Karatas...
Mulder's Review
Covering a festival often means discovering films that we will surely not see again, because despite their qualities, local distributors prefer to bet on sure values than to give a chance to European productions and allow them to meet their audience. This Estonian film deserves to be discovered because, despite its limited means, it manages to give life to a gripping story and above all to show us how people live in Estonia today. The constant is quite alarming as the progress and modernization of our society leaves some countries behind economically.
We discover Ulbolsyn (Asel Sadvakasova), determined and wholehearted, who lives in the city while her younger sister Azhar finishes her studies in the village of Karatas. Ulbolsyn saves money so that Azhar can attend a university in a foreign country and earn a decent living. This is the main reason why the city is so important for the development of the city and its inhabitants. Ulbolsyn has only one wish: to free her sister and whoever gets in her way will pay the price.
Ulbolsyn surprises as much by its unfolding as by its will to show the absurdities of the Kazakh life and to deliver a painting of a frightening effectiveness on the retrograde attitudes of a patriarchal rural traditionalist society. The police seem to be overwhelmed by events while Ulbolsyn has a real vendetta and decides to take matters into her own hands to make things happen.
Far from his trivialized films that rely on proven models to maximize revenue and offer audiences what they expect, Ulbolsyn proves to be truly original and deserves to be discovered in France, whether on a streaming platform like Netflix or on VOD.
Ulbolsyn
A film written and directed by Adilkhan Yerzhanov
Produced by Serik Abishev, Olga Khlasheva & Guillaume de Seille
Starring Assel Sadvakassova, Dinara Sagi, Yerbolat Alkozha, Berik Aitzhanov, Daniyar Alshinov, Sanjar Madi
Music by Alua Orentai
Director of photography : Azamat Dulatov
Editor: Adilkhan Yerzhanov
Distribution: Arizona Productions (France)
Release date: November 21, 2020 (Estonia)
Running time: 71 minutes
Seen on May 30, 2021 (Reims Polar Festival)
Mulder's Mark: