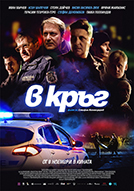 Running time:
106 minutes
Director:
Stephan Komandarev
Release:
Cinema
Release date:
08 november 2021
Rating:
A night in Sofia, seemingly like any other. Two police officers find the body of Lazar, a drug addict well known to their department, near a railroad track. And so it begins on the night of November 9, 2019, 30 years to the day after the fall of the Berlin Wall and the change of regime in Bulgaria. Three teams of police officers patrol the streets of the capital, doing their job in a way they think is right, while facing the challenges of the country's contemporary reality.
Mulder's Review
During the Reims polar festival we could discover about 17 films. This is the case of the new film of the Bulgarian director Stephan Komandarev, whose new film Rounds deserves to be discovered as a successful introduction to Bulgarian cinema, which is really struggling to be exported both in Europe and internationally. However, after Pansion za kucheta (2000), The World Is Big (2008), Sadilishteto (2014) and Taxi Sofia (2017), Stephan Komandarev was able to establish himself as a director to follow who knows perfectly how to give life to a film and hold all our attention.
Rounds follows the journey of three police patrol vehicles (six policemen) during one night in the city of Sofia between November 9 and 10, 2019. After having directed several documentaries, Stephan Komandarev mixes here with a certain success and a true realism the daily life of the forces of order. The director's desire is to capture the essence of what these police officers live and so he makes his film short stories about what is currently taking place in Bulgaria and which concerns human trafficking, pervasive corruption and other crimes and misdeeds for which the forces of order must intervene. The director is thus able to bring to the forefront in his film subjects that are close to his heart and whose films seem to point out the dysfunctions of his country.
In some ways, this film is reminiscent of Mathieu Kassovitz's cinema, that is to say, directors who are totally invested in their work and who make a scathing observation of our current society. By following these policemen we understand better what brought them to engage in dangerous crusades but also we are conscious as them of the permanent risk. Rounds is certainly a film to discover far from the Hollywood cinema omnipresent on our screens and especially a way to understand the importance of the European cinema as a testimony of our current period even if the truth is hard to hear.
Rounds
A film by Stephan Komandarev
Produced by Stephan Komandarev & Katya Trichkova
Screenplay by Simeon Ventsislavov & Stephan Komandarev
With Ivan Barnev, Assen Blatechki, Stoyan Doychev, Vasil Vasilev-Zueka, Gerasim Georgiev, Irini Jambonas, Stefan Denolyubov, Pavel Popandov
Director of photography: Vesselin Hristov
Editor: Nina Altaparmakova
Release date: November 8, 2019 (Bulgaria)
Running time: 106 minutes
Seen on May 29, 2021 (Reims Polar)
Mulder's Mark: