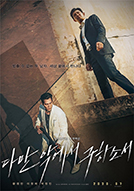 Running time:
108 minutes
Director:
Hong Won-chan
Release:
Cinema
Release date:
20 october 2020
Rating:
A retired hitman travels to Thailand to investigate a kidnapping case that appears to be related to a family member, when he is targeted by a man whose brother he murdered.
Mulder's Review
The second film written and directed by Hong Won-chan was presented in the official competition of the crime film festival (Reims Polar) and we could discover it. In this film we follow the punitive crusade of a former government agent turned mercenary who is forced to resurface when he learns that the kidnapping of a little girl is closely linked to him. Fate seems to be working against him even more when a notorious gangster learns that he has entered the country and is finally within his grasp. A bloody carnage will take place to thwart his rescue mission and make him regret coming to Thailand.
Asian cinema never stops renewing itself and continues to surprise us with spectacular films capable of rivaling the best American action films. Deliver us from evil keeps all its promises and keeps us on the edge of our seats all the way through with many spectacular action scenes, whether it be martial arts or gunfights reminding us of the golden age of John Woo's best films. This striking opposition between a supposed savior and a ruthless gangster gives the film all its strength but above all shows that to succeed in a good action film it is not only appropriate to have an excessive succession of action scenes but rather to create living characters with shadow areas.
This second successful feature film easily imposes Hong Won-chan as a writer and director to follow and even if his film remains without real surprise, we must recognize a real knowledge to create action scenes. While Kim In-nam (Hwang Jung-min) is forced to flee to Thailand to find the daughter of his former girlfriend, his past will resurface a dangerous Japanese gangster, Ray (Lee Jung-jae) who wants to kill him since he killed his blood brother. Deliver us from evil shows that the action movie owes a lot to the Asian cinema and some scenes of the movie are really spectacular like this introduction scene reminding us by some sides the one of Luc Besson's movie Leon (The professional) (1994) or this last fight between Kim In-nam and Ray.
Deliver us from evil is a successful action movie that we hope will find a distributor in France, either on VOD or on a streaming platform like Netflix or Prime video.
Deliver us from evil
A film written and directed by Hong Won-chan
Produced by Kim Chul-yong
Starring Hwang Jung-min, Lee Jung-jae, Park Jeong-min, Choi Hee-seo
Music by Mowg
Director of photography: Hong Kyeong-pyo
Editor: Kim Hyung-joo
Production: Hive Media Corp.
Distribution: CJ Entertainment (USA)
Release date: October 20, 2020 (USA)
Running time: 108 minutes
Seen on May 27, 2021 (Reims polar)
Mulder's Mark: