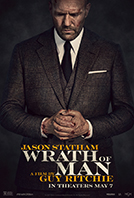 Running time:
119 minutes
Director:
Guy Ritchie
Release:
Cinema
Release date:
07 may 2021
Rating:
A mysterious and wild-eyed new cash truck security guard (Jason Statham) surprises his coworkers during a heist in which he unexpectedly unleashes precision skills. The crew is left wondering who he is and where he came from. Soon, the marksman's ultimate motive becomes clear as he takes dramatic and irrevocable steps to settle a score.
Review of Marianne Velma
In the long list of jobs that make you dream, a bank guard certainly comes last. Yet H (Jason Statham) nods his head to join this happy family of testosterone-fueled bravos. In spite of his excellent pedigree and his patient look, H intrigues his new colleagues. Especially when he makes a killing on a bunch of overconfident bank robbers.
If this pitch vaguely reminds you of something, it's normal. An Angry Man is none other than the remake of The Conveyor, the film by Nicolas Boukhrief, starring Albert Dupontel and released in 2004. A remake can eventually be a good idea (let's admit it, it's still quite rare) when it adopts the principle of reappropriating the story to recontextualize it in the era or the country that commissioned it. The original film, under the guise of a nervous and effective thriller, had a not uninteresting social theme. Talking about the way individuals are crushed by big corporations in Trump's America could have been catchy. Unfortunately, this subtext (which ended up being diluted in the last part of Boukhrief's film) has completely disappeared.
Instead Guy Ritchie seems to have focused on what he does best: the action movie with a backwards narrative. In terms of pace and intensity, nothing is missing. Men are dropping like flies. But this meticulous carnage, as pleasing as it may be for fans of the genre, unfortunately goes in circles. Worse, when the original film was sparing in its suspense, the remake quickly advocates the law of retaliation. At the risk of falling into a rather easy "Revenge Movie". Understand that H is ready to slaughter the whole world as long as he gets his revenge. The delicate subject would have deserved a little more nuance.
The direction does not lack precision or efficiency. But one wonders during the whole film where Ritchie's saving madness has gone. The one that defied the semantic prohibitions, that defied the laws of gravity, that rewrote the codes of the genre. An Angry Man remains a perfectly calibrated studio product, which will undoubtedly seduce fans of "stathameries", but will leave the others on the side of the road.
Wrath of Man
Directed by Guy Ritchie
Produced by Ivan Atkinson, Bill Block, Andrew Golov
Written by Guy Ritchie and Ivan Atkinson & Marn Davies
Based on Le Convoyeur (Cash Truck) Written by Nicolas Boukhrief and Éric Besnard and Directed by Nicolas Boukhrief
Starring Jason Statham, Scott Eastwood, Holt McCallany, Jeffrey Donovan, Laz Alonso, Post Malone, Josh Hartnett
Music by Chris Benstead
Cinematography : Alan Stewart
Production companies : Metro-Goldwyn-Mayer, Miramax
Distributed by United Artists Releasing (United States), Lionsgate (United Kingdom), Metropolitan FilmExport (France)
Release date : May 7, 2021 (USA), June 16, 2021 (France)
Running time : 119 minutes
Seen on May 28, 2021 in the Metropolitan theater
Marianne Velma's Mark:
Review of Mulder
Certain combinations of an actor adored by the public and a gifted director can not only result in memorable films but also show the importance of a real osmosis between what happens in front of and behind the camera. This strong link is particularly true for the actor Jason Statham who has been able to impose himself by certainly tailor-made roles and especially surround himself with directors who master their films (Guy Ritchie, F. Gary Gray, Louis Leterrier, Roger Donaldson, Sylvester Stallone, James Wan, David Leitch). Wrath of Man marks the fourth collaboration between Guy Ritchie and Jason Statham after Lock, Stock and Two Smoking Barrels (1998), Snatch (2000) and Revolver (2005).
Based on a screenplay written by Guy Ritchie, Ivan Atkinson and Marn Davies and based on the screenplay of Nicolas Boukhrief's French film Le convoyeur (Cash Tuck) (2004), Wrath of Man features a mysterious security guard for a recently recruited cash truck who seems to be integrating himself into an existing crew for reasons of personal revenge. For those who have already discovered Cash Tuck (2004) some elements of the plot are not really new but it is in the plot and in a gifted director's touch that Wrath of Man gains prestige and effectiveness.
It must be said that director Guy Ritchie has no equal when it comes to depicting the underworld and giving life to characters that are truer than life, and above all, managing to constantly surprise the audience. From mobster movies to Hollywood studio commissions like Sherlock Holmes (2009), The Man from U.N.C.L.E. (2015), Aladdin (2019) we feel a real desire of the director and screenwriter to alternate big budgets in which his films lose some of the art of this director to meet specific demands and films such as A Man in anger (Wrath of Man) in which the director can let his imagination run wild and stage an effective and successful film for lack of being totally original.
This way of staging the story and blurring the lines makes Wrath of Man not just another Jason Statham action movie but rather a successful mix between thriller and action movie. The very virile direction of Guy Ritchie plays in its favor because it also relies on a solid cast in which we also find Scott Eastwood, Holt McCallany, Jeffrey Donovan and Josh Hartnett. In the same way, the division of the film into different chapters allows to reinforce each part of the film and to better understand the real motivations of the character played by Jason Statham. Far from being a series of successive robberies and various betrayals, Wrath of Man is above all a film showing the love of a father for his son and his way of wanting to make his own justice even if it means risking his own skin.
While films like The Transporter focused on non-stop action scenes to make Jason Statham the worthy successor of the American action heroes of the 80's (Arnold Schwarzenegger, Steven Seagal, Sylvester Stallone), the character he plays here seems to use his mental abilities rather than his muscular ones to achieve his goals. In this, the collaboration between Guy Ritchie and Jason Statham makes sparks fly by destroying the type of character played by this actor to make him more mature and whose vengeance takes on biblical overtones like a broken man getting up to carry out one last mission before leaving in peace, freed from the chains that made him a man ready for anything, as manipulative as he is patient.
Wrath of Man
Directed by Guy Ritchie
Produced by Ivan Atkinson, Bill Block, Andrew Golov
Written by Guy Ritchie and Ivan Atkinson & Marn Davies
Based on Le Convoyeur (Cash Truck) Written by Nicolas Boukhrief and Éric Besnard and Directed by Nicolas Boukhrief
Starring Jason Statham, Scott Eastwood, Holt McCallany, Jeffrey Donovan, Laz Alonso, Post Malone, Josh Hartnett
Music by Chris Benstead
Cinematography : Alan Stewart
Production companies : Metro-Goldwyn-Mayer, Miramax
Distributed by United Artists Releasing (United States), Lionsgate (United Kingdom), Metropolitan FilmExport (France)
Release date : May 7, 2021 (USA), June 16, 2021 (France)
Running time : 119 minutes
Seen on May 28, 2021
Mulder's Mark: