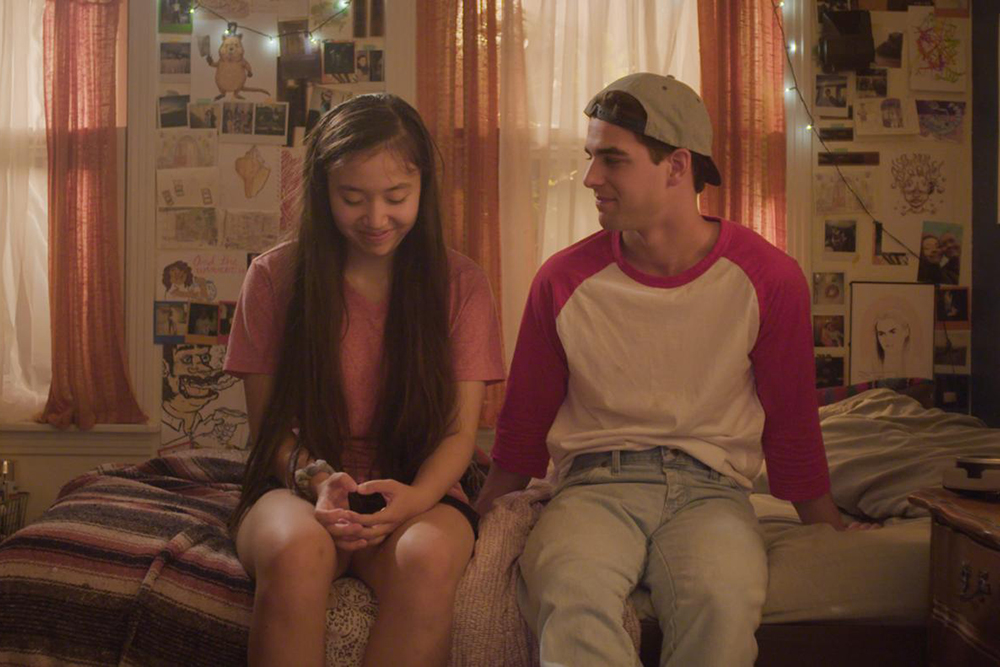 One of the many qualities of the SXSW festival is that it allows audiences to discover many first films and the remarkable debuts of directors who are on their way to a successful career. Written and directed by Mei Makino, Inbetween girl is certainly one of the good surprises of this film as it brings a look full of tenderness on the American adolescence, on the integration of racial minorities and on the divorce in the United States. Above all, Inbetween girl stands out as one of the most beautiful coming-of-age films discovered in a long time.
Teenage artist Angie Chen (Emma Galbraith) doesn't like Liam (William Magnuson), but she does like to get a ride from him after her high school soccer practice. This one is with Sheryl White (Emily Garrett), the Instagram princess of their private Episcopalian school. After Angie is caught off guard by her parents' sudden divorce, Liam slowly becomes a saving distraction. However, when that distraction comes knocking on her window in the middle of the night, a secret rendezvous will take Angie on a journey of sexual awakening, racial insecurities, and artistic expression as she discovers what she wants - and who she wants to be.
What could have been just another teenage chronicle turns out to be much smarter than that as it succeeds in giving a universal character to its main characters and benefits from an excellent cast of very talented young actors and especially from the presence of the young actress Emma Galbraith who is perfect in her role and who seems to be a continuation of the director. One wonders what is the autobiographical part of the director and screenwriter in this story. The numerous dialogues are all perfectly chiseled and add to this film a real link with the spectators.
The other great quality of Inbetween girl is to remind us with a certain happiness the time before this world pandemic so much the action is placed in a society in which the current conditions imposed are not present on the screen. Far from these images of confined people that we can discover in several films of the official selection, Inbetween girl is a film that reminds us the happiness of being able to go out freely, to live normally and especially to be able to fall in love with the person who helps us to grow and for whom we are ready to rise and fight. The ending of the film is perfectly brought and hints at a bright future for Angie Chen. This film is one of our favorites of the SXSW festival.
Inbetween girl
Written and directed by Mei Makino
Produced by Matt Stryker, Connor Pickens, Emily Gollahon, Kate Gollahon, Udoy Rahim
Executive Producer: Mary Reid Klinger, Richard Klinger, Jane Schwartz, Carole Elia
Starring Emma Galbraith, William Magnuson, Emily Garrett, Liz Waters, KaiChow Lau, Thanh Bui, Shanshan Jin, Kelsey Buckley
Music by Andrew Zhang
Cinematography: Ivy Chiu
Production Designer: Charlotte Friend, Ana Treviño
Sound: Marcelo Teson
Illustrator: Larissa Akhmetova
Costume Designer: Victoria Prescott
Edited by Connor Pickens
Release date : March 18, 2021 (SXSW)
Running time : 89 minutes
Seen on March 20, 2021 (SXSW)
Mulder's Mark: