At the 20th Century Fox Studios lot in the Little Theater, a private screening of the film was presented to lucky few individuals, our website had been invited to discover one of the most awaited films of this year..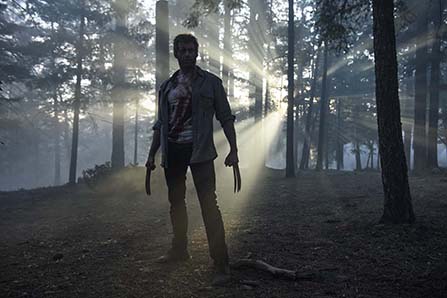 Logan directed by James Mangold hits theaters next week and is the final performance of Hugh Jackman as the Wolverine. Two years ago Jackman went to Mangold with the idea of one last movie that would bring to completion his character and allow Logan to be a grittier and darker movie than we have seen in the past with an R rating. This movie takes its roots from the comic Old Man Logan by Mark Millar and Steve McNiven.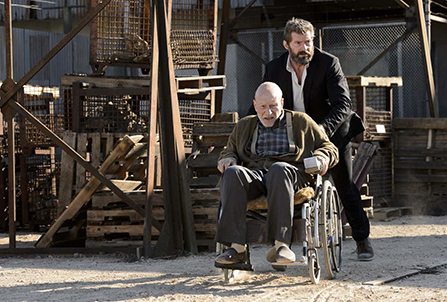 Logan will force you to leave the children at home due to the extreme violence and profanity which adds flavor to the performance of the characters and lends a dose of reality to people or rather mutants that are dealing with life and death situations. Logan has always had a dark back story and this continues in Logan which is set in the future world of 2029. We find that nearly all mutants are gone from the world, possibly all but Logan, Xavier and Caliban.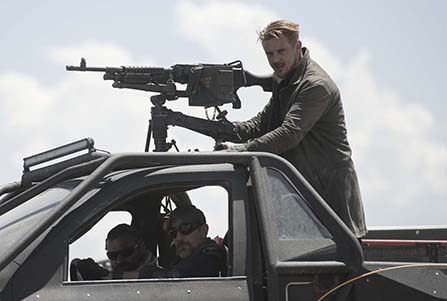 Logan is driving a limo for hire, drinking his misery away, ageing, and seemingly sick. He is fighting against everyone from gang bangers trying to steal is his hubcaps and the head of Transigen private security headed by Donald Pierce played by Boyd Holbrook. Pierce is a fan of Wolverine but is in search of some people that he warns Logan not to help. Logan only wants to make enough money to escape with Xavier and Caliban and does his best not to become involved with any mysterious people trying to enlist his help regardless of the dire circumstances or sad story they try to tell Logan.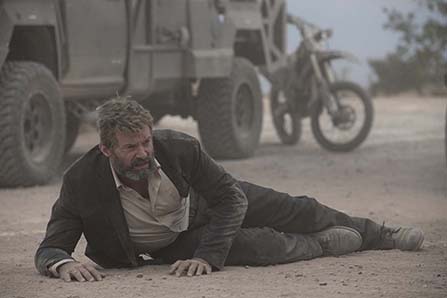 We are introduced to Dafne Keen who plays Laura Kinney / X23, a mutant that has strong similarities to Logan. Laura is a strong willed, silent and incredibly violent 12 year old, again much like Wolverine. Keen performs spectacularly in her role and holds her own against Jackman's 17 years as the Wolverine character.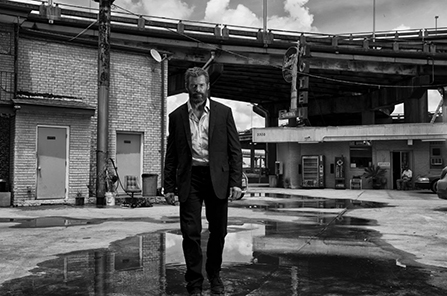 Without spoiling any of the story outside of clips that you can see linked here, this movie is a must see for everyone. Amazing visuals, with sounds and music scored by Marco Beltrami you will be pulled into the story of Logan's self destruction and his reluctance to become the Hero that Laura needs him to be once again. Jackman's performance as has been the case in his previous movies is unforgettable and will leave you with tears for multiple reasons.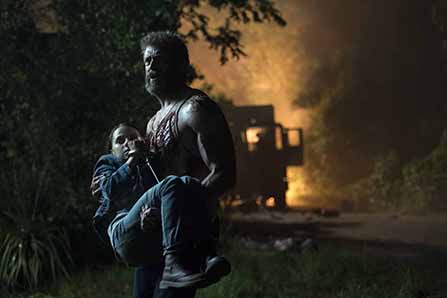 Photos: Copyright 20th Century Fox
The 22th february 2017,Los Angeles, Fox Studios, The Little Theater
version française :
Aux studios 20thCentury Fox, dans la salle du Little Theater, une projection privée a été organisée en présence de quelques personnes, notre site fut invité à découvrir l'un des films les plus attendus films de l'année.
Logan réalisé par James Mangold sortira au cinéma le 1 mars en France et le 3 aux Etats-Unis. Il s 'agit de la dernière interprétation du personnage par Hugh Jackman. Deux ans auparavant celui-ci est allé voir ce réalisateur avec l'idée que ce dernier film devrait apporter une approche nouvelle pour son personnage et lui permettre de donner vie à un personnage dans un film plus violent par rapport aux précédents films. Ce film prend sa source dans le comics de Mark Millar et Steven McNiven Old Man Logan.
Le film Logan est clairement destiné à un public adulte et vous devrez laisser vos enfants chez vous étant donné l'extrême violence et sa manière de mettre en place un climat dans lequel l'approche des personnages et d'un monde futuriste est transposé de manière réaliste. Les derniers mutants douvent ici faire face à des situations dangereuses. Le personnage de Logan a toujours eu une approche plutôt sombre et cette fois-ci l'action est transposée en 2029. La plupart des mutants sont morts et les seuls survivants sont Logan, Xavier et Caliban.
On découvre un Logan usé, louant ses services pour survivre et buvant pour oublier sa vie misérable. Il affronte ainsi toutes les personnes se dressant sur sa route comme des gangs tentant de voler ses enjoliveurs et aussi la responsable d'une sécurité privée Donald Pierce (Boyd Holbrook). Ce dernier est un fan de Wolverine (Logan) et exorde toutes les personnes à ne pas l'aider. Ce dernier souhaite gagner autant d'argent que possible pour s'enfuir avec Professeur Xavier et Caliban et fait tout son possible pour ne pas répondre aux nombreux appels à l'aide qu'il reçoit.
Le film permet aussi de découvrir le personnage de Laura Kinney (X-23) interprétée par Dafne Keen, une mutante avec de fortes ressemblances avec Logan. Laura est une jeune fille violente, silencieuse et solitaire de 12 ans comme l'est Logan. La jeune comédienne Laura livre ici une interprétation très forte de son personnage et forme un très bon duo avec celui de Logan.
En ne racontant rien des différents rebondissements hormis ceux dévoilés dans la bande annonce, ce film s'impose comme une réussite à découvrir d'urgence. Les effets spéciaux spectaculaires sont renforcés par l'usage de la musique de Marco Beltramo. On découvre donc à travers l'autodestruction du personnage de Logan, sa réticence à devenir le héros dont Laura a besoin qu'il redevienne. La performance de Hugh Jackman dépasse celle des précédents films et s'impose comme inoubliable et vous amènera des larmes aux yeux pour de nombreuses raisons.
Novias's Mark: