By Mulder, 15 november 2023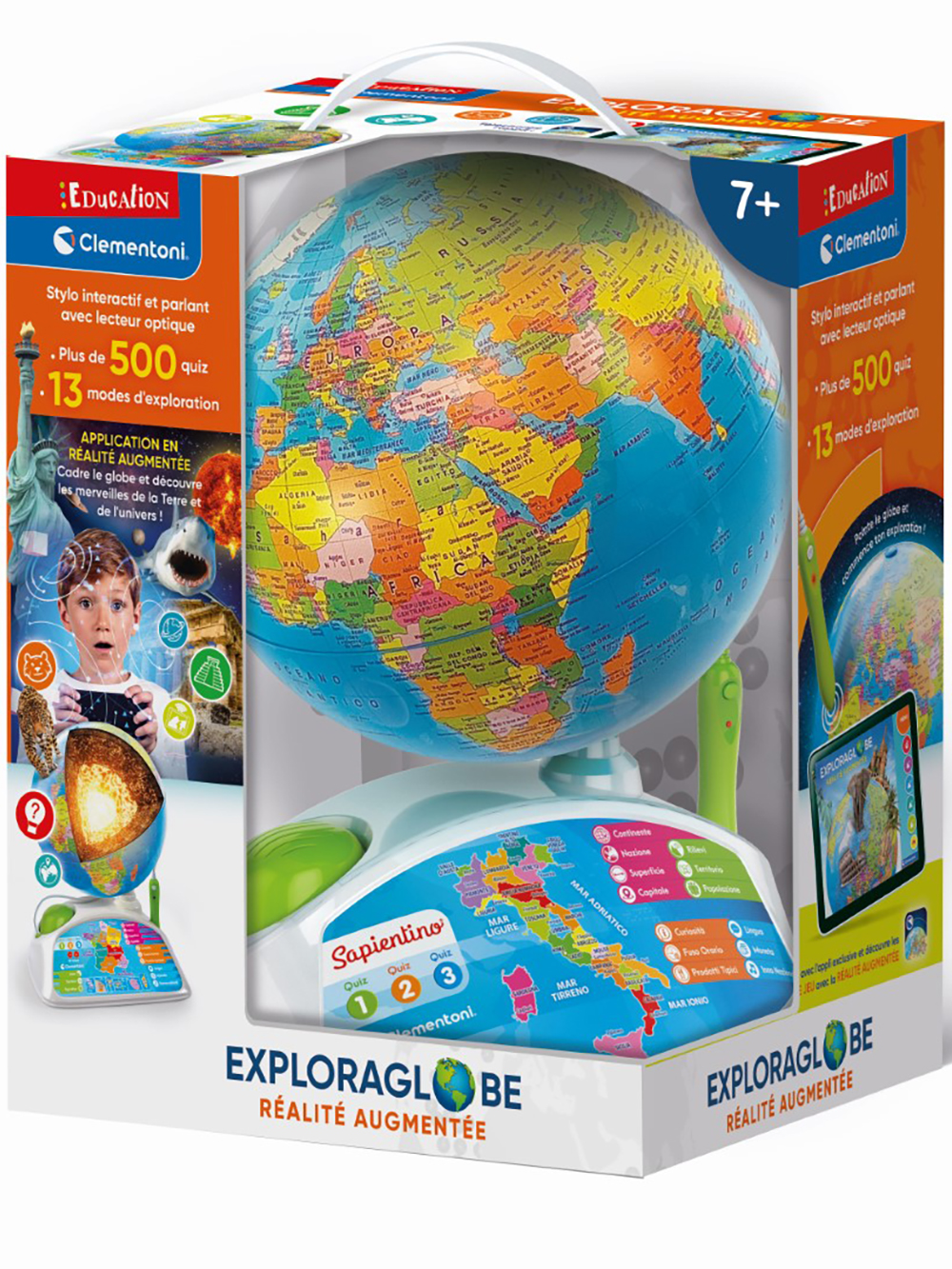 "We should never stop playing, especially when we grow up" - Mario Clementoni
The festive season is fast approaching, and Clementoni, the toy industry leader, has an exceptional selection in store to brighten up Christmas celebrations. Founded on the timeless vision of its founder, Mario Clementoni, the brand unveils a range of captivating toys for all ages, embodying the perfect fusion of learning and fun.
Whether you're a parent, grandparent, uncle or aunt, Clementoni offers gifts that will amaze and educate young minds. From sensory toys to awaken toddlers, interactive plush toys to become children's favorite playmates, science kits to explore the world around us, and timeless board games to entertain older children, the Clementoni Christmas tree is the promise of a successful celebration.
The festive season is the perfect time to create precious memories with your loved ones. Around the enchanted Clementoni Christmas tree, every member of the family can come together to share unforgettable moments, strengthening bonds that will remain etched in memories.
Since 1963, Clementoni has been shaping the world of play and toys, offering a variety of creative, scientific and dreamy products for all tastes and ages. This year marks a significant milestone for the brand, as it celebrates its 60th anniversary. Throughout this special year, Clementoni has some extraordinary surprises in store to celebrate this iconic milestone, offering current and future generations the timeless magic of play.
Join us under Clementoni's enchanted Christmas tree for a memorable and educational holiday. Discover the magic of playing, growing and learning with Clementoni this holiday season:
My montessori teddy bear activity center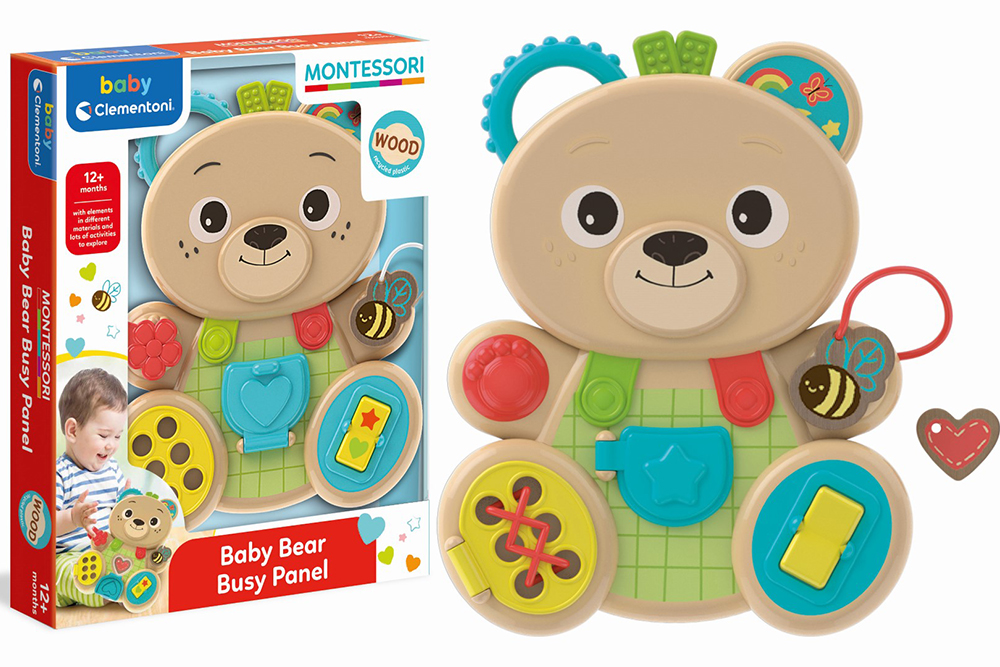 The cutest companion for fun learning! Inspired by the Montessori method, this teddy bear is packed with mechanisms and activities designed to perfect children's manual skills and improve their concentration. Made from a variety of materials, it stimulates sensory skills and guides children as they learn to handle everyday objects. From 12 months. Suggested retail price: €23.90
My Montessori activity house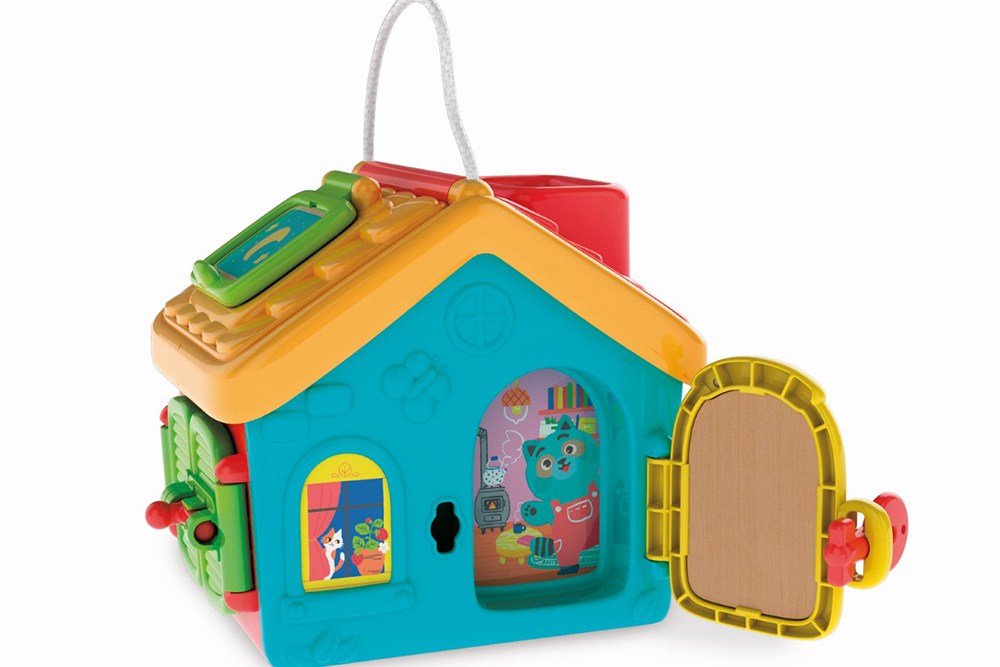 Also inspired by the Montessori method, this house enables children to improve their fine motor skills while learning to perform and master useful gestures as they grow. The various mechanisms and opening/closing systems contribute to the development of children's manual activities. The little character included fits into the roof to develop ingenuity and logic. From 12 months Recommended retail price: €24.90
Clementoni makes a point of using play as a vehicle for discovery. To better understand the world around us and unravel its mysteries, the brand, expert in scientific and educational games, develops didactic and fun kits so that children can discover for themselves the answers to their many "why? questions.
The story of life on earth


Let's go back in time! Thanks to the History of Life on Earth boxed set, it's now possible to relive the evolution of life on Earth - from Archean times to the appearance of Man. Once you've chosen your avatar, off you go! Innovative and fun, this format offers a wide range of guided experiments, alternating physical and virtual activities. Children aged 8 and over can take part in experiments in geology, volcanology, botany, paleontology and anatomy to unravel the mysteries of millions of years of evolution. Thanks to tutorials and educational videos accessible via a smartphone app, and 3D animations in augmented reality, the history of mankind will no longer hold any secrets for juniors! Finally, children can take virtual tours and view 360° videos using the included headset to interact with the virtual environment all around them. From age 8 Suggested retail price: €36.90
The land of dinosaurs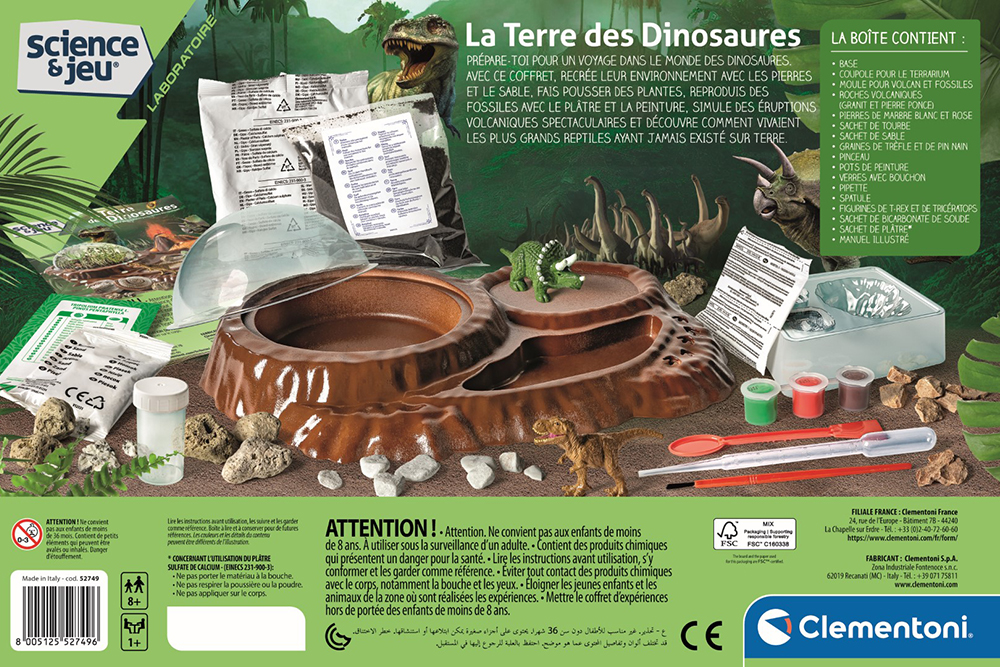 This prehistoric terrarium, which can be assembled and customized, enables apprentice paleontologists to recreate the world of the dinosaurs as faithfully as possible! It features two environments: a terrestrial section with botanical experiments, and an aquatic section where marine creatures can swim. T-Rex, Plesiosaurs and Triceratops will be reborn to live new lives in a faithful, life-size environment. From age 8 Recommended retail price: €22.90
City of Ants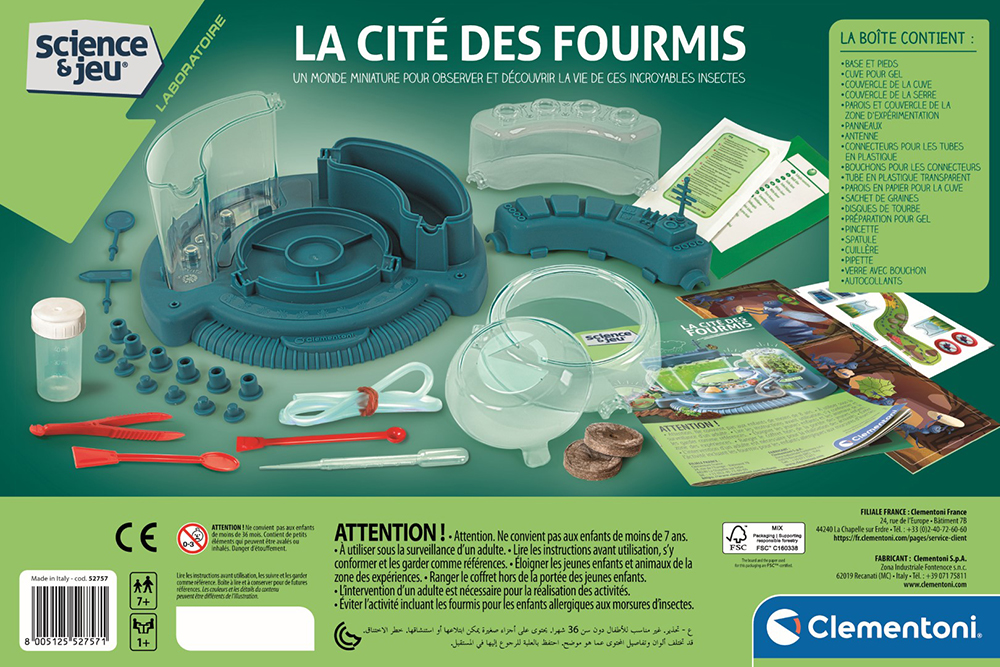 This modular structure is designed to recreate the habitat of ants and observe their behavior in conditions close to their natural environment, thanks to the instruments and accessories provided. The various interconnected zones are designed to allow observation of the different behaviors of this fascinating insect: tunnels to dig, a botanical area above ground, and a pantry to understand their nutrition. From age 8 Recommended retail price: €26.90
NASA telescope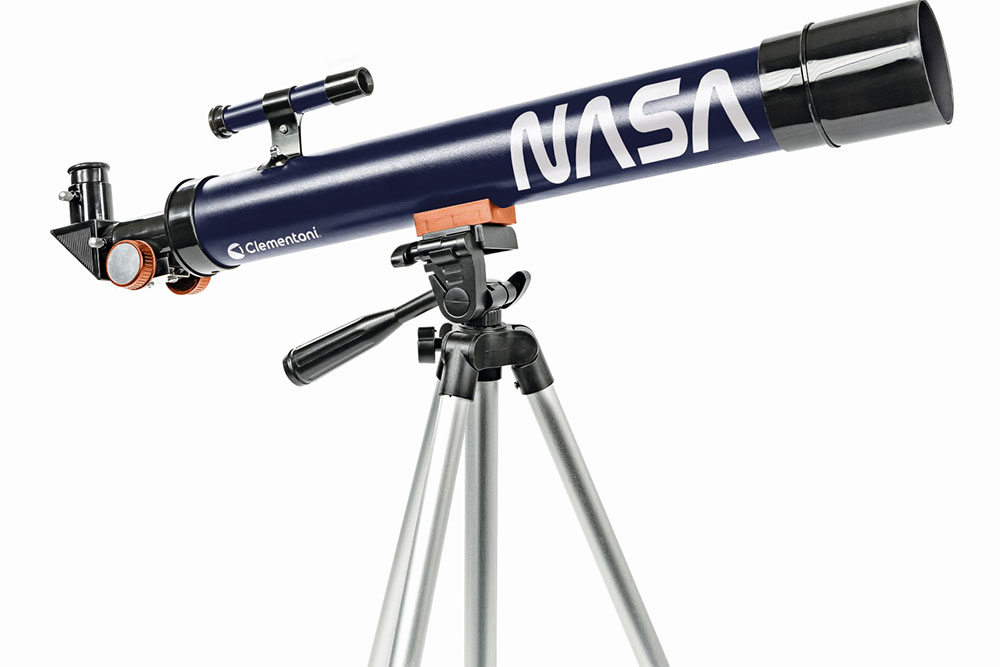 With this real telescope, you can observe the sky and its immensity. Equipped with a 50mm objective and other interchangeable lenses, several levels of magnification are available for admiring the various stars and celestial bodies in space. With its tripod extendable up to 130cm, children can enjoy stable and comfortable observation sessions. The illustrated manual also introduces them to the basics of astronomy. From age 8 Suggested retail price: €59.90
Exploraglobe - augmented reality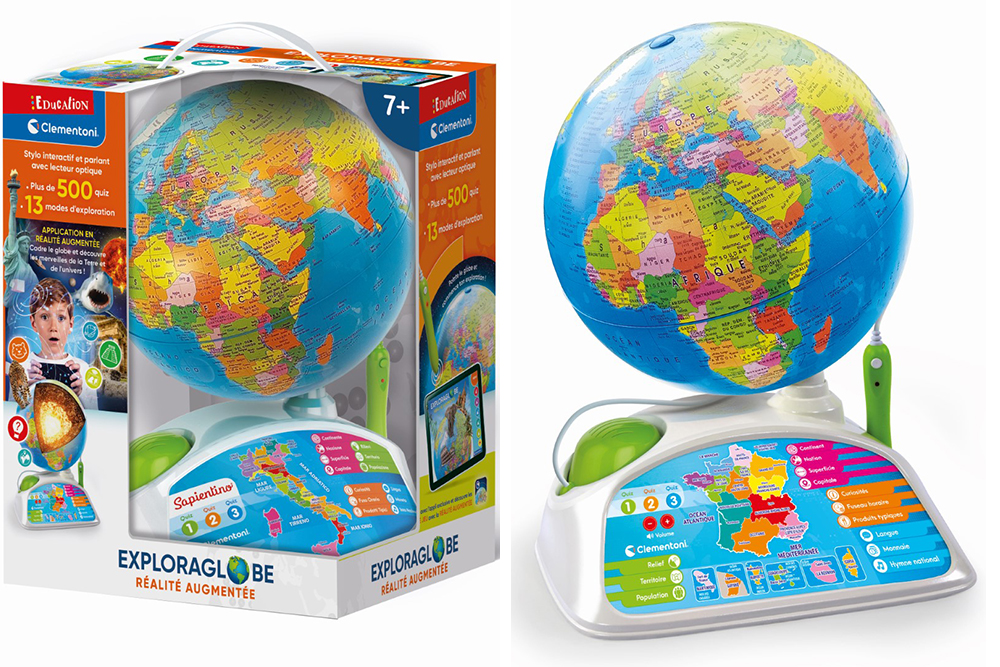 This interactive globe, enhanced by augmented reality technology, lets you explore the different territories that make up our planet. From now on, the Earth will hold no secrets for budding explorers. The optical pen that accompanies the globe lets you test your knowledge with 500 questions divided into three levels of difficulty on a variety of themes: continents, countries, capitals, surface areas, populations, currencies, languages, territories, altitudes, time zones, curiosities, typical products and anthems. The dedicated mobile app and augmented reality offer children the opportunity to frame the globe using a smartphone or tablet to discover animals, monuments, the world in prehistoric times or even the solar system and the various constellations that surround us. From age 7 Suggested retail price: €79.90
Christmas is a time for imagination. With toys featuring children's favorite heroes and soft toys, Clementoni brings the little ones' dreams to life. Children can (re)experience numerous adventures thanks to interactive games that transport them into fantastic worlds.
disney baby projector & storyteller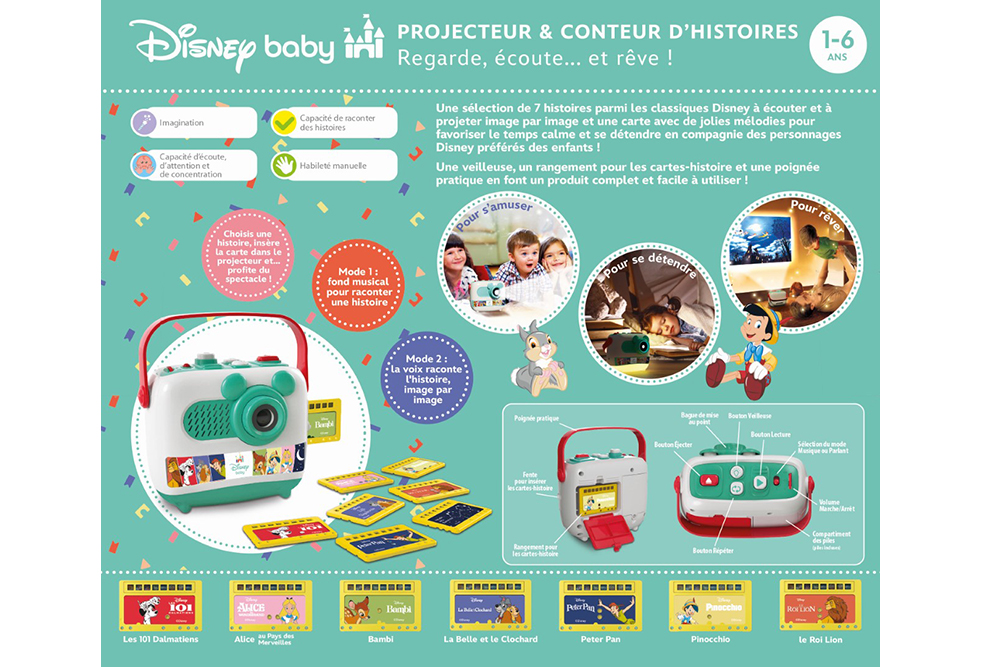 Off to dreamland! Thanks to the Disney Baby Story Projector & Storyteller, children can drift off to Morpheus' arms with stories in their heads. This innovative 2-in-1 format includes a projection function for proactive listening: children can admire the projected images while listening to the adventures of their favorite Disney characters. Seven stories are included, the equivalent of an hour of content to (re)discover at bedtime. Its loudspeaker ensures excellent listening quality, and its multicolored nightlight function makes it the ideal companion for sweet, soothing nights. From birth. Suggested retail price: €44.90
My purring kitten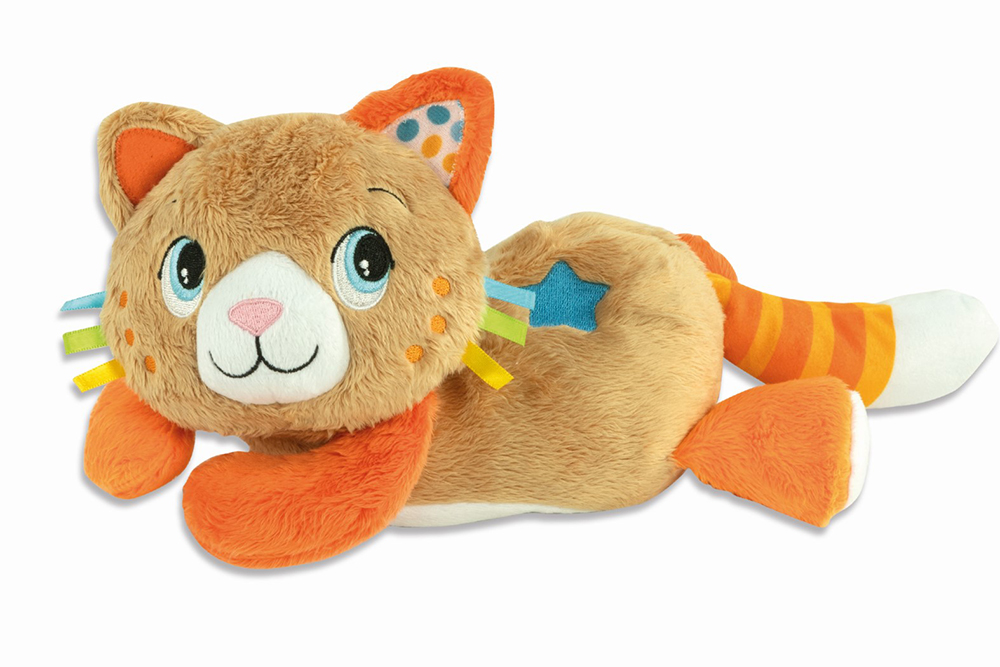 This soft kitten, inspired by purr therapy, is a little one's best friend! Feline purrs have a beneficial effect thanks to their low frequency, which helps reduce stress. This adorable plush imitates a cat's purr (20-50 hertz) and plays gentle melodies to soothe them at any time of day. It also reproduces white noise to help children relax. Three modes are available to suit everyone: melodies, vibrations or melodies and vibrations. Machine-washable once the electronic module has been removed, this real cuddly toy accompanies children at playtime, naptime and even at bedtime. From birth Suggested retail price: €36.90
Choosing the perfect gift is no easy task. With its ranges dedicated to creativity, Clementoni encourages self-expression through play and leisure. Jewelry, DIY, make-up, fashion, painting or pottery: all these disciplines give children the chance to try out different activities and discover the one that suits them best!
Pen workshop


This workshop lets you create and personalize beautiful pens to slip into your pencil case or give as gifts! A total of 10 pens can be put together from A to Z: cap, tip, lead and body are assembled for unique creations to suit everyone's taste. Once assembled, the pens can of course be personalized with a wide range of decorations on the top and body: icons, pompoms, sequins, beads... Enough to dethrone the famous classic ink pen and stand out from the crowd! From age 6 Suggested retail price: €32.90
Nail passion set - crazy teens


Nail art enthusiasts* can now indulge their hobby and let their imagination run wild with this professional set! The innovative, high-tech nail polish dryer comes with a display of five nail polishes, as well as tutorial cards to help you master the art. A dedicated application is even available to help you perfect your skills and create magnificent creations! From age 10 Suggested retail price: €26.90
Make-up studio - crazy teens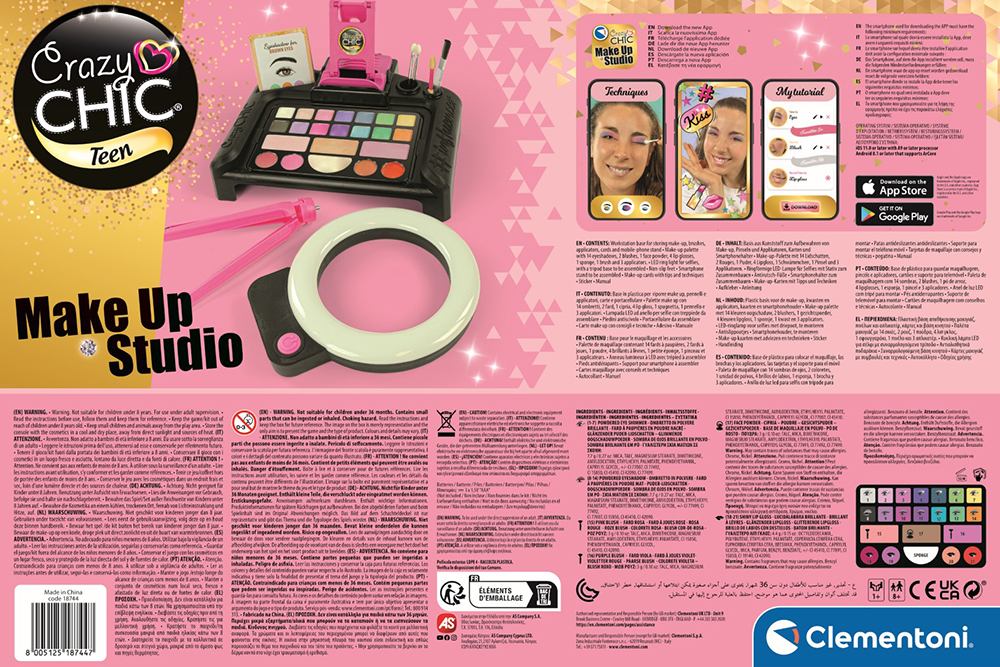 This full-scale, modern make-up workshop is the benchmark for aspiring make-up artists**! This Crazy Chic set is the perfect introduction to learning how to apply make-up, and how to apply make-up using safe, high-quality cosmetics. Its storage base includes a variety of blushes and brushes. It comes with a removable LED lamp tripod and advice cards and models to reproduce stylish looks. A dedicated application is available so that everyone can express their personality, creativity and talent by editing and personalizing videos. For ages 10 and up. Suggested retail price: €32.90
The festive season is synonymous with sharing and family gatherings. Clementoni has developed a selection of board games to get everyone on the same wavelength during moments of complicity and conviviality. Whether it's puzzles to complete together or captivating strategy games, these playful activities encourage exchanges between family members and create precious memories.
Tac-tik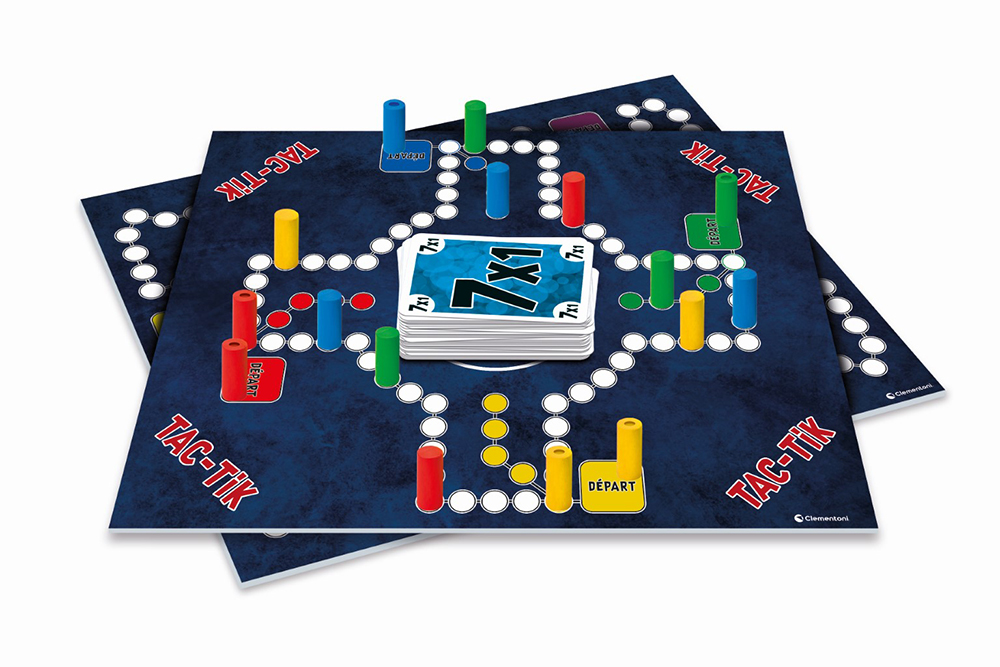 Board games haven't said their last word! This exciting strategy game is a real phenomenon in certain regions of France! It's usually played in teams of 2 players, each of whom has to get his or her pieces off the board, around the board and to safety. A cooperative game where card exchanges between teammates are strategic. But your opponents will do everything they can to slow you down, thanks to special cards. A terribly addictive game! Clever: its reversible board means you can play with 2, 4 or 6 players, for fun with the whole family. From 8 years Indicative retail price: €18.90
Brain freeze cubes


This brand-new concept combines the logic of a brainteaser with the atmosphere of a board game for even more fun! Players have to turn over the cards and solve the puzzle as quickly as possible, using the cubes to reconstruct the displayed image. Each round is worth 1 point, and the player with the most points wins the game! Bonus: the game features several levels of difficulty to challenge yourself and your friends. For ages 8 and up. Suggested retail price: €19.90
Compact Puzzles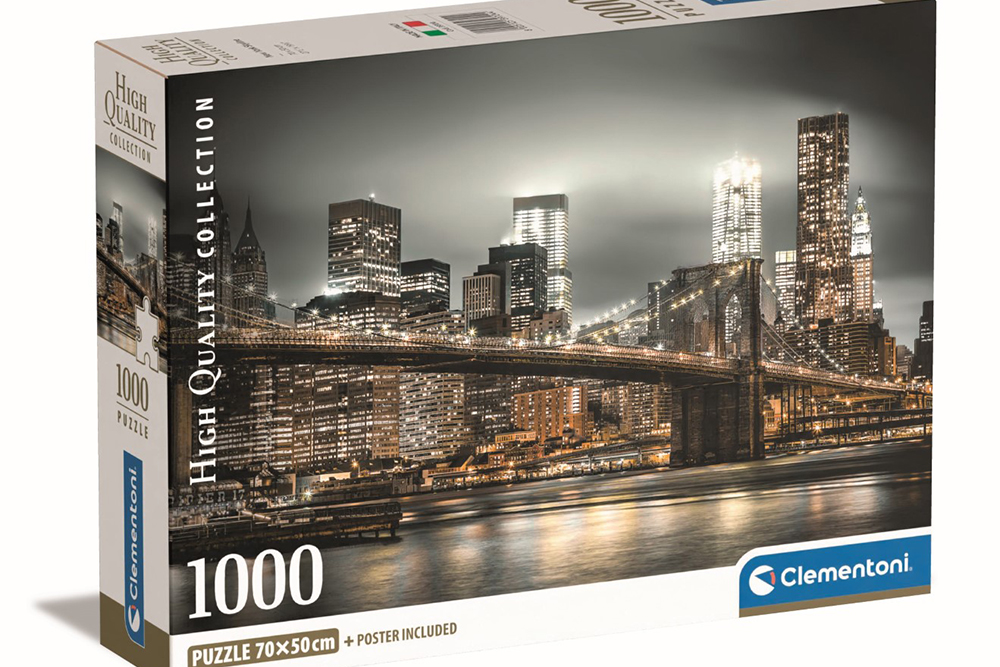 Building on its many commitments to sustainable toy development, this year Clementoni is rethinking the format of its puzzles.
to adopt a more compact packaging. The result: savings in raw materials that are good for the planet and good for the wallet! The brand's great classics are now available in this more virtuous format for more responsible fun. From 14 years.retail price: from €13.90
(Source : press release)