By Mulder, 17 august 2023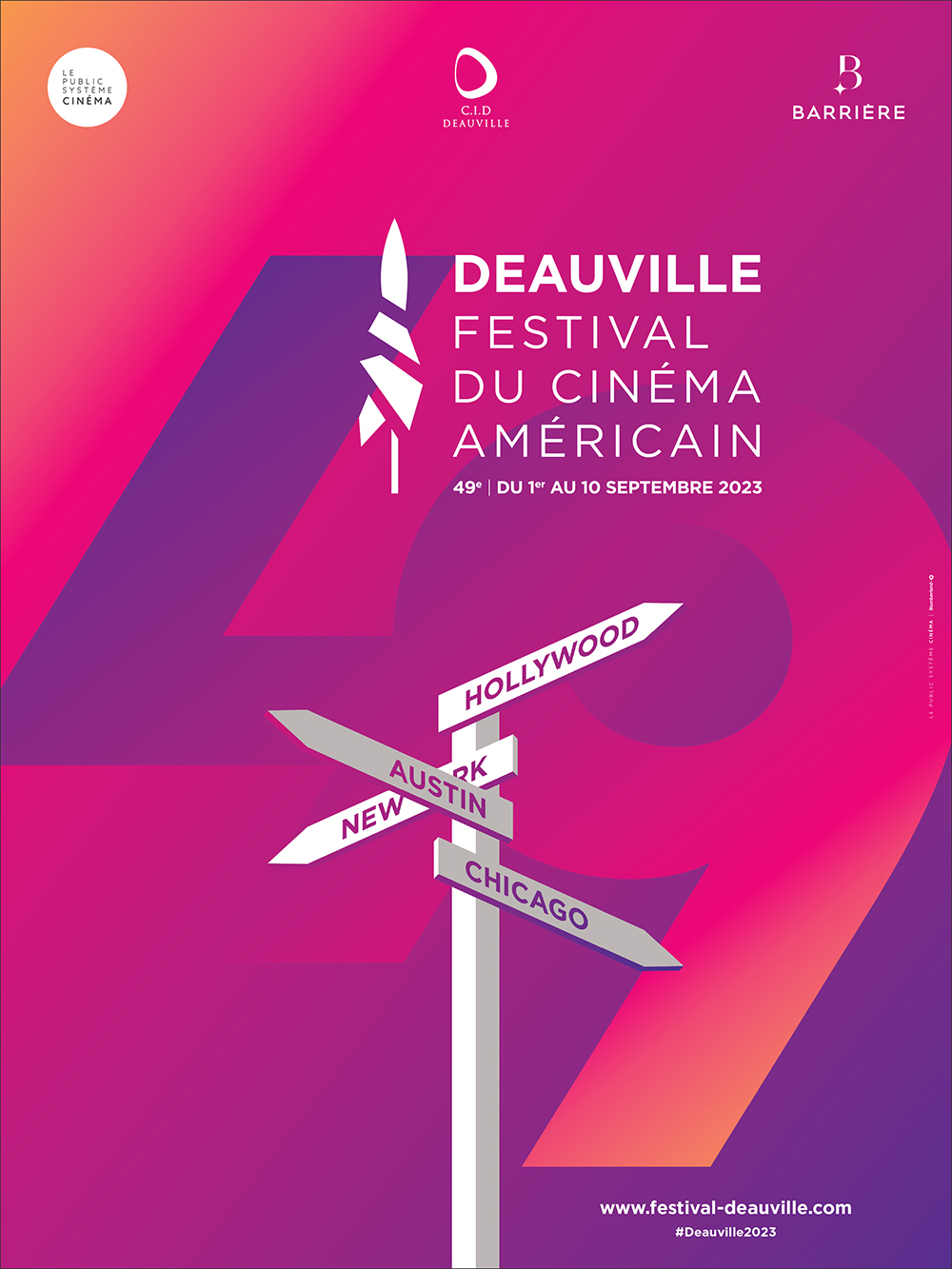 The Deauville American Film Festival is a major cinematic event held every year in Deauville, a seaside town in Normandy, France. The festival is entirely dedicated to American cinema, and is one of the most important film events in Europe showcasing American cinema.
The festival was founded in 1975 by Lionel Chouchan, André Halimi, and Michel d'Ornano. Since then, it has taken place every year in early September. The festival presents a diverse selection of American films, ranging from popular Hollywood productions to more avant-garde independent films. There are previews, competition films, retrospectives and tributes to leading figures in American cinema. The festival hosts an official competition, with films competing for various prizes, including the Grand Prix and the Jury Prize. It's an opportunity for emerging filmmakers to make their mark, and for films to be screened before an international audience.
Dogman (France)

Written and directed by Luc Besson
Produced by Virginie Besson-Silla
Starring Caleb Landry Jones, Jojo T. Gibbs, Christopher Denham, Grace Palma
Cinematography : Colin Wandersman
Edited by Julien Rey
Music by Éric Serra
Production companies : LBP, EuropaCorp, TF1 Films
Distributed by Apollo Films Distribution, EuropaCorp Distribution
Release dates : 31 August 2023 (Venice), 27 September 2023 (France)
Running time : 114 minutes
Synopsis : The unbelievable story of a child, wounded by life, who finds his salvation thanks to the love of his dogs.
Fancy Dance (USA)
Directed by Erica Tremblay
Written by Erica Tremblay, Miciana Alise
Produced by Deidre Backs, Erica Tremblay, Heather Rae, Nina Yang Bongiovi, Tommy Oliver
Starring Lily Gladstone, Isabel Deroy-Olson, Ryan Begay, Shea Whigham, Audrey Wasilewski
Cinematography : Carolina Costa
Edited by Robert Grigsby Wilson
Music by Samantha Crain
Production companies : Significant Productions, Confluential Films
Distributed by Cercamon
Release date : January 20, 2023 (Sundance)
Running time : 90 minutes
Synopsis : Following her sister's disappearance, a Native American hustler kidnaps her niece from the child's white grandparents and sets out for the state powwow in hopes of keeping what is left of their family intact.
Fitting in (Canada, USA)
Written and directed by Molly McGlynn
Produced by Jennifer Weiss & Liane Cunje
Starring Maddie Ziegler, Emily Hampshire, Djouliet Amara, Ki Griffin, D'Pharaoh Woon-A-Tai, Dale Whibley
Music by Casey Manierka-Quaile
Cinematography : Nina Djacic
Edited by Maureen Grant
Running time : 105 minutes
Synopsis : Sixteen-year-old Lindy has been diagnosed with a reproductive problem. This unexpected news will upset her desire to have sex, her assumptions about womanhood, her relationship with her mother, and most of all, with herself.
Golda (USA, United kingdom)

Directed by Guy Nattiv
Written by Nicholas Martin
Produced by Michael Kuhn, Jane Hooks, Nicholas Martin
Starring Helen Mirren, Camille Cottin, Liev Schreiber, Lior Ashkenazi Dvir Benedek
Cinematography : Jasper Wolf
Edited by Arik Lahav-Leibovich
Music by Dascha Dauenhauer
Production companies : Piccadilly Pictures, Big Entrance, Embankment Films, Lipsync Productions, Qwerty Films, Big Hat Stories, Hianlo Films, New Native Pictures
Distributed by Bleecker Street, ShivHans Pictures
Release dates : February 20, 2023 (Berlinale), August 25, 2023 (United States)
Running time : 100 minutes
Synopsis : A man about to get engaged and married travels to an island to vacation with his friends, only to find himself embroiled in unfortunate events with a gang of thieves that will change his life's decisions.
Joika (USA, New Zealand)
Written and Directed by James Napier Robertson
Produced by Belindalee Hope, Klaudia Smieja-Rostworowska, Tom Hern
Starring Talia Ryder, Diane Kruger, Oleg Ivenko, Natasha Alderslade, Tamila Dudnik
Music by
Cinematography : Tomasz Naumiuk
Edited by Chris Plummer
Production companies :
Distributed by Wild Bunch Distribution
Release date :
Running time : 110 minutes
Synopsis : Joy Womack, a 15-year-old ballerina, leaves her family home in Texas and flies to Moscow after making history by being accepted into the Bolshoi Ballet Academy. Joy's dream is to graduate from the Academy and become a prima ballerina at the elite Bolshoi Company. But the competition is fierce and her legendary teacher, Tatiyana Volkova, demands immense commitment from her students. To follow her dream, Joy will have to make increasingly extreme sacrifices, even if it means putting herself in danger…
The Zone of Interest (USA, United Kingdom, Poland)
Written and directed by Jonathan Glazer
Based on The Zone of Interest by Martin Amis
Produced by James Wilson, Ewa Puszczyńska
Starring Sandra Hüller, Christian Friedel
Cinematography : Łukasz Żal
Edited by Paul Watts
Music by Mica Levi
Production companies : Extreme Emotions, Film4 Productions House Productions, Access Entertainment, JW Films
Distributed by A24 (United States), Gutek Film (Poland), Bac films (France)
Release dates : 19 May 2023 (Cannes), 8 December 2023 (United States), January 31 2024 (France)
Running time ; 106 minutes
Synopsis : Auschwitz commandant Rudolf Höss and his wife Hedwig try to build a dream life for their family in a house with a garden next to the camp.
Firebrand (Le jeu de la reine) (USA, United Kingdom)
Directed by Karim Aïnouz
Screenplay by Henrietta Ashworth, Jessica Ashworth
Based on Queen's Gambit by Elizabeth Fremantle
Produced by Carolyn Marks Blackwood, Gabrielle Tana
Starring Alicia Vikander, Jude Law, Sam Riley, Eddie Marsan, Simon Russell Beale, Erin Doherty
Cinematography : Hélène Louvart
Music by Dickon Hinchliffe
Production companies : Brouhaha Entertainment, Magnolia Mae Films
Distributed by Amazon Prime Video
Release date : 21 May 2023 (Cannes)
Running time : 120 minutes
Synopsis : Catherine Parr is the sixth wife of King Henry VIII whose previous spouses were either repudiated or beheaded, only one died of illness. With the help of her ladies-in-waiting, she finds herself fighting for her own survival and avoiding the bishop, the court, and the King's traps…
The inseparables (Les inséparables ) (France, Belgium & Spain)

Directed by Jérémie Degruson
Produced by Matthieu Zeller, Matthieu Gondinet
Written by Joel Cohen, Alec Sokolow
Music by Puggy
Distributed by KMBO (France)
Release date : December 13, 2022 (France)
Running time : 85 minutes
Synopsis : When the lights go out in the old theater of Central Park, the puppets come to life. Among them, Don, has been playing the same jester role for years. He dreams of having the role of a real hero for once and of discovering the world. He screwed up his courage and walks out. Along the way, he meets DJ Doggie Dog, an abandoned stuffed animal toy who wants to become a rap star. This is the beginning of an extraordinary story of friendship.
May December (USA)
Directed by Todd Haynes
Written by Samy Burch
Story by Samy Burch, Alex Mechanik
Produced by Jessica Elbaum, Will Ferrell, Christine Vachon, Pam Koffler, Natalie Portman, Sophie Mas, Grant S. Johnson, Tyler W. Konney
Starring Natalie Portman, Julianne Moore, Charles Melton
Cinematography : Christopher Blauvelt
Edited by Affonso Gonçalves
Music by Marcelo Zarvos
Production companies : Gloria Sanchez Productions, Killer Films, MountainA, Taylor & Dodge, Project Infinity
Distributed by Netflix
Release dates : May 20, 2023 (Cannes), November 17, 2023 (United States)
Running time : 113 minutes
Synopsis : Twenty years after their notorious tabloid romance gripped the nation, a married couple buckles under the pressure when an actress arrives to do research for a film about their past.
She came to me (USA)

Written and directed by Rebecca Miller
Produced by Christine Vachon, Pamela Koffler, Rebecca Miller, Damon Cardasis, Anne Hathaway
Starring Peter Dinklage, Marisa Tomei, Joanna Kulig, Brian d'Arcy James, Anne Hathaway, Harlow Jane, Evan Ellison
Cinematography : Sam Levy
Edited by Sabine Hoffman
Music by Bryce Dessner
Production companies : Protagonist Pictures, Killer Films, AI Film, Round Films
Distributed by Vertical Entertainment
Release dates : February 16, 2023 (Berlinale), September 29, 2023 (United States)
Running time : 102 minutes
Synopsis : A composer suffering from writer's block finds new inspiration after an unexpected encounter. Love
The pod generation (USA, United Kingdom, France)

Written and directed by Sophie Barthes
Produced by Geneviève Lemal, Yann Zenou, Nadia Kamlichi, Martin Metz
Starring Emilia Clarke, Chiwetel Ejiofor, Rosalie Craig, Vinette Robinson, Jean-Marc Barr
Cinematography : Andrij Parekh
Edited by Ron Patane, Olivier Bugge Coutté
Music by Evgueni Galperine, Sasha Galperine
Production companies : Quad Productions, Scope Pictures
Release date : 19 January 2023 (Sundance), August 11, 2023 (United States), October 25 2023 (France)
Running time : 109 minutes
Synopsis : In a not-so-distant future, AI is all the rage and nature is becoming a distant memory. Tech giant Pegasus offers couples the opportunity to share pregnancy on a more equal footing via detachable artificial wombs, or pods. But at what cost? Rachel and Alvy, a New York couple, are ready to take their relationship to the next level and start a family. Rachel's work gives them a chance to fast track to the top of the Pegasus waiting list. But Alvy, a botanist and devoted purist has doubts. His love for Rachel prompts him to take a leap of faith. And so begins the wild ride to parenthood in this brave new world with all its twists, turns, and bumps along the way.
(Source : press release)