By Mulder, 02 june 2023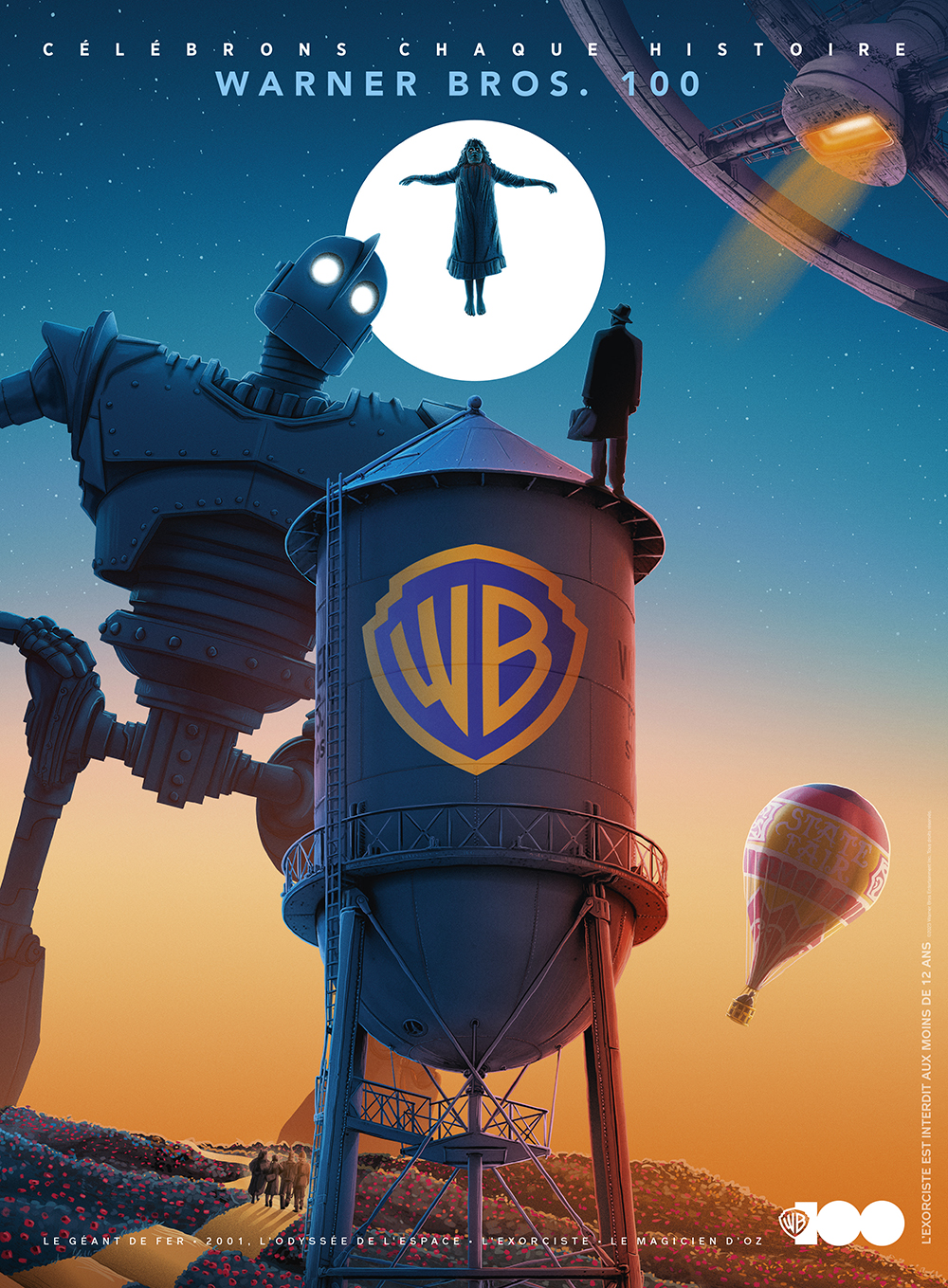 After blowing out its 100 candles at Cinemacon and the Cannes Film Festival, Warner Bros. invites itself to cinemas across France to celebrate its anniversary with exhibitors and their audiences.
Over 200 cinemas in more than 200 towns and cities will be taking part in the festivities, programming a large number of Warner films from June 7 onwards, and throughout the summer. Each cinema will take up the celebration in its own way and according to its usual audience, whether through marathons of iconic sagas, themed retrospectives, tributes to studio talent, ciné-clubs hosted and introduced by specialists, regular heritage rendezvous, re-releases of rare films digitized for the occasion, and so on.
The Warner Bros. studio will be showcased in all types of cinemas, from those specializing in heritage films to mainstream cinemas, with an immensely diverse catalog: silent films (So This Is Paris, etc.) and the arrival of talkies (Le Chanteur de Jazz), the Pre-Code era (Baby Face, etc.) and musicals (Une Etoile est née, Chantons sous la pluie, etc.), film noirs (Le Faucon Maltais, etc.), westerns (Rio Bravo, etc.) and more. ), westerns (Rio Bravo, The Desert Prisoner, etc.), New Hollywood (Bonnie and Clyde, etc.), science-fiction films (Soleil Vert, Ready Player One, etc.), the imprint of great names in the world of cinema. ), the imprint of great filmmakers (John Huston, William Wyler, George Cukor, Vincente Minnelli, Michael Curtiz, Stanley Kubrick, Clint Eastwood, Christopher Nolan, Peter Jackson, etc.) and stars (Bette Davis, Judy Garland, Humphrey Bogart, James Dean, etc.) and iconic sagas (Harry Potter, Matrix, etc.).
Among the program of re-releases, a suggestion of 11 films, one per decade, is offered to cinemas:
1920's - The Jazz Singer
1930's - 42nd Street
1940's - Casablanca
1950's - Rio Bravo
1960's - 2001, A Space Odyssey
1970's - The Exorcist
1980's - Blade runner
1990's - Goodfellas
2000's - Gran Torino
2010s - Inception
2020's - Joker
Programming focus:
More specifically, in Paris, iconic Latin Quarter cinemas such as Christine Cinéma Club, Écoles Cinéma Club and Filmothèque are dedicating part of their programming to Warner throughout the summer, including re-releases of films recently digitized for the occasion (At Ecoles Cinéma Club: La Splendeur des Amberson on June 7, Quand la ville dort on June 21, Un homme dans la foule on July 5, Une étoile est née (1937) on July 19, Arsenic et vieilles dentelles on August 2, Luke la main froide on August 16, L'Insoumise on August 30 - At the Filmothèque du Quartier Latin: The Shop Around The Corner on June 7, Les Passagers de la nuit on June 14, La Charge héroïque on June 21, L'Inconnu du Nord-Express on June 28, Les Ensorcelés on July 5). The diversity of the catalog will be showcased in key cinemas in other Parisian districts, such as UGC Ciné Cité Les Halles and UGC Ciné Cité Bercy, Pathé Les Fauvettes, Grand Rex, Max Linder, Louxor, Grand Action and more. Pathé, France's leading cinema circuit, will also be a key partner of the centenary, programming five Warner films in nearly 70 cinemas, as part of its Il était une fois... screenings, with an introduction by film critic Philippe Rouyer broadcast in all cinemas. The next edition of La Grande Journée des Enfants, to be held on June 18 in Pathé cinemas across France, will be an opportunity for young and old alike to (re)discover Harry Potter and the Philosopher's Stone. Several cinemas in major French cities will also be extending this celebration by programming more films from the Warner catalog. Parisians will also be able to discover a wide selection of Warner films in a dedicated room at the Pathé Les Fauvettes cinema throughout the summer, including two Ciné-club sessions introduced by film critic Philippe Rouyer.
"UGC Fête Warner" is the name of the special operation the French circuit is dedicating to Warner for the centenary celebration. Several events will take place in the circuit's different theaters, both in Paris and its suburbs, and in the provinces.UGC Ciné Cité Les Halles, the world's leading cinema in terms of attendance, is dedicating an entire auditorium to the centenary from June 7 to August 29, programming one film a day all summer long - a total of 84 films, many of which will be introduced by the cinema's director or personalities. The UGC Ciné Cité Bercy will honor Warner's iconic sagas and directors by organizing film marathons over several summer weekends. Finally, UGC Culte, the circuit's weekly heritage event, will be entirely dedicated to Warner throughout the summer, with the programming of nearly ten films in 16 cinemas across France.
To celebrate the studio's 100th anniversary, CGR Cinémas and Warner Bros have teamed up to launch a fun, participatory application enabling cinema-goers to choose the films from the Warner catalog they would like to see programmed at CGR Cinémas. By sharing their selection, participants will be able to win exceptional prizes and exclusive benefits at CGR Cinémas.
The Kinepolis circuit, which operates mainly in the French provinces, will be screening 17 Warner films throughout the summer as part of their classic Kultissimes event in some 15 cinemas. In the Megarama circuit, the Warner centenary will be celebrated with a varied program of 10 films, adapted to the audience of each cinema.
The Cinéville cinema network will program a dozen Warner films over several weeks starting in June.
MK2 will be celebrating its 100th anniversary with an open-air screening of Les Affranchis in the Cour Carrée as part of the Cinéma Paradiso Louvre Festival. A number of cinemas in the Paris network will be programming Warner titles in their Cultissime screenings.
Last but not least, a large number of independent cinemas will also be taking part in the festivities from June 7, including the following non-exhaustive list of cinemas hosting magnificent Warner programming over the summer: Institut de l'image (15 films) and Cinémas Aixois (Cézanne, Renoir, Mazarin - 20 films) in Aix en Provence, Studio 53 Cinéma in Boulazac (16 films), Ciné Action Palace in Chauffailles (16 films), Hélios in Colombes (11 films), Trèfle in Dorlisheim (17 films), Palace in Epernay (20 films), Cinétampes in Etampes (21 films), Sonhir in Hirson (33 films), Conti in L'Isle Adam (29 films), Mérignac Ciné in Mérignac (26 films), Ecran in Saint Denis (25 films), St Exupéry (10 films) and Vox (30 films) in Strasbourg, Le Roc in Terrasson (18 films), and many more.
Focus on marketing and support
An unprecedented communications and promotional plan is being put in place in collaboration with partners (Allociné, La Septième Obsession, Le Monde, Télérama). Specific material has been developed to promote the Warner Bros. 100 event at the cinema: posters, trailers, photos, visuals for social networks, 100th anniversary logo, press kit. To accompany the pre-programmed films for young audiences, exhibitors have at their disposal, in cinema format, the 1957 Looney Tunes short film Bird Eaters Anonymous, which won the Oscar for best animated short.
The ADRC (Agence pour le Développement Régional du Cinéma) and the AFCAE (Association Française des Cinémas Art et Essai), key institutions in cinema exhibition and distribution, will be supporting this anniversary with special events. The ADRC will develop a printed leaflet featuring a selection of films and a 100 years poster for their members to accompany a retrospective available to exhibitors. The AFCAE will create a 4-minute video presenting Warner by critic N. T. Binh, which will be made available to cinemas as a pre-programme for heritage screenings.
To celebrate the centenary of Warner Bros. studios, Paris Match has selected some twenty photographs for an open-air photo walk on the Cours Félix Faure during the Cannes Film Festival, starting May 16. The exhibition will then travel to more traditional formats in Paris this summer, at the Pathé Les Fauvettes cinema, the Paris Cinéma Club gallery and the UGC Ciné Cité Les Halles.
(Source : press release)