By Mulder, 16 march 2023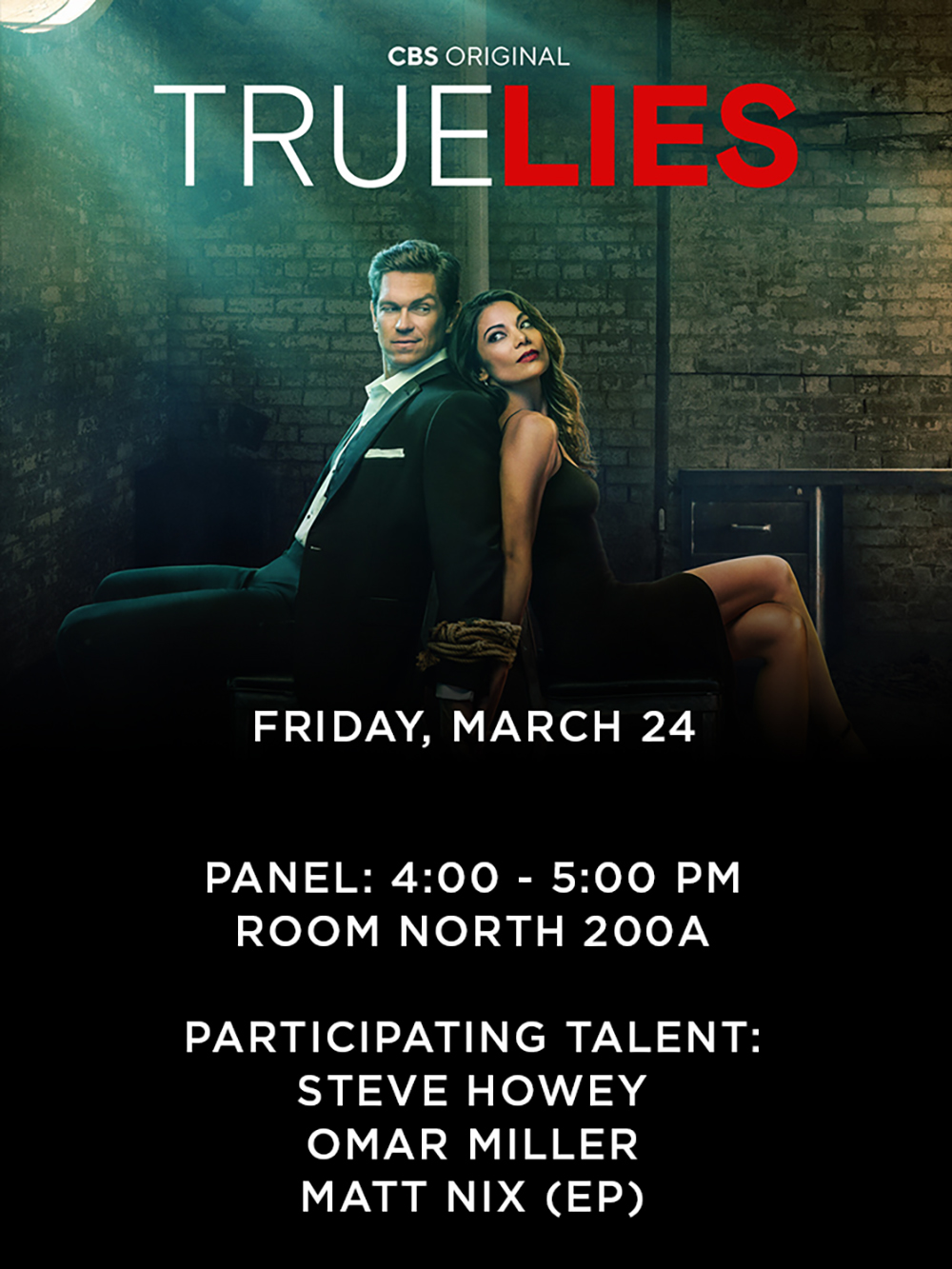 True Lies is an American action television series created by Matt Nix, based on James Cameron's film of the same name. It premiered on March 1, 2023 on CBS. The series revolves around a suburban housewife who discovers her computer consultant husband is a skilled international spy, which leads them to saving the world and their marriage.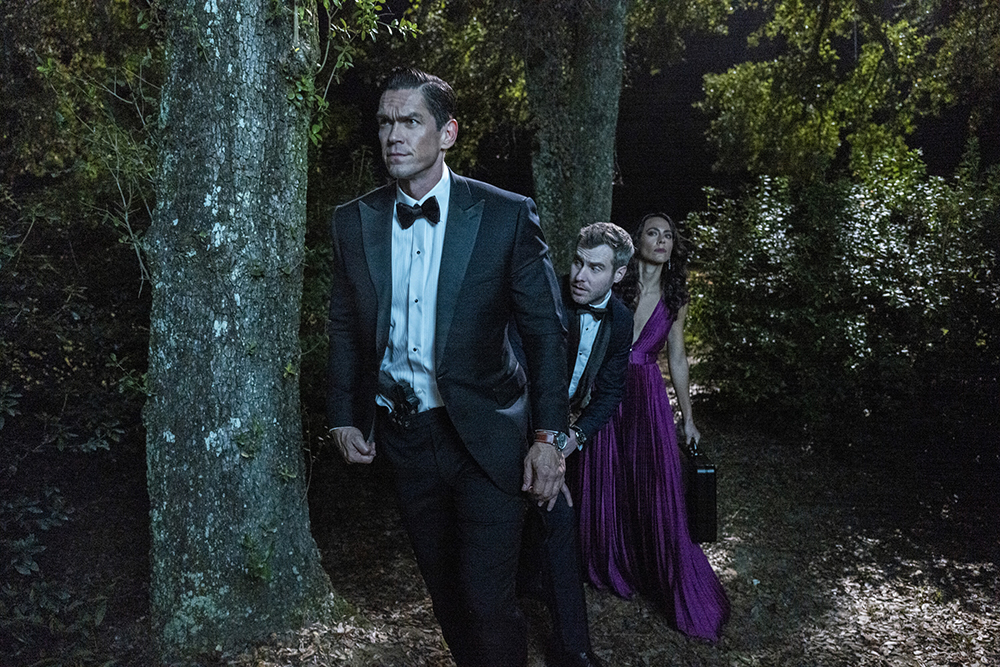 The secret's out: True Lies is coming to WonderCon! Inspired by James Cameron's hit action/comedy film of the same name, the new CBS drama follows Harry Tasker (Steve Howey), a first-class international spy for U.S. intelligence agency Omega Sector, and his wife, Helen (Ginger Gonzaga), a language professor bored with her daily routine who makes the shocking discovery that her seemingly ordinary husband is leading an extraordinary double life. With the secret out, Omega recruits Helen, who impresses everyone with her formidable skills, and she joins Harry and his team of top-notch operatives, embarking on covert missions around the globe and an exhilarating life of danger and adventure—all while keeping their adventures a secret from their children. Join series stars Steve Howey, Ginger Gonzaga, and Omar Miller and showrunner Matt Nix for a Q&A, followed by an exclusive advance screening of an action-packed episode.
In September 2010, multiple websites reported that James Cameron, writer/director of the 1994 film, was developing and executive producing with Rae Sanchini, through Lightstorm Entertainment and 20th Television, a True Lies television series with Dark Angel producer René Echevarria serving as showrunner and producer. In 2017, Fox planned to do a pilot of the series, with Marc Guggenheim as screenwriter, McG as executive producer and possible director. On February 10, 2021, CBS announced a pilot order for the second attempt at a True Lies series adaptation, with Matt Nix writing the pilot and producing with Josh Levy via Flying Glass of Milk Productions. By May 2022, the series was revived, with Anthony Hemingway replacing McG as the director of the pilot and subsequent episodes, before CBS picked up the series to air in the 2022–2023 broadcast season. Steve Howey and Ginger Gonzaga were cast in the lead roles, while Erica Hernandez, Omar Miller, Mike O'Gorman, Annabella Didion, and Lucas Jaye round out the supporting roles By February 2023, Matthew Lillard, Keith David, Jackson Hurst, and Tom Connolly were confirmed to have guest roles, while Tom Arnold is set to return from the 1994 film.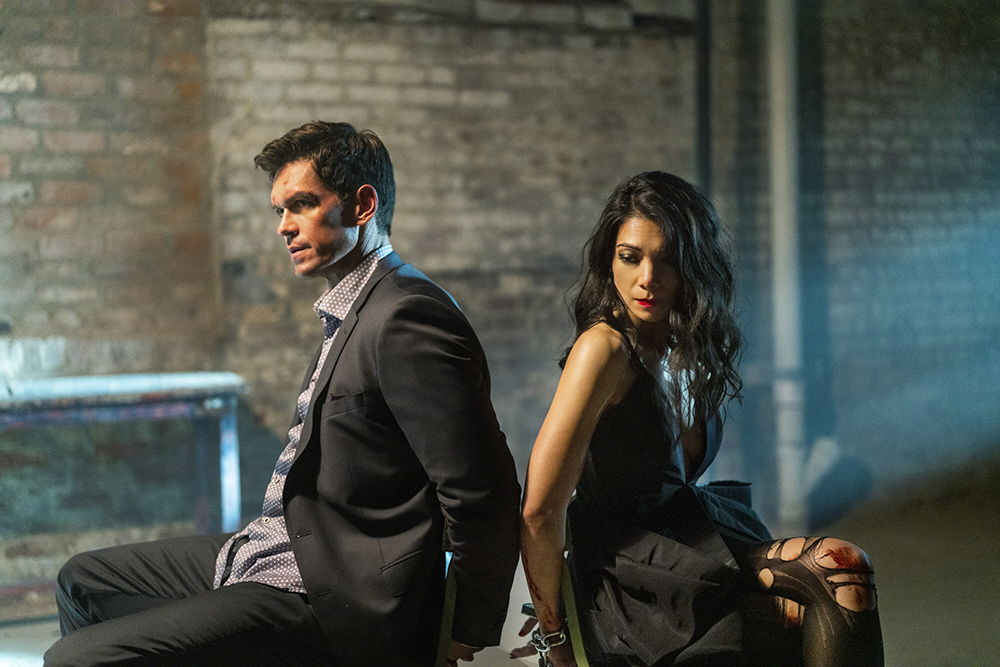 True Lies premiered on CBS and Paramount+ on March 1, 2023. It was previously set to premiere on February 23, 2023. It will also be broadcast in Canada on CTV the same day as its US release. In Australia, True Lies streams on Disney+ instead of Paramount+ as of March 1, 2023, the same day in the U.S.
Synopsis :
Based on the films by Claude Zidi (La Total (1991)) and James Cameron (True Lies (1994)). A weary teacher, Helen is stunned to discover that her seemingly ordinary husband leads a colorful double life. Unbeknownst to anyone, Harry is actually a brilliant spy for the American intelligence agency Omega Sector. The teacher and mother joins Harry and his team of top agents on secret missions around the globe. An exciting life of danger and adventure awaits them...
True Lies
Created by Matt Nix
Based on True Lies by James Cameron
Starring Steve Howey, Ginger Gonzaga, Mike O'Gorman, Erica Hernandez, Annabella Didion, Lucas Jaye, Omar Miller
Executive producers : Anthony Hemingway, Matt Nix, James Cameron, Rae Sanchini, McG,Mary Viola, Corey Marsh, Josh Levy
Production companies : Flying Glass of Milk Productions, Lightstorm Entertainment, Wonderland Sound and Vision, Anthony Hemingway Productions, 20th Television
Original network : CBS
Original release March 1, 2023 – present
Running time : 43 minutes
Photos : Copyright CBS
(Source : press release)