By Mulder, 18 november 2022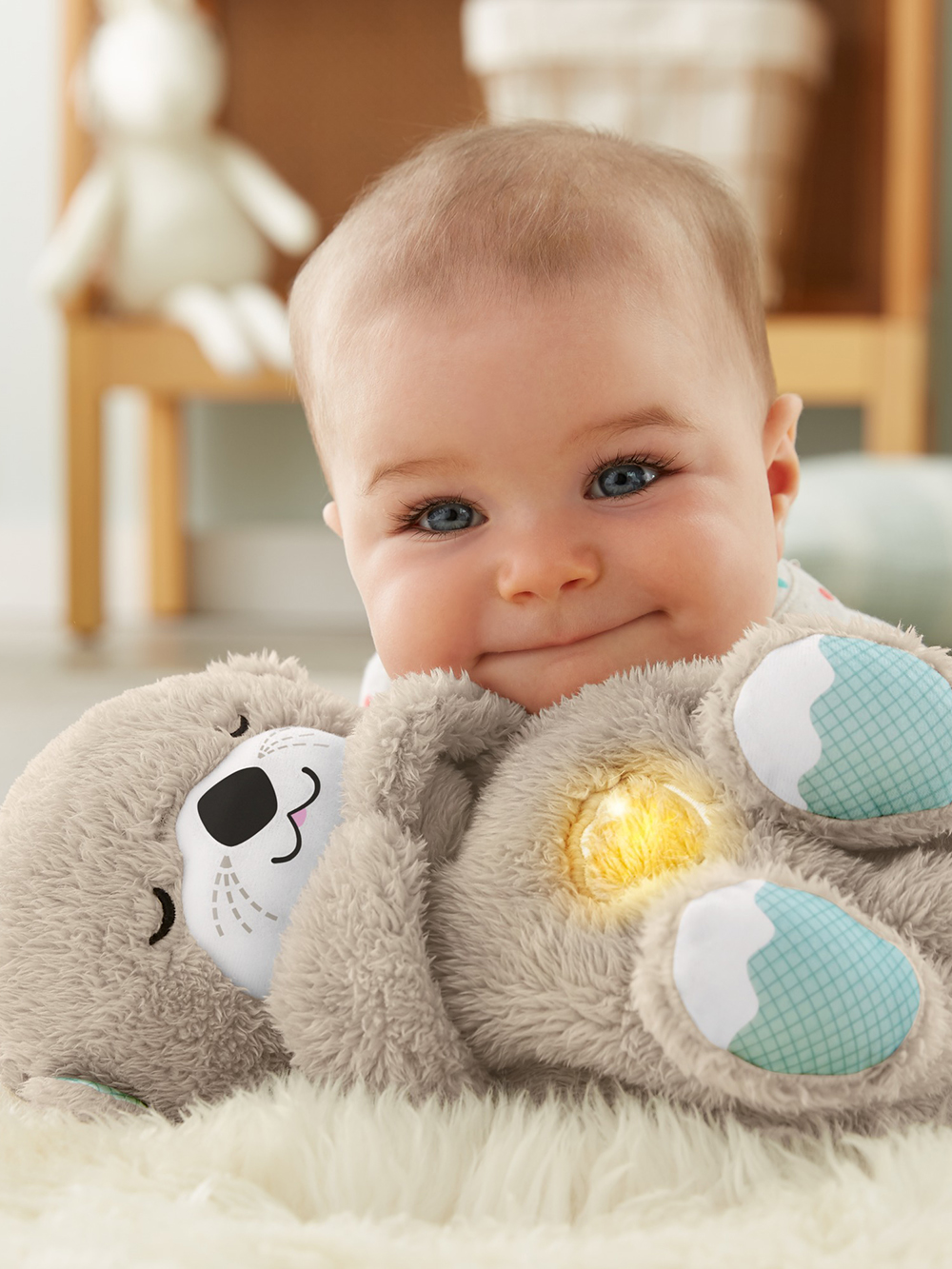 This year, the Mattel group is rolling out the red carpet for its Christmas Festival. Its emblematic brands, unavoidable and always more surprising, will amaze children and adults at the foot of the Christmas tree. Iconic Barbie® and Fisher-Price® toys are invited to the festivities, as well as the four-wheelers and the spectacular Hot Wheels®, Matchbox® and Cars® racing circuits, and the indisputable UNOTM, ScrabbleTM and PictionnaryTM board games for intergenerational recreation; children's favorite worlds such as Sam the Fireman, The Patrol, Thomas and his friends, Polly Pocket or Harry Potter, but also brands aimed at Kidults with Mega Pokémon construction games and figurines from Masters of the Universe®, Jurassic World or Buzz Lightyear...
An event not to be missed, bringing together toy brands that have crossed generations: over 90 years for Fisher-Price®, over 60 years for Barbie® and over 50 years for Hot Wheels®. These are brands that have captured the hearts of families and that today maintain a strong attachment with their consumers. Much more than toys, they are now part of the culture and daily life of the French. Television, VOD platforms, derivative products, mobile games, digital content and soon the cinema with the long-awaited Barbie movie... Mattel continues its revolution and is now a powerful player in the entertainment industry.
For more than 90 years, the Fisher-Price brand has conquered the hearts of families by imagining ever more innovative and fun toys that help children blossom, marvel and awaken. The brand has found its place at every stage of baby's life: first steps, discovery of the environment, learning until school entry and more, thanks to innovative and constantly renewed products. Year after year, the brand continues to respond better and better to the needs of young children thanks to its unfailing knowledge of early childhood. This expertise is also due, for more than 60 years, to its secret weapon: the Play Lab, its research center dedicated to developing the best, most fun and most enriching toys possible, in direct contact with children. And to the delight of the whole family, Fisher-Price now offers toy lines featuring children's favorite heroes such as Thomas et ses Amis, which is making its comeback on TF1 with the series "Thomas et ses Amis: Tous En Avant!", or Gus the Minus Knight, also on TF1. Mattel is also developing collections of toys from the adventures of the heroic Sam the Fireman, which can be found on France TV but also on Netflix, Amazon Prime and TFou Max. Enough to imagine even more stories and share magical moments with your family for Christmas!
Fisher Price - the linkimals range
Elizabeth The Owl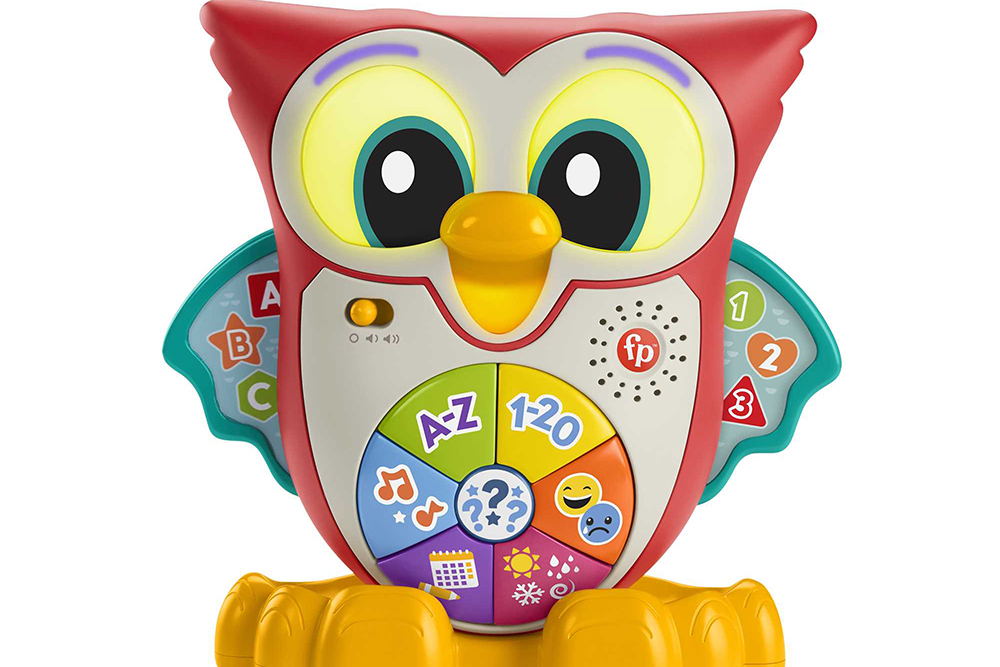 When the child presses the buttons on the little owl's belly and swings it from left to right, this expressive friend lights up with bright colors and activates more than 90 songs, sounds and phrases to teach him to count from 1 to 20 and to help him discover the alphabet, the weather, emotions and more.
Omer, the polar bear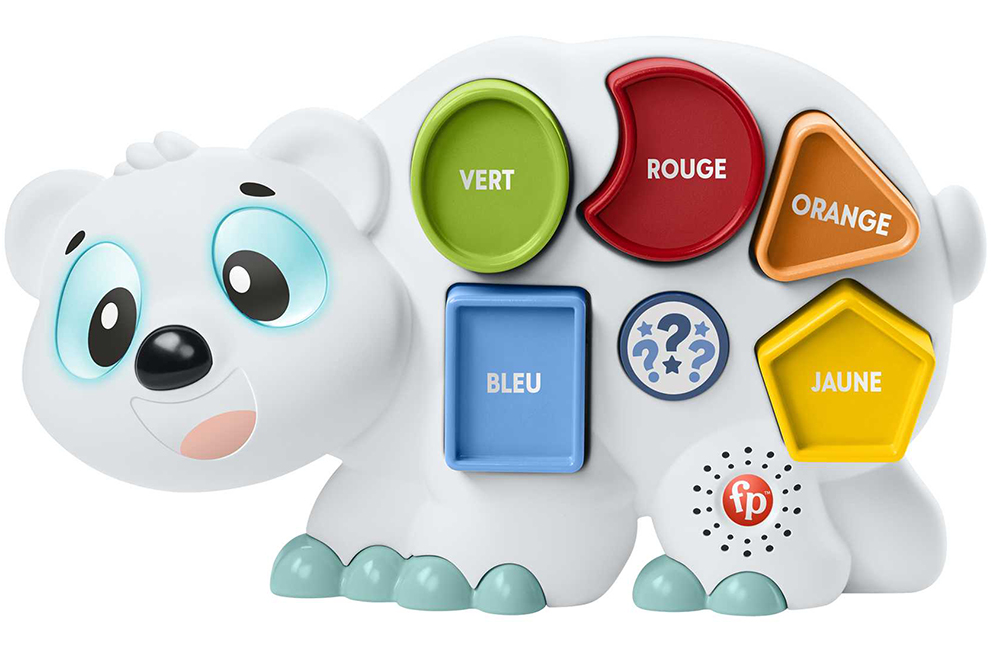 The new interactive toy with lights, songs, sounds and phrases that are triggered when the child places the 5 shapes in the corresponding holes.
Eden The Whale


Eden helps toddlers count to 20 with its numbered buttons that light up while triggering over 120 songs, sounds and phrases.
DJ The Bouncing Dancing Robot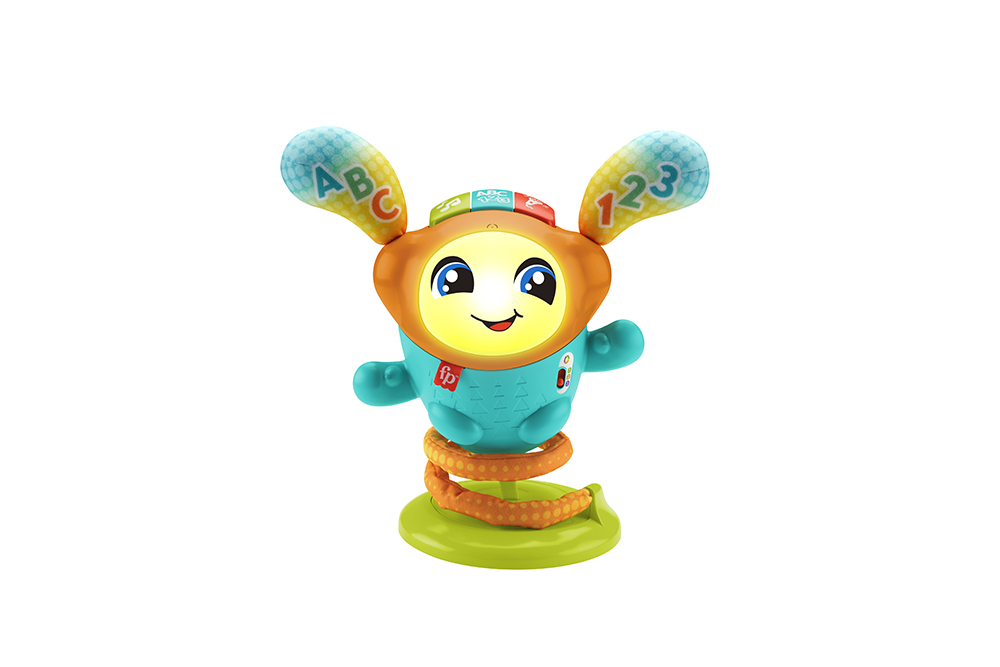 DJ Le Robot Danseur à Rebond by Fisher-Price was born from a simple observation: as soon as they stand up, babies already want to DANCE, JUMP, MOVE! DJ dances, hops, records and remixes with baby. It adapts and accompanies the development of the little ones by interacting with them. By pressing the buttons you can hear the robot sing, make music or say funny sentences while hopping. With the help of the integrated microphone, the child can also record and sing to remix the toy's music! With its 3 learning stages, DJ The Bouncing Robot Dancer gradually accompanies the child in his awakening and development.
Jo the 4-in-1 robot


Jo the 4-in-1 Robot becomes a real playmate, offering babies 4 play modes with music, lights and fun interactive activities. Ultra innovative, this futuristic looking motorized robot will become a child's favorite playmate. Each of the 3 parts of the robot has a new and exciting activity in store for toddlers: from rolling eyes to tumbling to four-legged chases. Baby can interact and play with each part separately, or put them together to enjoy a big playmate with new sounds, melodies and phrases!
My evolving activity engine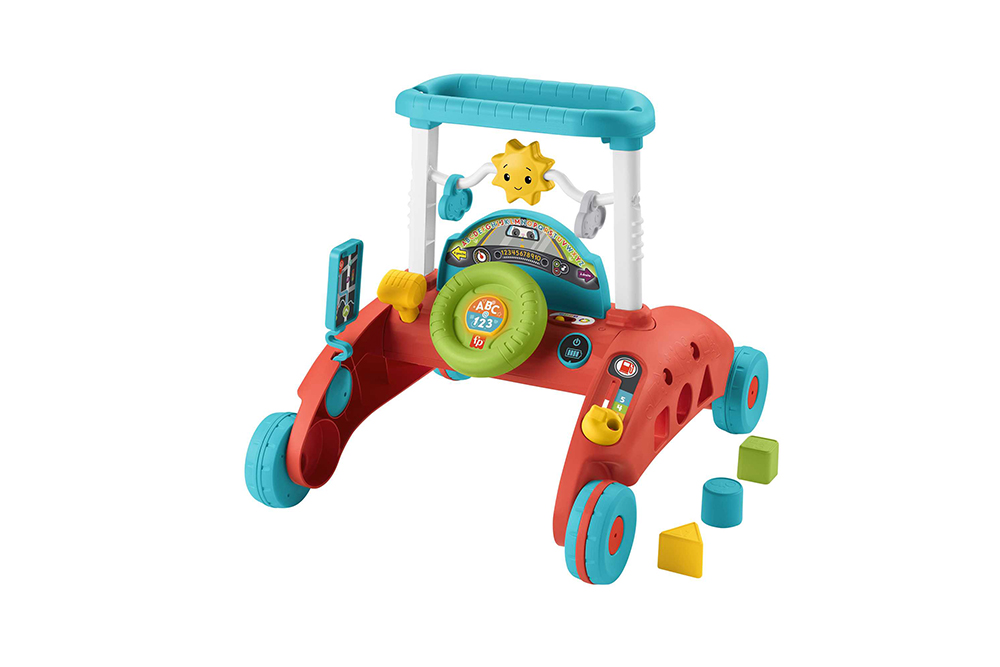 My evolving activity walker "grows" with baby by going from sitting to standing play to accompany his first steps. This unique walker, designed like a small car, allows babies to stand and push the toy forward or backward thanks to the wheels. The rhythm of its wheels adapts to the child's pace throughout the period of learning to walk. Little drivers also learn the alphabet, opposites and numbers while "walking"! Perfect for children's learning.
My puppy crawls with me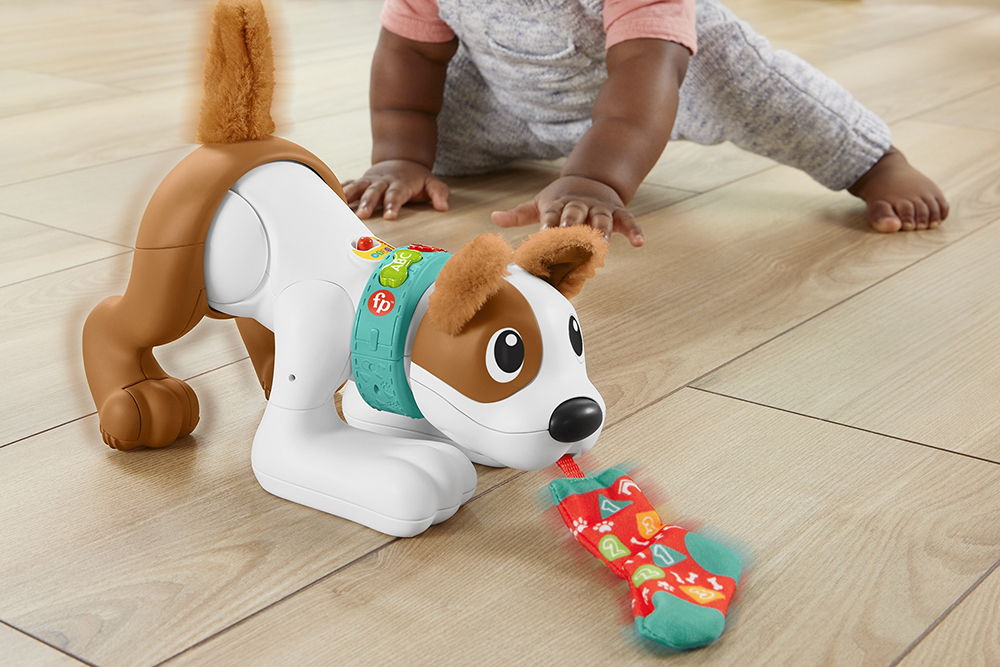 Like all puppies, My Puppy Crawls with Me loves to play! When baby pulls on the cloth sock in the puppy's mouth, the animal wiggles its bottom, shakes its head up and down and moves forward and backward, inviting baby to follow it on all fours and perform new feats! For even more interaction, baby can press buttons on the puppy's collar to activate songs, sounds or phrases to learn the alphabet, numbers, colors and counting... And thanks to Progressive Awakening® technology, the educational content can evolve as baby grows!
My little meditation mouse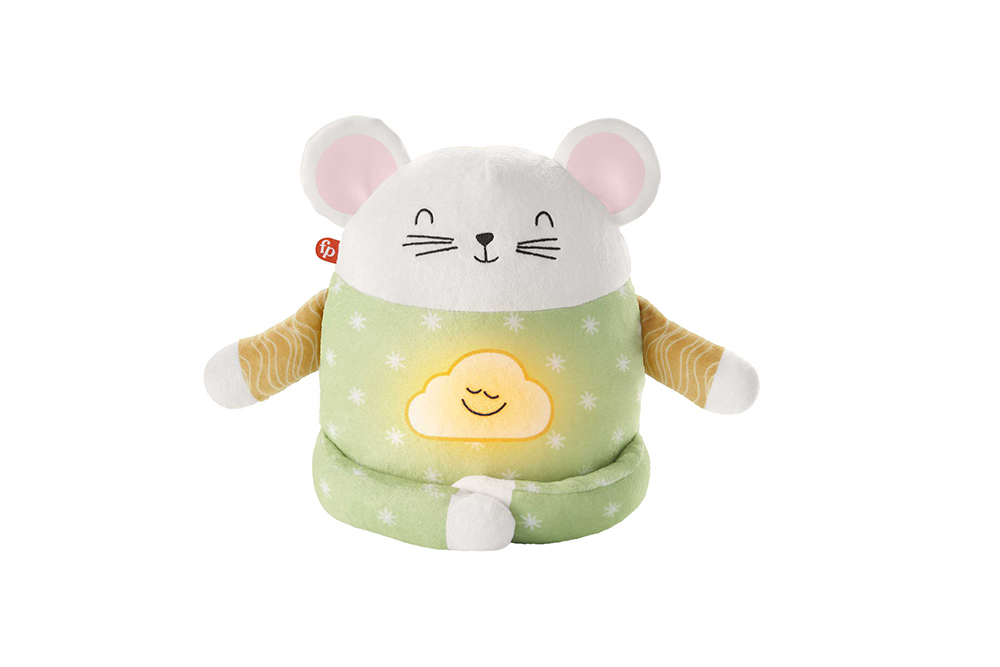 My Little Meditation Mouse introduces toddlers to guided meditation through body and breathing exercises
and breathing exercises to help them relax during the small crises of the day and at bedtime. This soothing plush mouse is the comforting blanket that children can count on to help them regain their calm in all circumstances.
My otter cuddles good night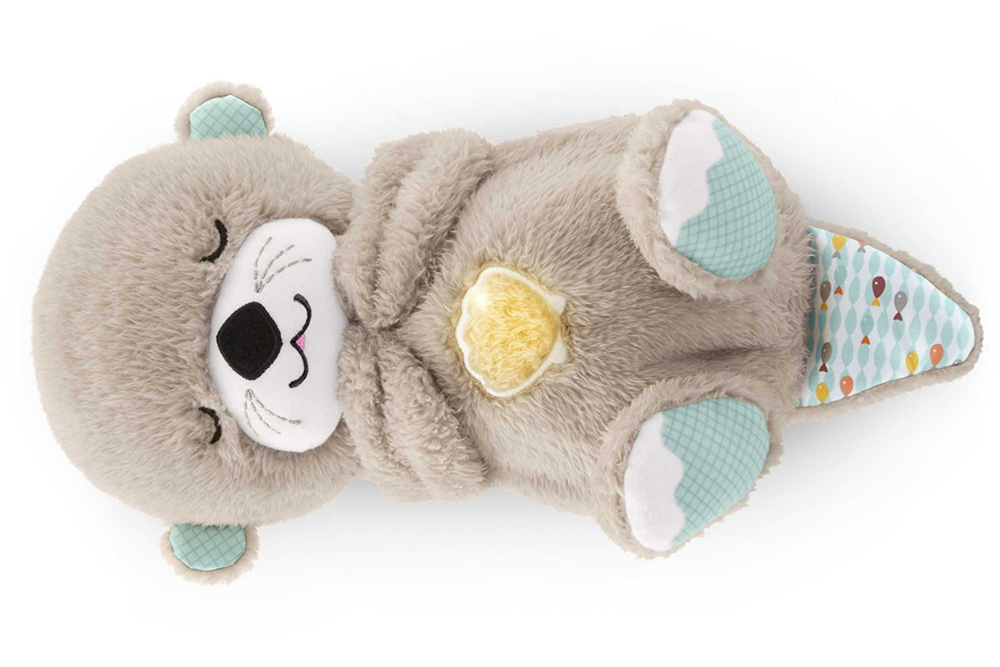 My Otter Cuddles Good Night is a reassuring plush that brings baby the comfort he needs. Its soft belly rises and falls in rhythm to reproduce the movements of breathing to calm baby naturally. It can play up to 30 minutes of soothing music, sound effects and soft lights, with its adorable face, soft materials and satiny tail. My Otter Cuddles Good Night is the ideal friend for baby to feel safe and reassured in the arms of Morpheus.
The Vintage Phone


As cute and entertaining as ever, this pretty phone always has more than one trick up its sleeve to awaken children with mischief! With its beaming face, its rotating dial, its little eyes that move when you pull it and its funny ringtones, the Vintage Phone is definitely the best friend of toddlers who love to repeat what their parents say and invent great stories. It also helps develop baby's gross motor skills by encouraging him to talk and walk while stimulating his senses with its bright colors and funny noises.
Fisher-Price bedding set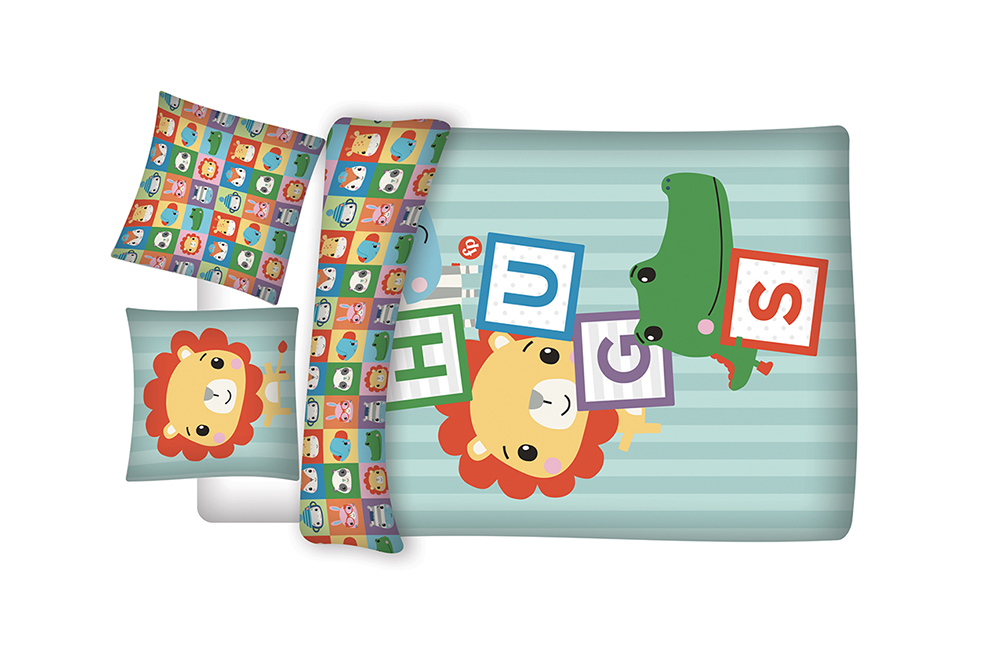 With this beautiful comforter cover of 140x200cm and its two pillowcases, the little ones will be able to have big and beautiful dreams!
The ball pool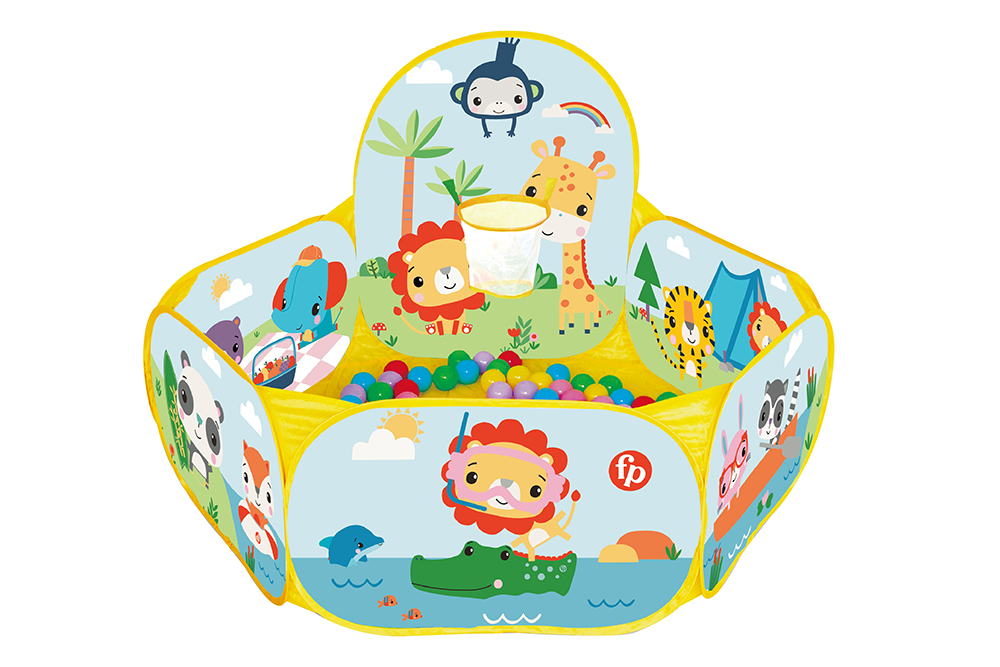 Let's go for the adventure! With this large polyester ball pool 30 X 11 X 10cm, its 25 balls and its basketball hoop included, baby will have hours of fun! Foldable and easily stored, this pool will also delight the older ones!
Fisher price - mega bloks
Mega Bloks, the must-have preschool construction brand: maxi-bricks perfect for little hands with big imaginations!
The Wagon Touri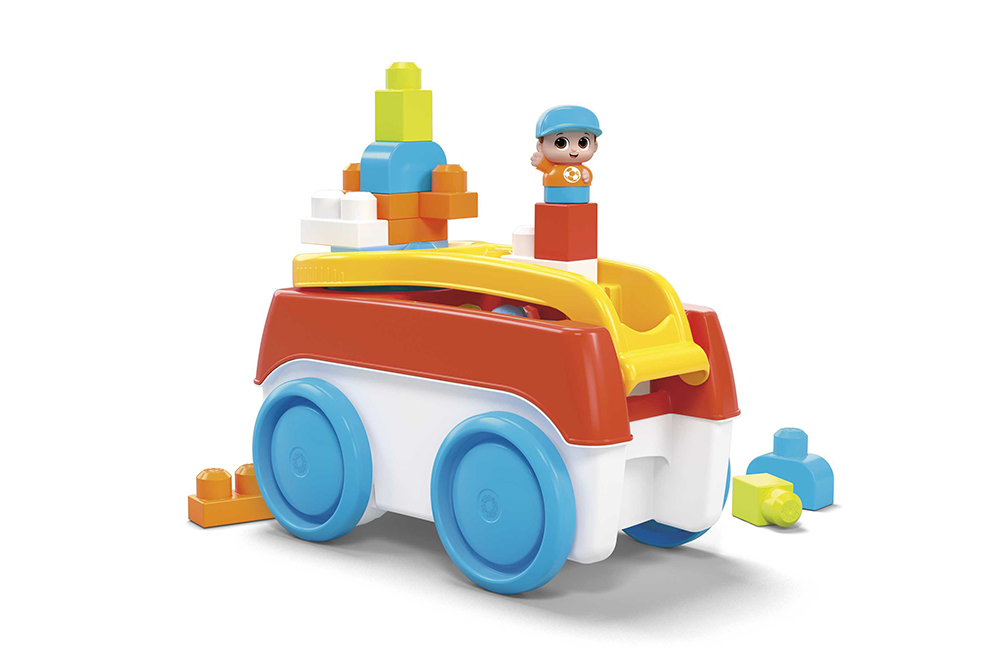 Toddlers will turn heads with this brand new wagon. With the maxi bricks in the wagon, budding builders start building their creation right on the wagon. They can then pull the wagon to rotate their constructions. Perfect for little hands, these blocks are easy to grab and stack, encouraging fine motor skills, creativity and imagination.
The Avalanche table


A construction space perfectly adapted to the youngest builders. With the maxi-bricks included, imagination has no limits. Building and rebuilding is easier than ever. With a simple press of a large button, children can make their construction tumble in an instant. An avalanche of bricks for their greatest pleasure and to rebuild even better! Adapted to the little hands of the youngest, these blocks are easy to catch and stack, and help develop fine motor skills, creativity and imagination!
Fisher Price - Thomas and his friends
The new series "Thomas et ses Amis : Tous en Avant", produced by Mattel Television, in partnership with Nelvana Studio of Corus Entertainment is broadcasted every weekend on TFou since August. Kids can follow the adventures of Thomas, the most playful and endearing of the locos, along with his friends Percy, Nia, Kana, Diesel, Carly and Sandy. Each episode is filled with humor, fantasy and catchy songs! Thomas gives children smart advice and encouragement for their daily lives, such as trying new things, making new friends, facing fears, being resourceful, working as a team, being empathetic...
Assortments of small locomotives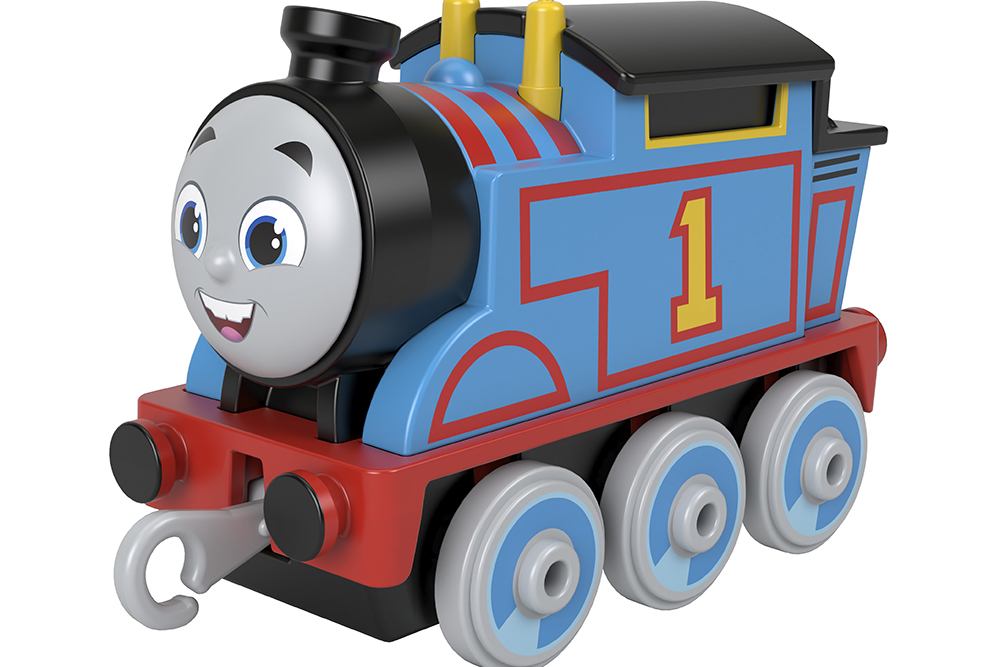 Find Thomas and his friends in small locomotives compatible with each track of the range. The whole gang can also hook up to other locomotives or freight trains thanks to the plastic connectors located at the front and back, enough to create a real convoy!
Thomas' looping track ahead for dizzying adventures!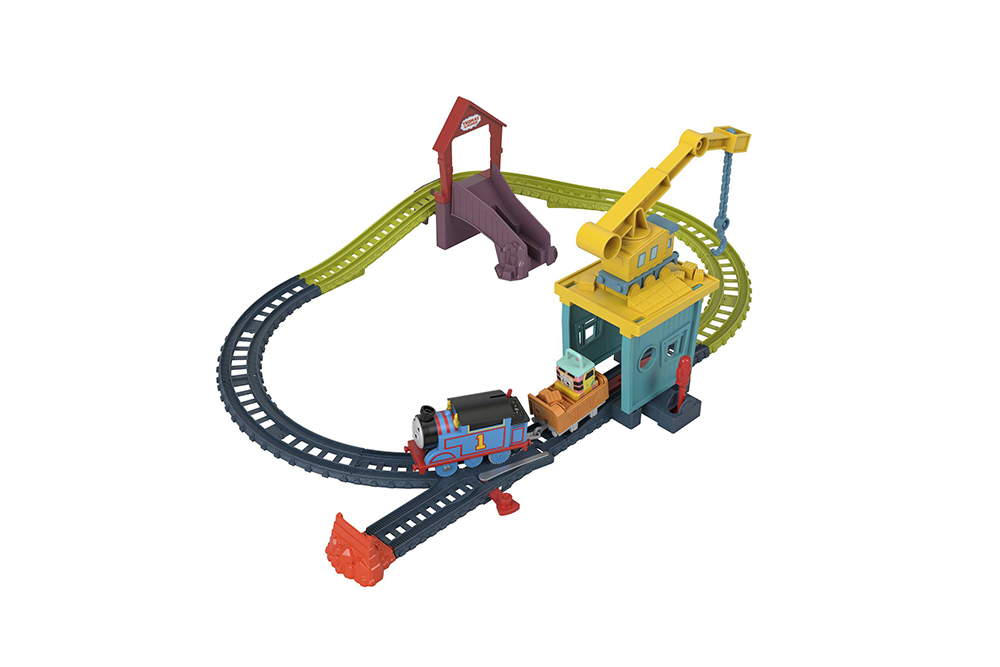 Young drivers will be able to go on many loops with Thomas' Looping Track. This set includes a motorized train and a track with almost 4 meters of rails for little engineers to reproduce the acrobatic scenes from the series.
Carly and Sandy's track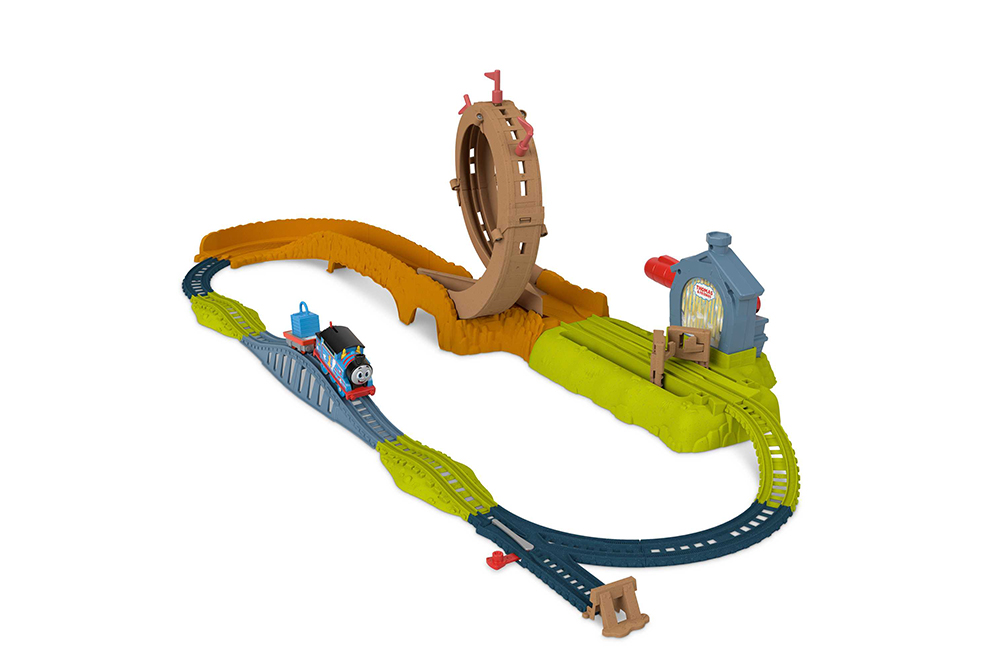 Carly and Sandy's track includes a motorized Thomas locomotive, as well as two other characters: Carly the Crane and her best friend, Sandy the Speeder! Carly the Crane uses her hook to lift and load the little speeder into Thomas' freight car for a ride together.
Fisher Price - Gus the Minus Knight
With the toy collection from the Gus the Minus Knight series, children can recreate all sorts of valiant quests and create their own fun epic in the kingdom of Karamel!
The castle of Karamel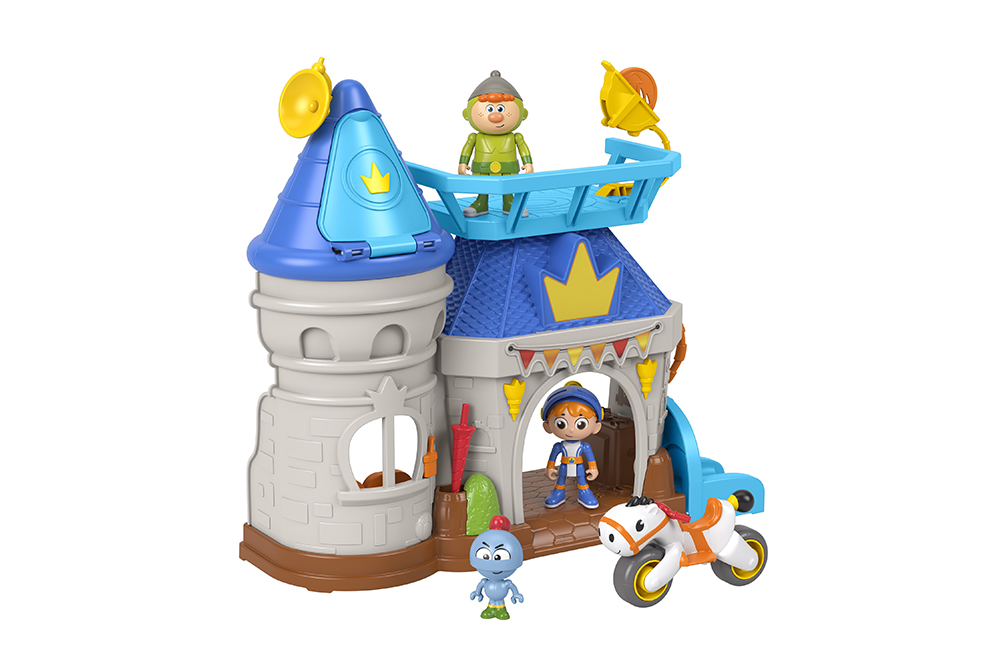 With Karamel's Castle, kids can help Gus and his friend, Thibaut, defend Karamel's kingdom from terrible invaders! This play set includes a secret entrance to the tower, a couch that traps invaders, a catapult projectile launcher, and the "electric stable" where Thibaut can make sure Gus' trusty pony is ready for adventure.
Gus the talking knight to share thousands of stories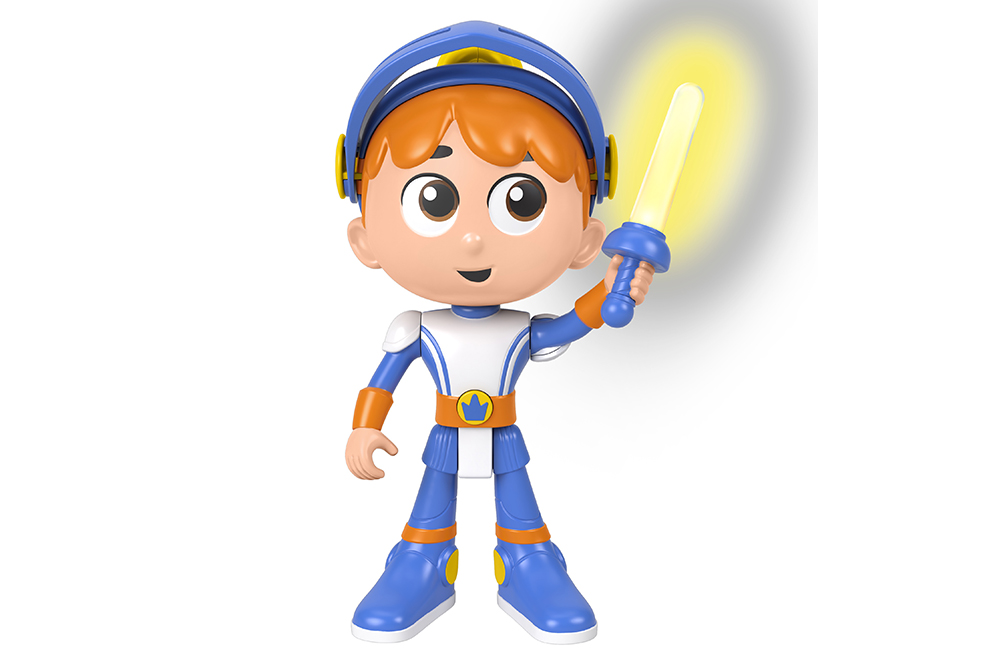 Children can live their adventures with this talking Gus figure. By pressing the belt, the knight comes to life with lights and sounds. He knows over 20 sounds and phrases from the series and his "electric" sword lights up. For even more exciting role play, the figure's arms and legs are articulated and the visor can be opened and closed.
Gus and his friends box set (small figurines, big epics)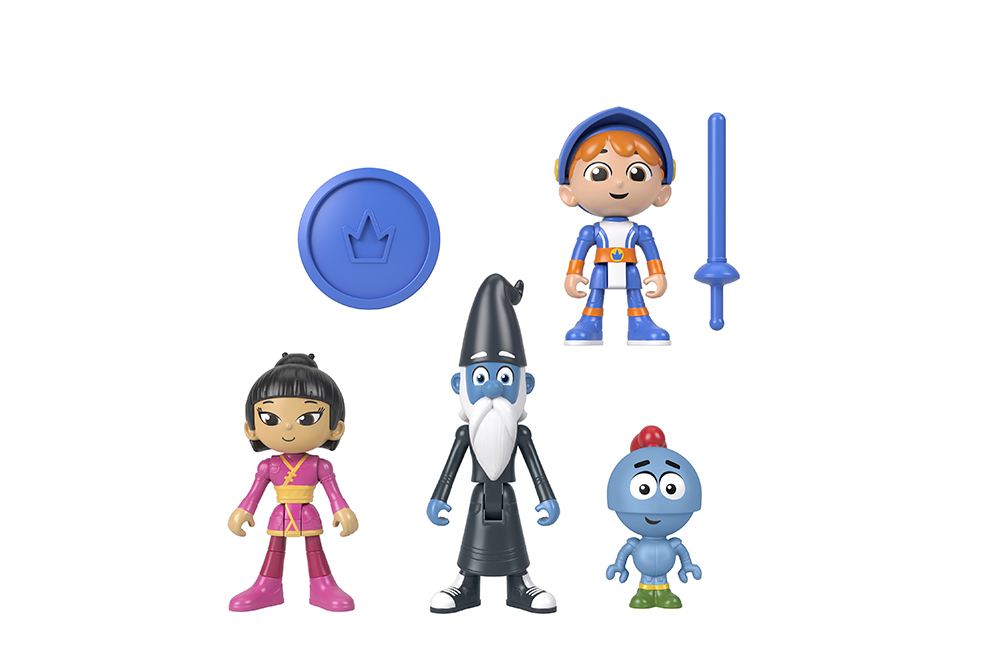 With the Gus and friends set, children can reproduce the great adventures of the series and develop their imagination. 4 key characters are included in this set: Gus with his sword and shield, Diana, Grandpa Merlin and a mischievous Clic-ti. What to create new epics to the characters of the series!
Fisher Price : Mega Paw Patrol
Mega, the essential brand of construction and The Patrol,
1st property of the preschoolers join to propose boxes to build.
The patroller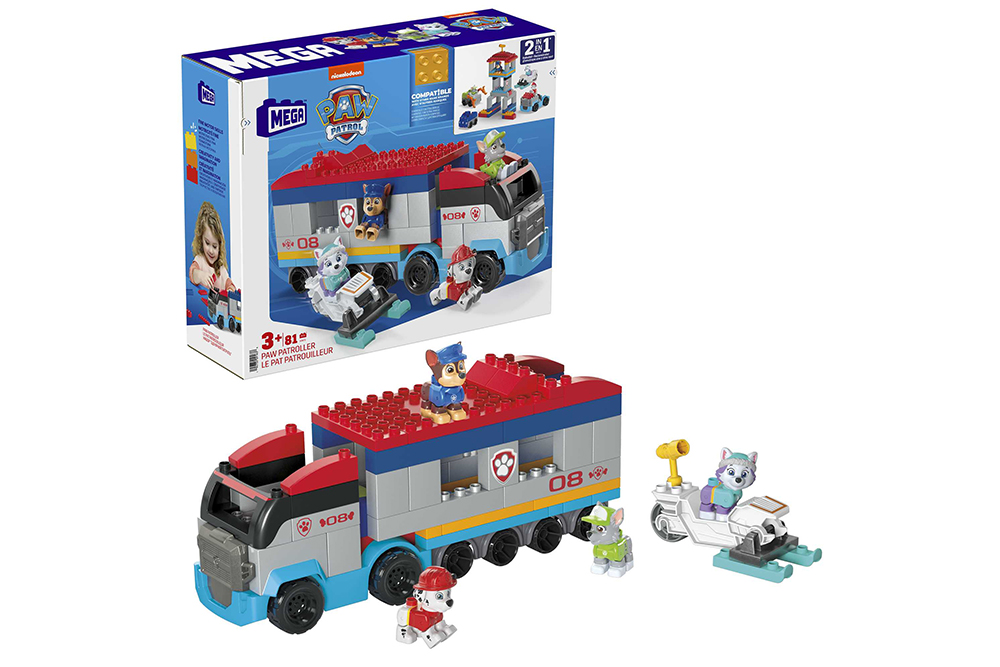 Builders will be able to build this iconic vehicle from their favorite cartoon The Patrolman. 4 articulated figures to go on a rescue mission: Chase, Marcus, Rocky and Everest. This large buildable vehicle also features another configuration for even more creativity and adventure.
The super fire truck


Rescue mission with the Marcus Super Fire Truck with its 2 articulated figures, Marcus and Stella, heroes of the Pat'Patrouille cartoon, its functional ladder, its helicopter. Thanks to the many elements of this truck to build, different configurations are possible for even more adventures.
Fisher Price - Sam the fireman
Sam, the little ones' favorite fireman, and his friends are back to protect the inhabitants of Pontypandy from Nicolas the daredevil's bad jokes in a brand new season. On the program: always more adventures and epic rescues! This cartoon honors these everyday heroes and their beautiful values of courage, teamwork and generosity to educate the youngest to the good safety gestures with sweetness and humor! To be found on France TV but also on Netflix, Amazon Prime and Tfou Max!
The police station of Pontypandy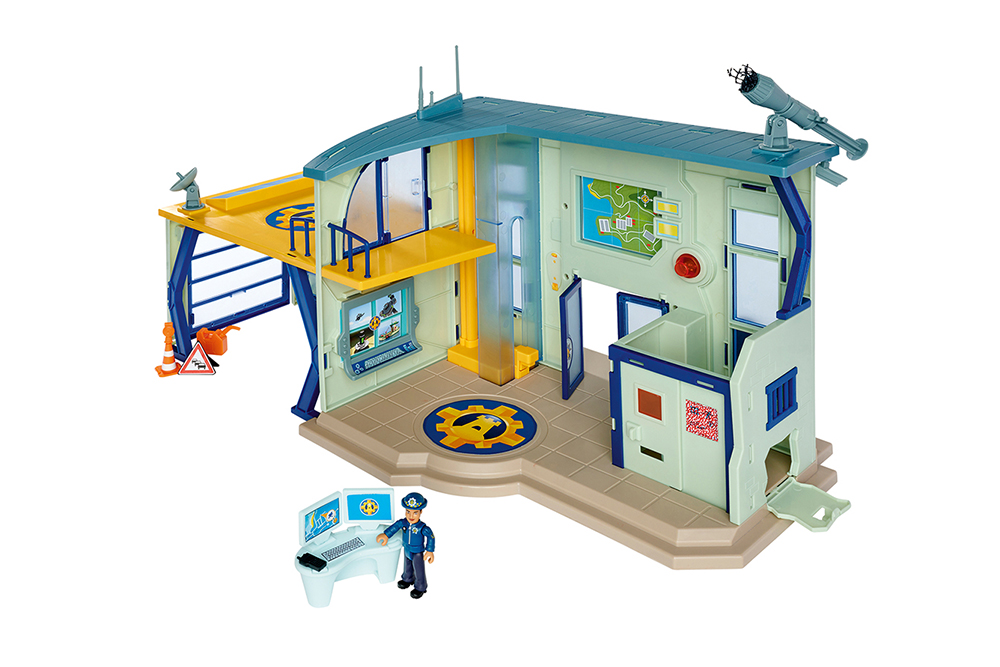 Welcome to the police station of the city of Pontypandy! This playset contains many sound and light functions but also a parking space for the 4x4 of the brigade, a prison cell with escape hatch, an elevator, an alarm function, a heliport and of course the articulated figurine of Sergeant Rose Raveni! A whole program for hours of fun with the favorite fireman of the little ones and his friends!
Malcolm's police car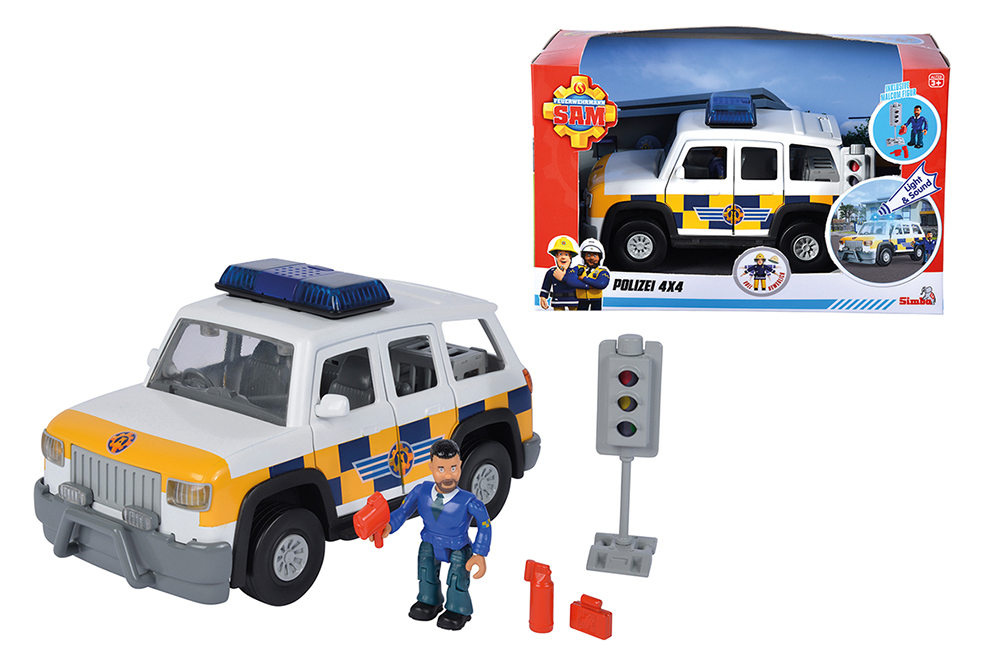 Malcolm's police car is a precious little jewel when it comes to interventions! It is equipped with opening doors and trunk and has a sound function. Many accessories are included such as the traffic light, the fire extinguisher, the first aid kit, the mobile radar without forgetting of course the articulated figurine of Malcolm the Pontypandy police officer.
The fire station of Pontypandy


A real 360° rotating platform, the fire station will be the starting point for a thousand and one incredible stories, full of adventure and courage. The fire station contains several functions and play areas including a rotating drop bar, a water station, an electronic call center, a kitchen and a relaxation area! There are also many accessories included in the playset as well as an articulated figurine to allow budding firefighters to imagine epic rescues with their favorite characters.
Fireman Sam's Jupiter Truck


Just like their favorite hero, Fireman Sam, kids can help the people of Pontypandy! With the Jupiter truck and its articulated figurine of Sam, children become the heroes of the fire team of the cartoon. Equipped with a spotlight on the roof of the truck, they will be able to search at night or turn on the flashing lights and the siren of the truck for an emergency intervention! Nicolas has to behave himself!
(source : press kit)