By Mulder, 21 august 2022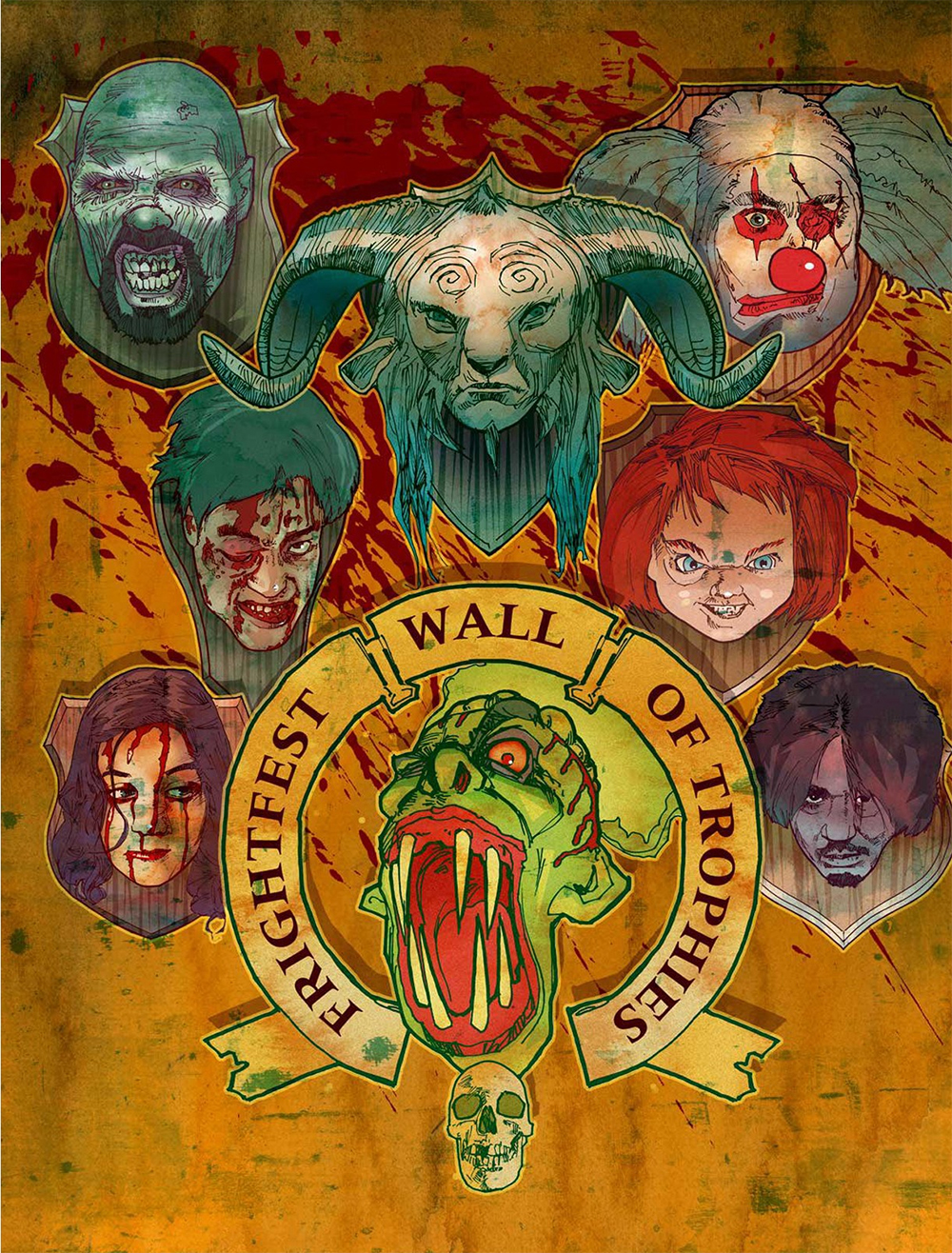 FrightFest was conceived by Paul McEvoy, Ian Rattray and Alan Jones and staged its first event in 2000 at the Prince Charles cinema, off London's Leicester Square. Its August Bank Holiday weekend date has remained a fixture ever since. Greg Day, their long-serving PR man, joined the company as a co-director in 2006. The objective of FrightFest was to provide the UK with a horror fantasy festival of similar stature to the market leaders in Europe, Sitges (Spain) and Brussels (Belgium). FrightFest has since evolved into a community where audiences and guests alike travel from all over the world to be part of the event's unique atmosphere.
Due to rapidly increasing audiences and its burgeoning reputation as a must-attend event, FrightFest moved home to Screen One of the Odeon West End, Leicester Square in 2005 and staged the Land of the dead premiere, with legendary icon George Romero in attendance. 2006 found FrightFest having to move again to the larger Screen Two auditorium in the Odeon West End and extending its length from four to five days. A banner year with the second only screening of pPan's labyrinth after its Cannes Film Festival debut. Director Guillermo del Toro attending for the second time that year called FrightFest "The Woodstock of Gore".
2009, the festivals 10th anniversary, marked FrightFest's biggest leap so far. Moving just a couple of hundred yards across Leicester Square, the festival upgraded to the UK's largest traditional cinema screen at the Empire Cinema. The move heralded the most ambitious line-up of new genre movies presented to date. Additional screens soon followed plus the addition of the popular Discovery strand. After five years at the Empire Cinema where additional films and extra screenings were added, FrightFest was on the move again, this time 100 yards along Leicester Square to the VUE, West End, a state of the art multiplex. There FrightFest settled into five of the cinema's nine screens. Taking advantage of the additional space FrightFest expanded again increasing the number of films featured to over 70.
In 2017 after a year in West London where the festival latest initiative aimed at new first-time British directors, First Blood joined the line-up the festival moved back to the heart of London taking up residence at the Cineworld and Prince Charles Cinemas were the event has remained ever since. Outside of the main August event FrightFest also stages a Halloween extravaganza and hosts a regular two-day terror-thon at the Glasgow Film Festival every February. FrightFest also organises special events. Over the years they have included Dario Argento at the Coronet, Drag me to hell with Sam Raimi, Hostel Day, Dead Day, An Evening with Jessica Alba, Clive Barker in Discussion, Cold in july with director Jim Mickle. FrightFest has also launched Jake West's two Video nasties documentaries and hosted many world premieres. Highlights include Neil Marshall's The descent, Chris Smith's Black death starring Eddie Redmayne and in 2017 Cult of chucky which was streamed worldwide to millions of viewers.
A wounded fawn (2022) (USA) (91 minutes) (International Premiere)
Director: Travis Stevens.
With: Sarah Lind, Josh Ruben, Malin Barr, Katie Kuang.
Synopsis : Meredith Tanning is a local museum curator who is dipping her toe back into the dating pool. But unsuspecting Meredith is being targeted by a charming serial killer. When a fateful romantic getaway between the two becomes a tense game of cat and mouse, both must confront the madness within him.
Note : Inspired by surrealist art and Greek mythology, the latest shocker from Travis Stevens of Jakob's wife and Girl on the third floor horror fame is another visually arresting nightmare that is equal parts gripping, unexpected and surprisingly funny.
B*tch a** (2022) (USA) (83 minutes) (International Premiere)
Director: Bill Posley.
With: Teon Kelley, Tunde Laleye, Mel'isa Sellers, Kelsey Caesar.
Synopsis : Inspired by the Saw and Don't breathe franchises, four young adults raid the house of an old woman and her bullied grandson Cecil as part of a gang initiation. What they don't know is that Cecil is actually the "First masked Black serial killer," to quote Tony Todd's opening introduction, and in his super slasher guise as Bitch Ass Cecil starts picking them off one by one making his prey compete in deadly, limb-ripping games. Win and you live - lose and you die.
Barbarian (2022) (USA) (102 minutes) (UK Premiere)

Director: Zach Cregger.
With: Georgina Campbell, Bill Skarsgård, Justin Long, Kurt Braunohler.
Synopsis : Arriving in Detroit for a job interview, a young woman books a rental home. But when she arrives late at night, she discovers that the house is double booked and a strange man is already staying there. Against her better judgement, she decides to spend the evening, but soon discovers that there's a lot more to fear than just an unexpected house guest.
Note : It's the under-the-radar horror movie of the year. One that everybody will soon be talking about.
Bite (2022) (UK) (99 minutes) (World Premiere)
Director: James Owen.
With: Shian Denovan, Nansi Nsue, Annabelle Lanyon, Anthony Ilott.
Synopsis : Pursued by a dangerous criminal after a failed theft, con artists Nina and Yaz get more than they bargained for when they target Beryl, a seemingly innocent elderly widow.
Note : With thirty years real of life surgical experience, detailed knowledge of human dissection and a vivid imagination, director James Owen will guide you deep into the bowels of Beryl's house to discover the shocking truth behind a seemingly innocent woman and her family. This is a horror story of entrapment and cannibalism, a fast paced thriller of unexpected and shocking revelations.
Burial (2022) (UK) (95 minutes) (World Premiere)

Director: Ben Parker.
With: Harriet Walter, Tom Felton, Charlotte Vega, Bill Milner.
Synopsis : Set in the last days of World War II, the new thriller from Ben Parker, director of The Chamber, tells the tall story of a small band of Russian soldiers, led by intelligence officer Brana Vasilyeva, tasked with trafficking the discovered remains of Adolf Hitler back to Stalin in Moscow. En route, the unit is attacked by German 'Wehrwolf' partisans and picked off one-by-one. Brana leads her surviving comrades in a last stand to ensure their 'cargo' doesn't fall into the hands of those who would see it buried, in order to hide the truth forever.
Bandy land
Candyland (2022) (USA) (UK Premiere)
Director John Swab.
With: William Baldwin, Eden Brolin, Olivia Luccardi, Sam Quartin.
Synopsis : A seemingly naïve and devout young woman finds herself cast out from her sinister religious cult. With no place to turn Remy immerses herself into the underground world of truck stop sex workers courtesy of her four new gay and bisexual friends. Under the watchful eye of their madam Nora, and enigmatic local lawman Sheriff Rex, Remy navigates between her strained belief system and the Lot Lizard code to find her true chilling calling in life.
Note : 1970s exploitation screams back into fashion in John Swab's TRUCK STOP WOMEN meets COMMUNION shocker.
Cerebrum (2022) (UK) (96 minutes) (World Premiere)

Director: Sébastien Blanc.
With: Steve Oram, Tobi King Bakare,Ramona Von Pusch.
Synopsis : Will, an insecure young man, struggles to adapt to his new life after waking up from a coma. Upon returning home, he must fight his estranged father, Richard, in order to be able to see his seemingly absent mother, and uncover the true consequences of his past actions. Richard, however, is in denial, stuck in the past, and desperate to hold on to what once was - with deadly consequences.
Control (2022) (Canada) (90 minutes) (World Premiere)

Director: James Mark.
With: Sara Mitch, George Tchortov, Evie Loiselle.
Synopsis : Locked in a mysterious room and commanded by an unknown voice, Eileen must complete several tasks in order to save her daughter's life. As the tests and the stakes intensify to the point where succeeding seems well nigh impossible, Eileen is forced to discover she has some unexpected skills and kinetic powers. Armed with a new confidence and commanding forces, alone against an unknown army, she plans a daring escape
Note : From visionary artist James Mark, director of Enhanced and Kill order, a tense mix of Cube and Lucy that's the first Canadian sci-fi thriller to use real-time virtual production tools.
Croc! (2022) (UK) (80 minutes) (World Premiere)
Director: Paul W. Franklin.
With: Sian Altman, Mark Haldor, George Nettleton, Chrissie Wunna.
Synopsis : Lisa and her family unite at a wedding venue, excited for the big day. However, unknown to the happy family, nearby lurks a nest of hungry crocodiles that have been living undetected in a local lake. As the marital festivities begin, the belligerent reptiles crash the wedding party and begin to cause a bloodthirsty massacre.
Cult of vhs (2022) (USA) (89 minutes) (World Premiere)

Director: Rob Preciado.
With: Graham Humphreys, David Gregory, Michael Keene, Kevin Martin.
Synopsis : Why does the VHS videocassette format still hold such a fascination for young and old horror movie fans? This informative documentary explores the allure, the nostalgic artwork, straight to video titles and yes, the Video Nasties, through engaging, thought-provoking and entertaining interviews with collectors, film directors and VHS enthusiasts. Take a trip down Memorex lane with graphic artist Graham Humphreys, Severin Films head honcho David Gregory and directors Kristian A. Söderström and Josh Stifter among many others as they take us through their first experiences with the medium and what it meant to them.
Dark glasses (2022) (Italy) (86 minutes) (UK Premiere)

Director: Dario Argento.
With: Ilenia Pastorelli, Asia Argento, Andrea Gherpelli, Mario Pirrello.
Synopsis : In Rome, a serial killer has garrotted three high-class sex worker girls with cello strings, and up-market escort Diana is next on the list. Pursuing her one night in a white van, the maniac causes her car to crash, leaving her blind, and a young Chinese boy, Chin, in the other vehicle, an orphan. Together they must face the incandescent wrath of the snubbed murderer who continues to relentlessly stalk them.
Note : Dario Argento returns to the extreme thriller he pioneered in the 1970s with The bird with the crystal plumage and Deep red.
Daughter (2022) (USA) (95 minutes) (World Premiere)
Director: Corey Deshon.
With: Casper Van Dien, Elyse Dinh, Vivien Ngô, Ian Alexander.
Synopsis : Marking the distinctive feature film debut for writer/director/producer Corey Deshon, this dark and surrealistic indie thriller follows a young woman who is inducted by a strange man into a bizarre family to live as their new surrogate sibling. Navigating through a twisted family dynamic while coping with the loss of her own freedom, dark secrets about the past are revealed, leading to even more shocking implications about the future.
Note : An assured debut shot beautifully in 16mm, Daughter is in equal measure a horrific chamber piece as it is a moving ensemble about the intersection between family and religion.
Deadstream (2022) (87 minutes) (International premiere)
Directors: Joseph Winter, Vanessa Winter.
With: Joseph Winter, Melanie Stone, Jason K. Wixom, Pat Barnett.
Synopsis : Co-director Joseph Winter stars as disgraced YouTube celebrity Shawn Ruddy, who will do anything to reclaim his influencer infamy. So he locks himself inside the reportedly haunted Death Manor that once belonged to lovesick 1800s poet Mildred Pratt. As Shawn breaks every horror movie rule for follower spikes, he accidentally angers a vengeful spirit and his big comeback event becomes a real-time fight for his life.
Note : The sensation of the SXSW Festival, this is a horror comedy for our multi-platform, live streaming age.
Deep fear (2022) (France) (80 minutes) (European Premiere)
Director: Grégory Beghin.
With: Victor Meutelet, Sofia Lesaffre, Joseph Olivennes, Kassim Meesters.
Synopsis : Paris: The 1980s. Three students decide to celebrate their graduation with a visit to the local catacombs deep in the heart of the French capital. There they discover a bunker bearing the number 717. Little do they know about the legend attached to the creepy foxhole, that it was even feared by the Nazis themselves during the World War II occupation. For the dugout is not the only thing the Gestapo soldiers have left behind them. Something, someone, is hunting them. And trapped deep underground in a maze of horrors, the trio needs to get out before it's too late.
Do not disturb (2022) (USA) (92 minutes) (International premiere)
Director: John Ainslie.
With: Kimberley Laferriere, Rogan Christopher, Janet Porter, Christian McKenna.
From John Ainslie, the screenwriter of Jack Mrooks: monster slayer, comes an all-consuming narcotic nightmare. Chloe and Jack travel to Miami for their honeymoon. Amidst the flashy neon and sunny beaches, they decide a peyote experience will strengthen their marriage. Unbeknownst to them, they've been given a rare and powerful strand of the drug that awakens a desire to eat human flesh.
Dog soldiers (2002) (UK) (105 minutes) (Retrospective - 4k restoration)

Director: Neil Marshall.
With: Sean Pertwee, Kevin McKidd, Emma Cleasby, Liam Cunningham.
Synopsis : A routine military exercise turns into a nightmare in the Scotland wilderness in the explosive British creature feature that announced the artistic vision, technical prowess and sensational debut of director Neil Marshall to the genre world. Scary, funny and exhilarating, the jaded soldiers stumble across a savage werewolf attack and take refuge in a secluded farmhouse, battling to make it to dawn against wave after wave of lycanthropic assaults.
Note : Knowing humour combined with gruesome gore and relentless action adds further layers of entertainment, creating a now classic crowd-pleaser from the future director of The descent and Game of Thrones.
Eating miss campbell (2022) (UK) (84 minutes) (World Premiere)

Director: Liam Regan.
With: Lyndsey Craine, Lala Barlow, Vito Trigo, Laurence R. Harvey.
Synopsis : From Liam Regan, director of My bloody banjo, comes a dark-satirical-horror-comedy take on the teen-high school genre. Vegan-goth student Beth Conner, falls into a relationship with her new English teacher, Miss Campbell, and soon develops a problematic taste for human flesh. Unable to commit suicide without the help of a loaded handgun, Beth finds herself destined to live inside a 90s cliché-laden horror film. When a patriarchal school board auctions the rights to live stream the inaugural "All You Can Eat Massacre" contest (the prize a loaded handgun!) Beth finally finds a way to escape horror movies for good.
Everybody dies by the end (2022) (90 minutes) (World Premiere)
Directors: Ian Tripp, Ryan Schafer.
With: Bill Oberst Jr., Vinny Curran, Caroline Amiguet, Iliyana Apostolova.
Synopsis : Cult horror director Alfred Costella has decided to make his ultimate masterpiece. After becoming a sensation with the successes Battery acid, Psycho menace and Kill time now, a car crash talk show interview ten years ago looked like ending his illustrious career. But now he's returning to the independent movie fold to make his final shocker, Everybody dies by the end, an all-practical concept with a dark twist. And invited along to cover every aspect of the production is a documentary film crew. What could possibly go wrong?
Everyone will burn (2022) (Spain) (112 minutes) (UK Premiere)
Director: Daniel Hebrero.
With: Macarena Gomez, Rodolfo Sancho, Sofia Garcia, Ruben Ochandiano.
Synopsis : In a small village in Leon, Spain, María José (Sexy killer's Macarena Gomez) prepares to end her life after failing to get over the suicide of her bullied son years before. Everything changes when she receives a visit from Lucía, a strange little girl who could be connected to a local legend about stopping an impending apocalypse. With the enigmatic girl by her side, María José faces the corrupt community, overloaded with sadistic secrets and immoral lies.
Fall (2022) (USA) (107 minutes) (European Premiere)
Director: Scott Mann.
With: Jeffrey Dean Morgan, Grace Fulton, Virginia Gardner,Mason Gooding.
Synopsis : After the tragic death of her husband in a climbing accident, avid rock climber Becky has withdrawn from the world. In an effort to help Becky heal from her past trauma, best friend Hunter suggests an exhilarating climb to the top of a remote, abandoned 2000-feet high radio tower where they will scatter her husband's ashes. But when sections of the mast's rickety ladder break off, the girls are stranded at the top in a pulse-pounding, vertigo-inducing fight for survival against the elements and unforeseen dangers. Get ready for the adrenaline-fuelled, thrill-a-minute experience of a lifetime.
Family dinner (2022) (Austria) (97 minutes) (UK Premiere)

Director: Peter Hengl.
With: Pia Hierzegger, Nina Katlein, Michael Pink, Alexander Sladek.
Synopsis : Tired of feeling down about her weight, plus-sized 15-year-old Simi heads to her aunt Claudia's house for Easter weekend. Claudia is a popular nutritionist who's written best-selling health books, so for Simi, this could help inspire weight loss. But as Claudia's dietary guidance verges on becoming overly militant and hostility pervades the holiday. What's causing everyone to act so strangely and aggressively? The answers are even worse than Simi's worst nightmares in this dread-filled, gut-punching shocker.
Final cut (2022) (France) (111 minutes) (UK Premiere)

Director: Michael Hazanavicius.
With: Romain Duris, Berenice Bejo, Finnegan Oldfield, Gregory Gadebois.
Synopsis : In 2017, One cut of the dead caused a FrightFest cult sensation. Now, after opening the Cannes Film Festival, the critically acclaimed French remake by Michael Hazanavicius, director of the Oscar-winning The Artist, takes us back to its inception and shows all the gory tricks of the Z-movie trade needed to get it on screen in the first place. It's the silly, excessive and cheery meta-zombie movie of the year that's a feel-good over-the-top riot.
Follow her (2022) (USA) (95 minutes) (UK Premiere)

Director: Sylvia Caminer.
With: Dani Barker, Luke Cook, Mark Moses, Eliana Jones.
Synopsis : Struggling actor and moderately successful live-streaming star Jess Peters has found her way into the zeitgeist. By secretly filming creepy interactions she encounters via online job listings, she uses the kinks and weirdness of others for Internet success. For her next episode she's hired to write the ending of a screenplay, which leads her to a cabin in the woods with Tom, the self-proclaimed writer. But reading the script, Jess realises she is the main character and Tom is not who he seems… Brace yourself for twist after twist as this nimble social media thriller gets meta and better.
H4z4rd (2022) (Belgium) (88 minutes) (International premiere)

Director: Jonas Govaerts.
With: Tom Vermeir, Jennifer Heylen, Frank Lammars, Dimitri 'Vegas' Thivaios, Tim Mielants.
Synopsis : Noah Hazard can't imagine life without his gold-coloured sports car, complete with custom vanity plates. To his little girl Zita, it's a cosy carriage; to his girlfriend Lea, a handy taxi; and to his dodgy nephew Carlos, fresh out of jail, a lightning-fast getaway car. When a heist organized by Carlos goes completely awry, it's up to Noah to make sure his beloved Lexus doesn't end up as his own hearse… Will Hazard lose his life, his family or his car? Find out in a Death Race 2022, the fast and furious, turbo-charged, splatter action movie of the year.
Holy s**t! (2022) (Germany) (100 minutes) (UK Premiere)
Director: Lukas Rinker.
With: Thomas Niehaus, Gedeon Burkhard, Olga Von Luckwald, Micaela Schäfer.
Synopsis : Architect Frank regains consciousness, to find himself squashed inside a locked Portaloo on a building site about to be blown up due to imminent demolition. As he desperately tries to escape, he begins to remember who put him in this precarious position and why. Will he break out in time to hold the delusional official responsible?
Note : A black comedy thriller that unfolds in real-time where s**t gets real and hits more than the fan.
Hounded (2022) (UK) (94 minutes) (World Premiere)
Director: Tommy Boulding.
With: Samantha Bond, Malachi Pullar-Latchman, James Lance, Larry Lamb.
Synopsis : They shouldn't have planned to rob the aristocracy. They shouldn't have even attempted to take on an elite inner circle on their own stately home turf. And they definitely shouldn't have got themselves caught. For now an urban gang of arrogant thieves must fight for their lives as the evil lady of the manor sets her hounds loose on her estate to hunt them down for the most twisted sport. It's Tally Ho for tradition and terror in the survival thriller debut feature from director Tommy Boulding.
Huesera (2022) (Mexico/Peru) (93 minutes) (English Premiere)

Director: Michelle Garza Cervera.
With: Natalia Solian, Alfonso Dosal, Mayra Batalla, Mercedes Hernandez.
Synopsis : Valerie has prayed to be a mother. She and her husband, Raul, finally see one of their longtime dreams come true. But the day she finds out she's pregnant she is cursed by a sinister spirit. Alone, with her family turned against her, Valeria finds herself lost in a world of folk horror and chilling, urban landscapes that could be of her own making. It's there she finds that a group of local witches are either her only hope of confronting her innermost demons or the evil behind a supernatural entity known as La Huesera.
Hypochondriac (2022) (USA) (96 minutes) (UK Premiere)
Director: Addison Heimann.
With: Zach Villa, Madeline Zima, Devon Graye, Paget Brewster.
Synopsis : In this blistering, erotic spookfest. Will is a young Hispanic artist, with a loving boyfriend and a good life. But when his bipolar mother comes back into his life after a ten-year absence, it erodes the very foundation of his existence. Afraid of becoming his mother, Will spirals into obsession and despair and must confront his own mental trauma before it's too late.
Incredible but true (2022) (France) (74 minutes) (UK Premiere)

Director: Quentin Dupieux.
With: Alain Chabat, Léa Drucker, Benoît Magimel, Anaïs Demoustier.
Synopsis : From visionary director Quentin Dupieux, creator of Rubber, Deerskin and Mandibles, a quirky comedy fantasy about middle-aged house hunters who find more in a suburban bargain buy than anyone could have dreamed. For what Alain and Marie discover in their new basement could well change their lives forever. An absurdist meditation on the cruelties of ageing? A droll Buñuelian satire on the world of bourgeois property ownership? Or a giddy time travel metaphysical wonder? This is another bizarre Dupieux masterpiece and another amazing addition to his wacky oeuvre.
Living with chucky (2021) (USA) (105 minutes) (International premiere)
Director: Kyra Gardner.
With: Don Mancini, Brad Dourif, Jennifer Tilly, Fiona Dourif.
Synopsis : Two families collide to dish the dirt on the CHILD'S PLAY horror franchise from blockbuster start to successful Syfy streaming series. First there's producer David Kirschner and writer/director Don Mancini, with their cast of friends, Jennifer Tilly, Brad and Fiona Dourif, Alex Vincent and Christine Elise. Then there's head puppeteer Tony Gardner and his daughter Kyra, director of this insightful documentary who explores what it was like growing up amongst this creative family of stars, eccentrics, technicians and a serial killing doll. Also with John Waters and Lin Shaye.
Lola (2022) (UK) (76 minutes) (English premiere)
Director: Andrew Legge.
With: Emma Appleton, Stefanie Martini, Rory Fleck Byrne, Aaron Monaghan, Hugh O'Conor.
Synopsis : England, 1941, sisters Thomasina and Martha have created a machine that can intercept broadcasts from the future. This delightful apparatus allows them to explore their inner punk a generation before the movement comes into existence. But with World War II escalating the sisters decide to use the machine as a weapon of intelligence, with world-altering consequences.
Mastemah (2022) (France) (100 minutes) (Word Premiere)

Director: Didier D. Daarwin.
With: Camille Razat, Olivier Barthelemy, Feodor Atkine, Bruno Debrandt.
Synopsis : After a traumatic accidental death during a hypnosis session, young psychiatrist Louise leaves the big city to open a new consultancy in the small village of Aubrac. She hopes the past will not follow her. But then she starts analysing Theo, a dark and mysterious man, and is plunged into a downward spiral. Soon her life becomes a living hell as she suspects Theo may be the Devil himself. A stylish and erudite chiller that smartly oscillates between schizophrenia, possession and pure psychological horror.
Mean spirited (2022) (USA) (94 minutes) (World Premiere)
Director: Jeff Ryan.
With: Michelle Veintimilla, Jeff Ryan, Will Madden, Daniel Rashid, Neville Archambault, Charlie Pollock.
Synopsis : When two estranged friends reconnect, things buried deep down are bound to surface. Wannabe famous vlogger Andrew Castellano, aka 'The Amazing Andy', sets off for a weekend at his former friend turned famous actor Bryce. After receiving the invitation to Bryce's mountain cottage, Andy has decided to bury the hatchet. Unfortunately he isn't quite himself anymore…
Note : A thoroughly entertaining found-footage horror comedy executive produced by FrightFest stalwart Shaked Berenson of Slaxx, Turbo kid and Tales of Halloween fame.
Midnight peepshow (2022) (UK) (93 minutes) (World Premiere)
Directors: Jake West, Airell Anthony Hayles, Andy Edwards, Ludovica Musumeci.
With: Chiara D'Anna, Richard Cotton, Sarah Diamond, Roisin Browne.
Synopsis : A Madame owns a Soho Peep Show with a difference - the sights on offer are tailor made to its customers' deepest sinful fears. Tonight it welcomes a businessman who has a unique connection to an extreme fantasy website. He becomes witness to three stories of victims that found the website. But now the Midnight Peepshow has found him, it's only a matter of time before he's made to pay the ultimate price for dabbling in the dark side of desire. This is a twisted portmanteau horror threesome exploring the nightmare side of psychosexual fantasy.
New religion (2022) (Japan) (100 minutes) (World Premiere)

Director: Keishi Kondo.
With: Kaho Seto, Satoshi Oka, Ryuseigun Saionji, Daiki Nunami.
Synopsis : After her daughter's death, divorced Miyabi works as a call girl. One day, she meets a weird customer who wants to take a picture of her spine. Then, at another assignation, her feet. She soon realises that every time she allows her body to be photographed, her daughter's spirit gets closer. Soon only her eyes remain to be captured, leading to the collapse of society in this bold, visionary and unique fantasy from a new and culture-shocking Japanese voice.
Next exit (2022) (USA) (103 minutes) (European premiere)

Director: Mali Elfman.
With: Katie Parker, Rahul Kohli, Karen Gillan, Rose McIver.
Synopsis : The widespread acceptance of ghosts has led to 'Life Beyond', a radical scientific study based in San Francisco through which volunteers can commit pain-free suicide. After all, what's left to fear about the afterlife? In New York City, two ready-to-die strangers randomly end up sharing a rental car for a cross-country trip to their respective appointments. Initial friction leads to an emotional connection as their dates with death loom in.
Note : Writer Mail Elfman's funny and warm-hearted science fiction directing debut featuring standout performances from Katie (Doctor sleep) Parker and Rahul (Midnight mass) Kohli.
Night of the bastard (2022) (USA) (82 minutes) (International premiere)
Director: Erik Boccio. With: London May,
Mya Hudson, Hannah Pierce, Henry Mortensen.
Synopsis : From Erik Boccio and London May, creators of the multi-award winning Brutal realty, inc. comes a new action packed nightmare of shocking violence and carnality. After an injured young woman takes refuge in his secluded home, a gruff recluse must fight off a bloodthirsty cult and an insatiable sorceress to save both of their lives. A battle to survive becomes a gripping race against the clock to escape a perverse ritual of blood and flesh.
Night sky (2022) (USA) (96 minutes) (World premiere)
Director: Jacob Gentry.
With: Brea Grant, AJ Bowen, Scott Poythress, Sandra Benton.
Synopsis : Cult stars AJ Bowen, Brea Grant and Scott Poythress are extraordinary in this trek across the American southwest as a ne'er do well petty thief trying to escape his mysterious past, a celestial vagabond trying to rediscover hers, and the ruthless killer who is following them both. Indie science fiction fantasy at its provocative best.
Note : Jacob Gentry, director of The signal, Synchronicity and Broadcast signal intrusion, triumphantly returns to FrightFest with a distaff Starman decoded as a Corman vibe 1970s road trip movie.
Orchestrator of storms (2022) (UK) (113 minutes) (European premiere)

Directors: Dima Ballin, Kat Ellinger.
With: Brigitte Lahaie, Francoise Pascal, Virginie Selavy, Kier-La Janisse.
Synopsis : The life and work of Eurocult director Jean Rollin is put under the spotlight in this fascinating and informative documentary. From struggling artist with an unconventional upbringing to the purveyor of New Wave surrealist fantastique via such distinctive and unique films as The rape of the vampire, The iron rose, Fascination, lips of blood and the living dead girl, friends, critics and actors tell all. Sex and nudity, innocence and perversity, stunning visuals and rule breaking became Rollin trademarks and you'll find out why in this provocative, moving and enlightening look at his myth and the magic.
Piggy (2022) (Spainà (90 minutes) (UK Premiere)

Director: Carlota Pereda.
With: Claudia Salas, Pilar Castro, Carmen Machi, Fernando Delgado-Hierro.
Synopsis : Not everyone loves the summertime. For overweight teen Sara it means dealing with a constant barrage of mockery, judgment and abuse from the cool girls. But today is different. A mysterious man arrives in the village and kidnaps her tormentors. Someone has finally stood up for her. Sara sees it all and the unknown man has seen her too. It's a wordless pact that neither will betray as a series of crimes rock the village and the fingers of suspicion are pointed in every direction.
Powertool cheerleaders vs. (2022) (UK) (95 minutes) (World premiere)
Director: Pat Higgins.
With: Charlie Bond, James Hamer-Morton, Justin Chinyere, Dani Thompson
Synopsis : From Pat Higgins, writer of Strippers vs. werewolves, comes a full-tilt musical horror-comedy featuring toe-tapping songs and geysers of gore. On the eve of a televised talent show, an enthusiastic but dysfunctional cheerleading troop is on the brink of falling apart. But when a cursed necklace turns their rival boy band act into a screeching gang of zombies, the girls must learn to use their wits, friendship, and assorted power tools—before the TV finale takes a turn for the apocalyptic…Expect laughs, loud guitars, terrifying monsters and great songs like "I'm Just a Guy Dying on the Floor".
Pussycake (2022) (Argentina) (82 minutes) (UK Premiere)
Director: Pablo Parés.
With: Anahí Politi, Flor Moreno, Maca Suárez, Aldana Ruberto.
Synopsis : The struggling all girl rock band Pussycake kicks off a new tour in the hopes that it will be the spark they need to resurrect their careers. Things don't start off well, however, as they show up to their first gig to find the place deserted. The band soon discovers that being forgotten by their fans is the least of their problems, as they catch the attention of horrors from beyond our reality. With nods to favourite 1980s horror classics and much more, fasten your seatbelt for monsters, inter-dimensional journeys, kickass music and gore galore.
Raven's hollow (2022) (UK) (98 minutes) (World premiere)

Director: Christopher Hatton.
With: William Moseley, Melanie Zanetti, Kate Dickie, David Hayman.
Synopsis : Autumn, 1830. West Point military Cadet Edgar Allan Poe and four other cadets on a training exercise in upstate New York come upon a man eviscerated on a bizarre wooden rack. His dying words direct them to a forgotten community, which they believe is guarding sinister secrets. Enthralled by the Innkeeper's beautiful and mysterious daughter Charlotte and fuelled by the town residents' refusal to speak to the murder, Poe determines to uncover the truth. Risking his life and more, Poe ultimately comes face to face with the terrifying creature that will haunt him forever.
Scare package ii: rad chad's revenge (2022) (USA) (98 minutes) (World premiere)
Directors: Aaron B. Koontz, Alexandra Barreto, Anthony Cousins, Jed Shepherd, Rachele Wiggins.
With: Jeremy King, Zoe Graham, Rich Sommer, Graham Skipper.
Synopsis : When horror guru 'Rad' Chad Buckley's funeral turns into an elaborate series of hilarious death traps, the guests must band together and use the rules of horror to survive the bloody diversions. From a New Year's Eve massacre to Final Girls turning into Soon To Die Girls and the Swarm attack to driving Miss Daisy crazy, the genre references fly as thick and fast as the bone chilling splatter.
She came from the woods (2022) (USA) (101 minutes) (World premiere)
Director: Erik Bloomquist.
With: Cara Buono, Clare Foley, William Sadler, Spencer List.
Synopsis : In this ode to '80s horror, a group of counselors accidentally unleash a decades' old evil on the last night of summer camp. As the mayhem and madness turn bloody, the staff of Camp Briarbrook is forced to confront what stories are worth telling and what secrets worth keeping. A coming-of-age horror movie rooted in themes of familial legacy, the dangers of group-thinking and the motives behind the stories we tell and the secrets we keep.
Sissy (2022) (Australia) (102 minutes) (UK premiere)

Directors: Hannah Barlow, Kane Senes.
With: Aisha Dee, Yerin Ha, Lucy Barrett, Emily De Margheriti.
Synopsis : Cecilia (aka Sissy) is a successful social media influencer living the digital fame dream. Until she runs into her long lost best friend Emma and is invited to attend her bachelorette karaoke weekend. Suddenly Sissy is stuck at a class reunion in a remote resort location with her high school bully Alex... and a taste for revenge. Her toxic positivity takes no prisoners as the serial killer mindless slaughter begins. A superior blend of timely social commentary and gasp-inducing horror, held firmly together by terrific lead actress Aisha Dee.
Something in the dirt (2022) (USA) (116 minutes) (UK premiere)
Directors: Justin Benson, Aaron Moorhead.
With: Justin Benson, Aaron Moorhead, Sarah Adina Smith, Ariel Vida.
Synopsis : FrightFest's favourite dreamweavers, Justin Benson and Aaron Moorhead, have conjured up their most personal film. A fusion of DIY science fiction, extreme character drama, dark comedy, pre-apocalyptic vibes and overwhelming paranoia, the visionary pair star as neighbours John and Levi, who witness supernatural events in their Los Angeles apartment building. Realising documenting the paranormal could inject some fame and fortune into their wasted lives, they open up an ever deeper, pitch-black rabbit hole…
Sorry about the demon (2022) (USA) (105 minutes) (World premiere)
Director: Emily Hagins.
With: Jon Michael Simpson, Paige Evans, Jeff McQuitty, Sarah Cleveland.
Synopsis : FrightFest was one of the first festivals to focus on the fresh and delightful work of Austin-based director Emily Hagins when it premiered My sucky teen romance in 2011. Now she's back big time with a supernatural horror comedy that's movingly funny. After being dumped by his girlfriend Amy, broken hearted Will is offered a massive house at a very low rent. What's the catch? The restless spirit haunting the place needs a human sacrifice and the prior owners must find one or else their young daughter is toast.
Splinter (2022) (USA) (55 minutes) (International premiere)
Director: Tom Ryan.
With: Jim Thalman, Kristin Muri, Quincy Saadeh, Tom Martin.
Synopsis : Scott Wills returns to his childhood home with his wife and daughter. He has inherited the house from his mother, who left him in the care of relatives just before disappearing from his life. While renovating the house, Scott gets a small splinter in his foot, triggering a chain of events and fever dreams, leading him to uncover dark secrets about his hometown, why he was abandoned by his parents, and the terrible legacy that is now his birthright. Winner of the 'Kevin Smith Award for Home Grown Feature' at the Garden State Film Festival 2022.
Stalker (2022) (UK) (93 minutes) (World Premiere)
Director: Steve Johnson.
With: Sophie Skelton, Stuart Brennan, Bret Hart.
Synopsis : Rose Hepburn, a young actor working in horror movies, returns to her empty hotel. Forced to use the old freight elevator, it jolts to a halt on the twelfth floor, leaving her trapped with an unusual stranger. Left with no mobile phone signal as a storm approaches, tensions escalate and suspicions rise when Rose discovers the identity of the mysterious man is Daniel Reed, a camera operator on her latest movie, who is seemingly obsessed with her. As the elevator hangs precariously high about to plunge down at any minute, some harsh truths and actions start unfolding.
Super z (2021) (France) (80 minutes) (UK Premiere)

Directors: Julien De Volte, Arnaud Tabarly.
With: Julien Courbey, Johan Libereau, Fabien Ara, Marion Mezadorian.
An unknown corporation is turning humans into zombies. To their complete astonishment, their experiments give birth to zombies that can think, talk, reason and form a family unit. But the genetically modified five escape and are pursued by mercenaries as they struggle with new family dynamics, chaos and carnage. Fast-paced, hilarious, frantic, and gross, SUPER Z is madness with a message and a welcome addition to a subgenre in dire need of new blood.
Swallowed (2022) (USA) (92 minutes) (European premiere)

Director: Carter Smith.
With: Jena Malone, Cooper Koch, Will Patton, Jose Colon.
Synopsis : From Carter Smith, director of The Ruins, a pulse-pounding tale of two best friends on what might be their final night together in a queer shocker full of chilling violations. Benjamin is celebrating moving to Los Angeles to become a gay porn actor. His concerned best friend Dom has a plan to make some fast cash for his buddy. But what Dom believes is a simple drug run turns out to be much worse as they are forced to swallow bags of illicit goods and body horror shifts to full-on sexual predator and survival horror.
Terrifier 2 (2022) (USA) (140 minutes) (World Premiere)
Director: Damien Leone.
With: Lauren LaVera, Owen Myre, David Howard Thornton, Sarah Voight.
Synopsis : The gory misadventures of Art the Clown continue in the unchained, unrestricted, unhinged, merciless and completely no-holds-barred follow-up to the 2018 FrightFest attraction Terrifier. After being resurrected by a sinister entity, demented Art the Clown returns to the timid town of Miles County where he targets a bereaved family, especially teenage Sienna and her younger brother Jonathan. And it's Halloween night too so pray you don't get in deranged Art's way!
The boyband of the screeching dead (2022) (UK) (95 minutes) (World premiere)

Director: Pat Higgins.
With: Charlie Bond, James Hamer-Morton, Justin Chinyere, Dani Thompson
Synopsis : From Pat Higgins, writer of Strippers vs. werewolves, comes a full-tilt musical horror-comedy featuring toe-tapping songs and geysers of gore. On the eve of a televised talent show, an enthusiastic but dysfunctional cheerleading troop is on the brink of falling apart. But when a cursed necklace turns their rival boy band act into a screeching gang of zombies, the girls must learn to use their wits, friendship, and assorted power tools—before the TV finale takes a turn for the apocalyptic…Expect laughs, loud guitars, terrifying monsters and great songs like "I'm Just a Guy Dying on the Floor".
The breach (2022) (Canada) (92 minutes) (European premiere)
Director: Rodrigo Gudiño.
With: Allan Hawco, Emily Alatalo, Natalie Brown, Adam Kenneth Wilson.
Synopsis : John Hawkins is counting down his last days as chief of police in the remote town of Lone Crow. But then a mutilated body is found in an abandoned canoe on the river and he's pulled into an investigation that evades all rational explanation. Together with coroner Jacob Redgrave and charter boat captain Meg Fulbright, they travel to the isolated house of theoretical physicist Cole Parsons for answers to the gruesome mystery. And there they find a bizarre machine that might have torn through the very fabric of time and reality itself.
The creeping (2022) (UK) (94 minutes) (European premiere)

Director: Jamie Hooper.
With: Sophie Thompson, Riann Steele, David Horovitch, Jonathan Nyati.
Synopsis : Due to a traumatic childhood experience Anna hasn't returned home for many years. With her ailing grandmother, Lucy, suffering with worsening symptoms of dementia, Anna finally decides to move home to look after her. Soon after her arrival, strange things begin to happen soon escalating into a nightmarish fight for life against a malevolent presence. She discovers the ordeal is linked to a dark family secret, a tragic past that's haunted Anna her whole life… and Lucy's fading memories could be the key to solving the mystery and surviving the nightmare.
The devil's hour (2022) (UK) (60 minutes) (special premiere)
Directors: Johnny Allan and Isabelle Sieb.
Cast: Jessica Raine, Peter Capaldi, Nikesh Patel, Phil Dunster.
Synopsis : Lucy (Jessica Raine), is woken every night by terrifying visions at exactly 3.33am: the devil's hour. Her eight-year-old son is withdrawn and emotionless. Her mother speaks to empty chairs. Her house is haunted by the echoes of a life that isn't her own. When Lucy's name is inexplicably connected to a string of brutal murders in the area, the answers that have evaded her all these years will finally come into focus. Capaldi plays a reclusive nomad, driven by a murderous obsession, who becomes the prime target of a police manhunt led by compassionate detective Ravi Dhillon, played by Patel.
The eyes below (2022) (France) (77 minutes) (World premiere)

Director: Alexis Bruchon.
With: Vinicus Coelho, Pauline Morel.
Synopsis : Eugène goes to bed. Everything is calm and silent. About to fall asleep, something creeps up his legs, his stomach and then his chest. A mass, so heavy that he realises the night won't be as peaceful as he thought. Writer, producer and director Alexis Bruchon wowed FrightFest Glasgow 2020 with his black and white film noir masterpiece The woman with leopard shoes. Now the quirky director is back with the second in his trilogy of oddball style with this visually arresting mix of horror, fantasy and survival.
The ghost writer (2022) (UK) (93 minutes) (World premiere)
Director: Paul Wilkins.
With: Luke Mably, Andrea Deck, Brendon Patricks, Robert Portal.
Synopsis : Struggling writer Gilliger Graham must produce a hit novel to save his career. Decamping to his old family home, where his father, once a very successful writer, died under mysterious circumstances, he stumbles across an old hidden manuscript - his father's unfinished, last novel. He soon realises the novel is better than anything he can write himself and decides to plagiarise the book. Then, his real troubles begin.
The ghosts of Monday (2022) (Cypus) (80 minutes) (World Premiere)

Director: Francesco Cinquemani.
With: Julian Sands, Anthony Skordi, Mark Huberman, Marianna Rosset.
Synopsis : Eric Lindstrom is the showrunner of a popular American paranormal TV series: The Ghosts of the New World. Following a freak accident in the season's finale, the network pulled the plug. But redemption comes in an offer to travel to Cyprus to make a pilot about the tragically famous Hotel Gula where more than a hundred people died in mysterious circumstances 25 years ago. But what begins as just another day at the office eventually turns into a terrifying journey into the unknown.
The group (2022) (UK) (71 minutes) (World premiere)
Director: Will Higo.
With: Evangelina Burton, Dylan Baldwin, Luke Dayhill, Jennifer Aries.
Synopsis : After an overdose, heroin addict Kara returns to the support group she abandoned for one last chance to make things right. But not everyone can forgive and forget... When a new member pulls a gun taking the group hostage, they are quickly thrown into a fight for their lives. The rules have changed. He wants them to reveal the sins that brought them here and in turn, if he finds them deserving of his mercy, he'll let them leave. Through the cycle of confession and betrayal, the group begins to fracture. Can they overcome their differences long enough to escape?
The harbinger (2022) (USA) (87 minutes) (European Premiere)

Director: Andy Mitton.
With: Gabby Beans, Emily Davis, Raymond Anthony Thomas, Cody Braverman.
Synopsis : Monique leaves her family quarantine bubble to assist a good friend who's suffering from terrible nightmares. But she learns too late that her friend's bad dreams are contagious, along with the demonic presence behind them. The award-winning writer/director of the FrightFest attraction The witch in the window returns with his unique brand of compassionate supernatural horror. Bursting with occult imagination and chilling imagery, Mitton's menacing movie is The omen for today's lost pandemic generation.
The lair (2022) (UK) (90 minutes) (World premiere)
Director: Neil Marshall.
With: Charlotte Kirk, Jamie Bamber, Jonathan Howard, Hadi Khanjanpour.
Synopsis : On her final combat mission in Afghanistan, RAF pilot Kate Sinclair is shot down over a main rebel stronghold. Chased by insurgents she finds refuge in an abandoned bunker, where Russians once experimented crossing human organs with alien DNA to create a deadly biological weapon. Set free from their giant test tubes, the 'ravagers' invade a local US army outpost where the squad must fight the mutant monsters to the bitter end.
Note : The descent/Dog soldiers/Doomsday director Neil Marshall calls his latest action-packed gore shocker "The Dirty Half Dozen meets The thing".
The last client (2022) (Denmark) (95 minutes) (UK Premiere)

Director: Anders Rønnow Klarlund.
With: Signe Egholm Olsen, Anton Hjejle, Dan Zahle, Sara Fanta Traore.
Synopsis : Danish writer/directors Anders Rønnow Klarlund and Jacob Weinreich publish bestselling crime novels under the alias A.J. Kazinski. Now they bring an original story to the screen with their unique brand of tension and thrilling shock. Susanne Hartmann is a top psychologist, told by police a quote from her diary has been found at a murder scene. The next day, just as she's about to leave her office, Mark appears begging for a last minute therapy session. Soon it become clear that he's the serial killer and unless Susanne cures him in one hour, her own darkest secrets will be revealed.
The leech (2022) (USA) (82 minutes) (International premiere)
Director: Eric Pennycoff.
With: Jeremy Gardner, Graham Skipper, Rigo Garay, Taylor Zaudtke.
Synopsis : From Eric Pennycoff, the writer/director of Sadistic intentions, and starring FrightFest favourite Graham Skipper (The mind's eye, Beyond the gates), comes a terrifying battle of wills. Father David is a devout priest who lives by the bible's doctrine to be a Good Samaritan at all times. So he is more than happy to welcome a struggling homeless couple into his house during the season of goodwill. But what begins as a simple act of kindness and Christmas charity quickly becomes the ultimate test of faith once the sanctity of his home is jeopardised.
The once and future smash + endzone (2022) (USA) (145 minutes) (World premiere)
Directors: Sophia Cacciola, Michael J. Epstein.
With: Michael St. Michael, Bill Weedon, Laurene Landon, Lloyd Kaufman.
Synopsis : A spoof documentary about a faux exploitation film, join in the double bill fun. In 1970, Mikey and William both portrayed football cannibal Smash-Mouth in the influential cult hit END ZONE. Now, fifty years later, only one can wear the mask for the sequel END ZONE 2 in which the maniac Smash-Mouth returns fifteen years after original events to axe the cheerleaders who killed his mother. First watch the documentary about the Smash-Mouth cult featuring horror celebrity guests. Then listen to the Q&A with directors Sophia Cacciola and Michael J. Epstein. And then watch the sequel. Fake GRINDHOUSE heaven!
The ones you didn't burn (2022) (USA) (70 minutes) (International premiere)
Director: Elise Finnerty.
With: Elise Finnerty, Samuel Dunning, Estelle Girard Parks, Jenna Rose Sander, Nathan Wallace.
Synopsis : Nathan and Mirra are in no way close siblings. But their father's passing means they must return to their old family farm to sell off the land. There, Nathan starts having vivid nightmares of a woman rising from the sea, feeling the same dread his father felt before his death. As Nathan spirals back into the addiction that caused the friction with his sister, Mirra is growing close to the very people the family exploited, giving way to a centuries-old secret regarding the land's original owners.
The price we pay (2022) (USA) (85 minutes) (World Premiere)
Director: Ryuhei Kitamura.
With: Emile Hirsch, Stephen Dorff, Vernon Wells, Gigi Zumbado.
Synopsisi : When a botched robbery goes awry and a gang of criminals find themselves injured with a resilient young female hostage in tow they find refuge in an unassuming farmhouse. But the inhabitants have an even darker secret than their own and saving their skin literally becomes a bigger priority than escaping the police. Nor will they surrender to the gruesome family business without an all-around fight to death.
Note : A gore shocker from Ryuhei Kitamura, director of The midnight meat train and No one lives.
The summoned (2022) (USA) (86 minutes) (International premiere)

Director: Mark Meir.
With: Emma Fitzpatrick, J. Quinton Johnson, Salvador Chacon, Angela Gulner.
Synopsis : Elijah and his rock star girlfriend Lyn are forced into making the ultimate choice when they and another couple are invited to an exclusive self-help retreat run by the enigmatic Doctor Frost. As Elijah struggles with the emotionally distant Lyn and is tempted by a sensual fellow attendee, he discovers that he's been summoned to settle a supernatural debt that dates back a generation. A dark Faustian morality tale with a shocking twist.
The visitor from the future (2022) (France) (105 minutes) (World Premiere)

Director: Francois Descraques.
With: Arnaud Ducret, Florent Dorin, Enya Baroux, Raphael Descraques.
Synopsis : 2555 AD: Civilization has collapsed due to ecological disaster and the few remaining humans survive in the Underworld. The Visitor travels back in time to find Alice, whose father is building the nuclear power plant responsible for the upcoming catastrophe. Alice's father must die or the world is doomed. But time is running out! Will Alice save the world or her father? Based on the hugely entertaining web series that caused a sensation in France.
They wait in the dark (2022) (USA) (85 minutes) (International premiere)
Director: Patrick Rea.
With: Sarah McGuire, Laurie Catherine Winkel, Meagan Flynn, Patrick McGee.
Synopsis : From Patrick Rea, director of I am Lisa, a haunting domestic abuse chiller. What does our past mean for our future? Can cycles of abuse be broken? Amy and her adopted son Adrian are on the run from her abusive ex-girlfriend, Judith, and take refuge in her family's abandoned farmhouse. Soon, a supernatural force from Amy's dark past rises up and begins haunting Adrian. With the vengeful Judith in pursuit, Amy and Adrian find themselves locked in a showdown between the threats both outside and in.
Tiny cinema (2022) (USA) (84 minutes) (International premiere)

Director: Tyler Cornack.
With: Austin Lewis, Shelby Dash, Tyler Cornack, Tyler Rice.
Synopsis : From the creators of Butt boy: six stories unfold in a strange universe. 'Game Night' spirals out of control when a simple joke goes over a guest's head. 'Edna' is looking for love in all the wrong places. 'Bust' sees two friends stopping at nothing in helping their impotent buddy. 'Deep Impact' has a deliveryman delivering a package to himself... from the future. 'Mother*******' focuses on an unlucky mafia card game. And 'Daddies Home' finds a young man transforming after unknowingly snorting the ashes of his date's father. A weird, fun and twisted look at humanity.
Torn hearts (2022) (USA) (97 minutes) (International premiere)

Director: Brea Grant.
With: Katey Sagal, Abby Quinn, Alexxis Lemire, Joshua Leonard.
Synopsis : Jordan and Leigh are up-and-coming Nashville stars with their band 'Torn Hearts'. They hear Harper Dutch, the reclusive surviving sister of the iconic country duo 'The Dutchess Sisters', is searching for the right comeback project. So they decide to turn up on Harper's doorstep with a plan to record a chart-topper together. The faded megastar invites them into her private mansion, locks the doors and pours what could be the last drink of Torn Hearts' career. For their idol puts them through a series of twisted horrors that forces them to confront the limits they'd go to for their dreams.
Walking against the rain (2022) (UK) (94 minutes) (World premiere)

Director: Scott Lyus.
With: Sophia Eleni, Reese Douglas, James Swanton, Johnny Vivash.
Synopsis : Two strangers, Blair and Tommy are navigating their way across a barren landscape in a desperate attempt to find each other. With their only form of communication being two soon-to-die battery operated radio microphones and with a new evil in the shape of 'The Forsaken' tracking them down, they must learn to confront loss and rediscover a trust in humanity. This graphic apocalyptic monster road movie is directed by Scott Lyus, making his feature film debut.
Who invited them (2022) (USA) (81 minutes) (International premiere)

Director: Duncan Birmingham.
With: Ryan Hansen, Melissa Tang, Timothy Granaderos, Perry Mattfeld.
Synopsis : Adam and Margo's house warming party is winding up. However, one mysterious couple linger long after all the other guests have left. The uninvited duo reveals themselves to be Tom and Sasha, wealthy next-door neighbours with after party thoughts on their minds. But as a single nightcap leads to another, and the small talk gets more confrontational, the newcomers start to suspect these new best friends are actually duplicitous strangers with a hidden agenda.
Wolf manor (2022) (UK) (85 minutes) (World premiere)

Director: Dominic Brunt.
With: James Fleet, Jay Taylor, Nicky Evans, Rupert Proctor.
Synopsis : Director Dominic Brunt has brought us chills, thrills, spills and gory laughs with Before dawn, Bait and Attack of the adult babies. Now he's back with a splatter horror comedy about the shooting of a low-budget vampire movie in an old abandoned house deep in darkest Shropshire. The tight production should have worked like a dream. However, with the full moon bright in the night sky, the nightmare begins. The body count rises as the cast and crew encounter the mansion's resident werewolf. And there's a bad moon rising indeed!
Wolfkin (2022) (Luxembourg) (90 minutes) (World premiere)
Director: Jacques Molitor.
With: Louise Manteau, Victor Dieu, Marja-Leena Juncker, Jules Werner.
Synopsis : Single mother Elaine is raising her son, Martin, who starts showing strange and uncontrollable behaviour. When the boy aggressively bites one of his classmates, Elaine, desperate for answers, takes him to see his late father's estranged family in their Luxembourg mansion estate. But there she discovers what Martin's neck birthmark really means.
(Source : official website)