By Mulder, 19 august 2022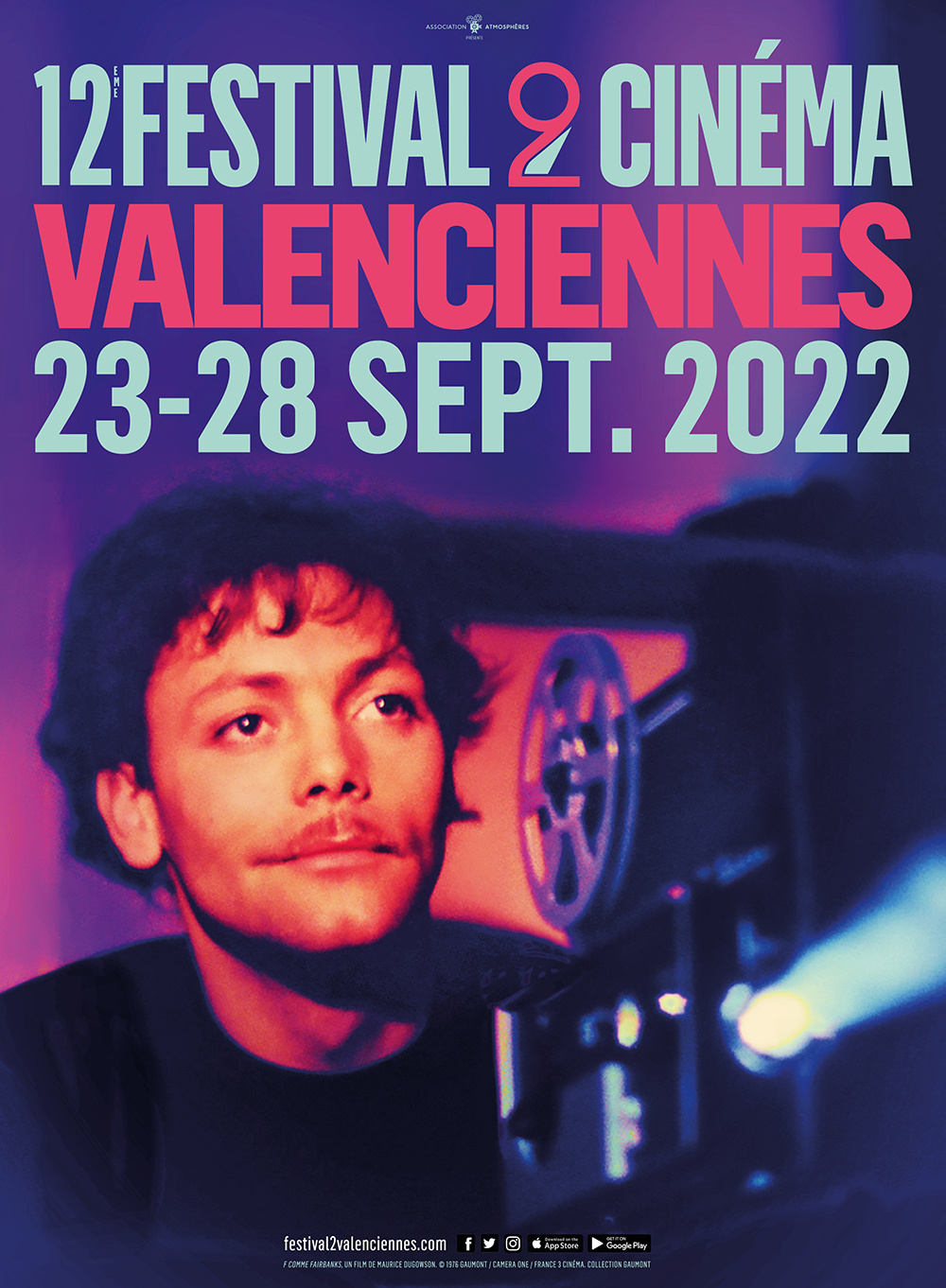 The Valenciennes Festival 2 Cinéma, now an unmissable event in the landscape of film festivals in France, will celebrate its 12th edition from Friday 23 to Wednesday 28 September 2022. It will have as President of the Jury Fictions: the actress and director Michèle Laroque. The International Guests of the Film Professions will be the Italian set designers of Fellini, Zeffirelli, with 3 Oscars: Dante Ferretti and Francesca Lo Schiavo and the American Oscar-winning chief editor, notably of the first Star Wars trilogy: Paul Hirsch.

July 16, 1982... marks the death of one of the most outstanding actors of modern French cinema, undoubtedly one of the most talented. The Festival 2 Cinéma de Valenciennes wanted to pay tribute to Patrick Dewaere by dedicating the official poster of this 12th edition, 40 years after his death. It reminds us how much he is still totally in our memories and of our time... The above visual will be unveiled to the general public on August 25th, the 40th anniversary of the release of his last film Paradis pour tous. A special tribute will be paid to him during the Opening Ceremony on September 23, 2022.

The professional Jury of the Fiction Competition will be chaired this year by the actress and director Michèle Laroque. Very regularly cited among the favorite personalities of the French, Michèle Laroque has had phenomenal success in film, theater or television. In 2018, she also went behind the camera for her first feature film as director Brillantissime, an experience she will repeat in 2020 with Chacun chez soi and in 2022 with Alors on danse.
Within the framework of the "Film Professions" meetings, the 2022 program also promises to be an exceptional year with the presence of world-renowned, multi-awarded professionals. The American Chief Editor Paul Hirsch will be present in Valenciennes for a meeting with the public. He became famous for being the Chief Editor of George Lucas' Star Wars - for which he received the Oscar for Best Editing - and of Episode V of Irvin Kershner's intergalactic saga The Empire Strikes Back. He was also the Chief Editor for the famous director Brian de Palma on no less than 9 of his feature films, including Carrie at the Devil's Ball and Mission: Impossible.
Legendary duo, the Italian Head Decorators Dante Ferretti & Francesca Lo Schiavo will also be present and acclaimed in Valenciennes. Awarded 3 Oscars, they have collaborated with some of the most legendary filmmakers, including Pier Paolo Pasolini and Federico Fellini, but also Martin Scorsese, Tim Burton, Terry Gilliam, Brian de Palma, Franco Zeffirelli and Anthony Minghella...

Other events, the Honorary and Favorite Awards will be announced in the coming days, as well as the official selection of films in the categories Fiction and Documentary.

The Valenciennes Festival 2 Cinéma takes place every year and offers more than 40 feature films divided into two competitions (Fiction and Documentary), new films out of competition, to meet directors and film crews, white cards and master classes, tributes, cinema professions honored every year, previews and a focus on young audiences: young audience sessions and educational workshops
More information to come on the official website
(Source : Press release)