By Mulder, 18 june 2022
San Diego Comic-Con International is a comic book convention and nonprofit multi-genre entertainment event held annually in San Diego, California, United States since 1970. The name, as given on its website, is Comic-Con International: San Diego (SDCC). The convention was founded as the Golden State Comic Book Convention in 1970 by a group of San Diegans that included Shel Dorf, Richard Alf, Ken Krueger, and Mike Towry; later, it was called the "San Diego Comic Book Convention", Dorf said during an interview that he hoped the first Con would bring in 500 attendees.It is a four-day event (Thursday–Sunday) held during the summer (in July since 2003) at the San Diego Convention Center in San Diego. On the Wednesday evening prior to the official opening, professionals, exhibitors, and pre-registered guests for all four days can attend a pre-event "Preview Night" to give attendees the opportunity to walk the exhibit hall and see what will be available during the convention.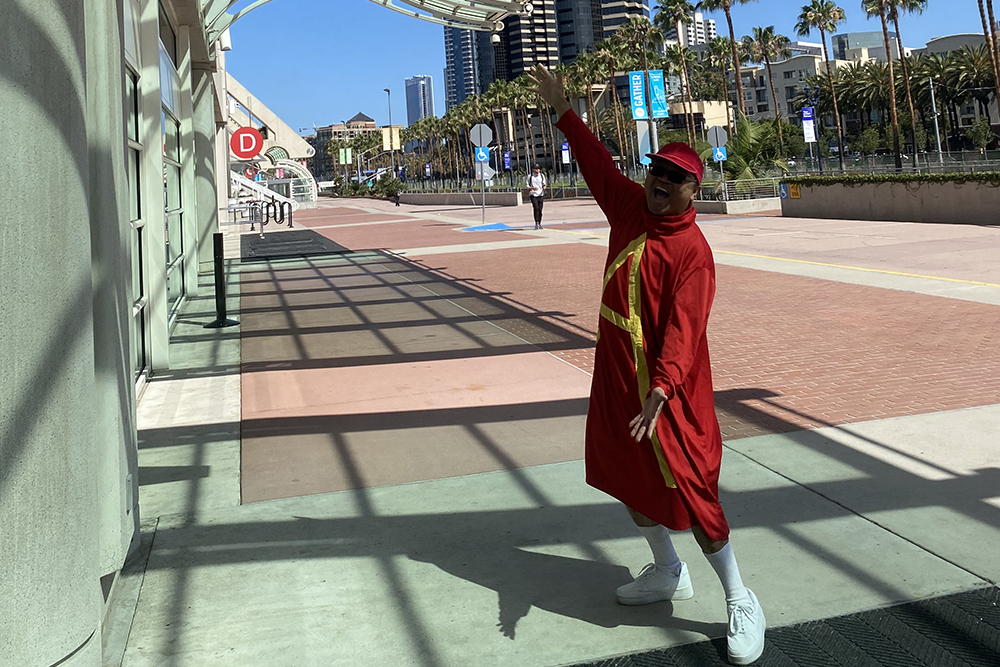 Originally showcasing primarily comic books and science fiction/fantasy related film, television, and similar popular arts, the convention has since included a larger range of pop culture and entertainment elements across virtually all genres, including horror, Western animation, anime, manga, toys, collectible card games, video games, webcomics, and fantasy novels. In 2010 and each year subsequently, it filled the San Diego Convention Center to capacity with more than 130,000 attendees. In addition to drawing huge crowds, the event holds several Guinness World Records including the largest annual comic and pop culture festival in the world. SDCC had been canceled twice due to the COVID-19 pandemic. The year 2020 marked the first time that SDCC had missed a year since its establishment.
Our editor and photographer who lives in San Diego Alvin H. Revilas went for us this week end to the convention center in order to take some great photos. Wiht is so popular costume that you can see a lot during SDCC he passed behind the Convention Center, the restaurant "Tin Fish" which is across the street from the Convention Center, and "Now Or Never Comics" which is a comic book shop in Downtown San Diego. Working on Mulderville since 19 years, I am very lucky to have from this year a so amazing photograph and editor on our team.
Check from now the Alvin Hernandez Revila's photos on our official Flickr page
Photos : Alvin H. Revilas