By Mulder, 08 june 2022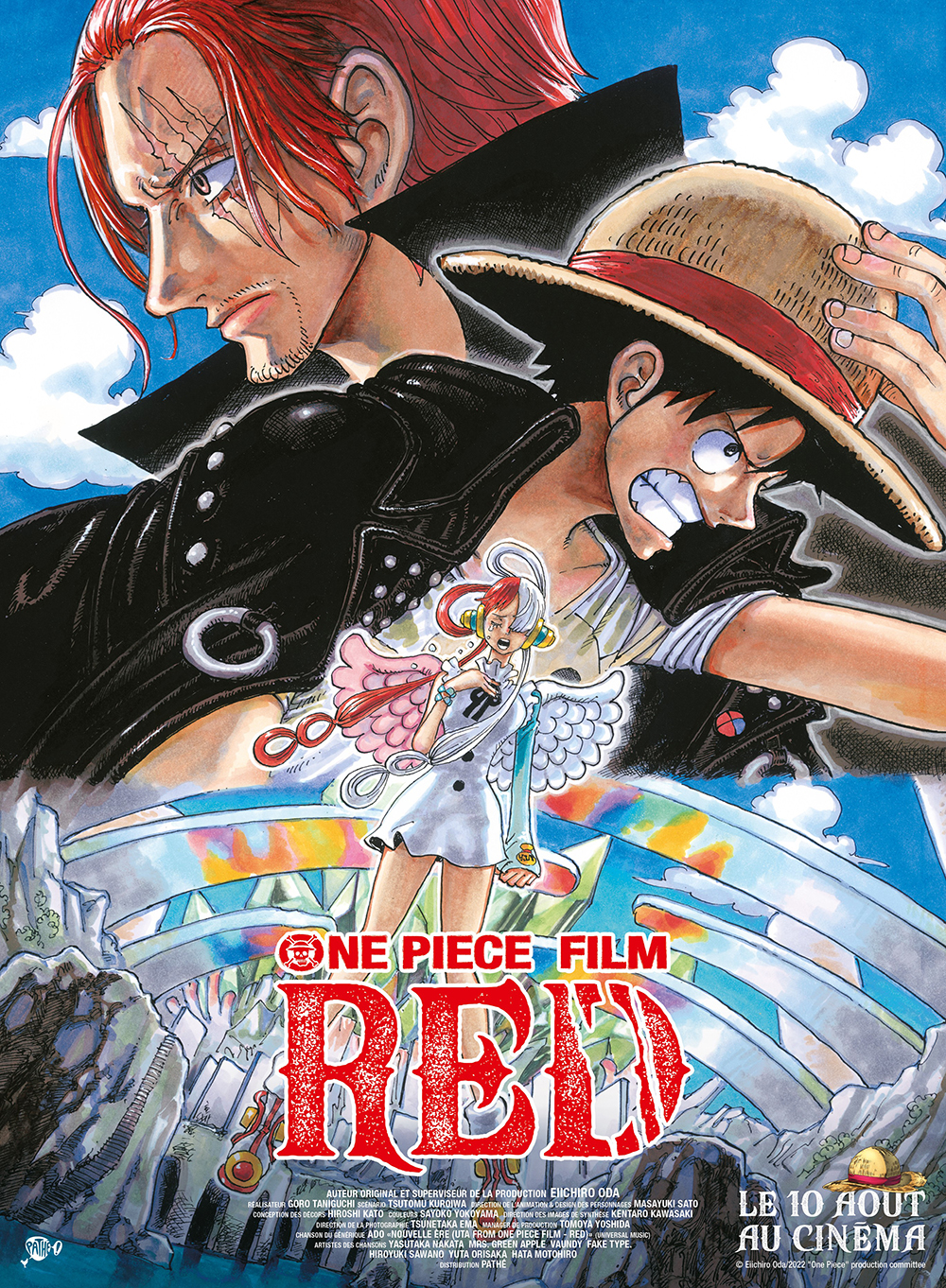 One Piece Film: Red is an upcoming Japanese fantasy action-adventure film directed by Gorō Taniguchi and produced by Toei Animation. It is the fifteenth feature film in the One Piece film series, based on the manga of the same name written and illustrated by Eiichiro Oda. It was first announced on November 21, 2021 in commemoration of the release of episode 1000 of the One Piece anime. After the episode aired, a teaser trailer and poster were released on November 21, 2021. The movie is supposed to revolve around a new female character named Uta. It is scheduled for release on August 6, 2022 in Japan and August 10 in France.
Gorō Taniguchi previously directed the 1998 OVA, One Piece: Defeat The Pirate Ganzak! which was produced by Production I.G. It was the first animated adaptation of the One Piece manga, released before the anime series aired and had limited screenings in Japanese theaters. Oda said Taniguchi was "the first person to animate Luffy". After the film was first announced in November 2021, Taniguchi said he wanted to express a One Piece that has never been seen before and will show it in One Piece Film: Red.
According to Shinji Shimizu, Toei Animation employee and producer of the One Piece anime, One Piece Film: Red is the only One Piece film in which Eiichiro Oda has been most actively involved. Oda is the executive producer, character designer and script editor of the film. He also said that the movie will be different from the previous One Piece movies. He added that the movie will be a combination of 2D and 3D CGI, although the main animation will be 2D but some scenes will be 3D CGI to make the movie more impactful. The script for the film was discussed by Oda, Taniguchi and Tsutomu Kuroiwa for more than two years. When it was finished, Oda praised the final script saying "It's fantastic!". Tsutomu Kuroiwa, the screenwriter, assured that One Piece Film: Red will be a great movie that will touch the hearts of many people.
Synopsis:
The story takes place on an island where Uta, the world's most popular diva, is performing in public for the first time. Uta's voice, with which she sings while hiding her true identity, has been described as "otherworldly". With the arrival of the Straw Hat crew led by Luffy, other pirates, the Navy and fans from around the world who appreciate her voice, Uta's voice is heard in a new light. The curtain rises on the story with the shocking revelation that she is the "daughter" of Red-Haired Shanks.
Film One Piece: Red
Directed by Gorō Taniguchi
Produced by Eiichiro Oda
Written by Tsutomu Kuroiwa
Based on One Piece by Eiichiro Oda
Starring Chô, Hiroaki Hirata, Shûichi Ikeda, Kazuya Nakai, Akemi Okamura, Mayumi Tanaka, Kappei Yamaguchi, Yuriko Yamaguchi, Kazuki Yao, Ikue Ôtani
Distributed by Toei Company (Japan), Pathe Films (France)
Release date: August 6, 2022 (Japan), August 10, 2022 (France)