By Mulder, 13 may 2022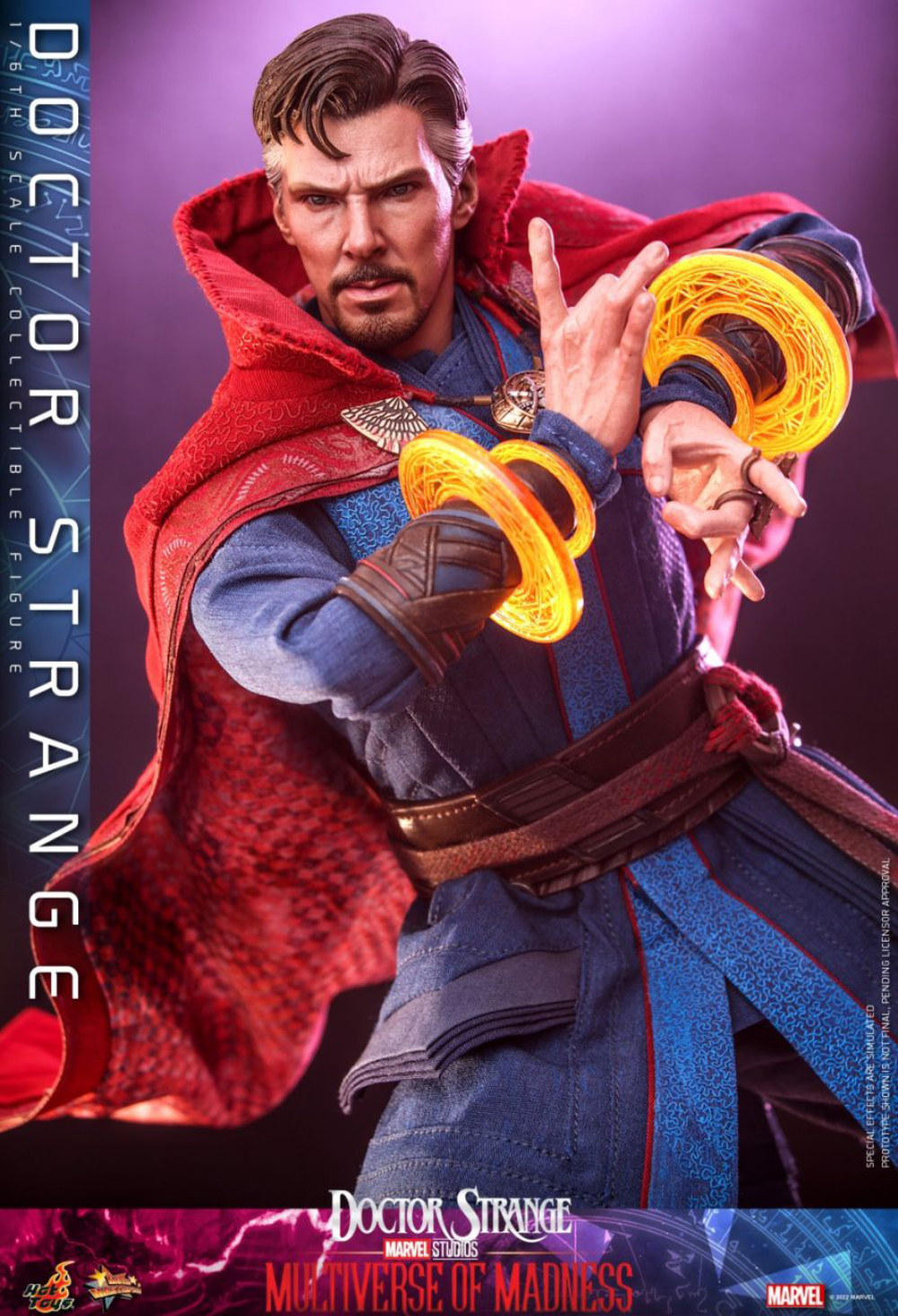 "Dreams are windows into the lives of our Multiversal selves."– Doctor Strange
Marvel's latest cinematic blockbuster, Doctor Strange in the Multiverse of Madness, explores the Multiverse in the MCU and reveals even more threats lurking through every dimension. Doctor Stephen Strange must use all his powers as former Sorcerer Supreme and Master of the Mystic Arts to journey into the unknown — allying with companions both old and new, to confront disturbing variants of some familiar faces along the way.
Hot Toys' latest Movie Masterpiece 1/6 scale figure is inspired by Benedict Cumberbatch as he appeared as Doctor Strange in the movie, Doctor Strange in the Multiverse of Madness. The Doctor Strange 1/6 Scale Figure features a newly developed hand-painted head sculpt and a meticulously tailored screen accurate recreation of his layered costume. The figure also includes a new Cloak of Levitation with a blue patch, multiple accessories including the Book of Vishanti, a pair of handcuffs, his sling rings, the Eye of Agamotto, a selection of interchangeable mystic arts effects, and much more!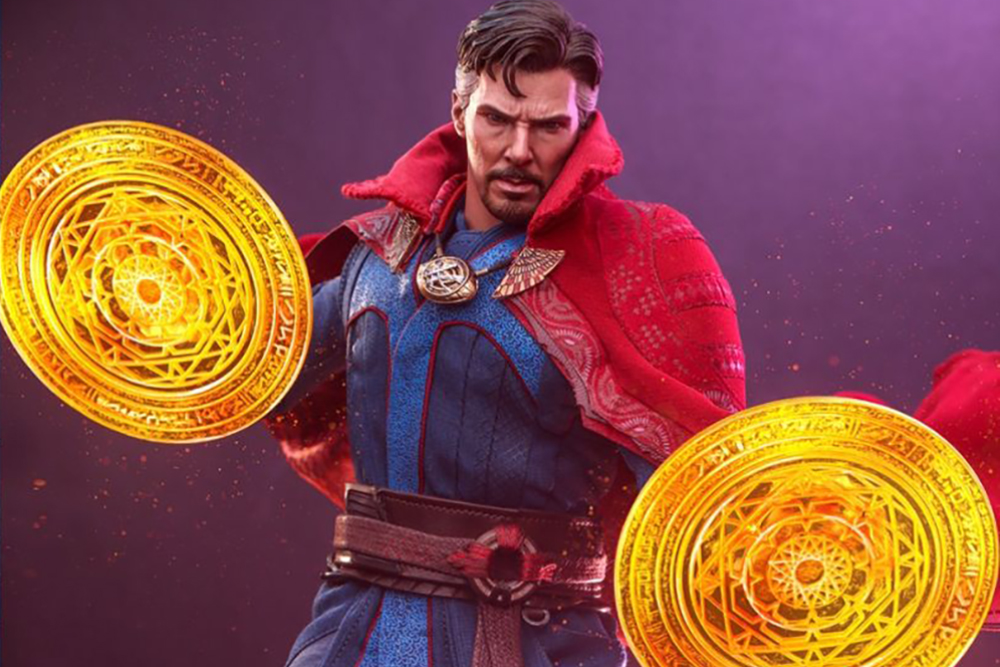 Following the movie's release, Hot Toys have also teased an additonal Doctor Strange head sculpt with a third eye on his forehead, as seen in the post-credits scenes.
The 1/6th scale Doctor Strange Collectible Figure specially features:
- Authentic and detailed likeness of Benedict Cumberbatch as Doctor Strange in Marvel Studios' Doctor Strange in the Multiverse of Madness
- One newly developed head sculpt
- One newly developed head sculpt of Doctor Strange with a third eye
- Movie-accurate facial features, wrinkles and skin texture
- Short hair sculpture
- Body with over 30 points of articulation
- Approximately 31 cm tall
- Ten pieces of interchangeable hands including:
- One pair of firts
- One pair of opened hands
- One accessories holding right hand
- Five mystic power-using hands
- Each piece of head sculpt is specially hand-painted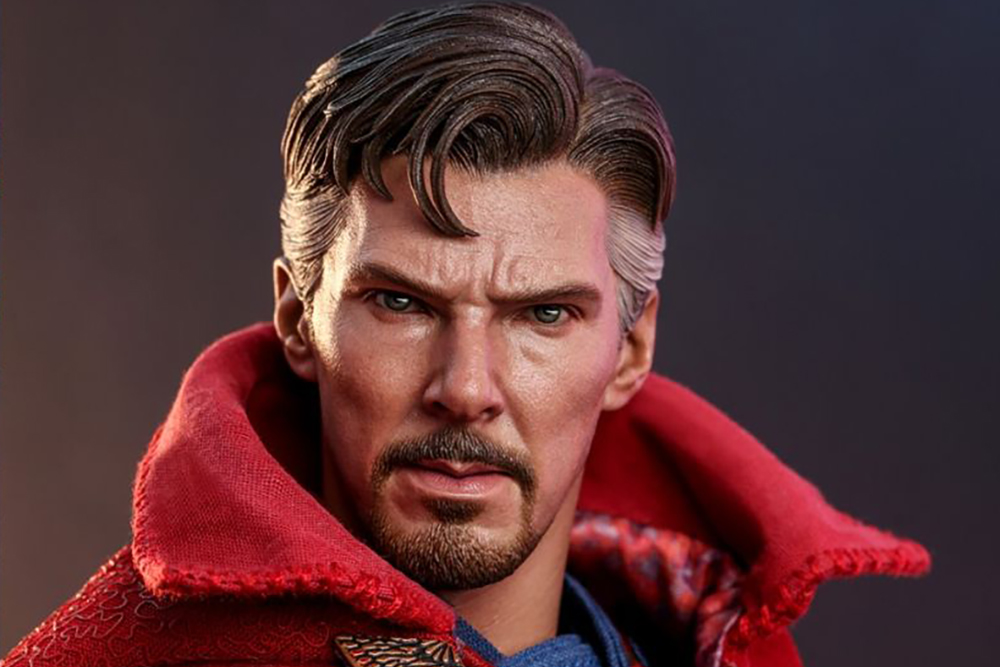 Costume :
- One red and blue colored cape (The Cloak of Levitation) adorned with intricate embroidery and special magnetic clip-on design
- One navy-colored under-tunic
- One multi-layered blue and navy-colored tunic
- Two dark brown-colored cummerbund
- One pair of arm wraps
- One pair of dark blue-colored pants
- One pair of black boots
Accessories:
- One The Book of Vishanti
- One pair of handcuffs
- One amulet (The Eye of Agamotto)
- Two sling rings
- Nine pieces of mystic art effects including:
• One pair of orange-colored viper mystic art effects
• One strand of orange-colored mystic art effect
• One pair of orange-colored mandalas of light
• Two pairs of orange colored mandalas of light in different sizes (wearable on forearms)
- Specially designed figure stand with movie logo and character nameplate
Release date: Approximately Q3 – Q4, 2023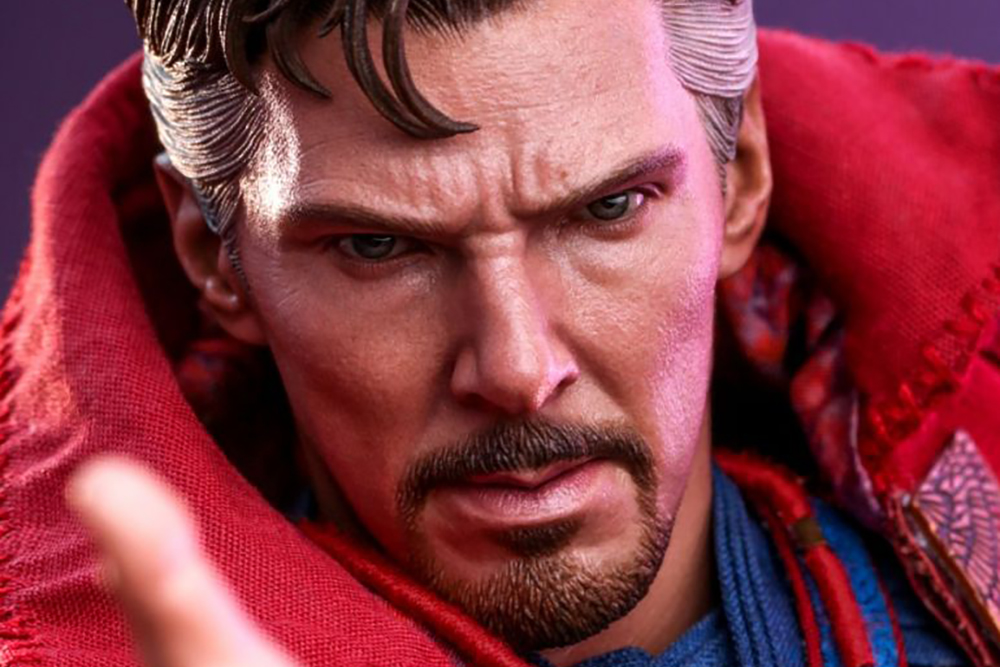 You can read on our online media our Doctor Strange in the Multiverse of Madness review here
You can discover the official photos of the Doctor Strange in the Multiverse of Madness on our Flcikr page
Synopsis :
Following the events of Spider-Man: No Way Home (2021) and the first season of Loki (2021), Dr. Stephen Strange's continuing research on the Time Stone is hindered by a friend-turned-enemy, resulting in Strange unleashing unspeakable evil.
Doctor Strange in the Multiverse of Madness
Directed by Sam Raimi
Screenplay by Jade Halley Bartlett, Michael Waldron
Based on Doctor Strange by Stan Lee, Steve Ditko
Produced by Kevin Feige
Starring Benedict Cumberbatch, Benedict Wong, Rachel McAdams, Chiwetel Ejiofor, Elizabeth Olsen, Xochitl Gomez
Cinematography : John Mathieson
Edited by Bob Murawski
Music by Danny Elfman
Production company: Marvel Studios
Distributed by Walt Disney Studios Motion Pictures
Release date : May 4, 2022 (France), May 6, 2022 (United States)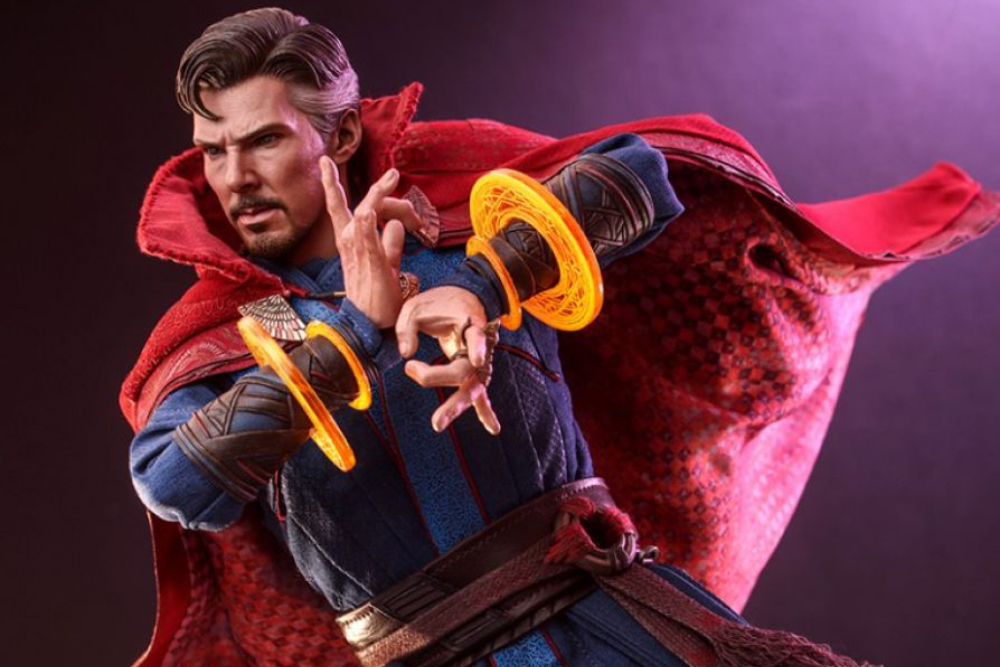 *Prototype shown is not final, pending licensor approval
**Product details could be subjected to change without further notice
© 2022 Marvel © 2022 Hot Toys Limited. All Rights Reserved.