By Mulder, 10 january 2022
(HFPA) tonight announced the winners of the 79th Annual Golden Globe Awards® from the Beverly Hilton. In addition to recognizing 2021's best in film and television, this year, the Golden Globe Awards shined a light on the long-established philanthropy work of the HFPA, amplifying a range of grantees during the program.

HFPA President Helen Hoehne opened the ceremony and welcomed attendees composed of select HFPA members and grantees. For 25 years, the HFPA has donated over $50 million to more than 70 entertainment-related charities, film restoration, scholarship programs and humanitarian efforts; incredibly impactful organizations, many of whom were hit hard over the last two years as a result of the pandemic. The evening honored the achievements of the grantees as well.


"Last year the Hollywood Foreign Press Association was challenged to change – and we did," remarked Helen Hoehne, President of the HFPA. "Both internally, within the Association, as well as adding 21 members to bring fresh perspectives. We are on a journey of change and we're not going to rest. We are going to be outspoken about what we're learning and challenge others to join us."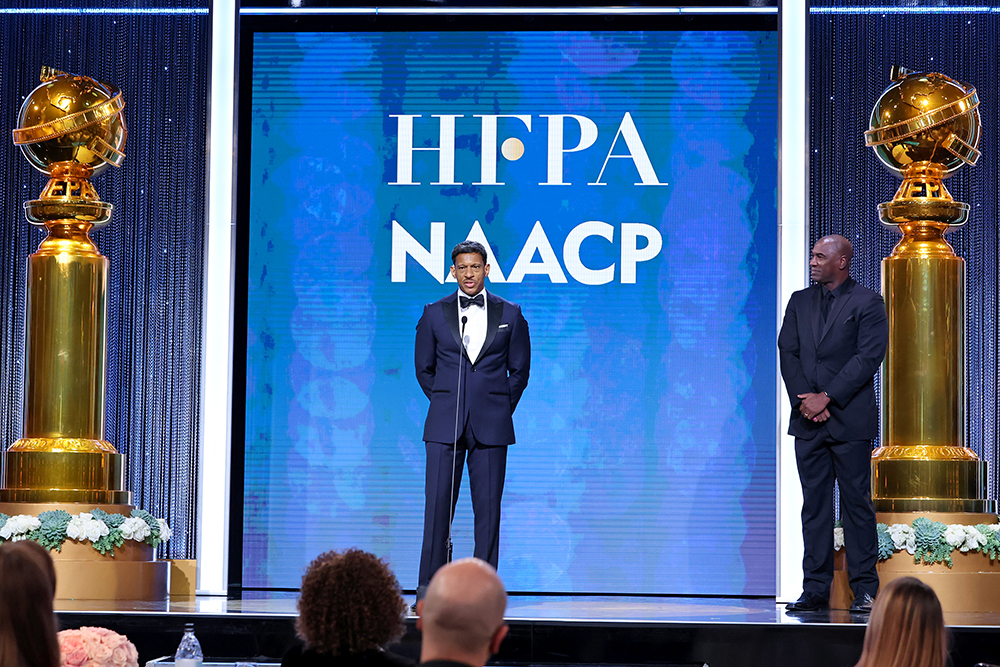 At the conclusion of Hoehne's remarks, Tige Charity, Executive Director of Kids in The Spotlight, took the stage to provide an overview of the organization, and then announced the first two Awards of the evening. Throughout the event, various HFPA grant recipients and nonprofit leaders spoke about the work of their respective organizations, followed by the announcement of Award category winners. Additional presenters included: Katie Alheim, A Place Called Home; Larry Laboe, New Filmmakers LA; Jenn Dees, PEN America; Damien Navarro, Outfest; Rafael Agustín, Latino Film Institute; Nate Thomas, Cal State Northridge; Dr. Mary Gallagher, LACC; Nic Novicki, Easterseals Disability Film Challenge;Thomas Parham, Cal State Dominguez; Diana Luna, Hola Mexico Film Festival; Kimberly Bautista, Justice For My Sister; Sandy Schulberg, Indie Collect; Filipe Noguiera, Women's Voices Now; Adele Wilson, Streetlights; Diane Ruby, Get Lit; Jacqueline Alexander-Sykes, St. Elmo Village; Samuel Curtis, Get Lit and Lucia Torres, Los Fotos.

Toward the end of the evening, HFPA Chief Diversity Officer Neil Phillips introduced Kyle Bowser, Senior Vice President of the NAACP Hollywood Bureau, who further discussed the "Reimagine Coalition," a joint five-year initiative between the HFPA and NAACP, to increase diversity, equity and inclusion across the global entertainment industry.

Bowser opened his remarks: "Imagination is the currency that sustains and propels the entertainment industries. Creative storytellers possess an amazing ability to conceive people, places, and circumstances that transpose us all to fantastical realms of 'make believe.' But for many of us, the imagination of the dominant culture is the most vulnerable, unhealthy, and dangerous place to reside. Our race, origin, ethnicity, gender, sexual orientation, physical capability, and mental capacity are but a few of the unique qualities we embody, but the invaluable perspectives, methods, and talents we offer are routinely discounted or discredited."


Bowser went on to describe the importance of the Reimagine Coalition, and what it aims to do, with the hope of working closely with studios, networks, production companies, agencies, guilds, academies, and other media institutions.

His remarks concluded by acknowledging the "attention that has deservedly been paid to the HFPA's shortcomings" but reaffirmed that the "NAACP supports their effort to reform and applauds HFPA's offer to share its transitional experience as a template for the entire industry to emulate."

Following Bowser's remarks, Jeremy Tran, Executive Director of Gold House; Bird Runningwater, member of the Board of Directors for IllumiNative; and Lauren Applebaum
VP of Communications and Entertainment & News Media, of RespectAbility, took the stage to announce they would all be joining the HFPA and NAACP in supporting the Reimagine Coalition.
• Gold House is a community of Asian and Pacific Islander changemakers fighting for equality by advancing API representation and empowerment.
• IllumiNative is a women-led social justice organization dedicated to challenging and disrupting the false narratives that exist about Native peoples.
• RespectAbility is a disability-led nonprofit that works to create systemic change in how society views and values people with disabilities.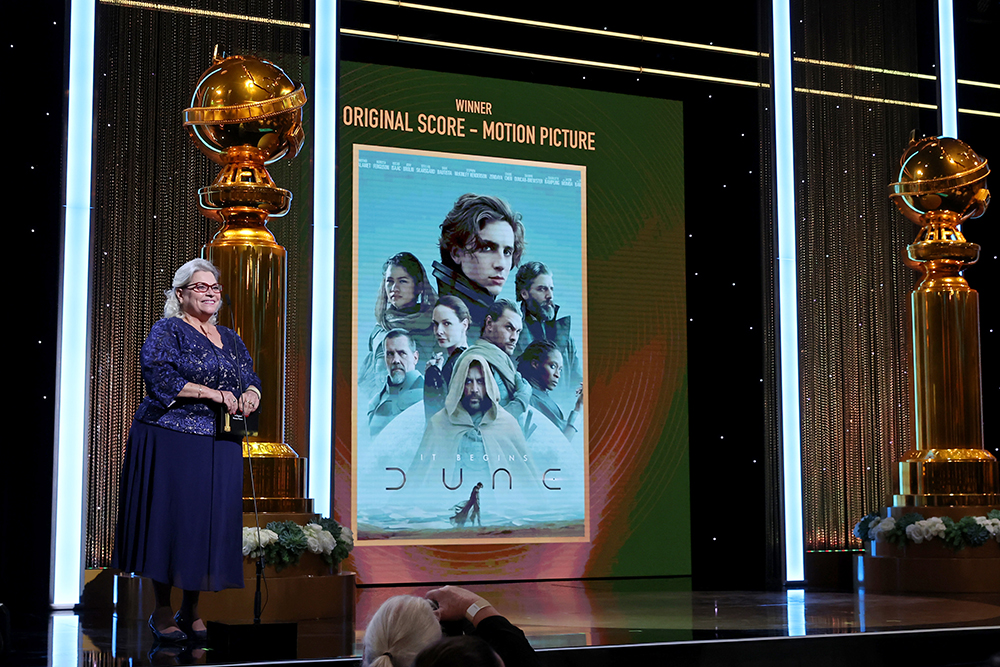 During the ceremony, in addition to spotlighting a wide variety of HFPA-supported nonprofit partners, four organizations - Get Lit, Streetlights, St. Elmo Village, and Las Fotos - were honored through individual video vignettes.
• Streetlights — Supported by the HFPA for over a decade, Streetlights acts as a job training, job placement and career advancement organization. Its mission is to create careers, not just jobs, for underrepresented young women and men from diverse backgrounds, while increasing diversity throughout the entertainment industry. When students graduate from the first four weeks of training, they are placed in jobs such as production assistants, a traditional stepping stone.
• Get Lit — Supported by the HFPA since 2018, Get Lit uses poetry to increase literacy, empower youth, and inspire communities. The organization cultivates enthusiastic learners emboldened to inspire social consciousness in diverse communities. Get Lit's poetry and film curriculum engages young people by providing a creative outlet, community, and real-life work experience, transforming students into activists, scholars, and stars.
• Las Fotos Project — Supported by the HFPA since 2019, this community-based organization inspires teenage girls and gender-expansive youth through photography, mentorship, and self-expression. Offering year-round programming, Las Fotos provides girls with access to professional cameras, quality instruction and workshops that encourage them to explore their identity, build leadership and advocacy skills, and strengthen their social and emotional well-being.
• St. Elmo Village — A new grantee, St. Elmo Village houses free workshops in drawing and painting for children, as well as photography and computer graphics for young adults. They offer an arts and music library, community reading room, and music festivals not only for its surrounding neighborhood but the entire Los Angeles community.

Over the last eight months, the HFPA has completely overhauled their bylaws, implementing sweeping changes from top to bottom that address ethics and code of conduct, diversity, equity and inclusion, governance, membership and more. In October, the HFPA admitted their largest and most diverse class to date of 21 new members, all of whom were first-time Golden Globe voters. A full list of the HFPA's reforms can be found here.

The health and safety of guests is top priority for the HFPA. Proof of vaccination and booster, along with a negative PCR test was required for anyone in attendance. All guests were masked and socially distanced at all times.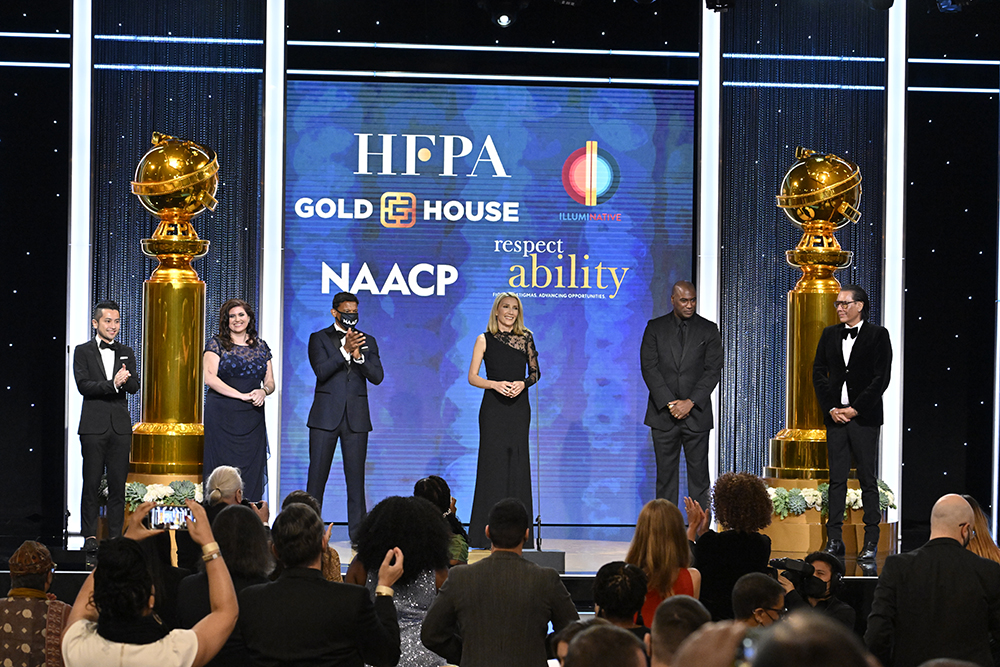 Drama
Succession (HBO)
Musical or Comedy
Hacks (HBO Max)
Best Miniseries or Television Film
The Underground Railroad (Amazon Prime Video)
Best Performance in a Television Series – Drama (Actor)
Jeremy Strong – Succession (HBO) as Kendall Roy
Best Performance in a Television Series – Drama (Actress)
Michaela Jaé Rodriguez – Pose (FX) as Blanca Rodriguez-Evangelista
Best Performance in a Television Series – Musical or Comedy (Actor)
Jason Sudeikis – Ted Lasso (Apple TV+) as Ted Lasso
Best Performance in a Television Series – Musical or Comedy (Actress)
Jean Smart – Hacks (HBO Max) as Deborah Vance
Best Performance in a Miniseries or Television Film (Actor)
Michael Keaton – Dopesick (Hulu) as Dr. Samuel Finnix
Best Performance in a Miniseries or Television Film (Actress)
Kate Winslet – Mare of Easttown (HBO) as Marianne "Mare" Sheehan
Best Supporting Performance in a Series, Miniseries or Television Film (Supporting Actor)
O Yeong-su – Squid Game (Netflix) as Oh Il-nam
Best Supporting Performance in a Series, Miniseries or Television Film (Supporting Actress)
Sarah Snook – Succession (HBO) as Siobhan "Shiv" Roy
Television : HBO/HBO Max (6), Amazon Prime Video (1), Apple TV+ (1), FX (1), Hulu (1), Netflix (1)
Television Series : Succession (3), Hacks (2), Dopesick (1), Mare of Easttown (1), Pose (1), Squid Game (1), Ted Lasso (1), The Underground Railroad (1)
The Hollywood Foreign Press Association (HFPA) was founded in 1943 – then known as the Hollywood Foreign Correspondents Association – by a group of entertainment journalists based in Los Angeles. During World War II, the non-profit organization established a cultural bridge between Tinseltown and millions around the world seeking an escape and inspiration through entertainment. The HFPA continues to do so today with a membership representing more than 55 countries. Since 1944, the group has hosted the annual Golden Globe® Awards – the premier ceremony which honors achievements in both television and film. The licensing fees from the Golden Globe® Awards has enabled the organization to donate more than $50 million to more than 70 entertainment-related charities, film restoration, scholarship programs and humanitarian efforts over the last 27 years. For more information, please visit www.GoldenGlobes.com and follow us on Twitter (@GoldenGlobes), Instagram (@GoldenGlobes), and Facebook.
(Source : press release)