By Mulder, 08 january 2022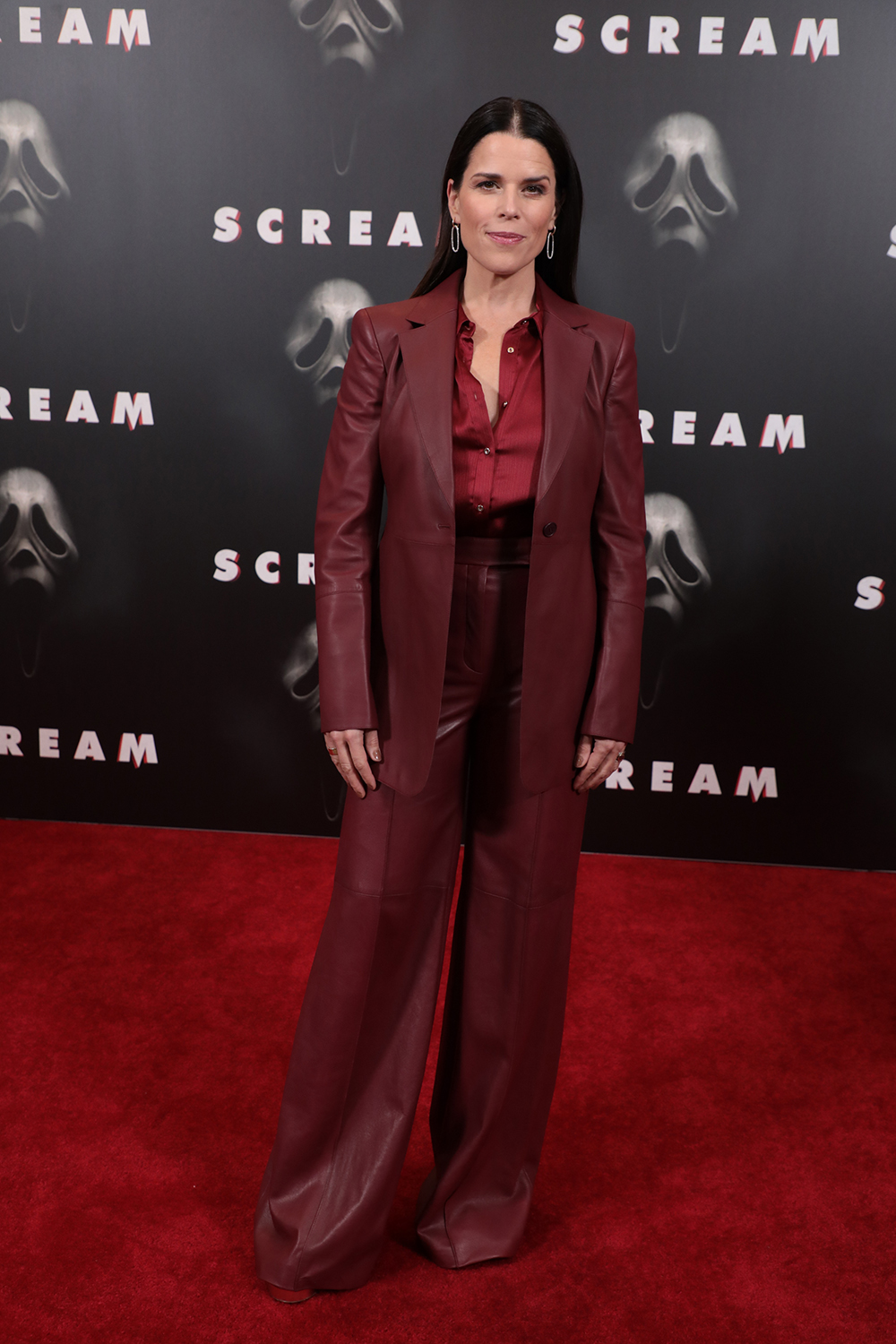 The SCREAM photocall was held yesterday in Los Angeles at the Four Seasons hotel Beverly Hills.
William Sherak, Jack Quaid, Jasmin Savoy Brown, Melissa Barrera, Marley Shelton, David Arquette, Neve Campbell, Courteney Cox, Sonia Ammar, Mason Gooding, Tyler Gillett, Mikey Madison, Dylan Minnette, Matt Bettinelli-Olpin and Chad Villella were present.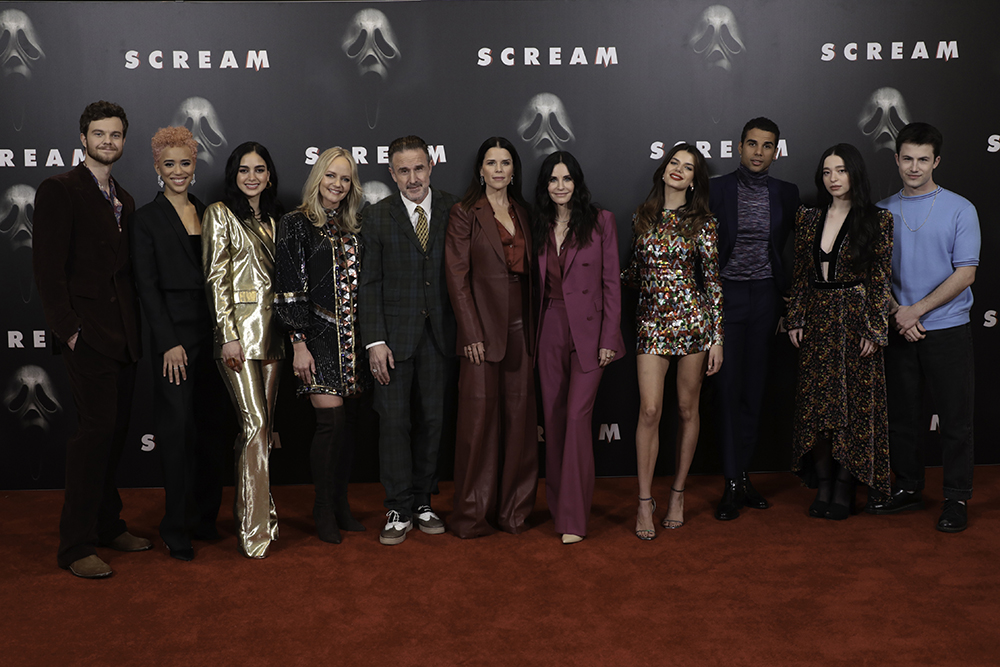 SCREAM is an upcoming American slasher film that serves as the fifth installment of the SCREAM film series. It is directed by Matt Bettinelli-Olpin and Tyler Gillett and written by James Vanderbilt and Guy Busick. The film is produced by Vanderbilt, Paul Neinstein, and William Sherak, with original screenwriter Kevin Williamson serving as an executive producer. Scream was produced by Spyglass Media Group, Radio Silence Productions, Project X Entertainment, Outerbanks Entertainment, and distributed by Paramount Pictures.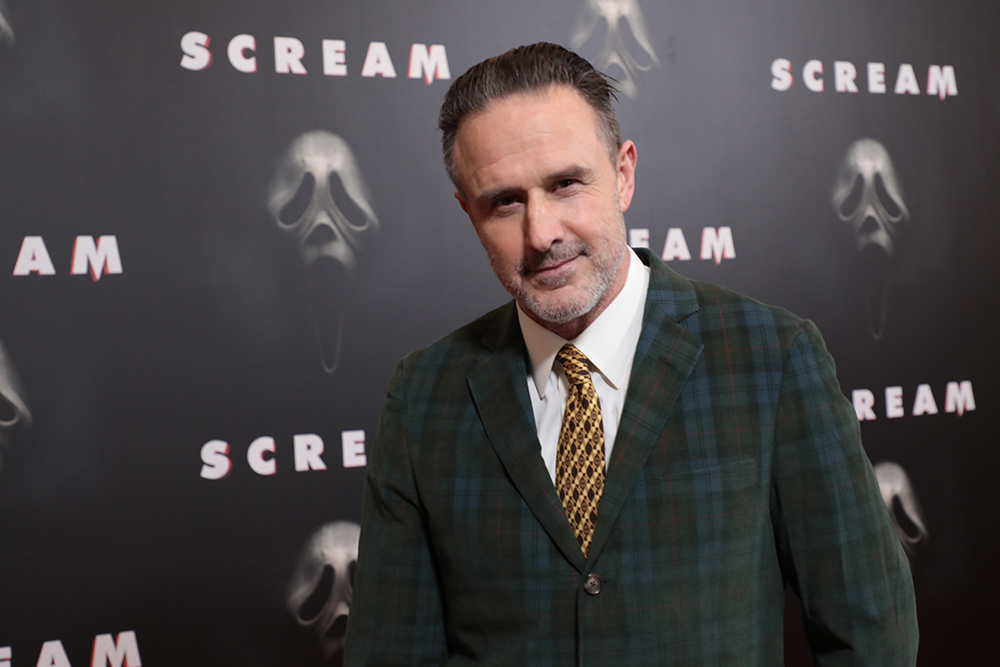 Though billed as a relaunch of the franchise, the film is a direct sequel to 2011's SCREAM 4, and the first in the series not to be directed by Wes Craven, who died in 2015. It stars franchise newcomers Melissa Barrera, Mason Gooding, Jenna Ortega, and Jack Quaid, with David Arquette, Neve Campbell, Courteney Cox, Marley Shelton, and Roger L. Jackson reprising their roles from previous installments.
Principal photography was originally scheduled to begin in Wilmington, North Carolina, in May 2020, but was delayed due to the COVID-19 pandemic. Filming instead began on September 23, 2020. Filming took place across several avenues in Wilmington, including exterior shots of Williston Middle School and interior shots of Cardinal Lanes Shipyard and 10th Street (between Ann and Castle streets). The film was awarded $7 million in rebates by the North Carolina Film Office. Filming wrapped on November 17, 2020. The existence of not only multiple versions of the film's screenplay but also multiple filmed scenes, to avoid details of the actual storyline being leaked before the film's release, was confirmed in April 2021. During the post-production stage, Michel Aller served as the primary editor for the film.Post-production on the film was completed by July 7, 2021.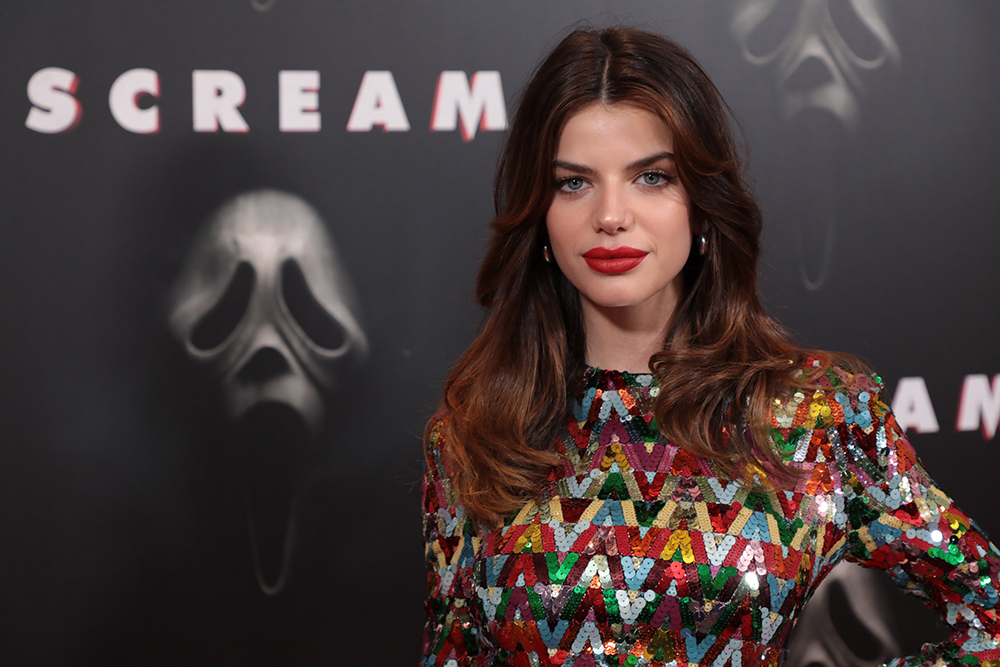 The film is scheduled to be released on January 14, 2022 in France and January 14, 2022 in the United States.
You can discover the photos on our Flickr page here
Synopsis :
Twenty-five years after a streak of brutal murders shocked the quiet town of Woodsboro, a new killer has donned the Ghostface mask and begins targeting a group of teenagers to resurrect secrets from the town's deadly past.
SCREAM
Directed by Matt Bettinelli-Olpin, Tyler Gillett
Written by James Vanderbilt, Guy Busick
Based on Characters by Kevin Williamson
Produced by William Sherak, James Vanderbilt, Paul Neinstein
Starring Melissa Barrera, Mason Gooding, Jenna Ortega, Jack Quaid, Marley Shelton, Courteney Cox, David Arquette, Neve Campbell
Cinematography : Brett Jutkiewicz
Edited by Michel Aller
Music by Brian Tyler
Production : companies: Spyglass Media Group, Radio Silence Productions, Project X Entertainment, Outerbanks Entertainment
Distributed by Paramount Pictures
Release date : January 1, 2022 (France), January 14, 2022 (United States)
Running time : 114 minutes
Photos : Copyright Alex J. Berliner/ ABImages