By Mulder, 01 december 2021
The Matrix Resurrections is an upcoming American science fiction action film produced, co-written and directed by Lana Wachowski. It is the sequel to The Matrix Revolutions (2003) and the fourth installment in the Matrix film series. Keanu Reeves, Carrie-Anne Moss and Jada Pinkett Smith reprise their roles from the previous films in the series, and they are joined by Yahya Abdul-Mateen II, Jessica Henwick, Jonathan Groff, Neil Patrick Harris, Priyanka Chopra Jonas and Christina Ricci.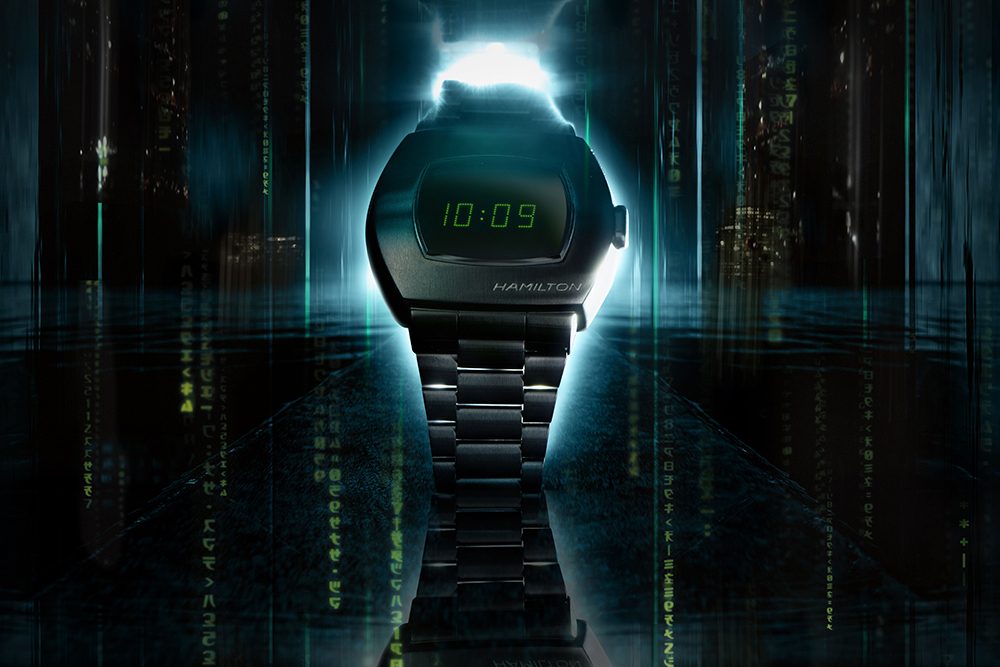 In late 2019, a fourth Matrix film was finally announced, with Lana Wachowski returning as director without her sister and Reeves and Moss reprising their roles. Filming began in February 2020 but was interrupted the following month by the COVID-19 pandemic. Wachowski considered the possibility of shelving the project and leaving the film unfinished, but the cast insisted that she finish it. Filming resumed in August 2020, finishing three months later. The film is supposed to be a joint production of Village Roadshow Pictures and Venus Castina Productions. The Matrix Resurrections is scheduled to have its world premiere in San Francisco on Dec. 18, 2021, and its theatrical release by Warner Bros. Pictures on December 22. It will also air digitally on the commercial-free component of HBO Max in the U.S. for one month from that same date.
In 1970, Hamilton introduced the world's first digital watch to an incredulous public. More than 50 years later, we celebrate with the Hamilton PSR MTX. Inspired by a digital world that challenges the status quo, this limited edition watch is ready to lead us into the future.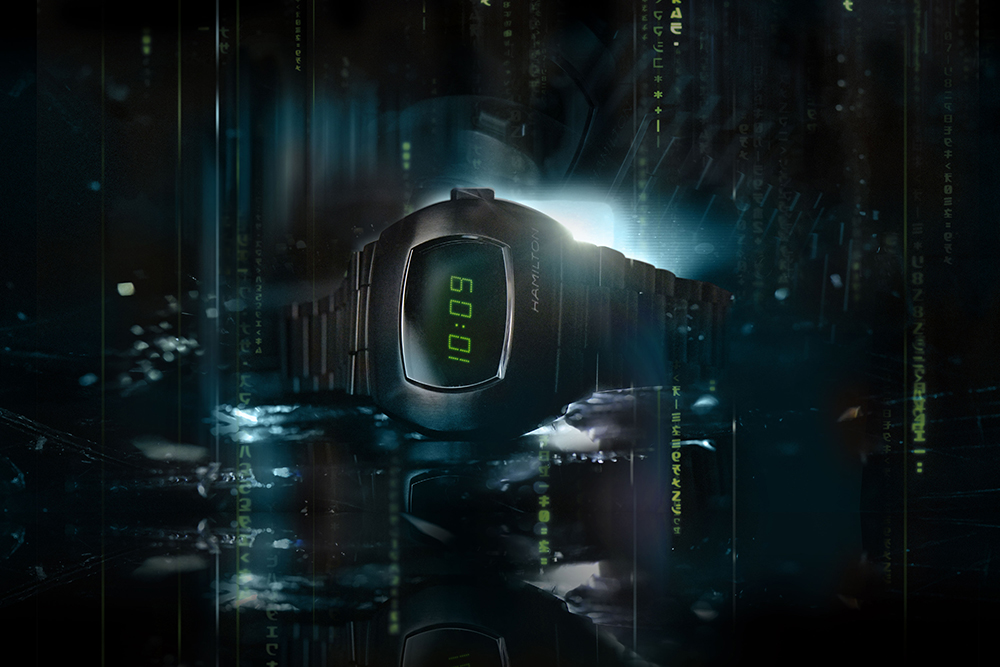 In 1999, "Matrix" asked viewers to free their minds, choose a safe but false future or enter a dangerous reality and fight for freedom. The saga continues with "Matrix Resurrections," directed by Lana Wachowski, with Keanu Reeves and Carrie-Anne Moss reprising their iconic roles as Neo and Trinity. Just as the groundbreaking film franchise rewrote the rules of science fiction cinema, the original Hamilton Pulsar, reborn in 2020 as PSR, is a symbol of the futurism that has brought us into the increasingly digital world of the 21st century. As a nod to cinematic and watchmaking innovation, we applied the techwear look of the "Matrix" universe to the similar retro-futuristic design of another digital icon.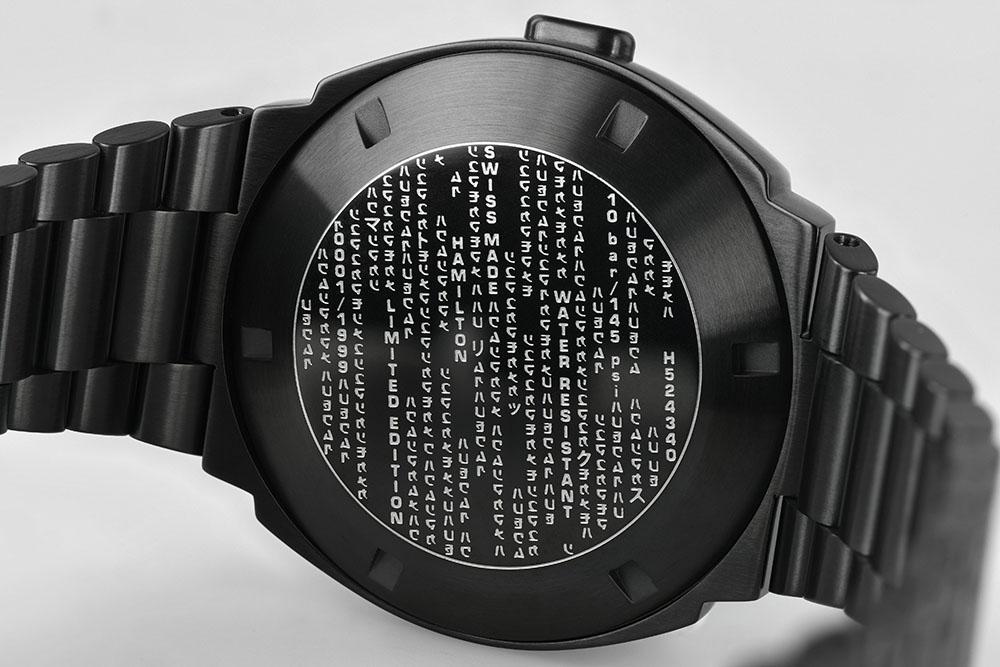 Join the ranks of Neo, Trinity, Morpheus and more with style that stands out in any reality with the Hamilton PSR MTX. Limited to 1,999 pieces in honor of the original film's release year, this all-black watch celebrates the return to the Matrix with a green display and the film's signature digital rain pattern emblazoned on the caseback and special watch packaging.
At the heart of cinema for nearly a century, Hamilton watches have been a favorite of filmmakers, with appearances in more than 500 films since our first starring role in the 1932 classic "Shanghai Express." In recent years, our innovative designs have earned us appearances in science fiction blockbusters, including "Tenet" and "Interstellar.
A cult model with retro tech styling and a heroic heritage, the PSR MTX has all the qualities of a unique and iconic model that will grace the wrists of everyday heroes.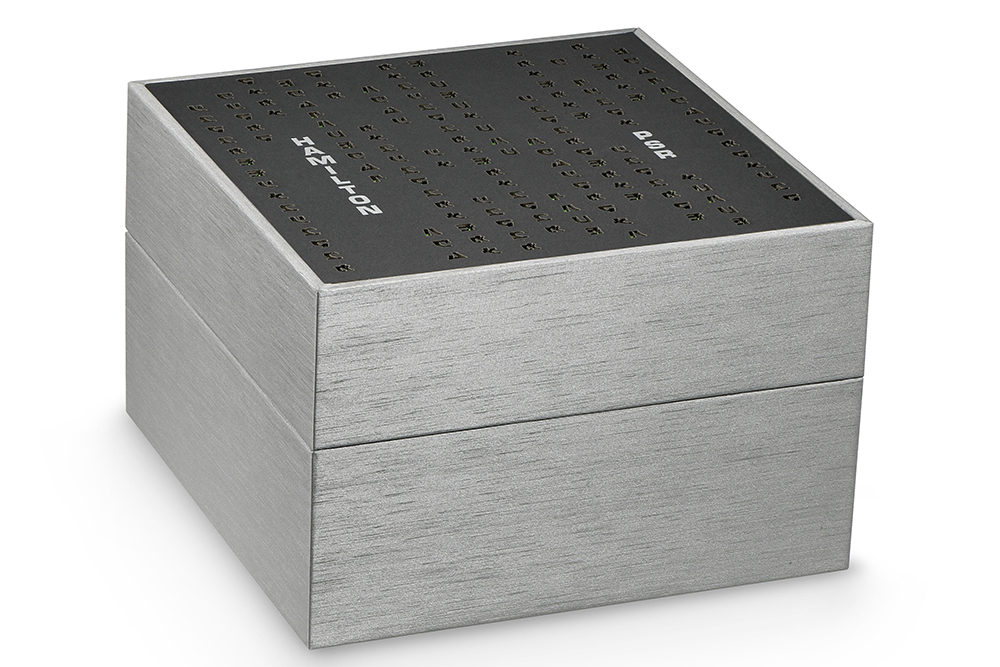 Technical specifications PSR MTX Hamilton
40.8x34.7mm stainless steel case with black PVD coating
Thickness 13,30mm
Horn width 24mm
Dial Green hybrid display with LCD and OLED
Hands N/A
Movement Digital quartz
Strap Stainless steel bracelet with black PVD coating
Glass Sapphire crystal with anti-reflective coating
Water resistance 10 bar (100 m)
Limited edition 1,999 pieces
Selling price € 975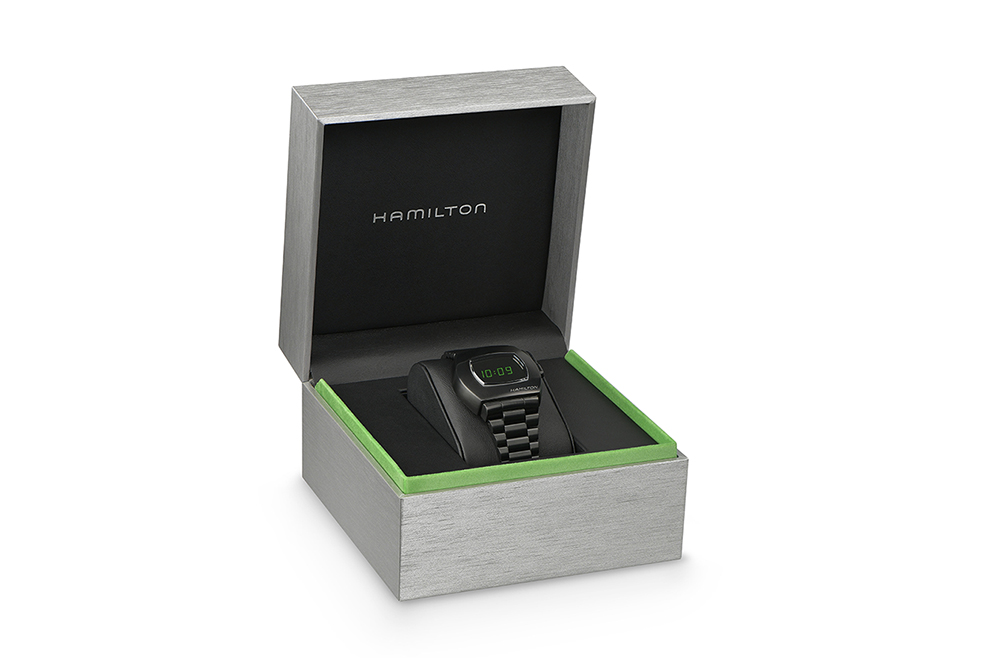 Synopsis:
Twenty years after the events of The Matrix Revolutions, Neo leads a seemingly ordinary life as Thomas A. Anderson in San Francisco where his therapist prescribes him blue pills. Neither he nor Trinity recognize each other. However, Morpheus gives him the red pill and opens his mind to the world of the Matrix again.
The Matrix Resurrections
Directed by Lana Wachowski
Written by Lana Wachowski, David Mitchell, Aleksandar Hemon
Based on Characters by The Wachowskis
Produced by Grant Hill, James McTeigue, Lana Wachowski
Starring Keanu Reeves, Carrie-Anne Moss, Yahya Abdul-Mateen II, Jessica Henwick, Jonathan Groff, Neil Patrick Harris, Priyanka Chopra Jonas, Jada Pinkett Smith
Cinematography: Daniele Massaccesi, John Toll
Edited by Joseph Jett Sally
Music by Johnny Klimek, Tom Tykwer
Production companies : Village Roadshow Pictures, Venus Castina Productions
Distributed by Warner Bros. Pictures
Release date : December 18, 2021 (San Francisco), December 22, 2021 (United States)