By Mulder, 30 november 2021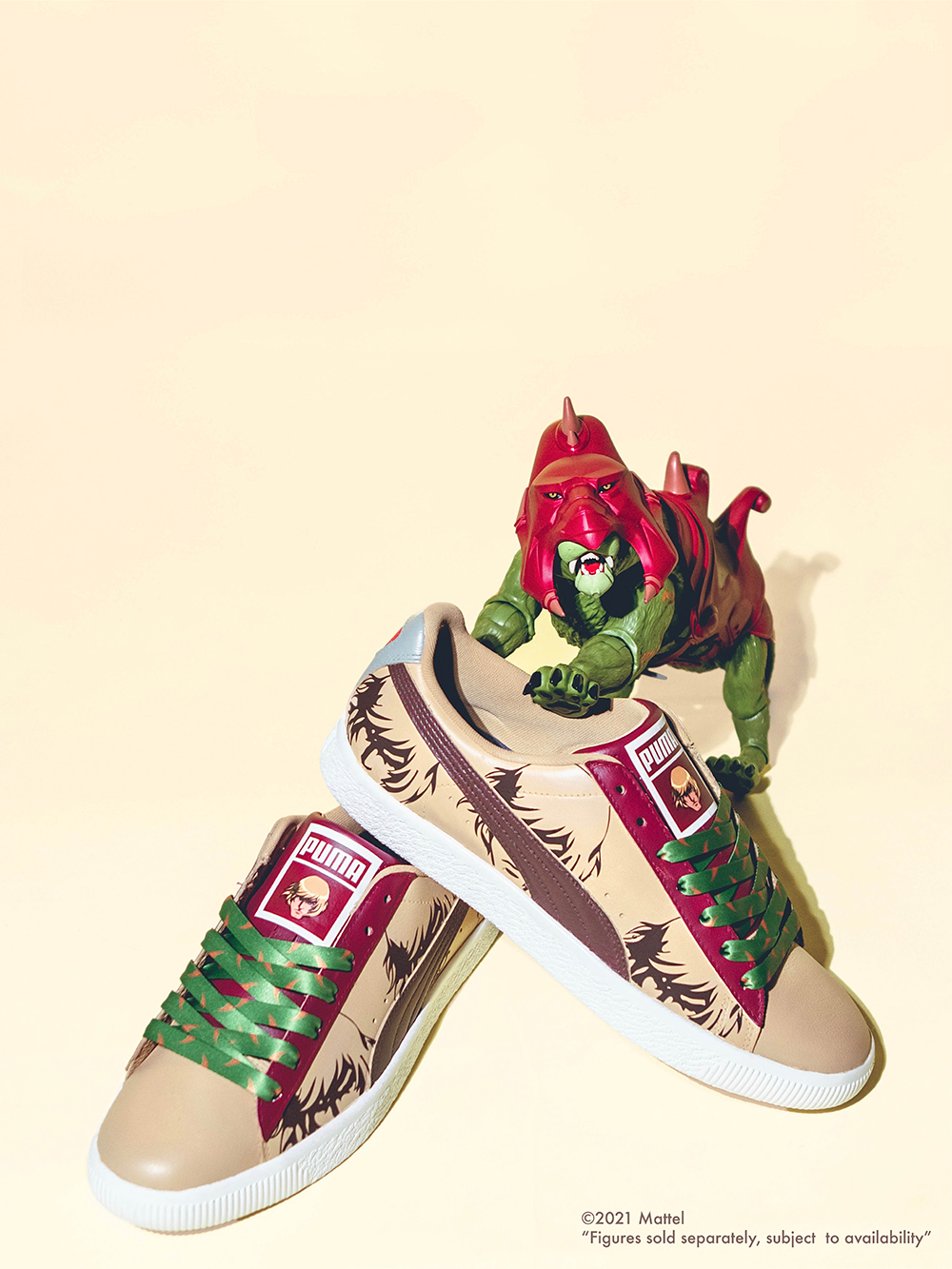 "I'm not fit to walk a mile in He-Man's shoes - but thanks to the good folks at PUMA, now I can! ," said Masters of the Universe's showrunner and executive producer Kevin Smith. "So I'll be rocking those, as well as my Skeletor sneakers, until the end of the Universe!"


The PUMA Clyde draws inspiration from the show's superhero He-Man. This special-edition Clyde features hand-mixed colors to match He-Man's outfit, an enlarged die-cut He-Man that covers the side of the shoes and laces that include a Battle Cat print. To complete the full design, the shoe's insoles showcase the mighty fortress, Castle Grayskull.

The PUMA Suede draws inspiration from the show's famed villain Skeletor. The one-of-a-kind Suede features hand-mixed colors to match Skeletor's outfit, an enlarged die cut glow-in-the-dark Skeletor that covers the sides of the shoes, sublimated laces with Skeletor's bone vest print and custom insoles featuring Skeletor's lair, Snake Mountain.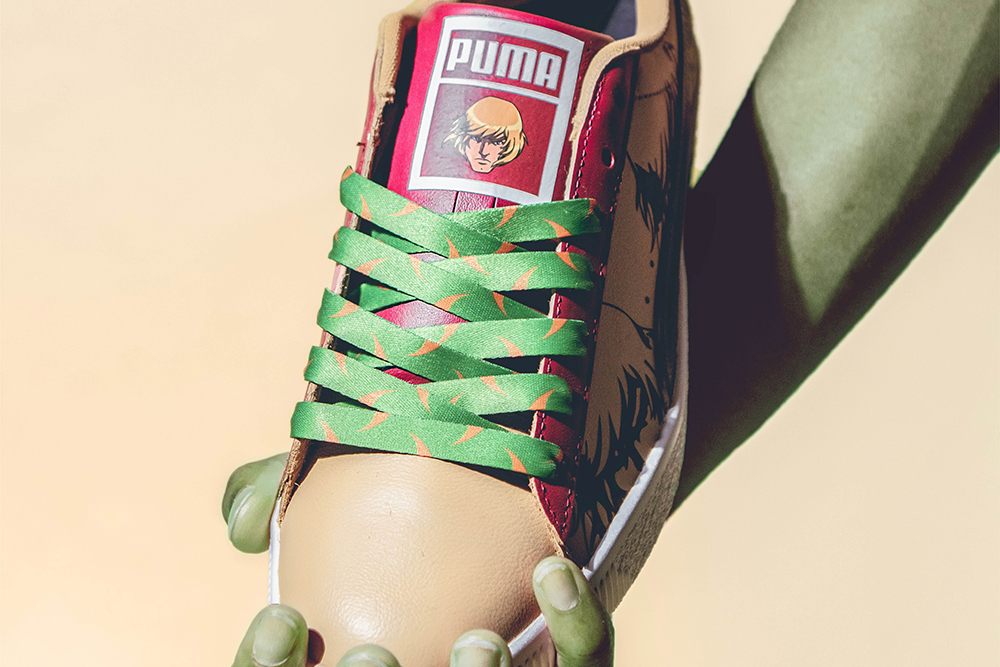 The PUMA x Masters of the Universe collab creative directed by Kevin Smith will be available exclusively at Footlocker.com starting November 30, with the Clyde and Suede retailing for $150.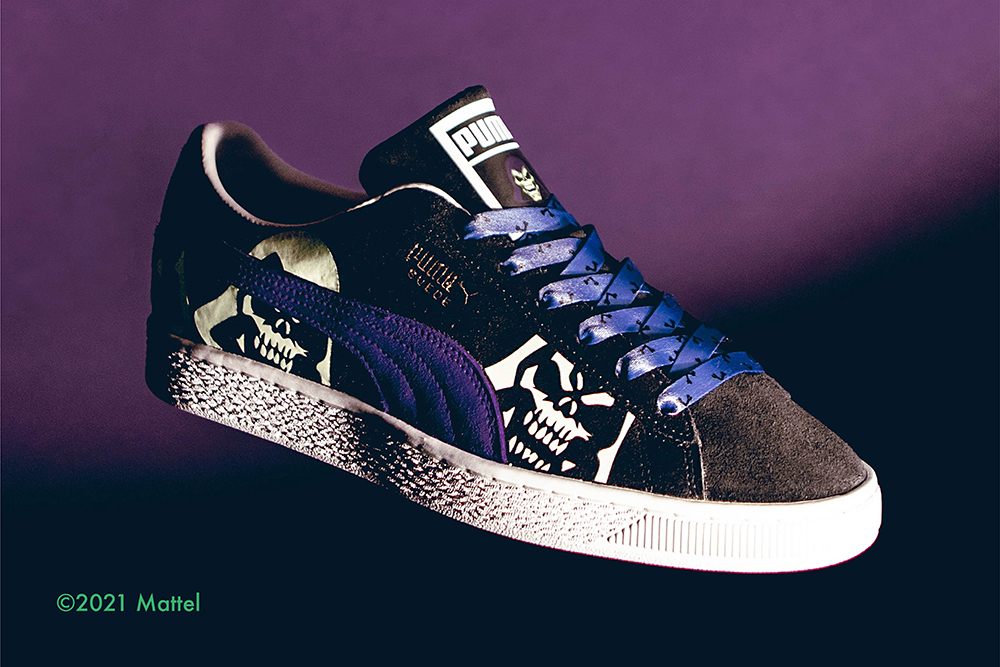 Synopsis:
The war for Eternia culminates in Masters of the universe: revelation, an innovative and action-packed animated series that picks up where the iconic characters left off decades ago. After a cataclysmic battle between He-Man and Skeletor, Eternia is fractured and the Guardians of Grayskull are scattered. And after decades of secrets separate them, it's up to Teela to reunite the band of broken heroes and solve the mystery of the missing sword of power in a race against time to restore Eternia and prevent the end of the universe.
Masters of the Universe: Revelation Part 2
Showrunner / Executive Producer: Kevin Smith (Clerks, Chasing Amy)
Based on Mattel's Masters of the Universe
Producer : Susan Corbin (He-Man and the Masters of the Universe)
Executive Producers: Frederic Soulie (He-Man and the Masters of the Universe), Adam Bonnett (Descendants), Christopher Keenan (Justice League, Batman Beyond) and Rob David (He-Man and the Masters of the Universe)
Writers: Marc Bernardin (Castle Rock, Alphas), Eric Carrasco (Supergirl), Diya Mishra (Magic the Gathering) and Tim Sheridan (Reign of the Supermen)
With Mark Hamill, Lena Headey, Chris Wood, Sarah Michelle Gellar, Liam Cunningham, Stephen Root, Diedrich Bader , Griffin Newman, Tiffany Smith, Henry Rollins, Alan Oppenheimer, Susan Eisenberg, Alicia Silverstone, Justin Long , Jason Mewes, Phil LaMarr, Tony Todd, Cree Summer, Kevin Michael Richardson, Kevin Conroy
Composer: Bear McCreary (The Walking Dead, Battlestar Galactica, Outlander)
Produced by Mattel Television, Powerhouse Animation Studios
Series animation: Powerhouse Animation (Castlevania)
Distributor: Netflix
Release date: November 23, 2021 (Worldwide)
(Source : press release)