By Mulder, 11 october 2021
"It is a huge honor to have our international premiere at CanneSeries. I've been dreaming of this for several years and it's even more special that it's for Wipe Me Away, a story that is very personal to me. Together with my precious team, it will be a privilege to come and present my childhood neighborhood with its stories and characters." - Eric Piccoli, writer and director
Wipe Me Away is a series directed by Eric Piccoli and will be presented on October 12, 2021 at the Canneseries Festival in competition in the categories of Best Short Series and Best Student Award. Produced by Babel films Wipe Me Away (Wipe Me Away) is a Quebec drama adapted from the novel of the same name by Anaïs Barbeau-Lavalette, in French language and in 8 episodes of 20 minutes.
Directed by Eric Piccoli, also co-writer with Florence Lafond, Wipe Me Away addresses the reality and issues of the community of Saint-Michel, one of Montreal's most densely populated and economically and socially disadvantaged neighbourhoods. Poverty, violence and neglected childhood are among the themes addressed in this hard-hitting series.
Episode 1 (19 minutes 24 seconds)
Saint-Michel neighborhood, Montreal. Mélissa (Sarah-Maxine Racicot), Karine (Charlee-Ann Paul) and Eddy (Malik Gervais-Aubourg) live in the same block. They are three teenagers whose lives cross lives intersect, but they are not alike. These young people must nevertheless move forward, with or without the help of a parental authority.
Episode 2 (15 minutes 18 seconds)
Steve (Jean-Nicolas Verre) is concerned when he learns that he and his daughter Karine will be evicted from their apartment, Steve (Jean-Nicolas Verreault) looks for solutions, but quickly realizes he is powerless. He will have to choose between a paycheck or unattainable justice. As for Karine, new at school, she meets a new gang.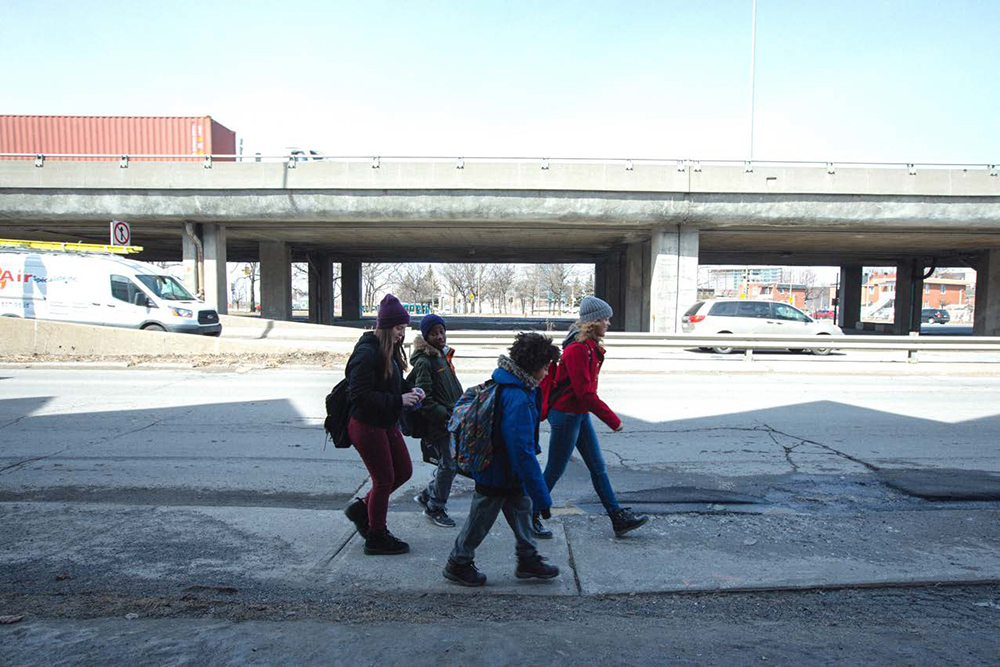 Episode 3 (19 minutes 37 seconds)
Eddy, a trumpet enthusiast, will have to raise his average if he wants to stay in the music program. Music program. It's not that he doesn't want to, but between the beatings he gets at school and the loud, smoke-filled parties, he's not sure he wants to. parties with his mother - Louise (Schelby Jean-Baptiste) - and her boyfriend (Anglesh Major), it's (Anglesh Major), it's a little hard to study in peace.
Episode 4 (20 minutes 11 seconds)
Abandoned by Luc (Roberto Mei), her mother's (Julie Perreault) boyfriend, Mélissa has to put on an adult's shoes shoes and take care of everything while she is still a teenager. She can no longer She can no longer count on her mother. But with the tasks piling up, she has no choice but to go to her mother's house. to go and find her, where she is a prostitute.
Episode 5 (20 minutes 45 seconds)
Having lost his job on a construction site, Steve accepts the first job that comes his way, that of a dishwasher in a local restaurant. a dishwasher in a local restaurant. To get the job, he has to work double shifts. Karine, for her part, wants to please her new gang, especially Jeff (Hubert Tremblay), who has his eye on her. an eye on her.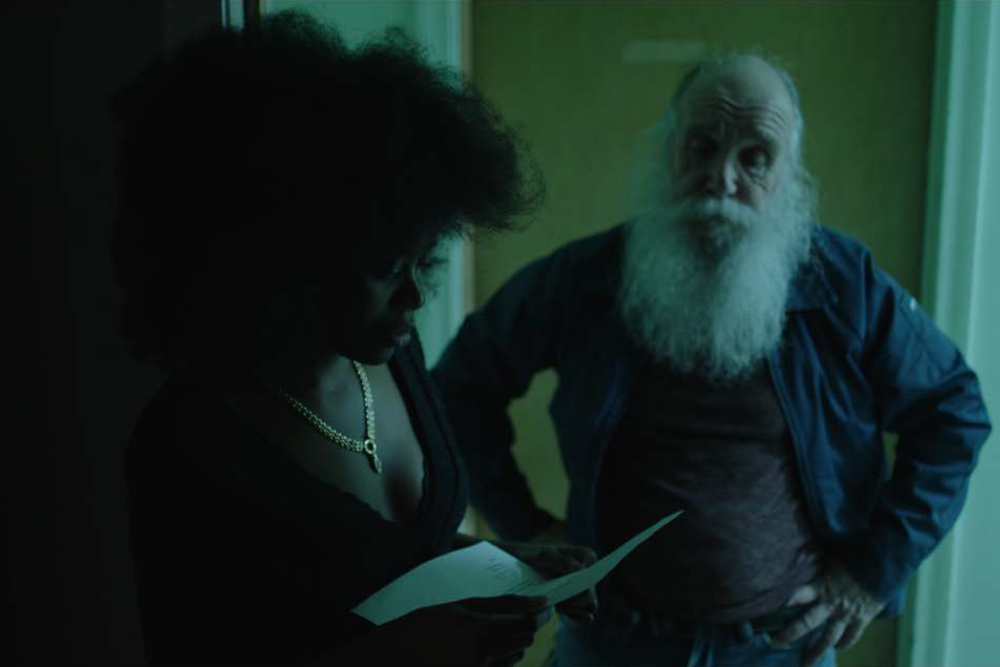 Episode 6 (17 minutes 31 seconds)
Melissa does her best to take care of the apartment, herself and her little brother (Shawn Edmé). Meg, her mother, has promised her that she will convince Luke to come home, but he won't listen. but he won't listen. She doesn't know what to do; her children will be taken away for good.
Episode 7 (20 minutes 44 seconds)
Eddy wants to end the bullying he's been experiencing at school. After his gold chain, he's afraid his trumpet will be stolen. his trumpet will be stolen. His mother, Louise, is trying to find a way out of her toxic and abusive relationship relationship with her boyfriend. But faced with the eviction notice, she doesn't know what to do.
Episode 8 (24 minutes 43 seconds)
Louise, free of her boyfriend, can't miss Eddy's music concert, a big moment for her son. for her son. Karine, determined not to tolerate nastiness at school any longer, comes to blows. blows. Meg, who can no longer do anything for her children, has to come to terms with reality and love them as best she can. and love them as best she can.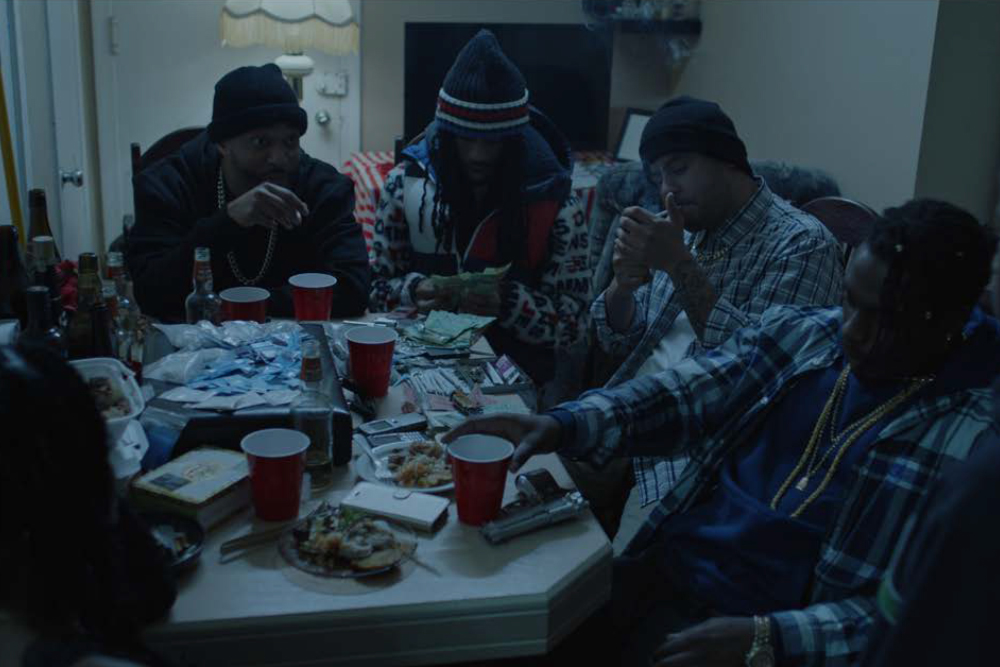 Released on March 10, 2021 on Radio-Canada's ICItou.tv viewing platform, Je voudrais Qu'on m'efface has received several nominations at international film festivals and no less than eight nominations at the Gémeaux Awards, the prestigious television awards presented by the Academy of Canadian Cinema and Television.
The series won four Gemini Awards:
- Best Original Series Produced for Digital Media: Drama (Philippe-A. Allard, Marco Frascarelli, Mathieu Paiement, Eric Piccoli)
- Best Direction for a Digital Media Series: Dramatique (Eric Piccoli)
- Best Writing for a series produced for digital media: Dramatique (Florence Lafond, Eric Piccoli)
- Best Performance by an Actor in a Series Produced for Digital Media: Dramatique (Jean-Nicolas Verreault)
And an award at the Rendez-vous Québec Cinéma 2021: Best Web Series Award
Synopsis:
In an apartment building in the Saint-Michel neighborhood in the north of Montreal, three teenagers, Mélissa, Eddy and Karine, must deal with an environment that is already eating the adults alive. The hooker's corner, the violent neighborhood, the parents' debauchery parties, the bad company: it's all normal, it's their life... But are we condemned to inevitably reproduce what we have known? The challenge facing these young people is all the greater because the building where they live, facing Highway 40, is threatened with demolition to improve traffic flow.
Wipe Me Away (8 episodes of 20 minutes)
Director Eric Piccoli
Producers Marco Frascarelli, Eric Piccoli, Philippe-A. Allard, Mathieu Paiement
Writers Florence Lafond, Eric Piccoli
Adapted from the novel " Je voudrais qu'on m'efface " by Anaïs Barbeau-Lavalette
Director of photography Philippe St-Gelais
With Charlee-Ann Paul, Malik Gervais-Aubourg, Sarah-Maxine Racicot, Julie Perreault, Jean-Nicolas Verreault, Schelby Jean-Baptiste, Anglesh Major, Shawn Edmé, Roberto Mei, Marie-Evelyne Lessard, Tracy Marcelin, Jean Drolet, Jade Barshee, Isabel Dos Santos, Jocelyn Bruno alias Dramatik, Frédéric Pierre, Marianne White, Stuart Meyers, Hubert Tremblay
Editing : Justin Richard Dostie, Eric Piccoli
Music : Joseph Marchand
Production: Babel films
(Source: press release)