By Mulder, 16 july 2021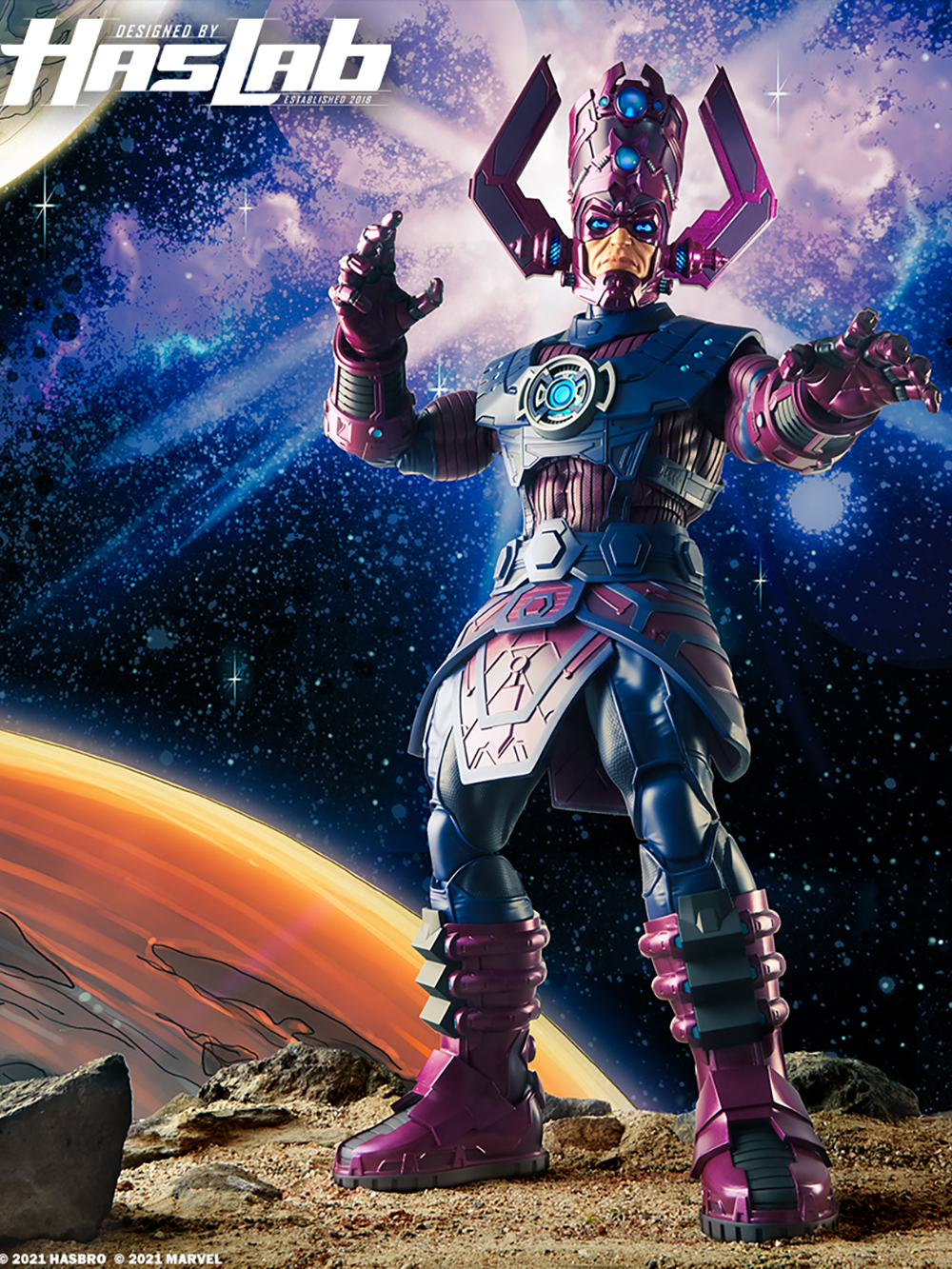 Galactus is a fictional character appearing in American comic books published by Marvel Comics. Formerly a mortal man, Galactus is a cosmic entity who originally consumed planets to sustain his life force, and serves a functional role in the upkeep of the primary Marvel continuity. Galactus was created by Stan Lee and Jack Kirby and first appeared in the comic book Fantastic Four #48, published in March 1966.
Stan Lee and Jack Kirby wanted to introduce a character that broke away from the archetype of the standard villain. In the character's first appearance, Galactus was depicted as a god-like figure who feeds by draining living planets of their energy, and operates without regard to the morality and judgments of mortal beings. Galactus's initial origin was that of a space explorer named Galan who gained cosmic abilities by passing near a star, but writer Mark Gruenwald further developed the origin of the character, revealing that Galan lived during the previous universe that existed prior to the Big Bang which began the current universe. As Galan's universe came to an end, Galan merged with the Sentience of the Universe to become Galactus, an entity that wielded such cosmic power as to require devouring entire planets to sustain his existence. Additional material written by John Byrne, Jim Starlin, and Louise Simonson explored Galactus's role and purpose in the Marvel Universe, and examined the actions of the character through themes of genocide, manifest destiny, ethics, and natural necessary existence. Frequently accompanied by a herald (such as the Silver Surfer), the character has appeared as both antagonist and protagonist in central and supporting roles. Since debuting in the Silver Age of Comic Books, Galactus has played a role in over five decades of Marvel continuity. The character has been featured in other Marvel media, such as arcade games, video games, animated television series, and the 2007 film Fantastic Four: Rise of the Silver Surfer.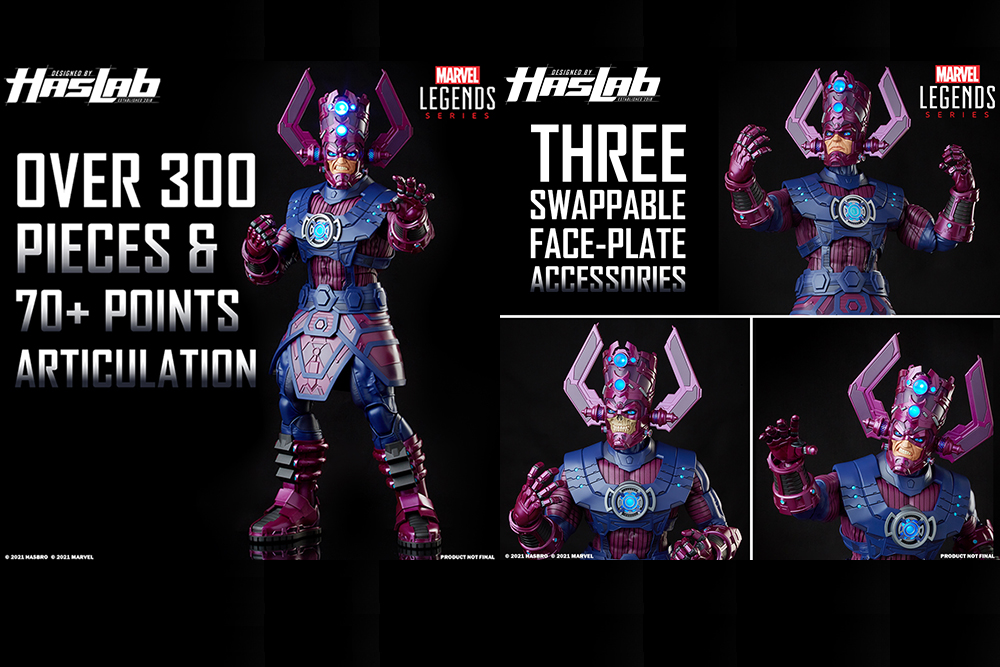 The Devourer of Worlds. He Who Hungers. A living embodiment of entropy and survival. A universal constant. A force of nature. Hasbro Pulse proudly presents the next fan-funded HasLab project: Marvel Legends Galactus. A near-omnipotent being who must consume entire planets to survive, Galactus cares not for the lives doomed by his hunger. His is a power beyond mortal understanding…and an appetite without limit. From the depths of the Marvel Cosmos, one of the most iconic characters in comic book history has arrived as the next Marvel Legends HasLab project. Galactus is a truly out-of-this-world figure in and out of the Marvel Universe, and here you will have a chance to help bring him to life.
This 32-inch (812 mm) Marvel Legends Galactus figure is the biggest Marvel Legends figure ever made, surpassing even the mighty Haslab Marvel Legends Sentinel figure! With a frame consisting of +300 pieces, it's also one of our most intricate. Featuring over +70 points of articulation (with 20 in each hand alone!), this figure is entirely posable and will make a cosmic addition any display. LEDS on the head and chest convey Galactus' overwhelming cosmic power. He also comes with 2 alternate faceplates. The first allows the big guy to go from his usual stoic expression to a mask of rage. Best of luck to any Marvel Legends figures who get in his way! The second features a skeletal face in the style of the fan-favorite Marvel Zombies comic book series.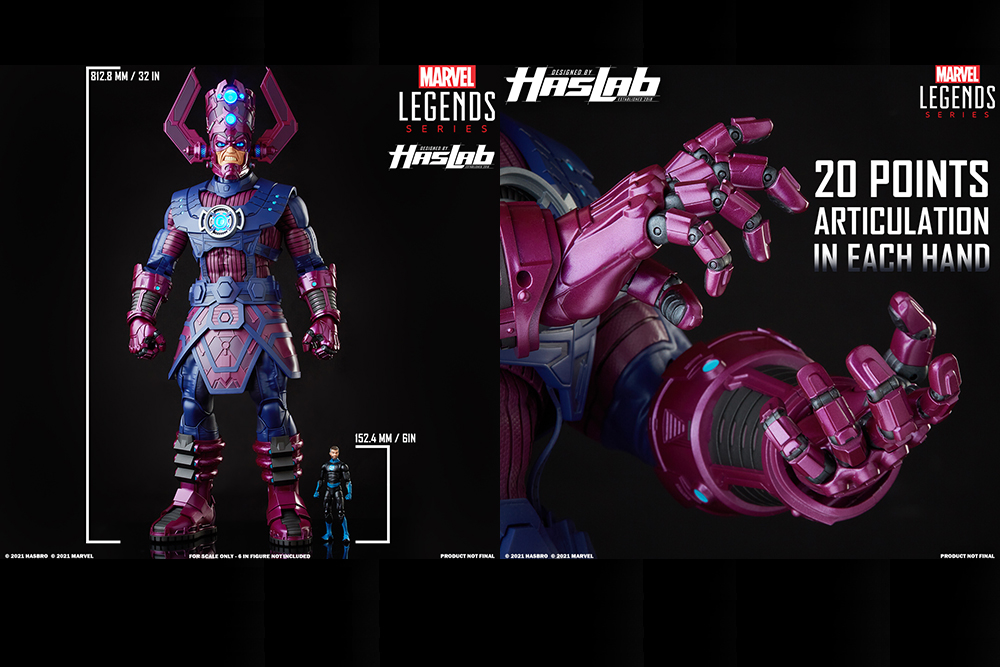 The Marvel Legends series haslab galactus is the largest Marvel Legends figure to date. Standing at 32-inches tall, this figure's frame is comprised of over 300 individual pieces, features LED lights in the head and chest areas, has over 70 points of articulation, and 3 swappable face-plate accessories for alternate expressions. Requires 4x AAA batteries, not included. Available for purchase on Hasbro Pulse from July 16, 2021 – August 30, 2021 @ 11:59pm ET. Purchases can be made through HasbroPulse.com in the U.S. & Canada, UK.HasbroPulse.com in the UK, as well as select participating retailers internationally. If successfully backed, the project will begin shipping around Fall 2022.
We can think of few characters more worthy of the HasLab treatment than Galactus, and with your help, we're going to do him justice! Galactus' status as an icon of the Marvel Age was all but instantly cemented with his first appearance in Fantastic Four #48-50 (1966). The so-called Galactus Trilogy represents the zenith of Stan Lee and Jack Kirby's creative partnership, a genre-defining achievement that ushered in the Marvel Age of Comics.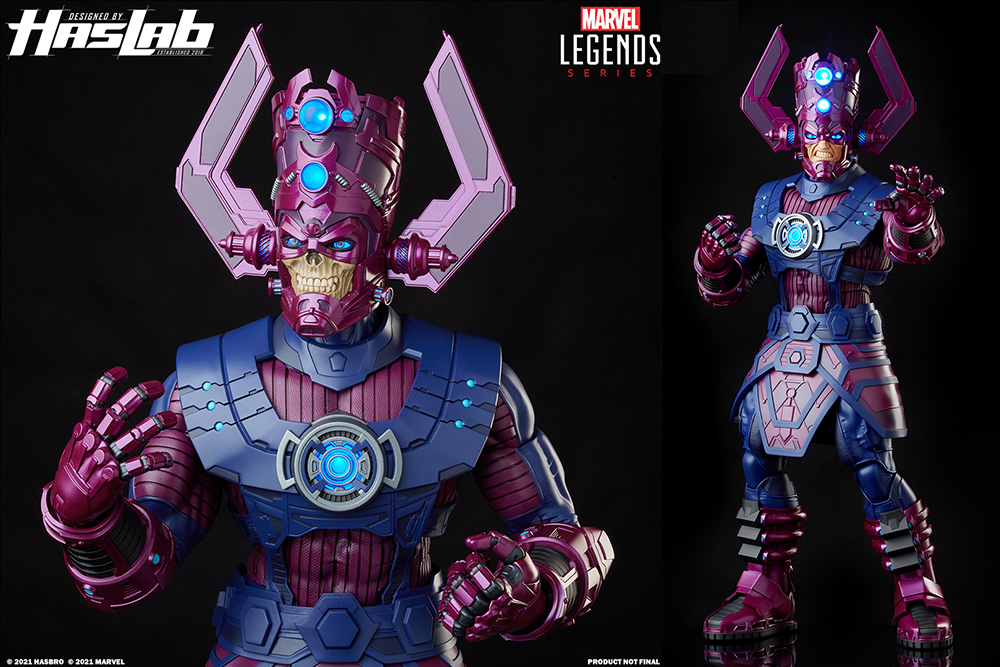 Hasbro Pulse invites all the Marvel fans to join them in bringing the Great Devourer to our world, with all the features and detailing you know and love from the Marvel Legends Series. At a staggering 32" tall and covered in intricate LED-enhanced detail, he's the largest and most complex Marvel Legends figure ever.
Though he no longer wears a giant G on his chest, Galactus' appearance has remained largely true to Jack Kirby's original designs. There were certain elements, such as the interlocking lines of his armor and that awesome helmet, that we knew we had to truly nail. From his intricate costume to his distinct square irises and that stoic, glowering expression, our hunger for perfection knew no bounds! Alongside Kirby we took inspiration a host of the passionate and talented artists who have contributed to the cosmos of the Marvel Universe. Building and designing Galactus from the ground up, we've created a truly massive and awe-inspiring figure to join your Marvel Legends collection. There's no time to waste! The Great Devourer approaches, and only your support can quench his legendary hunger! Lend your support to the Planet-Eater and claim your own Marvel Legends Galactus figure! Nuff said!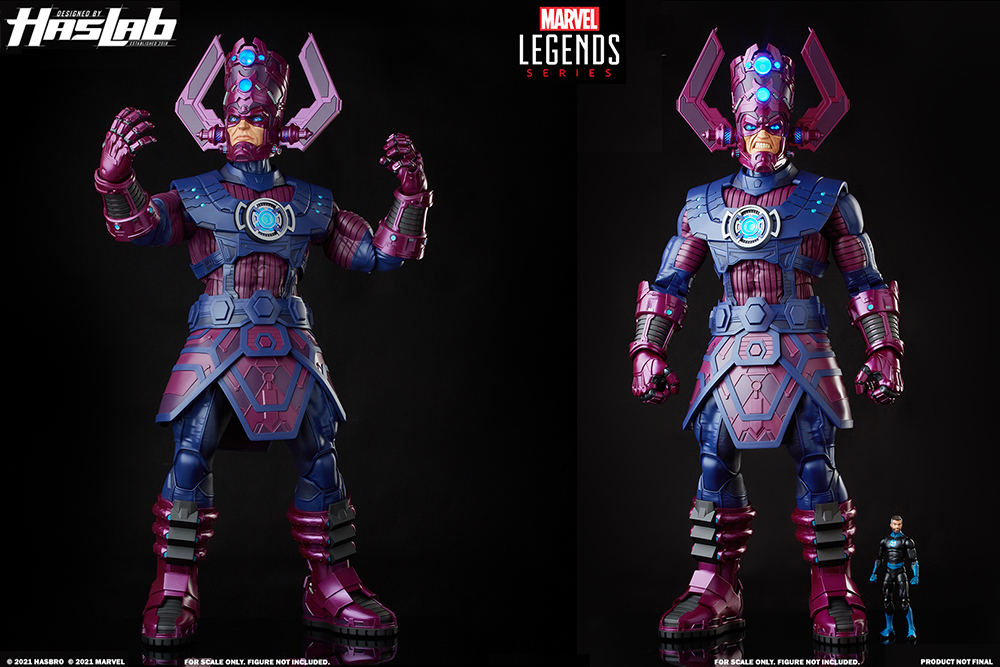 As a bonus, Marvel will provide each backer with a code for 70,000 Marvel Insider points in the event of a successful campaign. Redeeming those points unlocks the ability to redeem your own digital copies of Fantastic Four (1966) #48-50, Galactus' history-making first appearance. Comics will be available to read in the Marvel Comics app (published by Marvel and available in iOS and Android). You'll receive a code for the points if the campaign is successful at a later date after the close of the HasLab project.
Specifications :
32-inch (812.8 mm) Galactus figure
+300 pieces and +70 points of articulation!
20 points of articulation in each hand!
LEDs in the head and chest (4x AAA batteries required, not included)
3 swappable face-plate accessories for alternate expression
Approx. Retail Price: $399.99 (Uunited States),399.99£ (UK)
Discover the official photos on our Flickr account here
(Source : press release)