By Mulder, 25 april 2019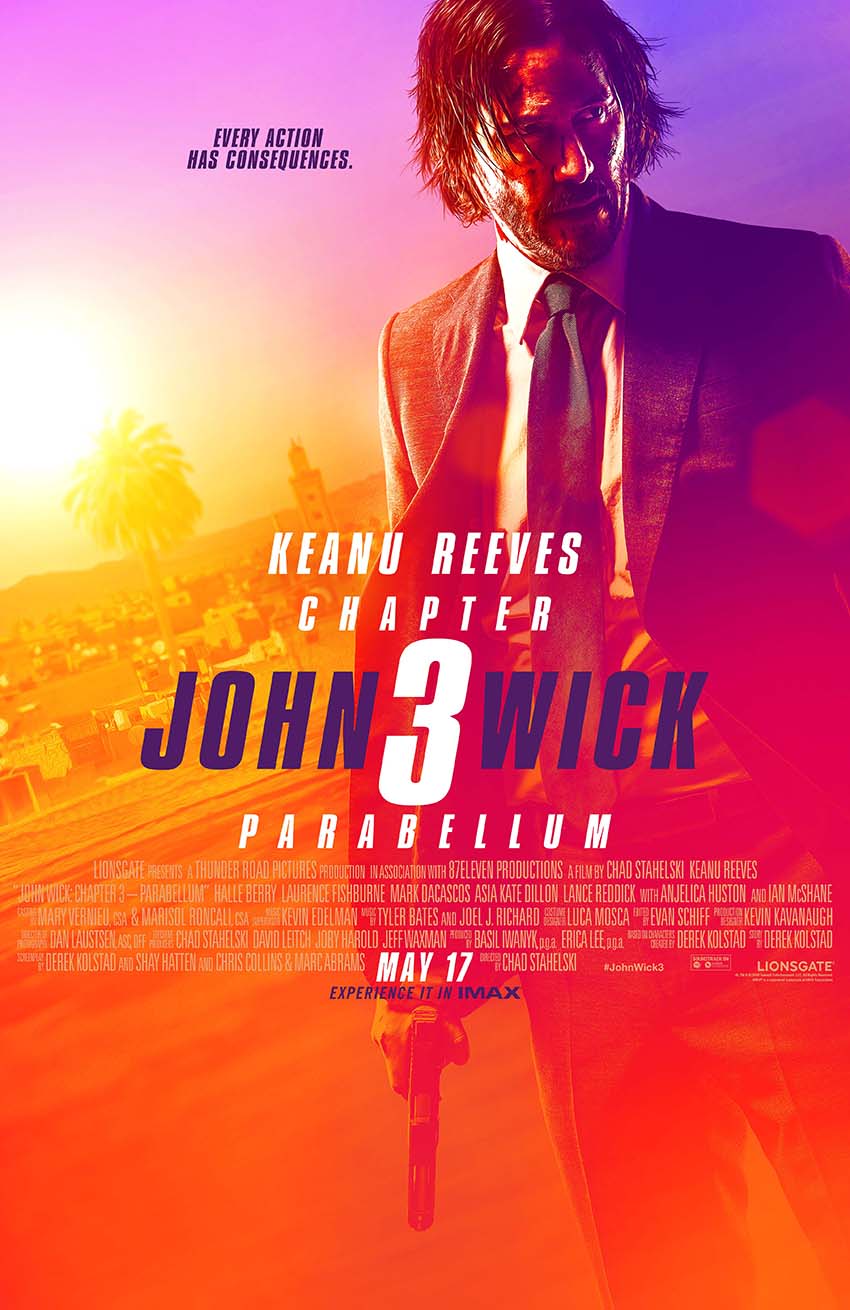 From the propulsive start of John Wick: Chapter 3—Parabellum, the clock ticks relentlessly against the formerly retired super-assassin. The action picks up directly from Chapter 2 as John Wick finds himself on the brink of being declared excommunicado—stripped of the protective services of The High Table, the secretive global association of crime organizations that enforces the assassins' code. With a $14 million bounty on his head, even John Wick has never faced so many simultaneous threats hellbent on ending his existence. Enemies are everywhere, but that will only drive Wick to the ends of the earth as he continues to seek a personal reckoning.
Five years ago, the premiere chapter of John Wick set a new bar for action films. In this hardboiled world of killers-for-hire, audiences worldwide experienced the rush of dazzlingly pure battle sequences, of which moved like a frenzied ballet, pushing practical filmmaking to its limits. Now, Chapter 3 expands the Wick universe, revealing more about the hidden operations of The High Table and introducing intriguing new characters. Returning to the addictive hit franchise is Keanu Reeves as Wick, Laurence Fishburne as the powerful Bowery King, Ian McShane as the Continental Hotel's imperious manager Winston, Lance Reddick as Charon, The Continental's helpful concierge, and Tobias Segal as Earl, a Bowery informant. Joining the growing character roster is Halle Berry as Sofia, Anjelica Huston as The Director, Asia Kate Dillon as The Adjudicator, Mark Dacascos as Zero, Jerome Flynn as Berrada, Jason Mantzoukas as the Tick Tock Man, Saïd Taghmaoui as The Elder and Boban Marjanovic as Ernest.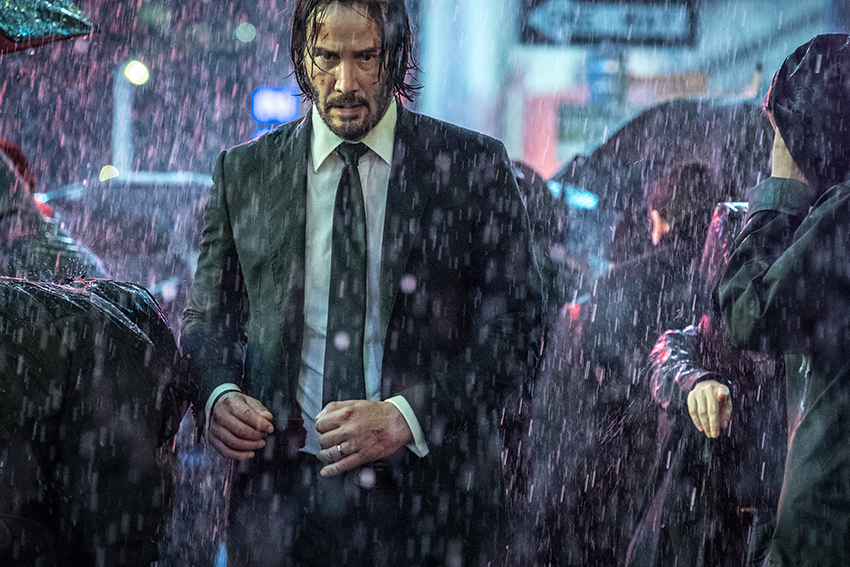 Stahelski sums up where things stand as the story takes off with unrelenting momentum: "In this chapter, John Wick goes to war with the world. This gives us a chance to go to new places, go deeper into his personal journey and expand the journeys of other characters. For this chapter, we really wanted each of the action sequences to bring a new and different flavor—each gives you a bit more insight and clues into the different elements of who John Wick is and the path he is on."
The emotional stakes mount with the physical challenges as Wick is forced to call in debts and rely on the deadly gifts from which he wants to escape. "He is still looking for absolution—but meanwhile, nearly everyone is trying to kill him, so he must revert back to someone he doesn't want to be in order to survive," says Stahelski.
As the film's ever-expanding canvas takes audiences deeper into John Wick's origins, the story demands an even more technically evolved Wick. For Reeves, the film was flat out the biggest physical test of his career. "The vision for this film was so ambitious that I went into serious training four months before," Reeves says. "There are so many different kinds of action sequences—not only more styles of martial arts and more gunplay, but also motorcycles, horses and dogs, so the training was intense. But honestly, I love it. I love this character and I love the John Wick universe we've created."
For Halle Berry, who originates the new character Sofia, the experience was like no other. "I've done action before, but wow, there's nothing like this," she says. "I've never trained this hard. I've never worked in the way that Chad and Keanu work and I've certainly never had 12 guys coming for me all at once! It was tough, it was amazing, and I love that my character Sofia also brings some real heart and soul to the story as someone from John Wick's past who knows the costs of doing what he does."
In the beginning, John Wick was but a dream for screenwriter Derek Kolstad. Derek wanted to pay his respects to the best of atmospheric action cinema—by stripping a modern noir down to its most unvarnished kinetic and emotional thrills. Without putting any limits on himself, Kolstad imagined the most non-stop, concussive ride he could through a universe as perilous as it was darkly vibrant.
What happened next changed everything: the exhilarating script attracted Keanu Reeves and it was like action kismet. Reeves brought the script to the two best stuntmen he knew—Chad Stahelski and David Leitch—and they in turn took the chance to try something fresh: harking back to the organic-feeling stunts seen in classic action films. The next thing they knew, John Wick had become a flesh and blood icon, embraced by audiences hungry to see and know more about him and his stylishly seductive world.
In Chapter 3, the team was ready to expand that world exponentially. As John Wick is pushed to take last-ditch measures to dodge the global price on his head, he reveals more and more of just how thick and dark a web The High Table is capable of spinning. "In this film, you'll see much more of this mythological, hyper-real world full of secret hotels, hidden underworlds and men and women possessed of crazy skills," Stahelski describes.
John Wick: Chapter 3—Parabellum brings to light more about The High Table, which not only sells hits around the world, it also serves as a kind of underground justice system. Like a modern twist on King Arthur's Round Table, the brutal enforcers of the world's crime kingdoms are held in check by a staunch code of honor and a powerful elite who mete out penance. The new chapter also reveals more of the mysteries of how John Wick became "Baba Yaga".
"The Director is in charge of a very special kind of theatrical institute where children are trained either to be great artists or to have very special physical skills," teases Stahelski. In usual form, Parabellum is rife with nods to cinematic legends, from a wink at Russian film master Andrei Tarkovsky to visual echoes of Lawrence of Arabia. To him, there is still nothing more fun than the sheer human pyrotechnics of one man struggling to outlast every possible form of attack. "Why do people love kung-fu movies, spaghetti Westerns, a Steve McQueen car chase, Charles Bronson swinging his ax and Die Hard 80s action? I think it's that grounded excitement you get from stunts that feel real but that you've never seen before," says Stahelski. "People respond to storytelling that permeates the action, and that's what we keep pushing to do as John Wick expands."
For producers Basil Iwanyk and Erica Lee, both key to the John Wick team from the start, one of the biggest thrills of the series has been watching Stahelski expand the world to global proportions. "With each movie, we are always asking: what can we give audiences that they haven't seen? That only works because Chad pushes harder than anyone I've ever worked with," says Lee. "He's the ultimate perfectionist, which is why each chapter of John Wick is not only more entertaining and more action packed, but more beautiful. This time, you see more of John Wick's world than ever."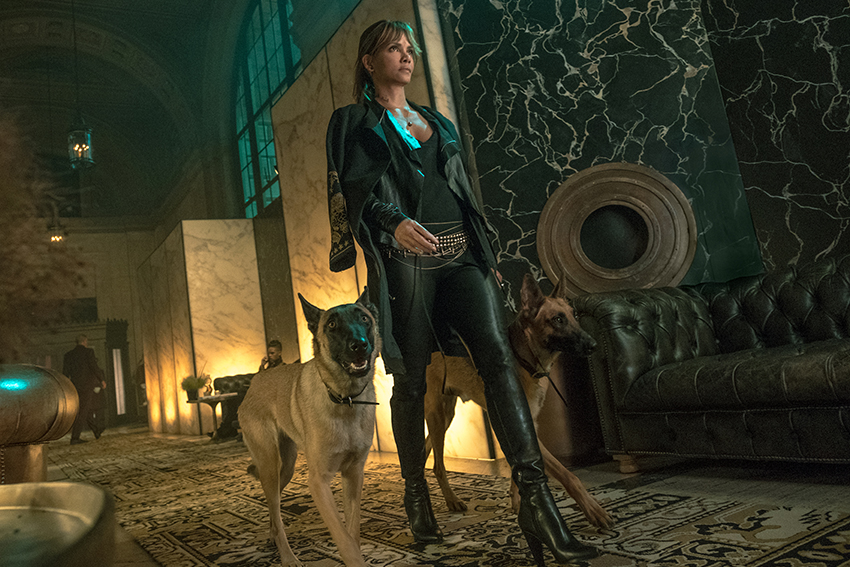 Adds Iwanyk: "Chad's desire to push the envelope in action design never wanes. It boggles the mind that he can keep inventing the way he does. He has designed so many fights you'd think he would repeat himself, but in this film, you'll see fights as cool as any created. Part of it is that Chad has a great sense for what audiences love and for what will look cool, and that is reflected in every element."
When Keanu Reeves first took on the role of John Wick, it was one of those intriguing cases of an actor's persona merging seamlessly into a fictional character. Reeves's own taciturn intensity seemed to highlight the character's compelling mix of lethal resolve and dryly humorous charm, fierce athleticism and suave grace. He also brought something that changed the approach: a rare ability to do his own fights, mostly eliminating that last buffer between audiences and convincing action—the body-double—and making things that much more immersive. That, in turn, sparked in audiences a fascination for this quietly lethal man, a man who simply wants to live in peace with his dog following the loss of his beloved wife Helen. In Parabellum, things have changed, though John Wick's hope to even take a breath, let alone find peace, has never seemed more improbable. The character who once doggedly pursued revenge is now the prey, surviving solely on Helen's memory.
In this chapter, Reeves sees the character as battling himself as much as the entire world. "There's a battle he's becoming more conscious of in Parabellum, a battle between two sides of himself that I call John and John Wick," Reeves explains. "John is the guy who just wants to be left alone, who seeks a quiet life in which to remember his wife. In order to do that he has to engage the side of himself that is John Wick, the side that knows how to fight to the death. John Wick is the only one who can help John survive."
Reeves has carved out his own distinctive place in the action world. After getting his first taste as Federal Agent Johnny Utah in Point Break, he took off in the influential Speed series, only to push boundaries and bend the sci-fi genre with the seminal role of Neo in the Matrix series. By the time he took on John Wick, he had his own way of approaching an action hero—keeping open a sense of mystery and humanity in a man who is like a windup machine of precision when attacked.
"For me action has always been about that connection between the audience and the character," Reeves explains. "If that connection is there, the action has an emotional impact and you can feel the stakes." Of course, Reeves knows each time he dons the refined John Wick suit, it will demand an increasingly intensive, and exhausting, prep phase. He continues to drive himself, body and soul, to redefine his own limits. At his age, he admits the training is not getting any easier, but his resolve to bring out the best in Wick is as high as ever. "Sometimes I would think that maybe the training for this film was hard because of my age, but then I realized no, this one would be hard even if I wasn't 54 because there's so much action in Parabellum," he laughs. "It's demanding but I like it that way." At this point, he says one question keeps him coming back for more every time: "How do we continue to stay true to what we created with John Wick, while constantly upping the bar?"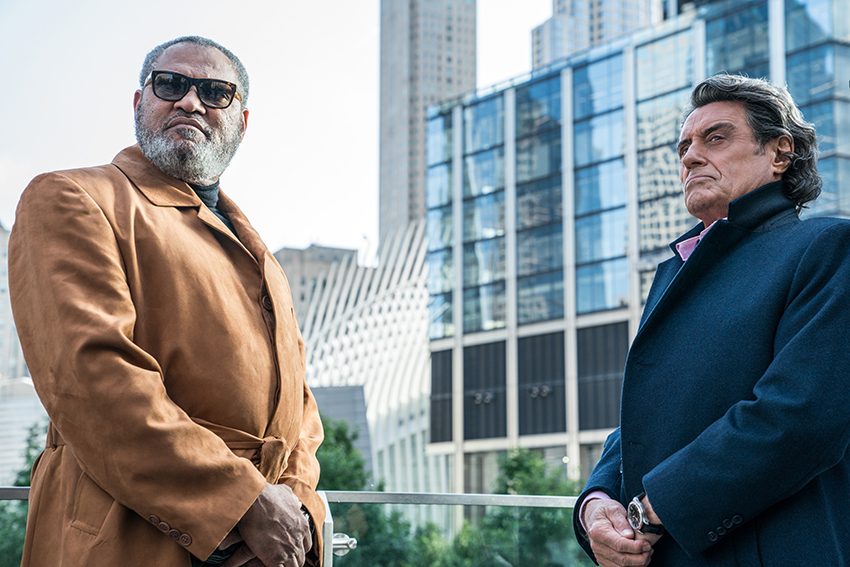 The filmmaking team is grateful for just how far above and beyond Reeves has proved willing to go. "We've always pushed Keanu to his limits but in this film, there were farther limits," laughs Stahelski. "Keanu brought his blood, sweat and tears to this one. As usual, he's also been a fantastic creative partner who has contributed a lot of great ideas."
For Basil Iwanyk, part of what makes Reeves as persuasive as Wick is not just his physical bravado but his understated take on Wick's inner life. "Keanu gives you a sense of John Wick's vulnerability without him ever feeling the least bit weak or contrived. He brings a sense of humor, where you feel that he is in on how insane and absurd what he's doing is, but he also brings an earnestness to John Wick so, at the same time, you believe he takes it all very seriously."
"Keanu is the most committed person that I've ever worked with," says Erica Lee. "He has this really empathetic quality where he is able to bring warmth to what could have been just another cold-blooded assassin. It's not everyone who can make a killer that compellingly likeable." Reeves has been as strong a voice in the making as anyone, notes Iwanyk. "What people don't realize and it's important to know is that Keanu is a co-architect of this world. He's come up with a lot of ideas. He's so much more than an actor who shows up on set. His DNA is all over the movies."
As John Wick begins calling in favors to try to stay alive, knowing every assassin in every city is looking for him, he journeys to Morocco. In the searing deserts of the Sahara, John knows he will find a woman from his past – a fellow assassin who owes him—and isn't too happy to see him. This is Sofia, another indelible role played by Halle Berry, the Academy Award® winner who has done everything in film from serious drama to superhero epics. Berry started out as a fan of John Wick. "I loved how real the action felt in the first movie," she says. "I looked forward to Chapter 2 as soon as I saw the first." When my manager told me that Chad was looking for a female assassin on par with John Wick, I knew I had to play the part. When I first met with Chad he had not yet finished writing my role, but I didn't care, I said sign me up...I'll do it!"
Stahelski tried to impress upon Berry just how crazy things can get when you take on a role in John Wick. "I told her it takes months and months of really painful physical training and she said, 'I get it. I still want to do it.' She never backed down for a second. Then she brought so much sincerity to Sofia. You really feel Sofia's sense of personal loss as well as her strength."
Berry admits that Stahelski did not oversell the work involved. "For sure, I never worked harder for a film role in my entire career. I had to work through some injuries, but I kept at it because quitting was not ever an option. Now I have the bug, and I just want to keep going and going," she laughs. She also takes pride in shattering some stereotypes. "There's nothing I wanted to do more than to prove that women of my age can do exactly what we want to do. Age doesn't define us," Berry says.Sofia, like John Wick, is a loner in this dark world of assassins, retaining an aura of mystery to all that come across her. "There is more to learn about her," teases Berry. "What we know in this chapter is that she was trained by the same person who trained John Wick and their styles of fighting are very much the same. They clearly have some history together and we know that John saved Sofia's daughter at some point and that Sofia gave up all contact with her daughter in order to keep her safe." "That's part of what sets Sofia apart in this mysterious universe. She has this very real and tangible person that she loves very much and that she's fighting for."
Given the bond between the two characters, Berry worked closely to mirror Reeves' physicality, while bringing her own personal touch to Sofia's martial artistry. "I wanted to learn to fight a lot like Keanu so it's clear they have the same kind of physical language. I also wanted to show how Sofia and John Wick are different enough that they complement each other as a team," says Berry. Reeves says of Berry, "She was 100 percent committed. Not only did she go through months of martial arts and weapons training, she also had the dog training [for Sofia's pair of loyal Malinois]. She got to the point that our dog trainer said to me, 'they treat Halle as their trainer now,' which is amazing. She showed up in every way. It was great fun for me to be able to work with her dramatically and to have her be such a strong partner in the action."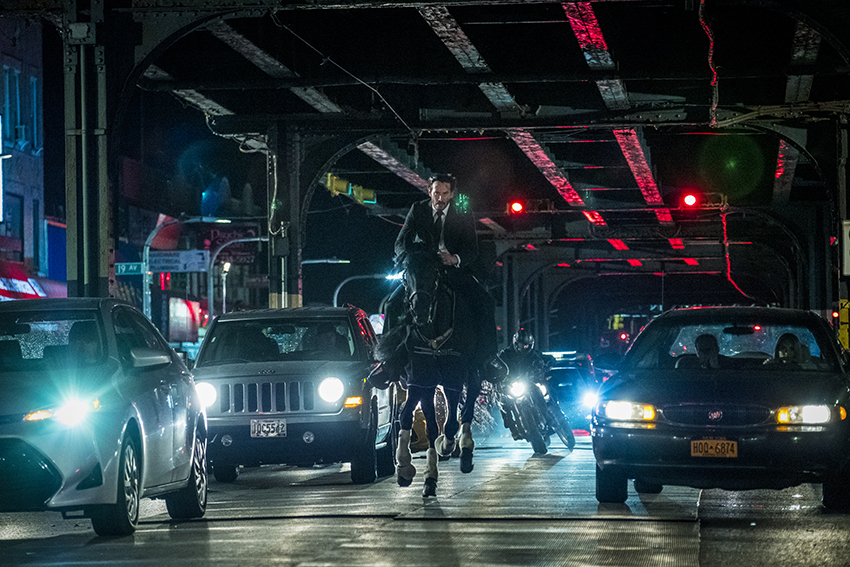 For her part, Berry was awed not only by Reeves' perfectionist focus on set, but also by his embodiment of John Wick's persona. "John Wick is a man of few words, but Keanu pulls it off because he's able to express exactly what his character is feeling without having to say a lot," she says. For Lee, it's the balance between Sofia and John Wick that brings a fresh energy to Parabellum. "Halle brings a really cool, sexy vibe to this world that typically has a more muscular and masculine feel. There's a contrast between them, but Halle proved she could go toe-to-toe with Keanu," she says.
With the rules broken and John Wick on the run, The High Table has been shaken and must take measures to regain control. However, not everyone has chosen clear sides. That is especially true of Winston, the sly manager of New York's Continental Hotel—where he has long kept chaos away from this essential neutral zone for assassins. Only now, Winston is contemplating to do what few would ever dare: go to war with The High Table. Making his return to John Wick as Winston is Golden Globe® winner Ian McShane, renowned for playing a rogue's gallery of dark and slippery anti-heroes. Says Lee of McShane's expanded role in John Wick: Chapter 3 – Parabellum: "Ian is such an important piece of the franchise that we thought it was time to show some of Winston's internal power struggle in running The Continental. What does he want? What is his end game? It's a lot of fun to watch Ian play with this character who has mixed agendas." Adds Iwanyk: "Audiences love the relationship between Winston and John Wick, the strange loyalty they have to each other in a world where real bonds that go outside the rules rarely exist. In many ways, Winston is the only kind of family John Wick has left."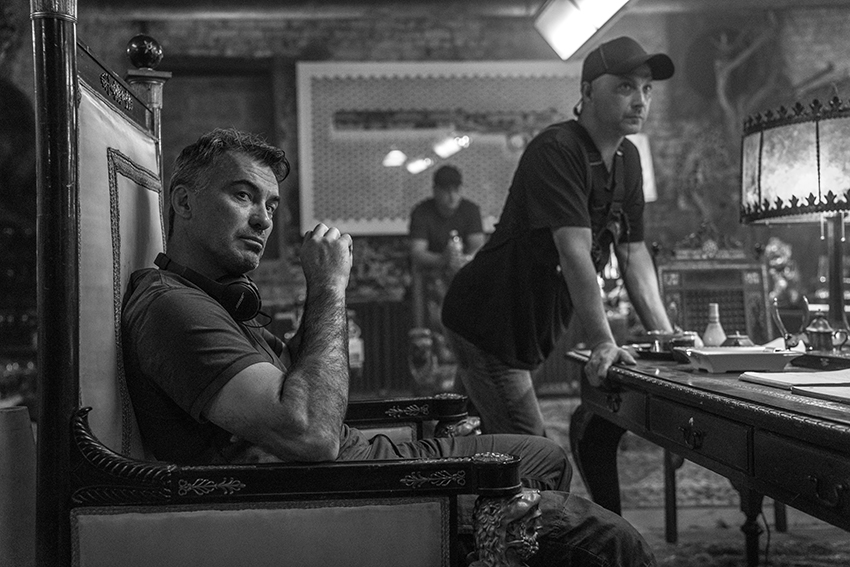 McShane was thrilled when he read the new script. "It's bigger and better than the last one," he says. "It goes deeper into this secretive world that Chad has created. You get to learn more about Winston, as well as Charon and the Bowery King, and you get to learn more about the inner workings of The Continental. At the same time, one message remains the same: don't screw with John Wick." For Reeves, McShane is the consummate scene partner. "What a charismatic, brilliant, profound actor he is," he says. "He brings joy to the set and the power of his talent to the film."
The King is also back in John Wick: Chapter 3 – Parabellum. Laurence Fishburne's reigning Bowery King. Fishburne originated the role of the underworld leader who uses New York's gritty Bowery district as a cover. This unusual character was an instant draw. "I love that he's the king of the underworld beneath the underworld," Fishburne says. "In this film, you learn more about the symbiosis between The Bowery, The Continental and The High Table."
Fishburne also has some thoughts as to why audiences have latched onto John Wick as an action hero for our modern times. "No matter how dire the circumstances, he's always so polite yet so righteous in his rage and anger," he observes. "The design of the films, the language, the deadpan comedy and the irony of it all feels very contemporary yet also a lot of fun."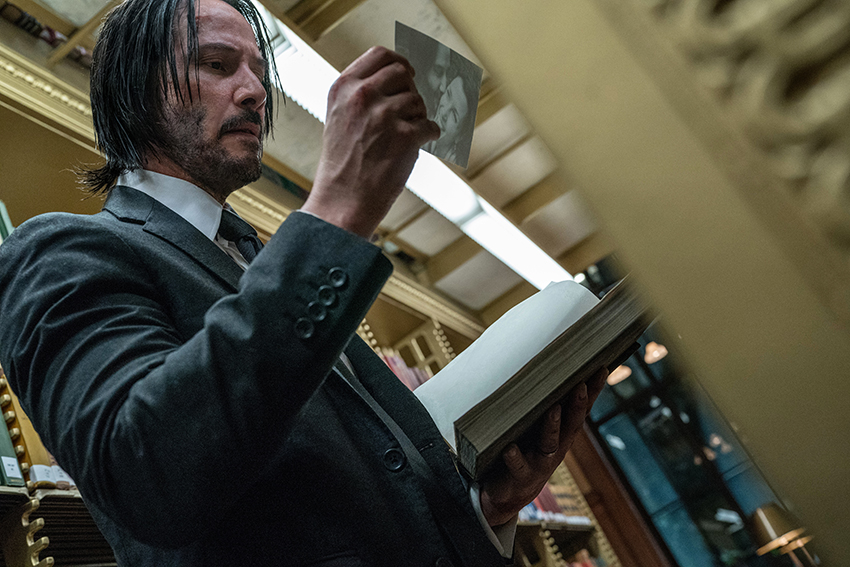 Having been saved by John Wick in the second chapter, the shoe is now on the other foot. "The Bowery King owes John Wick a debt," notes Fishburne. "He is just as much a criminal as anybody in this world, but he follows the code."
For Reeves, working with Fishburne is always a highlight of any John Wick chapter. "He's one of the best actors in the world so to have him as the Bowery King has been fantastic for us," he says. Lance Reddick also rejoins the cast as Charon, The Continental's multi-talented concierge and Winston's resourceful right-hand man. Equally known for his dramatic roles in The Wire and Fringe, playing Charon appealed to Reddick from the start because "it was just so different from anything I usually get the chance to do. I always saw Charon as a lot like Batman's Alfred—that unsung guy behind the scenes who keeps everything running smoothly." In this film, Charon takes on his largest role yet, as his services become essential to The Continental's war against the High Table. "You definitely see a lot more of Charon in this chapter," teases Reddick. "His responsibilities are taken to a whole new level."
As John Wick: Chapter 3 – Parabellum dives deeper into the hidden structure of The High Table, a host of new characters come to the fore. For Stahelski, this was also a chance to expand the cast—and continue his strategy of bringing in people from way outside the box of action to the John Wick universe. In this tradition, he was especially thrilled to cast Oscar® winner and screen legend Anjelica Huston as The Director, a woman who straddles the worlds of devoted artistic perfection and crime. Says Reeves of working with Huston: "It was fantastic to have the chance to work with Anjelica for the first time. The scenes with her character are some of the film's most dramatic—they are rooted in John Wick's past but rich in the stakes of the moment. She brings the depth you want from that." Huston had already been intrigued by Reeves' screen work. "I don't think we'd ever met, but I was a fan from The Matrix series, and I felt there was something so balletic about the John Wick movies," she says. "They're graceful and beautifully mapped out and the action took my breath away. Keanu really understands silence as well as action like few people do. He puts it all out there physically."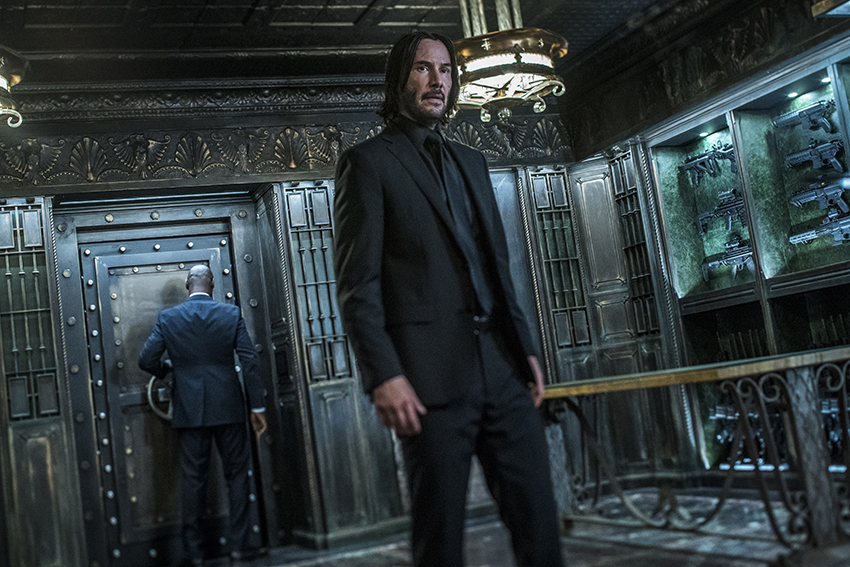 With the choreographic lyricism of John Wick's fight sequences, it felt like the perfect wink at the audience for John Wick's earliest mentor to be an actual ballet teacher, albeit one capable of a deadlier form of pas de deux. "The Director runs a school for assassins," Huston explains. "She's someone who I see as having once been an assassin for the High Table herself, but she long ago climbed the staircase of the assassin world, and now she runs the training. She is surrounded by beautiful young ballerinas who are going to be wonderful spies as well as martial arts geniuses who are junior assassins."
An inspiration to Huston throughout was Stahelski's steadfastness—and also, his imagination. "I really like Chad as a director," she says. "He's sympathetic without being soft, so you get the feeling that he's always going to get what he wants no matter what, which is the sign of a good director…and I was also really struck by the beauty of the sets and all of Chad's choices. I loved the Tarkovsky Theatre with all the Caravaggio paintings on the walls. Chad's a man of grand gestures which makes for a powerful, fully-plumed kind of filmmaking." Another highly welcomed new character is The Adjudicator, an authoritative power that enforces the rules of The High Table with a pitiless efficiency. "Derek and I loved the idea of bringing in a character who stands apart from all our assassins and judges everybody in this unethical world, while enforcing their fealty to The High Table. We had a lot of fun creating this new character," says Stahelski.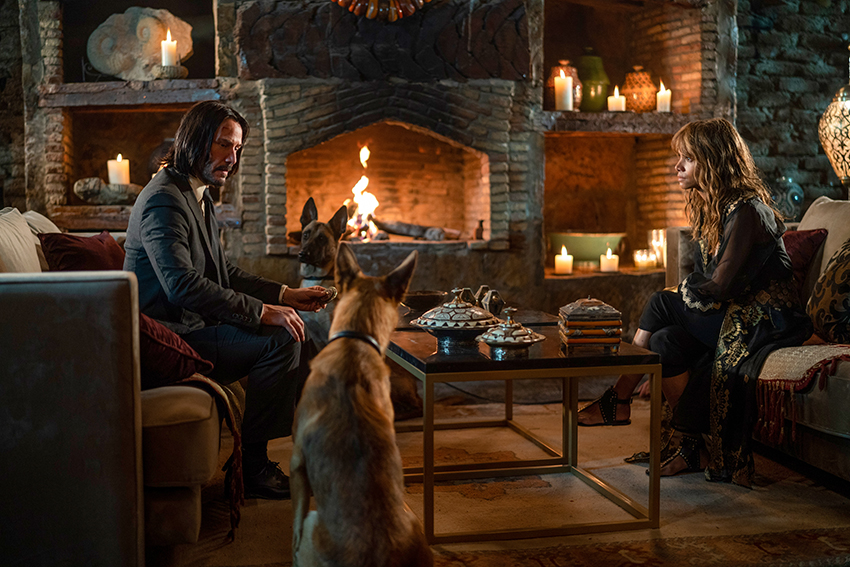 Taking the role is Asia Kate Dillon (Dillon identifies as non-binary and uses the pronoun 'they'), who is known for playing Brandy Epps in Orange Is the New Black and Taylor Mason in Billions. Everyone loved the unique vibe that they brought to the role. "Something that has always been vital to the John Wick world is a group of characters who feel fresh,
intriguing and unconventional. Asia brought not only that but a great feeling for The Adjudicator's power," says Iwanyk. "The Adjudicator is almost like an insurance investigator who in a very sober, cold and matter-of-fact way, investigates what rules were broken, who broke them and what the punishment should be." Explains Lee: "The Adjudicator was actually a Keanu idea, and we knew it would be all about finding the right actor. We wanted someone who would be really imposing yet had bit of quirk. As fans of Billions, we loved Asia's work and thought that they would bring a really cool vibe to the movie." Everyone was awed by Dillon, which was just the right effect. Mark Dacascos, who has some run-ins with The Adjudicator as Zero, puts it succinctly: "Asia Kate Dillion: incredibly intelligent, passionate, svelte, silky and dangerous, period." Dillon says the script stood out. "I'd never read a script where the action sequences were so detailed that you could imagine them while sitting in your apartment," they say. "I think I clapped at one point, just cheering at how badass I could tell it would be."
The chance to introduce such a potent and dangerous new character was also a big magnet. "The Adjudicator is all business," Dillon describes. "As the story begins, the Adjudicator has come to adjudge Winston for breaking the rules of The Continental. We learn that everyone has to pay for any wrong doing in the eyes of The High Table one way or another. If the rules are broken in this world it will be dealt with—and the person who is judge and jury is The Adjudicator."
For Dillon, a high-point was the showdown with Ian McShane. "That was particularly fun to play," they say. "After the first two chapters, you might think that nobody can mess with John Wick or Winston, but here comes this character who is intimidating and has a power they don't. I think audiences will really enjoy that."
Dillon is especially grateful to costume designer Luca Mosca who crafted their alluring uniform, constructed from couture pieces by the boundary-pushing designer Thierry Mugler. "Luca is an incredible human being who had such a clear vision which matched how I felt about the character," says Dillon. "It's a high-femme, high-fashion look with lots of angles and deep V-necks. One thing I love about The Adjudicator is that even though they're showing skin it doesn't make them any less powerful. When I was trying to understand the emotional intention of this character, the costume became the last piece of the puzzle that let me in."
The Adjudicator turns to Zero, atop The High Table's most lethal list, to mete out the death sentence on John Wick. To play the character who is ironically be-sotted with Wick's stellar fighting skills, the filmmakers went in search of a martial artist with real acting chops. That quest led to Mark Dacascos, a karate and kung-fu champion, seen in such films as Brotherhood of The Wolf and Drive and also played The Chairman on Iron Chef America and Iron Chef Australia.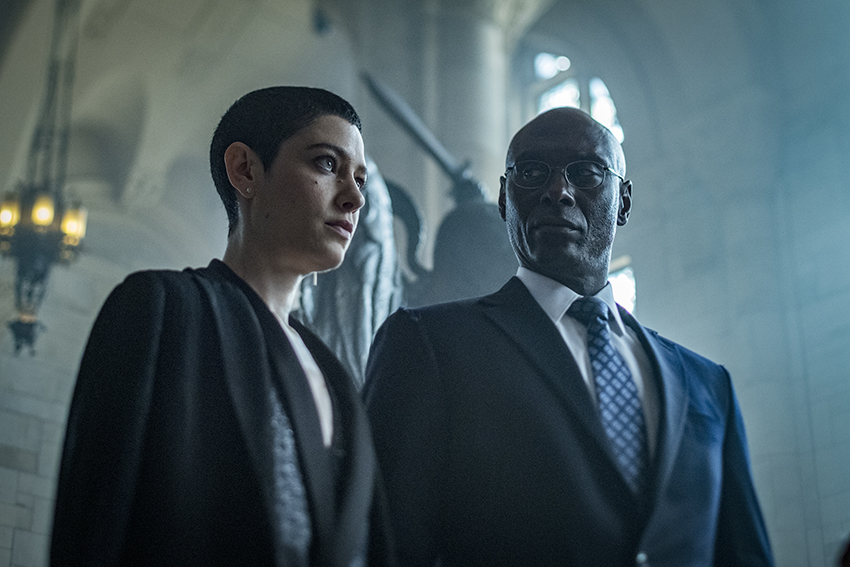 "Mark is not only a tremendous martial artist who was able to step right into the choreography, he also has a great comic sense that makes him an unnervingly strange bad guy," says Iwanyk. Reeves, too, was impressed. "Mark brought Zero to life with both a hard-boiled noir quality and a tongue-in-cheek humor. It was an especially good experience for me to train with Mark because he's such an expert that he pushed me that much more."
Dacascos had developed a love for the series well before he was cast. "As a martial artist, I totally appreciated the beautiful choreography and I loved that you actually got to see actors doing real moves with real finishes," he says. "Since Chad is himself such a talented, disciplined martial artist, he knows what goes into real combat. He also knows how to capture that spirit with the camera." Zero might be dead-set on taking John Wick's life for the huge bounty, but he can't help but idolize the invincible assassin. "Zero loves everything about John Wick—his style, his grace, his class, his efficiency and how brutal he is while still being a gentleman," says Dacascos. "He's the biggest fanboy of John Wick there is, and he wants to be on a par with him. He is also a shinobi, a Ninja warrior, so he has students he cares for like his own children. I would say he doesn't have any illusions that he's going to live for a very long time in this business, but I think he enjoys every moment to the fullest." With his Iron Chef background, Dacascos especially enjoyed Zero's day job: a sushi chef who employs his artistry with knives to more delicious ends. As for how he fights, Dacascos says: "Zero is, to put it mildly, a little psychotic, so I wanted to incorporate that characteristic into his fighting style. He has a broken rhythm, where he'll be smooth then suddenly frantic. Chad really understood the direction I wanted to go. It's great when you can put so much character into the physical movement."
While in Morocco, John Wick risks it all to seek out the sage advice of one of the most revered, if rarely seen, members of The High Table—a man known simply as The Elder. Taking the role is Saïd Taghmaoui, the French-American actor, and former champion boxer, who hails from Moroccan heritage and was recently seen as the charming Sameer in the Patty Jenkins directed Wonder Woman. "We thought it would be great if our world of kill-or-be-killed had someone who is a kind of spiritual advisor, watching over the ethical balance of its members. The Elder is a guide for assassins and Saïd brings all the gravitas that calls for," says Stahelski.
English actor Jerome Flynn, well recognized as Bronn in Game of Thrones, is also key to the Morocco portion of the film. He portrays the menacing Berrada, an Italian member of the High Table. "Berrada looks after the foundry where they make the gold markers," Flynn describes. "He's a bit like Bronn in some ways because he's a survivor and he's got a real sense of humor to his brutal darkness."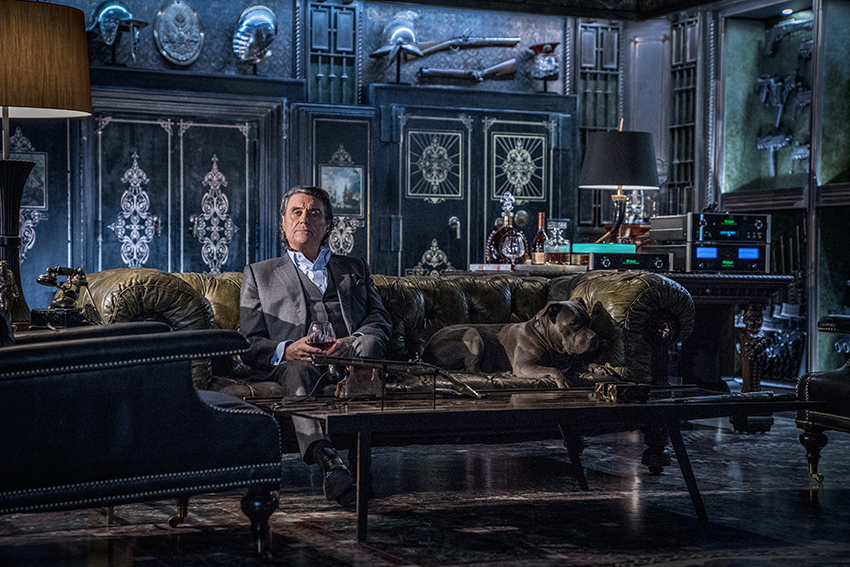 Also new is Jason Mantzoukas, the comic actor known for the FX series The League and Sacha Baron Cohen's The Dictator, in the role of the Tick Tock Man, who keeps track of time, which John Wick is running out of, for the Bowery King. Like so many, Mantzoukas was already a fan of the series and he greatly anticipated the chance to work with Reeves. He did not disappoint. "Not only was Keanu amazing to work with, he was genuinely lovely to be around," says Mantzoukas. "What amazed me is that he's getting hammered day after day, yet he was still delightful and welcoming and generous to me."
Two other newcomers have come to this chapter from beyond the worlds of movies and martial arts: towering NBA star Boban Marjanovic, the 7'3" Philadelphia 76ers center, who portrays the assassin Ernest; and New York City Ballet soloist Unity Phelan, who makes a special appearance as a ballerina in The Director's underground school for dancers and assassins. Phelan says she brought personal experience to the scene in which her character is compelled to spin to the point of collapse. "I can tell you that it is truly exhausting to do that kind of move over and over again," she explains. "That's how a teacher breaks you down in order to build you back up and that's the dynamic between The Director and my character." She loved having the chance to bring dance into John Wick's universe. "I'm especially excited to see ballet depicted as being as intense an art form as martial arts warrior training. Ballet is not only physical but mental, so it's really cool to see it is part of the history of John Wick."
In an era of seductively unreal digital effects, part of the John Wick ethos has been to entirely buck the trend. In John Wick's world, the thrills are primal and always based around practical, if high-wire, stunts. In this world, jump-cuts never interrupt a fight. Rather than zoom in to create illusions, the camera instead always pans out, the better to show the audience every precarious detail.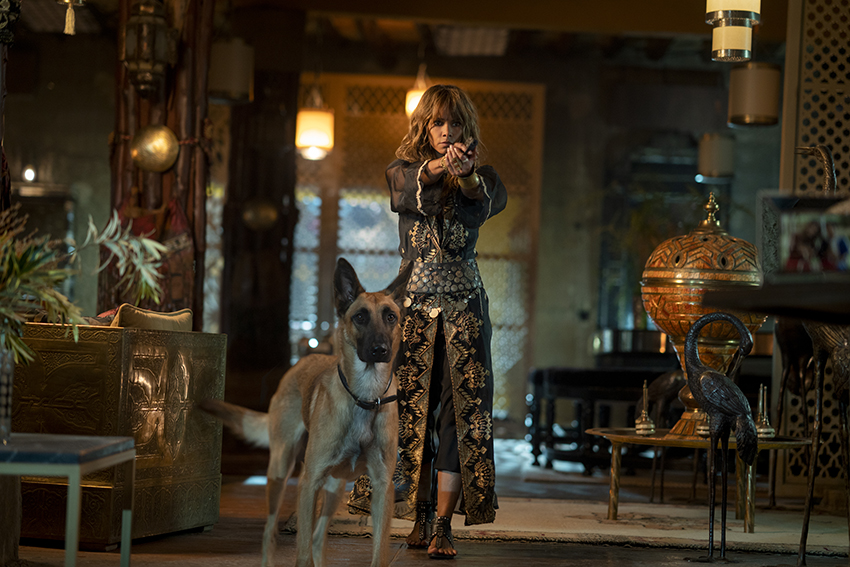 The big question going into John Wick: Chapter 3 – Parabellum was, given how blistering the action was in the previous films, how on earth was the team going to beat their own stratospheric standards? The answer for Stahelski and his stunt team was simple: more, more, more. They also switched things up while packing in the greatest number of meticulously constructed set pieces yet seen in a John Wick chapter.
Whereas much of the fighting in the first two chapters was one-on-one, in Parabellum there is a fresh focus on large-scale group action which really put the spotlight on choreography. Given the bounty on his head, Wick also faces a far greater breadth of enemies, pitting himself against more distinct styles of martial arts, from kung fu and wushu to Indonesian silat. Says fight choreographer/stunt coordinator Jonathan Eusebio, who after doing the first two John Wick chapters went on to create stunts for Black Panther: "In this movie, a guiding idea is that we get to see how John Wick's fighting style comprised of elements from judo, jujitsu and aikijujutsu stands up against other styles. He faces it all in a short space of time." Scott Rogers, a stunt coordinator known for his work on the Bourne series and who joins the John Wick team for the first time, says: "What Jonathan and Chad set out to do in this film is to give each fight a new feel. Each is shot differently, in different environments, featuring different skill sets."
Rogers says he can't emphasize enough how much of an advantage it is that Reeves can do his own action, even as the fights become more complex. "Keanu has so developed his fighting and stunt skills that he doesn't have to do any acting to come off as a fighter, which means he can bring that much more to the character," he says. "I've never seen anybody who puts more effort into it."
John Wick: Chapter 3 - Parabellum goes beyond martial arts spectacles to stunts that range from a high-speed horse chase through New York City to climbing sand dunes in the Sahara. For Eusebio, the biggest challenge of all was the climactic battle in which Zero and his Ninja warriors take on John Wick in a spellbindingly fragile glass gallery. "We had a lot of fun playing with reflections and refractions to hide and expose fighters," he says. "At times, you're being tricked by your own eyes. We also have some great martial artists in this scene, including Yayan Ruhian and Cecep Arif Rahman from The Raid."
For Rogers, too, the glass fight was a pinnacle. "It's hard to take John Wick fights to another level, but this one definitely does," he says. Dacascos was dizzied by the set, but he loved what it created on screen. "A few people actually ran into the glass," he admits. "As a fighter, a glass set is very spooky, because you can't hide anything technically. You have to be super sharp, but the challenge was fun, and the final look is really cool."
As Reeves prepared for his at times bone-crushing combat and chase sequences, he worked closely with Jackson Spidell, who is both one of his trainers and doubles for him when it's absolutely necessary. Spidell notes that Reeves does all the on-screen fighting. He only steps in if there is highly technical or bruising stunt, such as being struck by a car, a not uncommon occurrence in John Wick's life. Spidell has watched Reeves evolve along with the character. "With each film, the action has leveled up, but Keanu has gotten better and better," he says. "Along with Chad, he is creating an original language within the action film genre."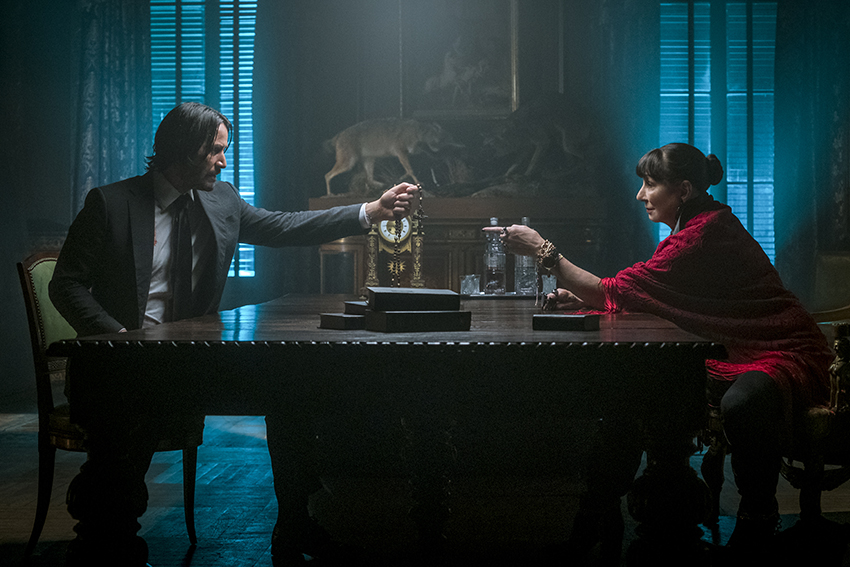 Halle Berry also had a special trainer—the highly sought-after stunt woman Heidi Moneymaker. Moneymaker notes that Berry was unusually fit to begin with, which allowed her to really drill down into skill work. "Halle's very athletic, works hard and she picks stuff up incredibly fast," says Moneymaker. They forged a style that is a variation on John Wick's judo. "Sofia and John use similar techniques, but Sofia's style has a bit of more of a female-driven spark to it. We explored realistic ways that a lean woman could bring down brawny, 6'4" guys," says Moneymaker. Berry is thankful to Moneymaker for driving her up to, and beyond, her edge. "I think Heidi was the key for me. It was great to be trained by a woman because women have different sensibilities and our bodies actually do work a little bit differently. Plus, Heidi is so badass it's a constant inspiration."
On set, it turned out that endurance was the X factor, says Berry. "Because of Chad's long takes, it's essential to have really good cardiovascular stamina so I could do lots of moves at once and then do them over and over. I also really wanted to show I could keep up with Keanu, which is no easy deal." Moneymaker says seeing Sofia come to life with her mix of grit and grace made the long months invested worth it. "There have been strong female characters in John Wick films before. This time, I find it really exciting because Sofia is so much like John Wick," she points out. "She's as tough as he is."
It wasn't only humans who needed to train for Parabellum. Months of preparation also went into Sofia's brace of steadfast Malinois dogs. This sleek Belgian breed often used for police work takes naturally to complex training, but even so, no dogs had ever been asked to do John Wick-style action before. That's why Stahelski brought in Andrew Simpson, a leading animal trainer well known for training the direwolves in Game of Thrones. Simpson worked for several months, carefully and humanely, with five different young Malinois, each hand chosen for their intelligence, agility and joy for learning. The plan: to essentially teach them a form of "canine jujitsu" he and Stahelski designed for the film. "Chad put just as much focus on training the dogs as on the human fighters," muses Rogers. "They're super muscular, athletic dogs who have extreme focus and can fly through the air. Pound for pound their strength is extraordinary."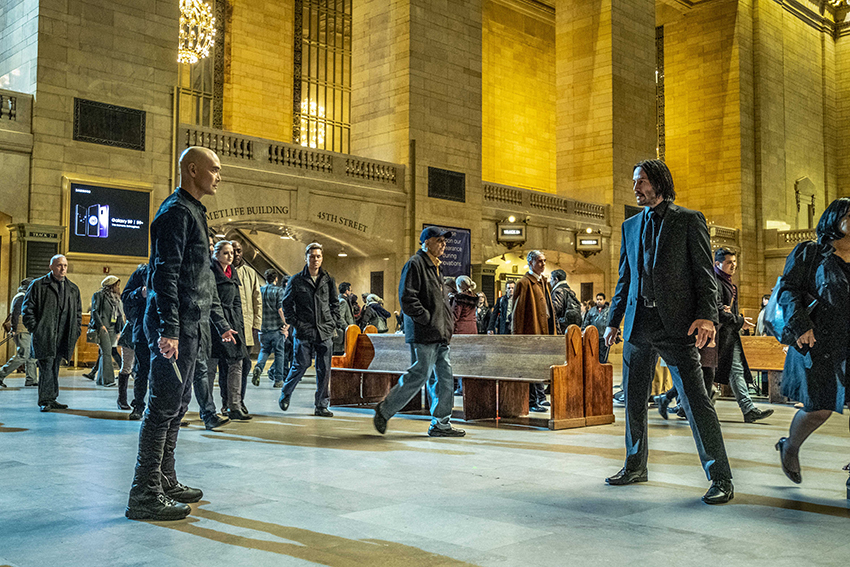 Berry was more than happy to spend intensive time with this remarkable canine team so they would respond as keenly to her as they did to Simpson. "I spent four days a week, three hours a day going through drills with the dogs to build a close relationship," Berry explains. "Malinois are super smart and fiercely loyal but, at the same time, they like to play, which made it fun. I'm an animal person. I have two dogs myself, so the sweetest part of my training day was always hanging out with the dogs."
On top of the fights and chases, a different type of choreography was needed for the ballet scenes. Stahelski was excited to be able to bring in New York City Ballet principal Tiler Peck to create something special. Familiar with the John Wick series already, Peck leapt at the challenge of trying to merge her beloved art form into this kinetic form of storytelling. "Since the John Wick movies have always been based on great fight choreography, I knew Chad understood the power of choreography," Peck says. "I loved that he wanted something really different that would spotlight the physicality and athleticism of ballet. The piece we created is edgy, tense and dramatic, in keeping with John Wick."
Expanding the John Wick universe brought a whole new array of design challenges--which the filmmakers relished. To help tackle them, Stahelski assembled much of the same crew that created John Wick: Chapter 2. They include cinematographer Dan Laustsen, production designer Kevin Kavanaugh and costume designer Luca Mosca, who forged Wick's instantly recognizable look in the first chapter. Also returning from John Wick: Chapter 2 is Evan Schiff, whose fluid editing controls the breakneck pace.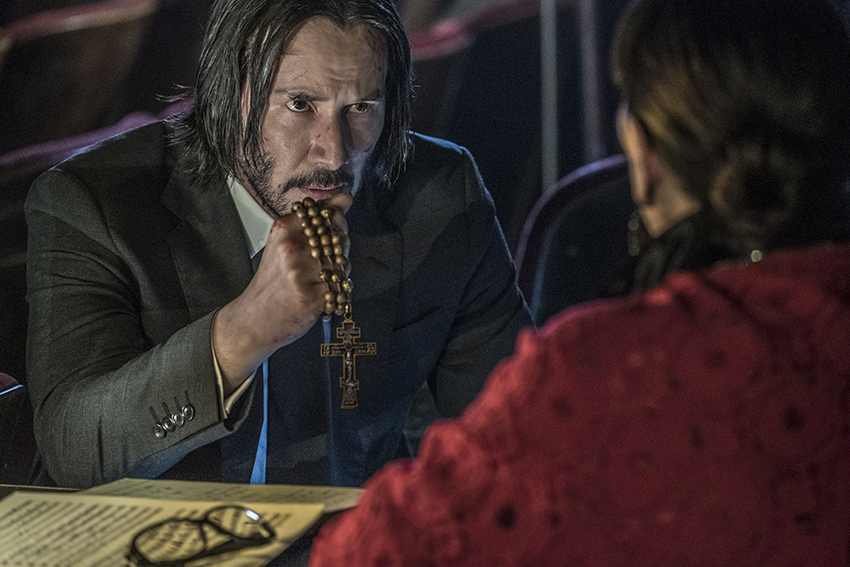 "We sought out Dan, Evan, Kevin and Luca again because they love what they do and they love putting in the maximum effort to make every frame better than we imagined," says Stahelski. From the outset, John Wick forged its own aesthetic: a dark neo-noir realm lit with neon hues and the fierce determination and sly humor of its characters. "We always wanted it to feel like it was straight out of the pages of a graphic novel," says Iwanyk, "with that kind of framing, colors, vibe and energy—even though it wasn't from a graphic novel."
Sums up Lee: "Everything in this world is pushed and hyper-real and sexy and dramatic."
Lauded for his minimalist but sophisticated wide-frame camerawork on Chapter 2, Laustsen was exhilarated to take things even further this time around. (Following that film, he went on to garner an Oscar® nomination for Guillermo del Toro's The Shape of Water.) He employed a raft of dollies, cranes and Steadicams to create a sea of nonstop movement. "Having established this universe of strong color, camera movement and sharp images, we had the chance in this chapter to really play with that. This film is even more colorful, has stronger contrast and showcases even wilder action," says Laustsen. Laustsen enjoyed shooting amidst the sun-soaked beauty of Marrakech and the Sahara, but he says his favorite scene of all was in New York, shooting at Grand Central Terminal. "It's something Chad and I have talked about doing for years," notes Laustsen, "and now we finally were able. It's just so iconic New York. We wanted to light it in our own shadowy way, and it's difficult to do there because the working conditions are rough. You have to come in and get out fast. We only succeeded because we had such a fantastic lighting and grip crew in New York."
Further cinematic inspiration came from Kavanaugh's sets. Though this film traverses the world, Iwanyk notes that Kavanaugh has retained a foreboding edge to the look. "Kevin has kept in the original street cred and grittiness of the John Wick world, while making it more of a global adventure."
In New York, locations included not only Grand Central Terminal but also the New York Public Library, adding to the series' dark elegance. The Continental Hotel (shot at the infamous One Hanson Place in Brooklyn) also underwent a major expansion. "The Continental originally started out as just a lobby and a room," muses Lee. "Now you see the deeper workings of the hotel."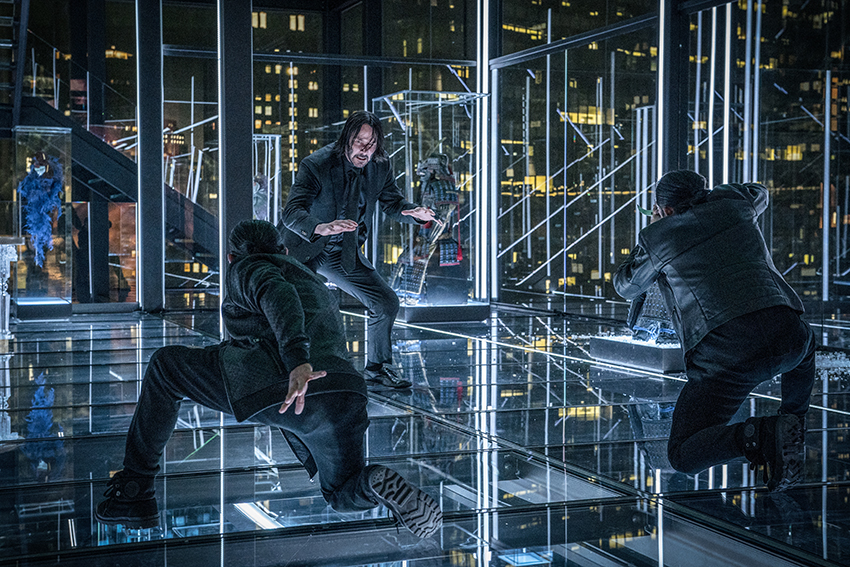 When John Wick makes his passage to Morocco, a country that has long lit the imaginations of filmmakers and moviegoers, the filmmakers had the chance to reveal a new kind of version of the famed Continental Hotel. They see it as an homage to that most classic Humphrey Bogart noir of all, Michael Curtiz's Casablanca. "We always thought it would be a great little ode to send John Wick to Casablanca. In the Michael Curtiz movie, Rick's Place was where everyone met to make off-limits deals—and that was the origin of The Continental," Stahelski reveals. "That's where we first got the idea that all assassins would go to one place all over the world, their only refuge from the dangers of the street."
Morocco was also a way to see how the John Wick vibe might translate to a sun-soaked locale. "We loved the contrast of going from rainy, gray, textured concrete of New York to Morocco, with its heat, sand, color and rolling dunes. It's a pretty intense change of pace," says Iwanyk. Reeves was especially awed by the infinite horizons of the Sahara. "I hadn't been to the Sahara before and what a magical, amazing, profound place it is," he says. "For me to be walking up those sand dunes in the dark John Wick suit definitely had its challenges but it's an amazing scene on screen."
Back in New York, Kavanaugh created his piéce de resistance for Chapter 3: the glass gallery inside The Continental, where John Wick finds himself in a literally shattering fight for his life. "We really wanted to do the sequence entirely practically, without any effects. We relied on choreography, lighting and camera angles, which meant the design had to synch with the action," explains Stahelski.
"Kevin even brought in engineers because there were so many intricacies to the glass set. It was definitely a logistical nightmare, but somehow they pulled it off—and it looks incredible," says Lee. In many ways, this realm of glimmering, splintering glass represents all the contrasts that make John Wick so beguiling: the way the series plays with both the brutal and the beautiful, the straight forward and the magical, the most demanding designs yet the purest visual storytelling.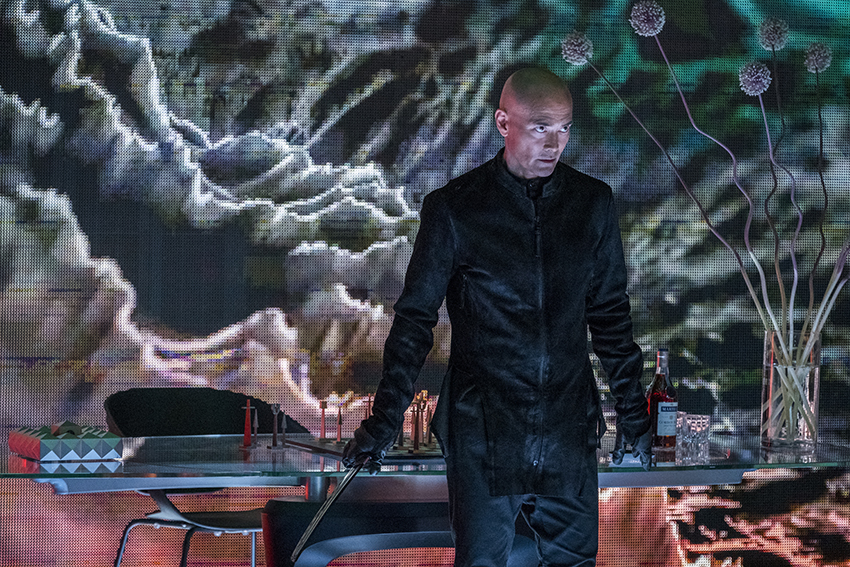 "What Chad does with each John Wick film is to push everything creatively, emotionally, psychologically, and visually as far as we can take it. We always try to wring every single piece of moisture out of every single element," says Iwanyk. Once again, this chapter builds to a cliffhanger, hinting at more revelations to come. "There is always going to be more for John Wick to experience…until the day he is finally able to retire," says Lee. For Reeves, there is one pleasure that beats them all when it comes to John Wick: the joy audiences take from witnessing him outlast every imaginable—and unimaginable—onslaught. "The opportunity to continue telling this story with the beauty of Chad's vision and the support of the crew's devotion is a thrill," concludes Reeves. "We hope people will get as much excitement from watching it as we get from making it.
Synopsis :
In this third installment of the adrenaline-fueled action franchise, super-assassin John Wick (Keanu Reeves) returns with a $14 million price tag on his head and an army of bounty-hunting killers on his trail. After killing a member of the shadowy international assassin's guild, the High Table, John Wick is excommunicado, but the world's most ruthless hit men and women await his every turn.
John Wick 3: Parabellum
Directed by Chad Stahelski
Produced by Basil Iwanyk, Erica Lee
Screenplay by Derek Kolstad, Shay Hatten, Chris Colllins, Marc Abrams
Story by Derek Kolstad
Based on Characters by Derek Kolstad
Starring Keanu Reeves, Halle Berry, Laurence Fishburne, Mark Dacascos, Asia Kate Dillon, Lance Reddick, Anjelica Huston, Ian McShane
Music by Tyler Bates, Joel J. Richard
Cinematography : Dan Laustsen
Edited by Evan Schiff
Production company : Summit Entertainment, Thunder Road Pictures, 87Eleven Productions
Distributed by Lionsgate
Release date : May 17, 2019 (United States)
Running time : 131 minute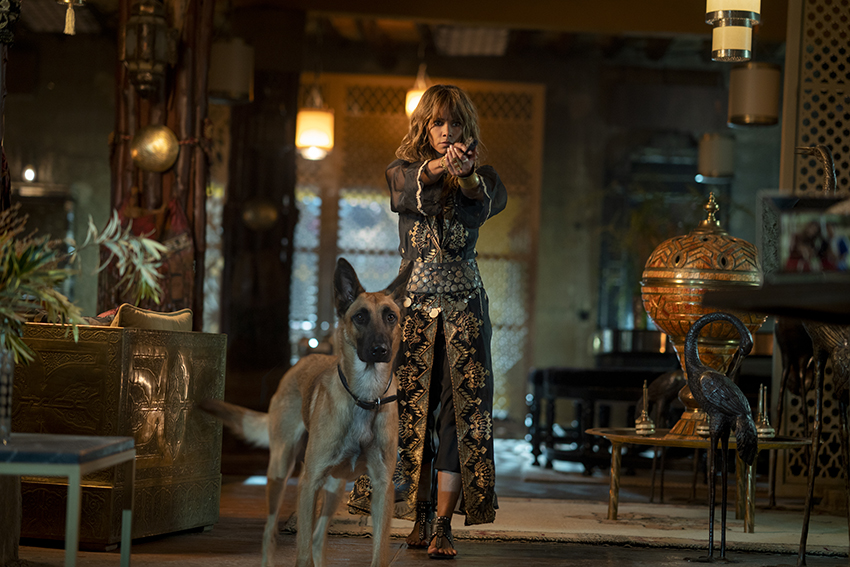 Photos: Copyright Lionsgate
(Source : production notes)