By Mulder, 18 april 2019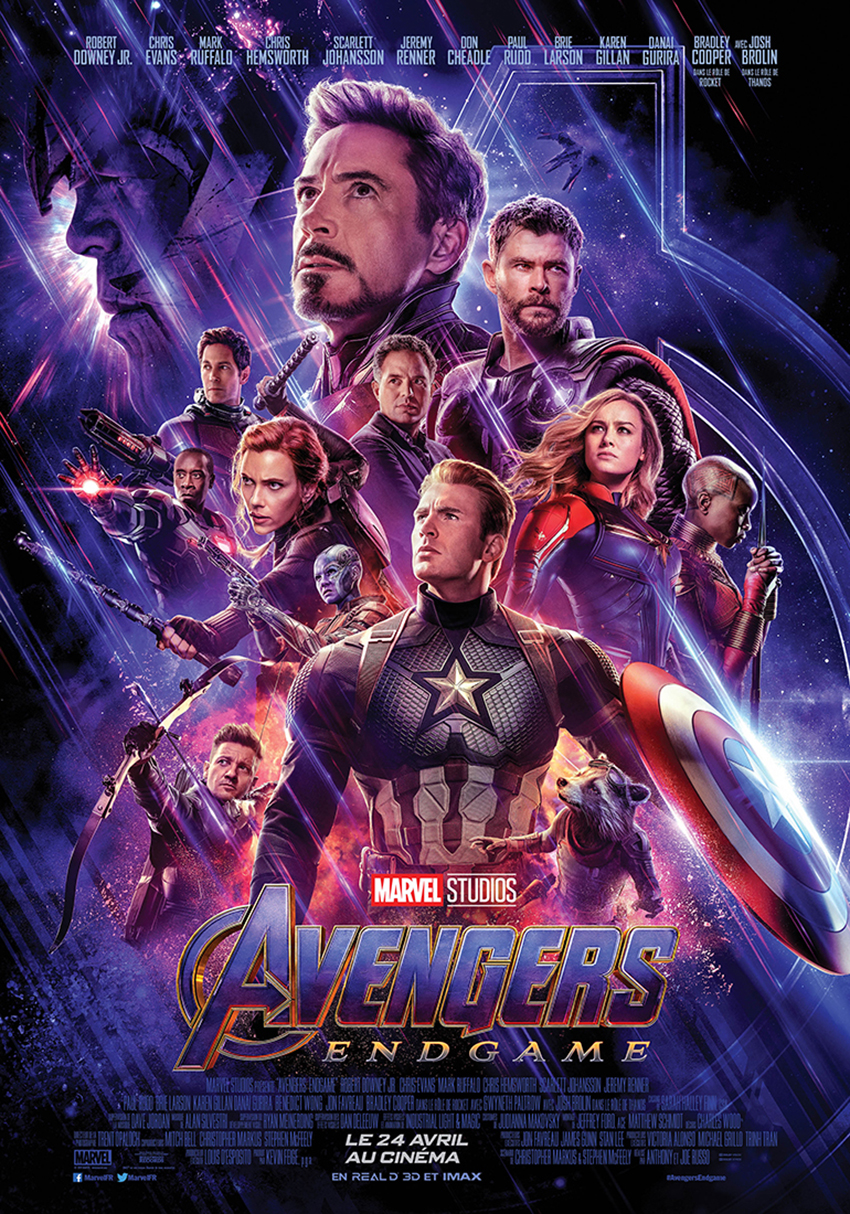 Avengers: Endgame is a film based on the Marvel Comics superhero team the Avengers, produced by Marvel Studios and distributed by Walt Disney Studios Motion Pictures. It is the direct sequel to 2018's Avengers: Infinity War, as well as a sequel to 2012's Marvel's The Avengers and 2015's Avengers: Age of Ultron and the 22nd film in the Marvel Cinematic Universe.
The film is directed by Anthony and Joe Russo with a screenplay by the writing team of Christopher Markus and Stephen McFeely and features Robert Downey Jr., Chris Hemsworth, Mark Ruffalo, Chris Evans, Scarlett Johansson, Benedict Cumberbatch, Don Cheadle, Tom Holland, Chadwick Boseman, Paul Bettany, Elizabeth Olsen, Anthony Mackie, Sebastian Stan, Letitia Wright, Dave Bautista, Zoe Saldana, Josh Brolin, Chris Pratt, Jeremy Renner, Evangeline Lilly, Jon Favreau, Paul Rudd and Brie Larson.
Itw Joe And Anthony Russo (directors)

Itw Kevin Feige (producer)

Itw Trinh Tran (executive producer)

Itw Louis D'Esposito (executive producer)
Itw Brie Larson (Carol Denvers / Captain Marvel)
Itw Chris Evans (Steve Rogers / Captain America)
Itw Chris Hemsworth (Thor)
Itw Don Cheadle (James Rhodes / War Machine)
Itw Jeremy Renner (Clint Barton / Hawkeye)
Itw Josh Brolin (Thanos)

Itw Karen Gillan (Nebula)
Itw Mark Ruffalo (Bruce Banner / Hulk)
Itw Paul Rudd (Scott Lang / Ant-Man)
Itw Robert Downey Jr (Tony Stark / Iron Man)
Itw Scarlett Johansson (Natasha Romanoff / Black Widow)
Synopsis :
After half of all life in the universe was killed due to the actions of Thanos in Avengers: Infinity War, the remaining Avengers and their allies must reassemble to revert those actions in one final stand.
Avengers: Endgame
Directed by Anthony Russo, Joe Russo
Produced by Kevin Feige
Screenplay by Christopher Markus, Stephen McFeely
Based on The Avengers by Stan Lee, Jack Kirby
Starring Robert Downey Jr., Chris Hemsworth, Mark Ruffalo, Chris Evans, Scarlett Johansson, Benedict Cumberbatch, Don Cheadle, Tom Holland, Chadwick Boseman, Paul Bettany, Elizabeth Olsen, Anthony Mackie, Sebastian Stan, Letitia Wright, Dave Bautista, Zoe Saldana, Josh Brolin, Chris Pratt, Jeremy Renner, Evangeline Lilly, Jon Favreau, Paul Rudd, Brie Larson
Music by Alan Silvestri
Cinematography : Trent Opaloch
Production company : Marvel Studios
Distributed by Walt Disney Studios Motion Pictures
Release date : April 24, 2019 (France), April 26, 2019 (United States)
Photos and videos : copyright Marvel Studios