By Mulder, 08 april 2019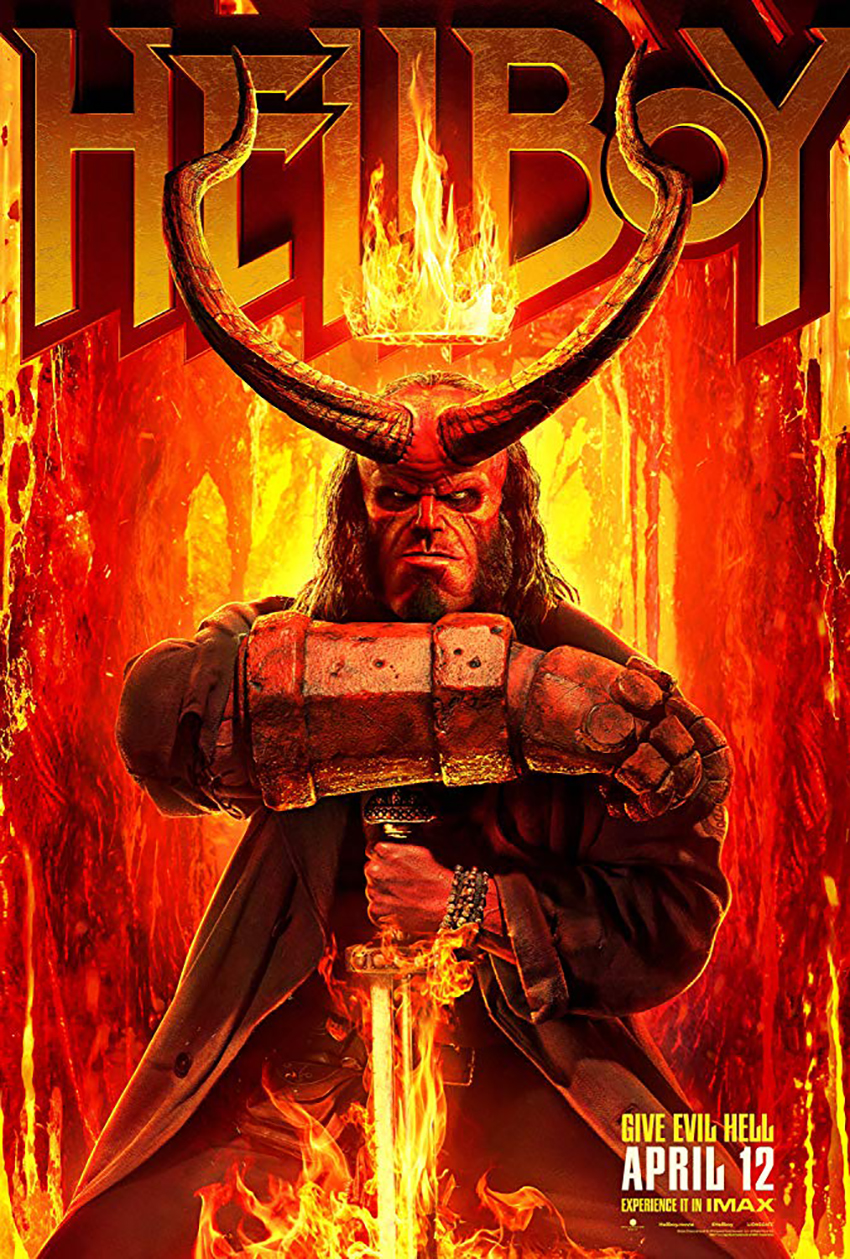 Hellboy is back, and he's on fire. From the pages of Mike Mignola's seminal work, this action packed story sees the legendary half-demon superhero (David Harbour, "Stranger Things") called to England to battle a trio of rampaging giants. There he discovers The Blood Queen, Nimue (Milla Jovovich, Resident Evil series), a resurrected ancient sorceress thirsting to avenge a past betrayal. Suddenly caught in a clash between the supernatural and the human, Hellboy is now hell-bent on stopping Nimue without triggering the end of the world. Hellboy also features Ian McShane (John Wick), Sasha Lane (American Honey), with Daniel Dae Kim "Hawaii Five-0" and "Lost").
Fifteen years after producing the first feature based on Mike Mignola's acclaimed Hellboy comic book series, producers Lawrence Gordon and Lloyd Levin knew the time was right to reimagine the film franchise. The landscape of the horror-action-fantasy genre had changed dramatically in the ensuing decade and a half. Recent big-budget comic-book-based titles demonstrated that moviegoers were ready to embrace flawed superheroes (and antiheroes) and edgier, R-rated storylines. "With the success of these we felt there was an opportunity to push the movie in a more mature direction: more graphic, more visceral, more exciting, and thematically, a little more adult. After all, the Hellboy books suggest an R-rating and we wanted to do something a bit more faithful to Mike's work."
When it came to deciding on a plot, the filmmakers were faced with an embarrassment of riches. Published over more than 20 years, the Hellboy series boasts the most issues under the direction of one person among all currently published comic book series. Ultimately, the producers gravitated to 2010's Hellboy, Volume 9: The Wild Hunt, an anthology that includes issues #37 to #44 of the series, as the central thread of story. In addition to being an exciting, high-stakes action epic, The Wild Hunt reveals Hellboy's dramatic origin story. The film also pulls from Mignola's other books, including a memorable sequence inspired by Hellboy in Mexico, along with some material written specifically for the film. The script is a true collaboration between Mignola and Andrew Cosby. Mignola remained involved in the process throughout, reading each successive draft to ensure the screenwriter stayed true to the character.
"It was important for us, and for the fans as well, to really stick to the roots and origins of Hellboy," says producer Les Weldon. "No one wants somebody else's Hellboy — they want Mike's. It felt almost like we were doing a biographical or historical movie. Source material is key. We had Mike, and I think it really, really paid off." Mignola's involvement was especially important because while many of the scenes and much of the dialogue comes directly from the comic books, Hellboy is an amalgam of the series' storylines rather than a direct adaptation of one of the books. "I've been doing Hellboy for 23 years," says the author. "There' so much material, and I'm kind of the only guy who knows how all of the pieces fit together. So, the screenwriter would come to me and say, 'Here's a story, and here are some pieces, and let's put them together.' My job was to say, 'I see what you're doing, but I don't think you fit all of the pieces together quite right,' or, 'We need a thread that connects this to this' or, 'Instead of this piece, let's put in this piece.' In the end it's taken pieces of so many of my stories and fit them together in a way that really works."
The film also expands the scope of Mignola's work by bringing Hellboy's world fully into the 21st century, according to Levin. "Throughout Mike's stories there is a real sense of the past," he says. "Even when they're set in present day there's kind of a feel of ancient times or a bygone era. Working together with Mike we discussed how to give this film a contemporary feel and a contemporary setting that really grounds it in the now. So in addition to the forests and other primal settings from the comic books, our story takes place in contemporary urban London."
To fulfill their goal of bringingHellboy into the present day and giving it a more horror-centric, R-rated sensibility, the producers knew they needed a director with the right mix of serious genre chops and the experience to oversee a production teeming with spectacular characters, interwoven plotlines and big action set pieces. They were all impressed with the breadth and depth of Neil Marshall's work, from his deft handling of episodes of blockbuster HBO series "Game of Thrones" and "Westworld" to his feature The Descent, which Levin calls "one of the best horror films of the 21st century."
"We wanted a director who could handle both horror and action, and also be strong with character — in particular, that dry, near-gallows humor that often comes out of Hellboy," says Levin. "Our intent was to set this film squarely in our world, rather than have it be fantasy with a capital 'F.' Neil's work very much reflected that." Mignola was on board with the choice from the start. "When Neil's name came up, we instantly thought, 'Oh, okay, we have a guy who can deliver a darker, more grounded version of Hellboy .' I was really excited."
Marshall admits he hesitated when he was first approached about directing the next Hellboy film. "My initial response was, 'Well, that's somebody else's terrain, and I really don't want to step on their turf.' But after a little time passed it became apparent that the producers wanted to create a new version of the franchise. I said, 'Great, let's do it.'" The director says he felt the weight of responsibility to the franchise's fans as well as to Mignola and the producers to get it right. "Larry and Lloyd had carried the torch for this for quite some time. So, the question was what could we do that would reinvent it some way that isn't radically deviating from the source material — and in some ways would be more faithful to the source material? I saw a lot of potential in a darker version. And Mike and everyone else connected with that concept as well, so it was like, 'Okay, let's go dark with it.'"
For Marshall, that meant delving into some edgy places with the characters and their stories. "It's a huge emotional journey for Hellboy, a journey of discovery, and then just literally, we're going darker: bloodier, more violent. But it's not a matter of throwing in things that don't belong. It was always a case of, when in doubt, go back to the source."
When it came to casting an actor with the depth, humor and sheer physical presence to play the outsized title character, the filmmakers were unanimous in choosing David Harbour. Marshall had been a fan of the actor's long before he stepped into his starring role as Police Chief Jim Hopper on the hit Netflix series "Stranger Things." "He's been giving amazing performances for many, many years," says the director. "And it doesn't hurt that he's a big, six-foot-three fella with an amazing voice and those eyes that just captivate you immediately. He is a force of nature, and you feel that through the character. So, once his name came into the mix, nobody else was considered. It was like, 'Of course. He's so right for it.'"
Mignola remembers that before any casting decisions had been made, he and his wife were watching "Stranger Things" together. "The first time David Harbour showed up on screen, Christine said, 'That guy should be Hellboy.' I never mentioned that to anybody, but within two weeks I got a call from Lloyd Levin, saying, 'What would you think about David Harbour for Hellboy?' So David is literally the only name that came up for this version." The actor was on the set of the second season of "Stranger Things" when he got a call from his agents about the role. "It wasn't completely green-lit yet," Harbour recalls. "They didn't have a studio. It was just Lloyd Levin, Larry Gordon, Neil Marshall and a script, but they seemed to be very keen on my doing it. "I was like, oh, that's very flattering… and horrifying that you guys would think that I would be this angry demon!" laughs Harbour. "But it seemed to fit. It was a lot darker, a lot scarier than comic-book movies are in general."
Although he was immediately interested in the role, Harbour says he was nervous about the idea of a reboot. "I hate that term because I have watched a million dudes play Hamlet, and I love everybody's take on that character," he explains. "They each bring out something unique. I did not want to try to compete with what the guys on the previous films did with the character. It had to be something totally different. And it had to be something I could excel at as an actor, which would be very different than what Ron [Perlman] did. So the fact that they wanted to bring new life to the project, with a wildly different take on the character, was what made me say, 'All right. This sounds great. I'm in.'" Harbour was particularly drawn to the script's portrayal of Hellboy as a flawed and deeply conflicted character. "I'm not interested in playing a superhero who's always looking to do the right thing," he says. "I like characters who have motivations that don't always come out of good places, but might lead to good results. I was drawn to this guy trapped between two worlds." Hellboy's outcast status was also appealing to the actor. "He's a freak, a weirdo," he says. "He's made fun of, he's humiliated by human beings, and I can relate to that because I feel like that myself sometimes. I think on some level most of us feel that way. There is no real 'normal' in this world. That's one of the reasons I love Hellboy, and why a lot of fans do too."
Casting Harbour turned out to be a pivotal creative decision, says Levin, because the actor perfectly captured the version of Hellboy the filmmakers were going for — and then took it to the next level. "Throughout the development process, we tried to make Hellboy more accessible, more grounded, more emotional and empathetic, along with his trademark, deadpan sense of humor," says Levin. "But I never fully realized what that meant until David stepped into the role. Those ideas flourished well beyond what we initially imagined because he internalizes story and character so deeply."
Harbour's Hellboy is an imposingly tall half-demon with red skin, shaved horns and a tail. So the filmmakers knew they would have to find a formidable actress to play his powerful nemesis, Nimue the Blood Queen. "To hold their own against that, you need someone as brilliant as Milla Jovovich," says Marshall. "Milla is a total presence herself. You feel it in every beat of every word she says, every moment she takes, every look she gives. She'samazing, so much fun to work with and delivers this absolute powerhouse performance." The Ukrainian-born actress, perhaps best known as the star of the hugely successful Resident Evil franchise, says she was immediately intrigued by her character's plight. "What got me right away was that I thought she was right-on with what she stands for — and she's immediately challenged and betrayed. Her points are valid, but she's defeated. So I was fascinated and I wanted to know where her story was going." As part of her preparation for her role, Jovovich went out and bought hardbound editions of several collections. "The illustrations are phenomenal," she says. "I saw how beautifully they were done, and how much heart and soul the stories had, and thought, wow, we could really do something great here."
For Hellboy, Nimue is more than just a supernaturally powerful witch. He learns she has a deep connection to his past. "As an adversary, she's incredibly challenging for him because of the issues she raises about who he really is, why he's here and what he could become," notes Levin. "In regard to understanding his identity, it's like she's sitting on one shoulder and Professor Broom is on the other." Nimue exploits that connection — and Hellboy's own doubts and insecurities — to try to seduce him into joining her, says Jovovich. "She says to him, 'You're one of us.' She wants to know why he's trying to live like a human, to get these people who hate and fear him to accept him. She tells him, 'You could be a hero in my world.' She wants his strength added to her kingdom, to make it their kingdom." Harbour appreciated Jovovich's professionalism as well as her solid grasp of the fantasy realm. "I really enjoyed working with Milla," he says. "She understands every aspect of this art form and how to get the best out of the work. It goes beyond just acting — she's always thinking about the broader picture. And she's sweet and kind. She just let me stay in my intense, weird place, always sensitive to it. It was wonderful."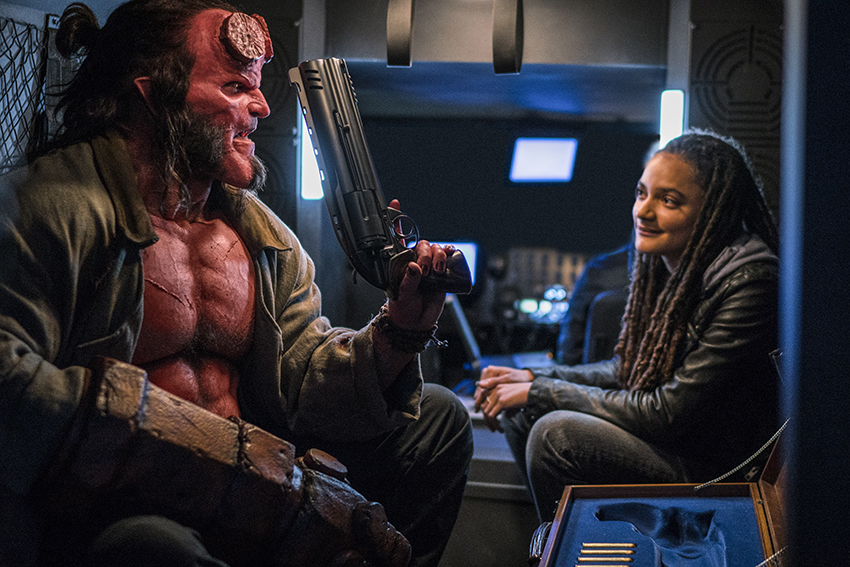 In casting Hellboy's adoptive father, the erudite and somewhat prickly Professor Trevor "Broom" Bruttenholm, the filmmakers turned to acclaimed British actor Ian McShane. Perhaps best known in the U.S. for his Golden Globe®-winning role as boomtown saloon owner Al Swearengen in the HBO series "Deadwood," McShane has appeared in hundreds of films and televisions episodes in a career that spans more than five decades. "Casting Ian McShane allowed us, with Mike Mignola's help, to approach Professor Broom with a bit more complexity than in the comic books," says Levin. "Ian added his own incredible presence: He's vigorous and strong, sharp and humorous, and knows well what works for him. He and David had great chemistry, which gave them a lot to mine creatively." McShane enjoyed the complexity and depth of the script's depiction of Hellboy's close but complex relationship with his dad. "It's sort of them against the world," says the actor.
"It's been rough and tumble between them. Hellboy didn't grow up playing Monopoly with his father — it was more that he taught him how to fight a five-eyed monster and take him out with a melon baller." Broom has tried to prepare his son for the inevitable day when he will be on his own, says McShane. "He has protected him, but when he goes, Hellboy will have to be a fully realized human being — to take on the human world, as well as the human-monster world." McShane was more than ready to dive into the film's action sequences, brushing aside any suggestion his character might have stayed on the sidelines with the quip, "I don't do decrepit." And though McShane put his stamp on the role, the actor also honored his predecessor, his late friend and respected colleague John Hurt, by playing the part as "a slight homage to John." The actor says he enjoyed the fantastical elements of a film where humans and demons co-exist. "Playing opposite a six-foot-seven man who's red with horns is actually kind of fun, because David's a good actor, who just happens to be a guy who's six-foot-seven with red horns. You know, it's perfectly fine and perfectly reasonable."
The filmmakers diverged somewhat from the source material when they added B.P.R.D. Team commander Major Ben Daimio to the film, Levin acknowledges. "In the Mignolaverse, Daimio and Hellboy never shared a page, but bringing him into the story felt organic because he's a fantastic character and in some ways a mirror for Hellboy." Daimio, a taciturn and secretive ex-soldier-turned-agent, is Hellboy's complete opposite in many respects. "There is something about Daimio that's a bit of a mystery," says Levin. "There is unknown history about Hellboy too, but what he is is right there for everybody to see. These two become foils, which is a nice texture for the film." The role is played by Daniel Dae Kim, who starred for eight years on CBS's hit crime series "Hawaii Five-O" and seven years on ABC's "Lost."
After reading the script, Kim chatted with Marshall via Skype. "We spoke about the character, what Neil's vision was and how he wanted to shoot it. Those are the things, at the end of the day, that are the most important. I think Neil knew my work, and I knew his, so it was really just a question of whether our sensibilities fit together. And they do." Kim was cast just days before shooting began and arrived on set in Bulgaria after a 30-hour journey, just before his first scene. "It was all really quick," he says. "That was a challenge, but also invigorating. David and I are both theater actors from New York, so he has a natural generosity and curiosity that I identify with. Things felt very organic, which is often not the case in situations like this." The actor describes the dynamic between Daimio and Hellboy as "sticky." "They are teammates, but they don't always share the same perspective," he explains. "So, it takes a little while for the two of them to come to a working relationship."
Although Kim and the character he plays are quite different, the actor says he admires many of Daimio's qualities. "I like that he's a man of action. He has a military background and doesn't think a lot about obstacles; he thinks about objectives. He's been marked by this incident with the jaguar and it changed the entire trajectory of his life. There are a lot of characters who ruminate, and in my real life I've been accused of that. But for Daimio, it is about putting your problems and issues aside and staying with the mission. That's not a bad way to be." To his surprise, the filmmakers asked Kim to dig into his drama-school tool kit and dust off his best British accent. "Most of it is set in London, and Broom is British, so it just felt like that was the universe they wanted to create," he explains. "Back in school I was excited about learning R.P. [received pronunciation], but at the time I thought to myself, as an Asian-American actor am I ever really going to be asked to do a British accent?' Then lo and behold: Hellboy." Kim, who was born in South Korea and raised in the U.S., says he's honored to play one of the first comic-book heroes of Asian descent seen on the big screen. "It's very significant to me because I grew up not having many Asian-American role models to look up to on TV or in movies. Many comic-book heroes were created in the '50s, and it was a time when diversity wasn't as important. So the question is when will we see more actors of color portraying comic-book heroes?"
Hellboy also gets support in his fight against Nimue from his young friend Alice Monaghan, whose life he saved when she was a baby. The role is played by rising star Sasha Lane, whose explosive work in the Cannes Jury Prize-winning feature American Honey enthralled the filmmakers. "Sasha's audition readings were incredibly compelling," says Levin. "She had such great attitude, heart, individuality and accessibility. We wanted Alice to be more of her own character, to have a strongvoice. Sasha really elevated the role — we were lucky to be able to cast her." The character's strength was a big factor in Lane's decision to take on the role. "What really attracted me to Alice is that she is definitely not the damsel-in-distress kind of girl," says Lane. "She's very much her own person. She has this great, cool vibe, and she's been through so much.
Lane was also intrigued by the evolution of Hellboy's character. "I liked the idea that this is really the time Hellboy gets to face himself. You sort of judge Hellboy by what you see, but you don't often get to see all that is inside him, all that's been going on. This is his true moment." Hellboy's connection with Alice is integral to the story, notes the actress. "It's not romantic, but it's definitely kind of a soul-mate thing. Because of who they are, and how they feel different from everyone else, they might feel the pull to just take the easy route — the dark one — but together they keep trying to fight the hard fight rather than just give in."
When it came to designing the look of the film, Mignola's comic books provided the filmmakers with an illustrated guide to the Hellboy universe. "Mike's an incredible world builder," says Levin. "It's a tremendous opportunity to transfer his vision to the screen. So all the way through we referenced what was in the books. There are other influences as well, but we mined much of the look from the comic books." To accomplish Harbour's transformation into Hellboy, the filmmakers enlisted Oscar®- and Emmy- winning special character makeup designer Joel Harlow. During pre-production, he worked with a team of our veteran designers to create every inch of the character, from the sawed-off tops of his horns to the tip of his tail, using Mignola's drawings as the primary reference.
"The structure of Hellboy's face was always about Mike's illustrations," says Harlow. "The jaw and the brow and the hardline aesthetic, that was our jumping off point. But, in taking the design into reality, we wanted to move from a comic world to a real world. The result is probably scarier, because he's no longer a fire-engine-red cartoon character. He has hair on his chest and arms, back and tail, and scars — he was described to me as having the body of an MMA fighter. We wanted his Right Hand of Doom to be different from any version seen before. And we get to see Hellboy's hooves in this film. For every aspect of the character design, Mike provided direction the entire time."
Harlow was also charged with creating looks for all the non-human characters in the film, including Queen Nimue and her hench-creature Gruagach (voiced by Stephen Graham), as well as undead witches, giants, and numerous nocturnal denizens and inhabitants of a Hell threatening to overrun modern-day Earth. At the same time, Harlow and his department oversaw the creation and application of a staggering array of less demonic looks, from Ben Daimio's scarred face to Merlin's visage. The team at Harlow's Los Angeles-based Morphology FX special character creation studio numbered around 35, with seven traveling to set to continue to design and oversee application.
Each day, Harlow and an assistant would apply Harbour's look in two phases: first a complete mask and then a full body suit. "I would show up clean-shaven, put on a special tank top and go into makeup," says the actor. "They would put a bit of lotion on my face, a bald cap over my hair, glue it down and then apply the ears. After that, I would put in my headphones, lie back and listen to music." During the next hour or so the layers were built up: a skull cap with magnets to anchor the horns, a fresh silicone mask for the face, edges glued and blended, scarring, and makeup on the left hand (the only exposed skin the actor and character actually share). With the head in place, another assistant was charged with getting Harbour into the bodysuit. Six were created and rotated, allowing for re-hairing and small repairs — with at least one camera-ready at all times. "It was the weirdest part of the process," says Harbour. "My arms were covered in K-Y Jelly, and I was slided into this complete suit that zipped up the back."
After that, the creature's Right Hand of Doom and tail were attached. The pieces' edges were blended, and hair — mutton chops, soul patch and wig — were added. The signature horns were glued on, with a little blood added. Finally, a contact lens tech put drops into Harbour's eyes — a process repeated every 20 minutes the lenses remained in, up to the limit of four hours — to prevent corneal abrasions, and the yellowish-orange contacts inserted. From start to finish the application process took about two hours, with another half-hour at the end of the day to remove everything except the dyed left hand, which stayed red for the whole shoot. That saved Harlow and his team from having to re-dye the hand on each of the more than 60 days of production. "I just ended up walking around with a red hand," laughs Harbour. "Looking like, I don't know, David Bowie, or someone who'd been in an accident." Marshall says he rarely saw Harbour without his makeup during the shoot. "I saw Hellboy walk onto set, and he was living and breathing that character until he left at the end of the day," says the director. "On the rare occasion when I would see David without makeup, I'd think I hadn't seen him in ages. But then I'd remember, 'Oh, yeah, you were on set all day.' He became this character, and that's who he was every time he walked onto set."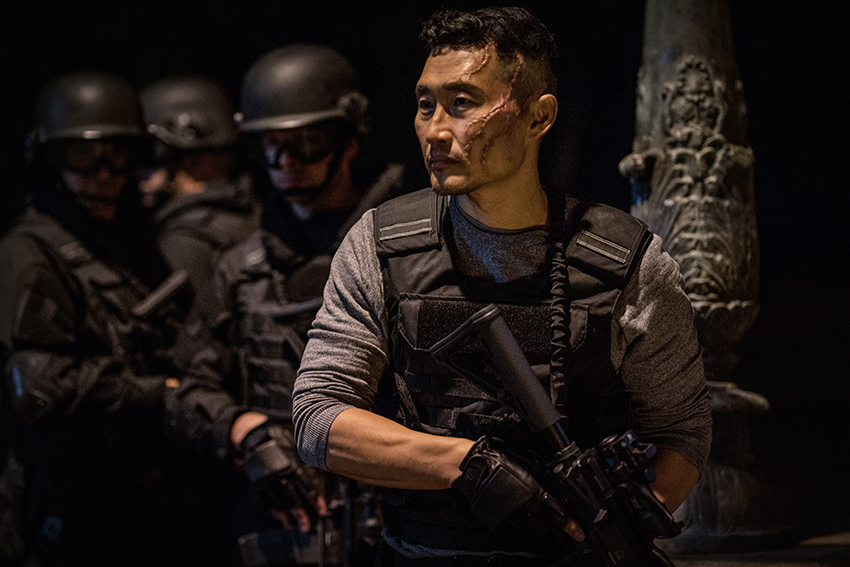 Harbour says the stunt work he did on Hellboy was the most intense of his career. After wrapping season two of "Stranger Things," the actor embarked on an immersive 10-week training program to prepare for the physical demands of the role. "I couldn't really slim down much," he says. "I still had to eat a lot, because the prosthetics were fitted to my shape at the time. But I did get a lot stronger and a lot more limber and more powerful. Once I showed up, though, I was like, 'Holy shit, this is beyond what I thought I would have to do!'"
Veteran stunt coordinator Markos Rounthwaite, whose numerous credits include Mission: Impossible – Ghost Protocol and Zombieland: Double Tap, designed a series of intricate and sometimes gory battle sequences between Hellboy and various ill-tempered supernatural creatures. "The fights are crazy," says Harbour. "There is really a sense that things are being killed, giants or monsters, and heads are being chopped off. You're bathed in their blood, and you're feeling the complex emotions of actually cutting the heart out of another being. All of that goes toward the issue that Hellboy is a killer, truly, a weapon."
Never sure who or what he's going to encounter, Hellboy tries to be prepared for anything. But sometimes things don't go as planned and he simply has to improvise, says Harbour. "I talked a lot with Mike about what all the things in this belt he wears are. Mike said that, as a paranormal detective, he's going to have to fight all kinds of creatures — vampires, witches. So, he carries stuff like garlic and silver bullets. But in a way, he really doesn't know what he's doing. He might throw a bunch of garlic on somebody and then realize, 'Well, that didn't work.' But he shows up and goes in, pretty much figuring he'll just have to knock somebody out. He just goes for what works at that moment."
Hellboy's epic fight against the giants, one of the film's most elaborate and action-filled set pieces, was particularly arduous for Harbour. "I'm in prosthetics and this big suit running around, rolling on the floor, throwing guys off horses, punching people," he recalls. "The sweat under the mask was intense. There are only certain places where it can escape, like out of my eyes, underneath the brow, out of the horns and through the nose. My face would just be squishy with all of this sweat pouring out. I'd get so hot that they'd put me in an air-conditioned tent and unzip the back of my suit. I'd sit there panting like a dog, trying to get cold air in. Then, we'd zip up, go back and do it again."
The Hellboy production required the services of roughly 1,200 cast and crew members. Three units shot on location in the United Kingdom and Bulgaria, and on more than 20 sets at Nu Boyana Studios in the Bulgarian capital, Sofia. The massive, state-of-the-art studio features multiple backlots, which stand in for locales including Mexico and the U.K. in the film, as well as 10 fully equipped sound stages. Production designer Paul Kirby and director of photography Lorenzo Senatore worked with Marshall to devise a color palette based on the Hellboy comics. "The original material Mike Mignola produced has a brilliant palette," says Kirby. "When you see Hellboy, he's the only red in the frame. When he's not in frame, something else is red — a fire, the Blood Queen's costume. All of the rest of the colors are these muted tertiary colors. That was something we really strove to do in the design."
Kirby's overall approach revolved around creating mostly realistic-looking sets that contrast sharply with the film's supernatural elements and characters. "I think when fantasy is a little more grounded, it feels stranger, in a way," he explains. "It's like if you saw a giant or a monster in your house. It's the balance of something that's out of place that makes it look weird and scary." To illustrate, Kirby points to Hellboy's journey into the depths of the Osiris Club, where he is briefed about the giant-hunting mission. "It starts as this English country house," says the designer. "There are suits of armor on stands, guns, muskets, swords. Then, the further you get into it, the strangeness is incrementally cranked up. A few occultist things scattered about. Then, even further in, there are trophy heads from their hunts. We incorporated mixtures of human and animal forms, including a skull with spiders' legs. It notches up to a 12 on a one-to-10 scale of weird." At times, translating the comic's 2D illustrations to the 3D world of cinema required some thoughtful modification. One example is the wildly imaginative home of Baba Yaga, a Slavic folklore witch who appears throughout the comic book series, usually to taunt or torture Hellboy. "In legend, as in Mike's illustrations, it's a little house that walks around on chicken legs," says Kirby. "But what looks great in a comic book page won't always work on a movie screen. The most important thing to Mike was that it had the quality of the TARDIS, the time machine from 'Doctor Who,' in that it's bigger on the inside than on the outside. But with the house moving through the forest towards Hellboy, we wanted verticality in order to see it coming. So, we wound up with this tower that looms over him as it moves before settling down and becoming this doorway into Baba Yaga's lair."
Out of all of the film's intricate sets, Kirby says he's most proud of the environment he created for the climactic sequence between Hellboy and Nimue, set on Pendle Hill, the site of England's most notorious witch trials in the 17th century. "There are some scenes viewers might expect would be shot on a set, but when Hellboy's standing on a hill with the Blood Queen, you don't imagine the landscape has been created," he says. "Sometimes, you want to feature design, knowing that people are going to see it and relate to it as such. But sometimes, you want design to be invisible. You don't want people to question, 'Is that a real tree?' 'Is that a real rock?' 'Is that on a stage?' You just want them to enjoy the story." Weldon offers enthusiastic praise for the stunning visuals created by Marshall, Kirby and Senatore with the invaluable help of hundreds of local production pros. "We had one of the best crews in the world on this film," says the producer. "We had amazing technicians and artists in Bulgaria, who were able to realize this intricate world of imagination. There are layers upon layers visually and artistically. I remember watching one scene on the monitor, in King Arthur's tomb. On the screen it looked like a complete frame from the comic book had come to life. The collaboration and the results have been astounding."
Naturally the first conversations between Marshall and costume designer Stephanie Collie during pre-production centered on finding the ideal wardrobe for the film's central character. "Neil really liked something I included in my reference — the idea that Hellboy's coat echoed old-Hollywood gunslingers," remembers Collie. "I imagined Hellboy whipping around in a duster coat and the fabric flowing with him. David is a big guy, and in the suit, even bigger. It was a challenge to make something that would fit on that shape, so there were a lot of fittings to get the right silhouette."
In homage to Mignola's illustrations, the designer included a bendable wire in the collar and the lapel of the coat in order to get and retain the right shape. "In the comic book, a lot of the time the coat's rumpled and the collar's a bit uneven," she says. Collie was inspired by the fact that the film's action takes place across several time periods, including the 6th century, the 1940s and the present day. "What we designers thrive on is trying to convey a number of things — character, period, story — in a garment," she says. "The thing that strikes me about the comics is that they're slightly timeless. A really realistic depiction of modern dress would date quickly." As she worked to create the Nimue costume, Collie flew to Los Angeles to meet with Jovovich. "We tried different things to capture the character's essence, something that could change with her evolution, her mood and where she was on her journey," Collie explains. "In a way, she's an innocent when she first appears in the film — it's circumstance and others' betrayal that turns her into what she becomes. The dress is very simple, actually, created with meters and meters of silk dyed in an ombre effect, with dark at the hem fading out to almost flesh color at the top. The effect is near invisibility, which is what we wanted. "Milla is also in this beautiful wig, and that — along with these shoes that you can't really see — gives the impression of floating. With the wind machines and her movement, it looks like she's levitating. We decided to keep her in that costume her entire journey."
Jovovich says she was thrilled with her character's entire look. "I love the costume that Stephanie developed. An amazing makeup artist Paul Pattison came up with the makeup and hair design. The long wig really kind of drives Nimue's look, and Paul and I agreed she needed to have a really ghostly, ethereal, kind of shiny appearance, so they basically spray me silver. When I come back, it's been 1,500 years, so I'm kind of this undead, decayed monstrosity. I call that the dumpster look — like something moldy you'd find in the garbage. But as I gain my power, my beauty starts to come back."
According to Collie, it's usually the first costume an actor tries on that wins the day. But customarily other outfits are tried — and discarded — to reinforce the decision. "For Daniel's character, I found a great pair of grey boots, and layered jeans, a shirt and a waterproof jacket. He tried them on and said, immediately, 'Yes, this is it.' Pretty much the same thing happened with Ian's 1940s costume. He put the first look on and said, 'This is it, darling, we've got it.' With Daniel, we did try on other things, but with Ian, when other outfits were offered, he said, 'We don't need to. It's all fine.' So, I just had one picture to show for that look, and luckily everyone agreed!" For Professor Broom's modern-day outfit, McShane asked his favorite Soho tailor to create a threepiece corduroy suit. "It's just fantastic," says Collie. "As a man born in the 1900s who stops aging in the 1940s, there's no reason he would suddenly become modern. He'd stick with a suit that has the shape and feel of the '40s. We used a variety of different collarless shirts to go with it."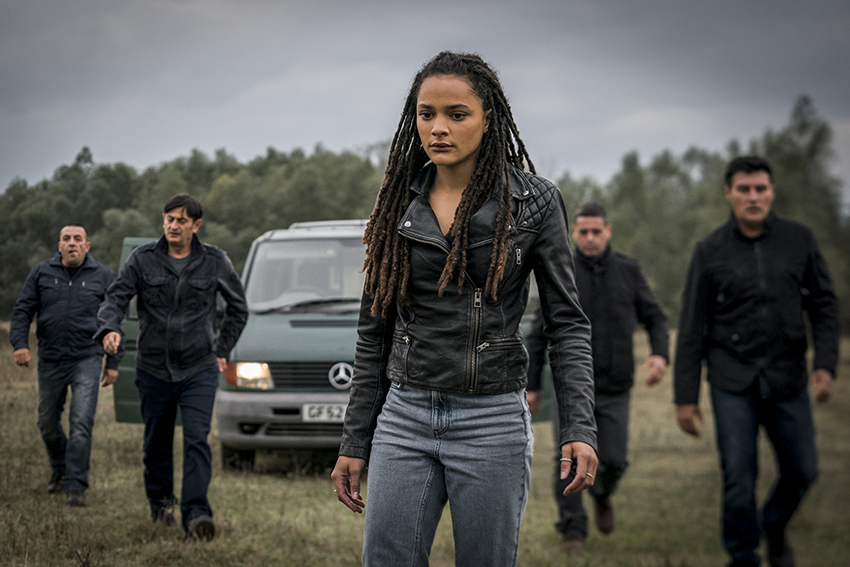 Under Kirby's direction, the art department's Dirk Buchmann spearheaded the development of the film's onscreen weaponry and other paraphernalia. In total, nearly 600 special props were created by Buchmann and his team of 20 workshop artists. After an array of 3D concept models were developed for Hellboy's hand cannon, the filmmakers picked one designed around a 140-year-old Austrian revolver, from which the armorer then created a fully functional steel version. The resulting weapon weighed about six pounds and fired actual .38 caliber blanks. Daimio's firearm is a super-sized version of a 150-year-old Colt Derringer. Hellboy's belt — which holds things an otherworldly entity might find deadly, including a rosary — was adapted from multiple concept designs. Buchmann also oversaw the creation of the Osiris Club's gianthunting backpacks, portable generators that send large jolts of electricity through attached lances into the bodies of their enormous prey. The Excalibur sword is a nearly exact replica of the one Mignola drew, according to Buchmann. "There are a few tweaks, but it's basically right out of the comic books." Transcending Destiny — and Tails With its rich mythology, compelling storyline and spectacular visuals, Hellboy evokes a wide range of thoughts and emotions for the members of the cast and crew.
Actor Daniel Dae Kim is moved by the film's exploration of fate and redemption. "What is heaven and what is hell, and what should one be punished for and what can one do to get beyond their destiny?" he ponders. "These are all interesting questions to me, and they're the questions that Hellboy and my character both ask. But I also think that, given the cultural climate out there today, Hellboy might be a little escape, and that isn't such a bad thing." Mignola marvels at his character's longevity and expresses his gratitude to fans for their continued interest in Hellboy's adventures. "I am so amazingly lucky," says the author. "Having created, not a traditional superhero, but a red guy with a tail from hell. To see that character embraced like it has been for something like 25 years is pretty great." Having shepherded, along with producing partner Lawrence Gordon, Hellboy 's onscreen presence for nearly two decades, Levin is thrilled that this new incarnation reveals Hellboy in an entirely new light. "And that is largely thanks to David Harbour's performance," he says. "He's a much more empathetic character than anyone is expecting." Marshall concurs: "David gave such a great take on the material. I would love audiences to walk away feeling they have seen an original Hellboy movie." And Harbour? He wants people to know that having a tail is definitely not all it's cracked up to be. "The tail is a pain in the ass," he says. "I remember, we had this day on set. I'd done this big scene, with fighting and stunts, and I'm slumped over, and the camera guys are like, 'Um, well, your tail…' I'm dealing with the hand, I'm dealing with the suit, I'm dealing with this whole thing! And my tail doesn't look right?! I know you all think you want a tail. You really. Don't. Want. A tail."
Itw David Harbour

Itw Milla Jovovich

Itw Ian Mc Shane

Itw Daniel Dae Kim

Synopsis :
Hellboy is back, and he's on fire. From the pages of Mike Mignola's seminal work, this action packed story sees the legendary half-demon superhero (David Harbour, Stranger Things) called to England to battle a trio of rampaging giants. There he discovers The Blood Queen, Nimue (Milla Jovovich, Resident Evil series), a resurrected ancient sorceress thirsting to avenge a past betrayal. Suddenly caught in a clash between the supernatural and the human, Hellboy is now hell-bent on stopping Nimue without triggering the end of the world.
Hellboy
Directed by Neil Marshall
Produced by Lawrence Gordon, Lloyd Levin, Mike Richardson, Philip Westgren, Carl Hampe, John Thompson, Matthew O'Toole, Les Weldon
Screenplay by Andrew Cosby
Based on Hellboy by Mike Mignola
Starring David Harbour, Milla Jovovich, Ian McShane, Sasha Lane, Daniel Dae Kim, Thomas Haden Church
Music by Benjamin Wallfisch
Cinematography Lorenzo Senatore
Edited by Martin Bernfeld
Production companies : Lionsgate, Millennium Films, Campbell Grobman Films, Dark Horse Entertainment, Applebox Entertainment
Distributed by Summit Entertainment (United States), VVS Films (Canada), Metropolitan FilmExport (France)
Release date : April 12, 2019 (United States), May 8, 2019 (France)
Running time : 114 minutes
Photos and videos : Copyright Lionsgate