By Mulder, 20 september 2017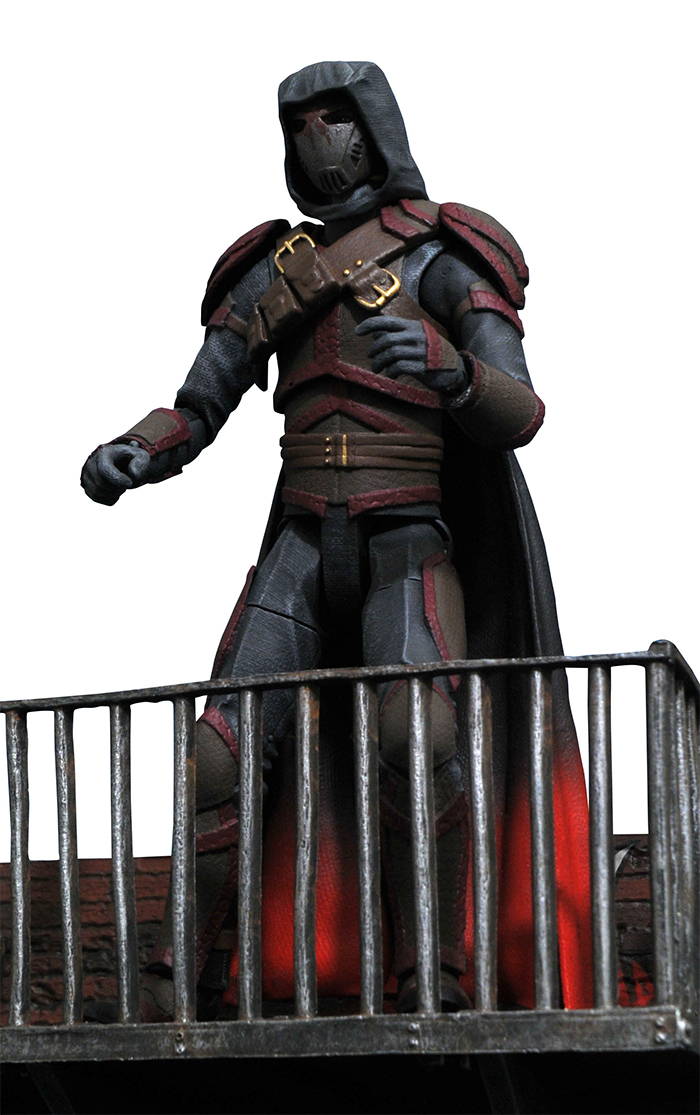 It's a DC-tastic week at comic shops, as Diamond Select Toys ships items from Gotham, Watchmen, Wonder Woman and Batman: The Animated Series! Plus, there's a new assortment of Nightmare Before Christmas Minimates, but most of them could probably double as obscure members of Batman's Rogue's Gallery in a pinch. Read on for details and pictures, then find a store near you at comicshoplocator.com, or order online at shop.diamondselecttoys.com!
A trio of new products from Batman: The Animated Series are arriving in time for the show's 25th anniversary! First up, a special 25th anniversary edition Harley Quinn bust, to celebrate the character's debut on the show 25 years ago! With an interchangeable head to represent her first episode, and a removable silver frame for her base, she's the perfect anniversary present for any Harley Quinn fan! Plus, Mr. Freeze makes his debut in in the Batman bust line, based on his classic cartoon appearance, and Batgirl is back in black as a new 10-inch PVC diorama (co-starring Clayface) based on her New Batman Adventures outfit! All three sculpted by Varner Studios!
Batman The Animated Series Harley Quinn 25th Ann. Bust (Item #MAR172722, SRP: $59.99)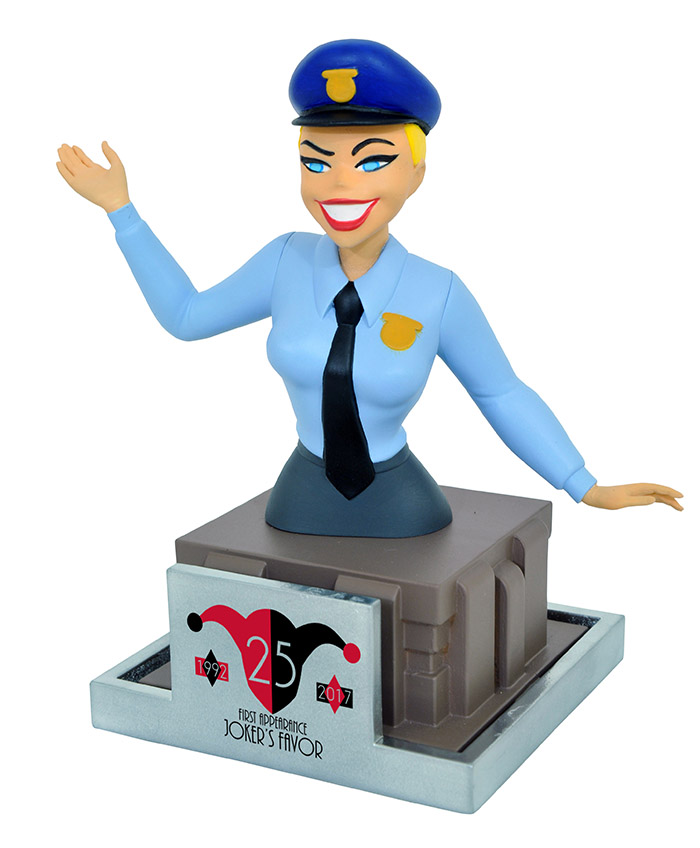 Batman The Animated Series Mr. Freeze Resin Bust (Item #MAR172721, SRP: $59.99)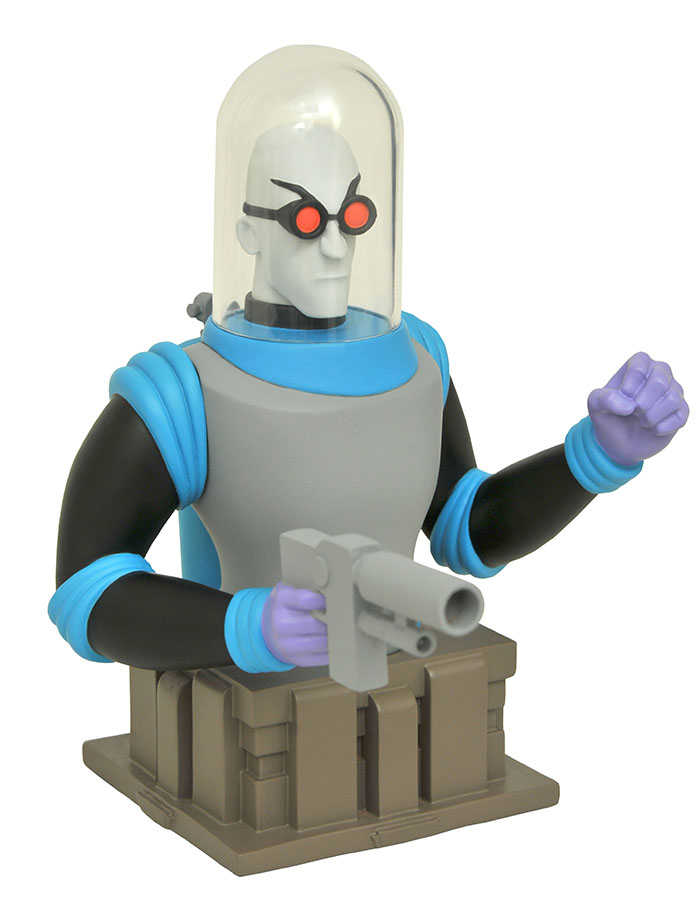 DC Gallery New Batman Adventures Batgirl PVC Diorama (Item # FEB172601, SRP: $45.00)

Just when you thought it was safe to go back to Gotham! The critically acclaimed action figure line based on the hit Fox TV series serves up the Wrath of the Villains, with three new 7" scale figures of Gotham's most dangerous men! Azrael, Mr. Freeze and Professor Hugo Strange each feature up to 16 points of articulation as well as character-appropriate accessories, and each comes with an awesome diorama piece inspired by the show! Hugo Strange comes with the conditioning chair from Arkham Asylum, and Freeze and Azrael each come with part of an alleyway, with Joker grafitti and political posters! Collect them both to build the diorama! Packaged in the display-ready Select packaging with side panel artwork for shelf reference. Sculpted by Gentle Giant!
Gotham TV Select Series 4 Azrael Action Figure (Item #SEP168901, SRP: $24.99)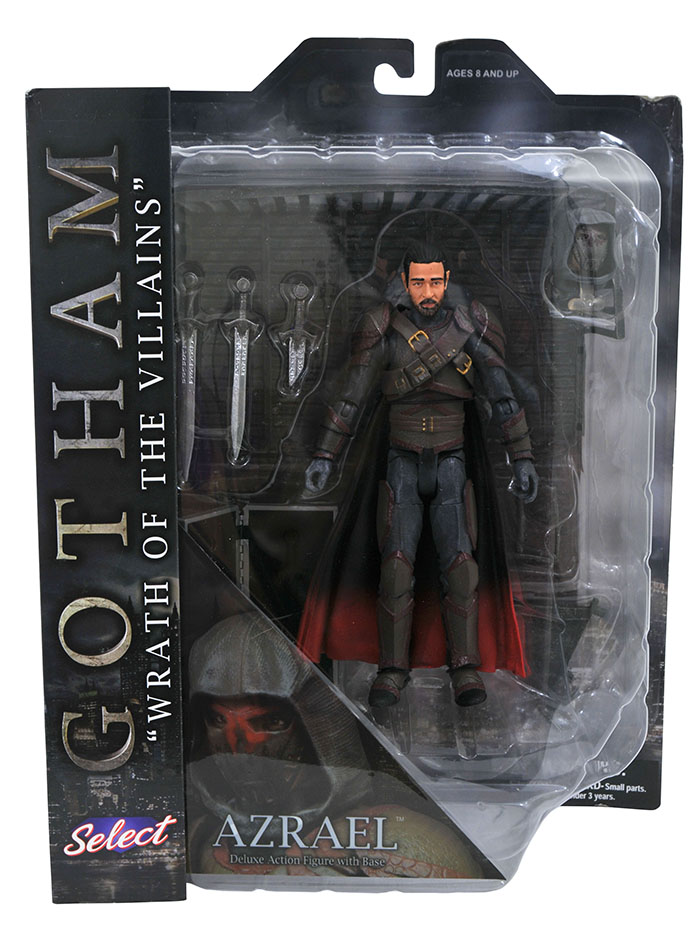 Gotham TV Select Series 4 Hugo Strange Action Figure (Item #SEP168900, SRP: $24.99)

Gotham TV Select Series 4 Mr. Freeze Action Figure (Item #SEP168899, SRP: $24.99)

Nightmare Before Christmas Minimates Series 4 2-Packs Asst. (Item #APR172631, SRP: $9.99)/ea.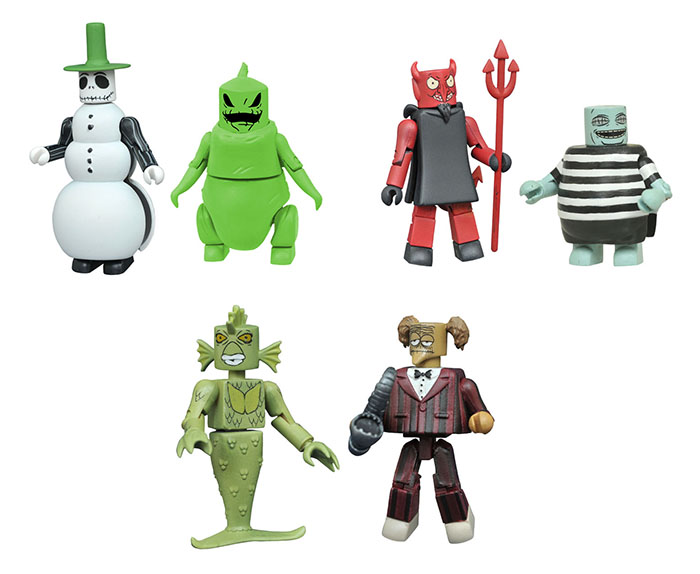 It's a new series of Nightmare Before Christmas Minimates and they're a dream come true! The cast of creepy characters expands with three new 2-packs: Snowman Jack with glow-in-the-dark Oogie Boogie, the specialty-exclusive Devil and Corpse Boy, and the also-exclusive Saxophonist with Undersea Gal! Each 2-inch Minimates mini-figure features up to 14 points of articulation with fully interchangeable parts, including a removable snowman costume! Each 2-pack comes packaged on a full-color blister card.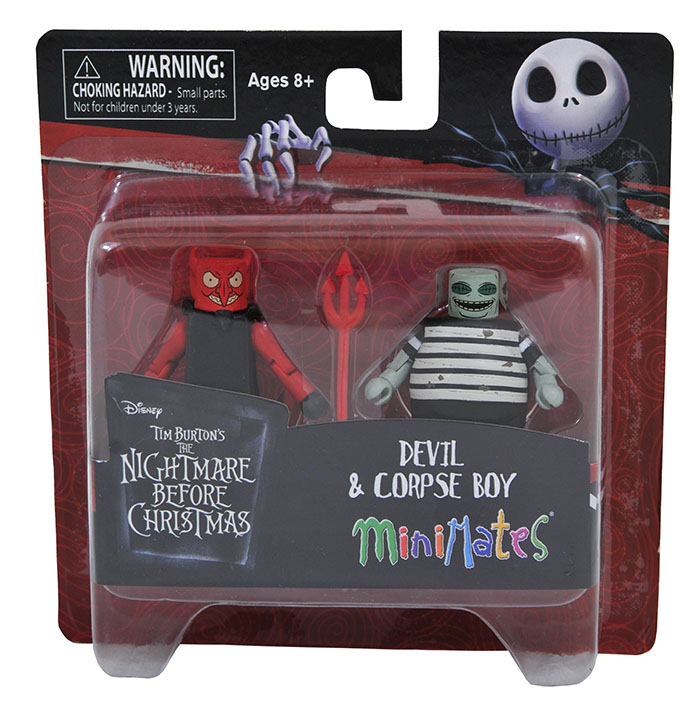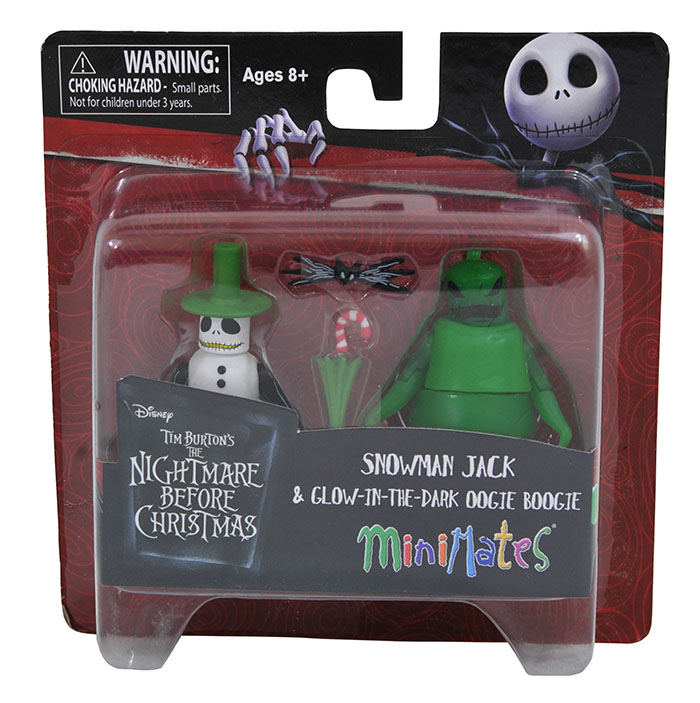 The Vinimates vinyl figure line explodes into the DC Comics cinematic universe with three more vinyl figures based on the Watchmen movie and our first-ever Vinimate based on Wonder Woman! Dr. Manhattan, Silk Spectre and Ozymandias join Nite Owl, Rorschach and the Comedian, and Diana in her training gear heralds the coming of the entire Justice League! Each 4-inch vinyl figure is sculpted in a pose straight from the movies, and each comes packaged in a full-color window box. The Watchmen Vinimates also have articulated necks.
Watchmen Vinimates Silk Spectre Vinyl Figure (Item #MAR172734, SRP: $9.99)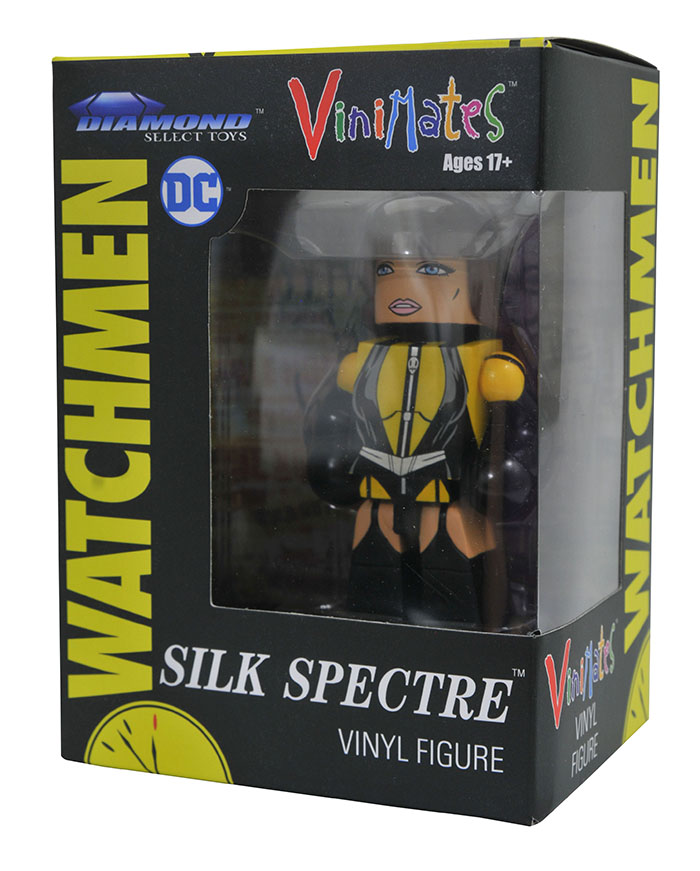 Watchmen Vinimates Dr. Manhattan Vinyl Figure (Item #MAR172735, SRP: $9.99)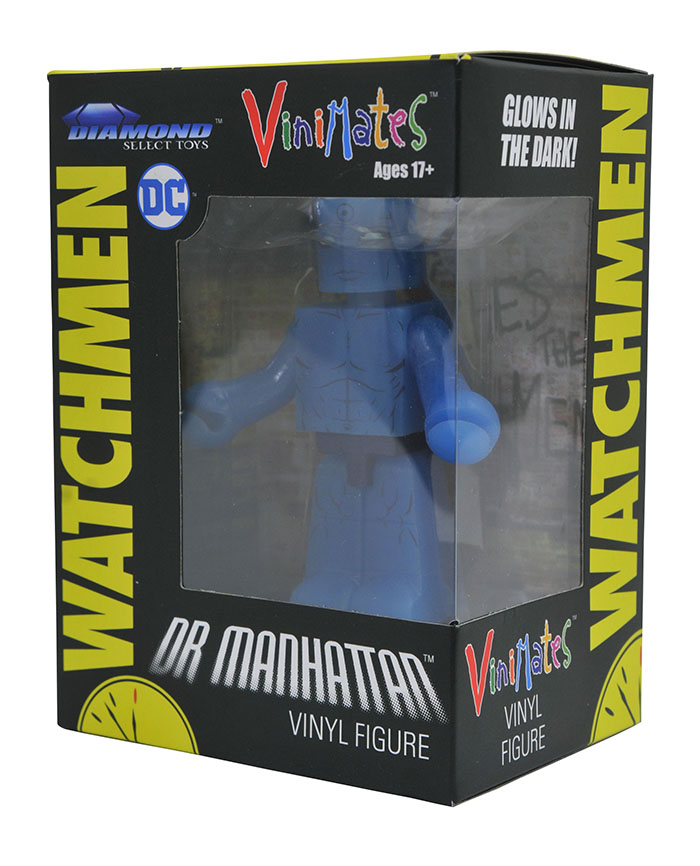 Watchmen Vinimates Ozymandias Vinyl Figure (Item #MAR17272236, SRP: $9.99)