By Mulder, New York, Crosby Street Hotel, 14 march 2023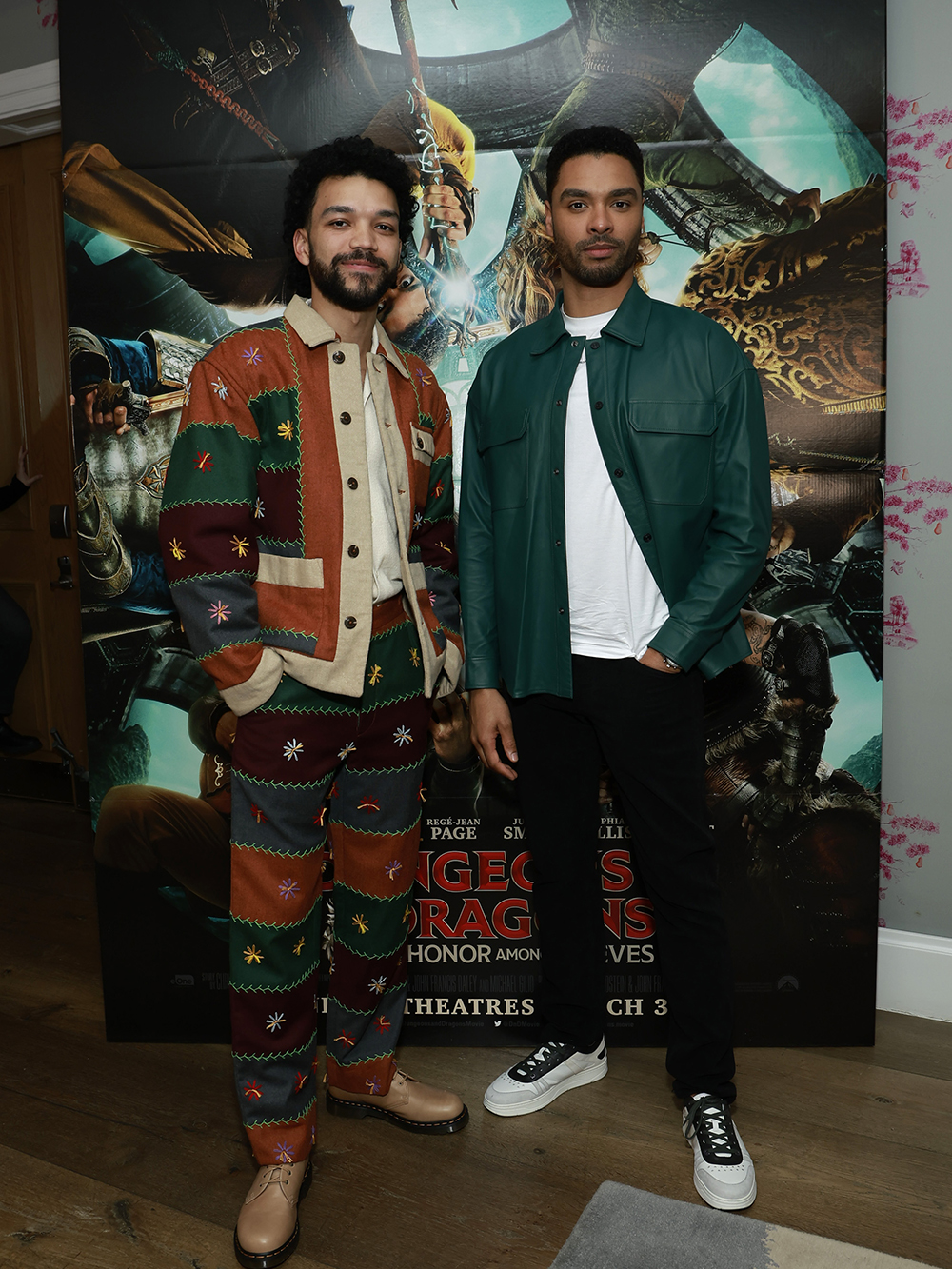 Justice Smith and Regé-Jean Page attend a Tastemaker Event in support of Paramount Pictures Dungeons & Dragons: Honor Among Thieves at the Crosby Street Hotel on March 14, 2023 in New York City, New York
itw Justice Smith

itw Rege JeanPage

Discover the official photos on our Flickr page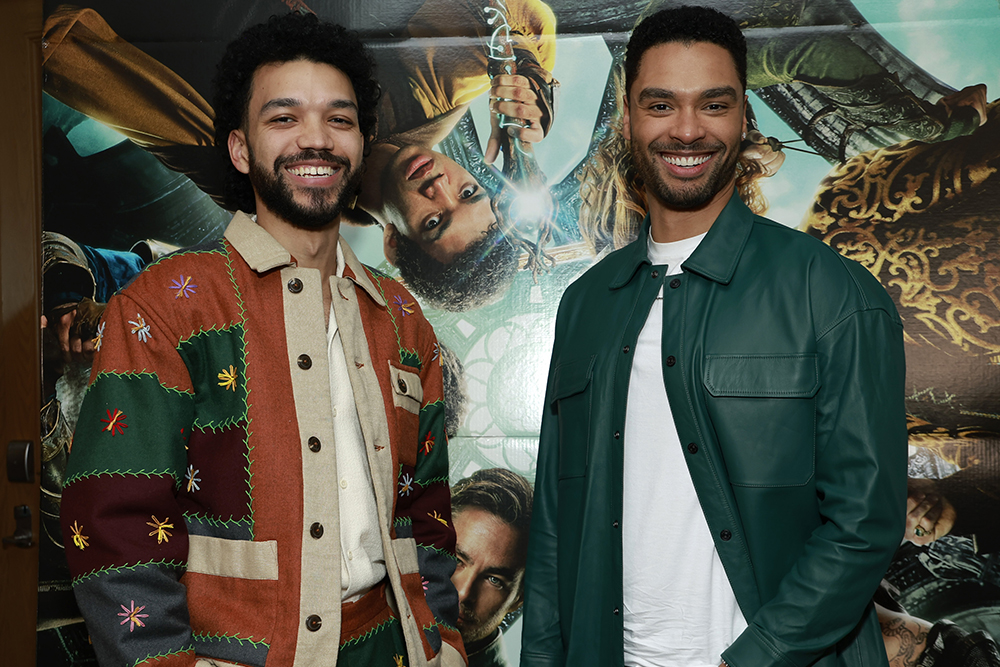 Dungeons & Dragons: Honor Among Thieves is an upcoming action comedy fantasy adventure film directed by Jonathan Goldstein and John Francis Daley, who co-wrote the screenplay with Michael Gilio from a story by Chris McKay and Gilio. Based on the tabletop role-playing game Dungeons & Dragons, it is set in the Forgotten Realms campaign setting and has no connections to the film trilogy released between 2000 and 2012. The film stars Chris Pine, Michelle Rodriguez, Regé-Jean Page, Justice Smith, Sophia Lillis, and Hugh Grant.
Production of the film went through various phases in development since 2013, beginning with Warner Bros. Pictures after beating Hasbro and Universal Pictures in a lawsuit over the film rights to the tabletop role-playing game, before moving to Paramount Pictures, each with various writers and directors. Goldstein and Daley were the final writers/directors, using elements from the previous attempt by director Chris McKay and screenwriter Michael Gilio. Filming began in April 2021 in Iceland and later Northern Ireland.
On May 7, 2013, Warner Bros. Pictures and Courtney Solomon's Sweetpea Entertainment announced a film based on Dungeons & Dragons with David Leslie Johnson-McGoldrick writing the script and Roy Lee, Alan Zeman, and Solomon producing. Two days later, Hasbro issued a lawsuit saying that they were co-producing a Dungeons & Dragons film at Universal Pictures with Chris Morgan writing and directing. On August 3, 2015, after U.S. District Judge Dolly Gee urged Sweetpea Entertainment and Hasbro to settle the film rights case, the Warner Bros. film was set for pre-production with Hasbro. On March 31, 2016, Rob Letterman was in negotiations to direct Johnson-McGoldrick's script, with his role confirmed on May 13, 2016. In April 2017, actor Joe Manganiello, an avid fan of Dungeons & Dragons, revealed that he had written a script with John Cassel for the project and was "talking to all the right parties" to make the film happen. Upon completing the script, Manganiello worked in collaboration with Brad Peyton and Dwayne Johnson, who were both in negotiations to develop the film.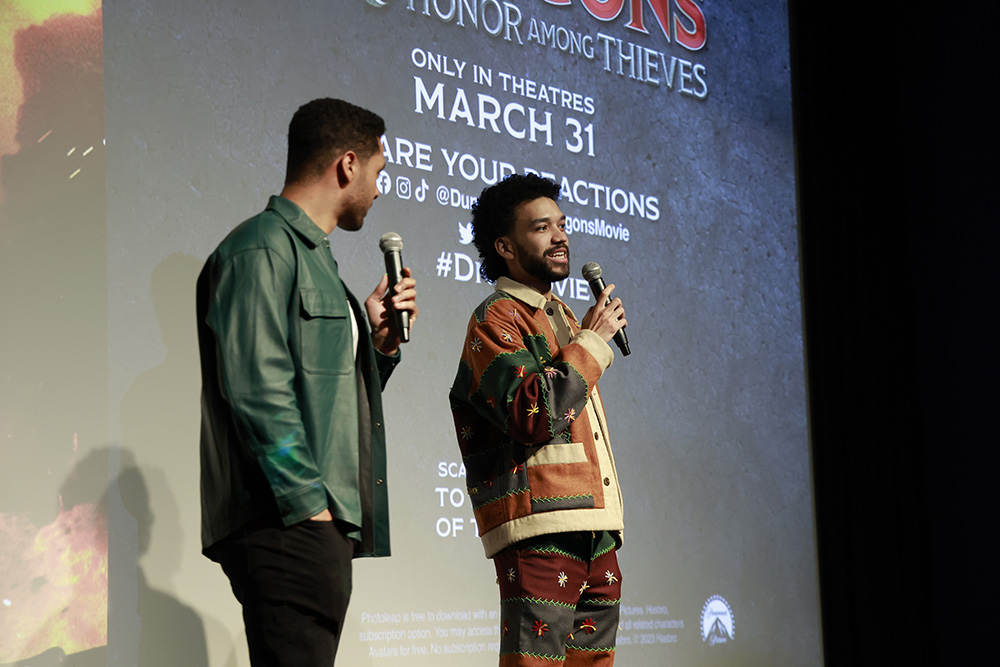 In December 2017, after varying degrees of progression, the film was moved by Hasbro to Paramount Pictures and was scheduled for a release date of July 23, 2021. In February 2018, Paramount was in talks with both Chris McKay and Michael Gilio to direct and write the film, respectively. In March 2019, it was revealed that Gilio had completed a first draft and studio executives expressed excitement for the film. The studio began negotiations with various talent, as the casting process began. On July 30, 2019, Jonathan Goldstein and John Francis Daley were in talks to direct. By January 2020, the filmmaking duo announced that they had co-written a new draft of the script. Ultimately, Daley, Goldstein, and Gilio received screenplay credit, while McKay and Gilio received story credit. In December 2020, Chris Pine was cast to star in the film. Michelle Rodriguez, Justice Smith, and Regé-Jean Page were added in February 2021. Hugh Grant and Sophia Lillis would join the next month, with Grant cast as the antagonist. In April, Chloe Coleman joined the ensemble cast. In May, Jason Wong and Daisy Head joined the cast. In July 2022, at a panel at San Diego Comic Con, it was revealed that cast members from the Dungeons & Dragons web series Critical Role would make cameo appearances in the film. Filming began in early April 2021, with a crew of 60-70 people in Iceland. Principal photography commenced in Belfast, Northern Ireland later that month. On August 19, 2021, Daley announced that filming had completed.
Dungeons & Dragons: Honor Among Thieves is set to premiere at South by Southwest on March 10, 2023, and is scheduled to be released in the United States on March 31, 2023 by Paramount Pictures.
Synopsis :
A handsome thief and a band of unlikely adventurers embark on an epic heist to recover a lost relic. Things go awry when they incur the wrath of the wrong people. Dungeons & Dragons: Honor of Thieves brings the rich world and playful spirit of the legendary role-playing game to the big screen in a hilarious, action-packed adventure.
Dungeons & Dragons: Honor Among Thieves
Directed by Jonathan Goldstein, John Francis Daley
Written by Jonathan Goldstein, John Francis Daley, Michael Gilio
Story by Chris McKay, Michael Gilio
Based on Dungeons & Dragons by Hasbro
Produced by Jeremy Latcham, Brian Goldner, Nick Meyer
Starring Chris Pine, Michelle Rodriguez, Regé-Jean Page, Justice Smith, Sophia Lillis, Hugh Grant
Cinematography : Barry Peterson
Edited by Dan Lebental
Music by Lorne Balfe
Production company : Entertainment One
Distributed by Paramount Pictures
Release dates : March 10, 2023 (SXSW), March 31, 2023 (United States), April 12, 2023 (France)
Photos : Copyright Jason Mendez / Getty Images for Paramount Pictures (for press use)