By Mulder, Los Angeles, 21 september 2022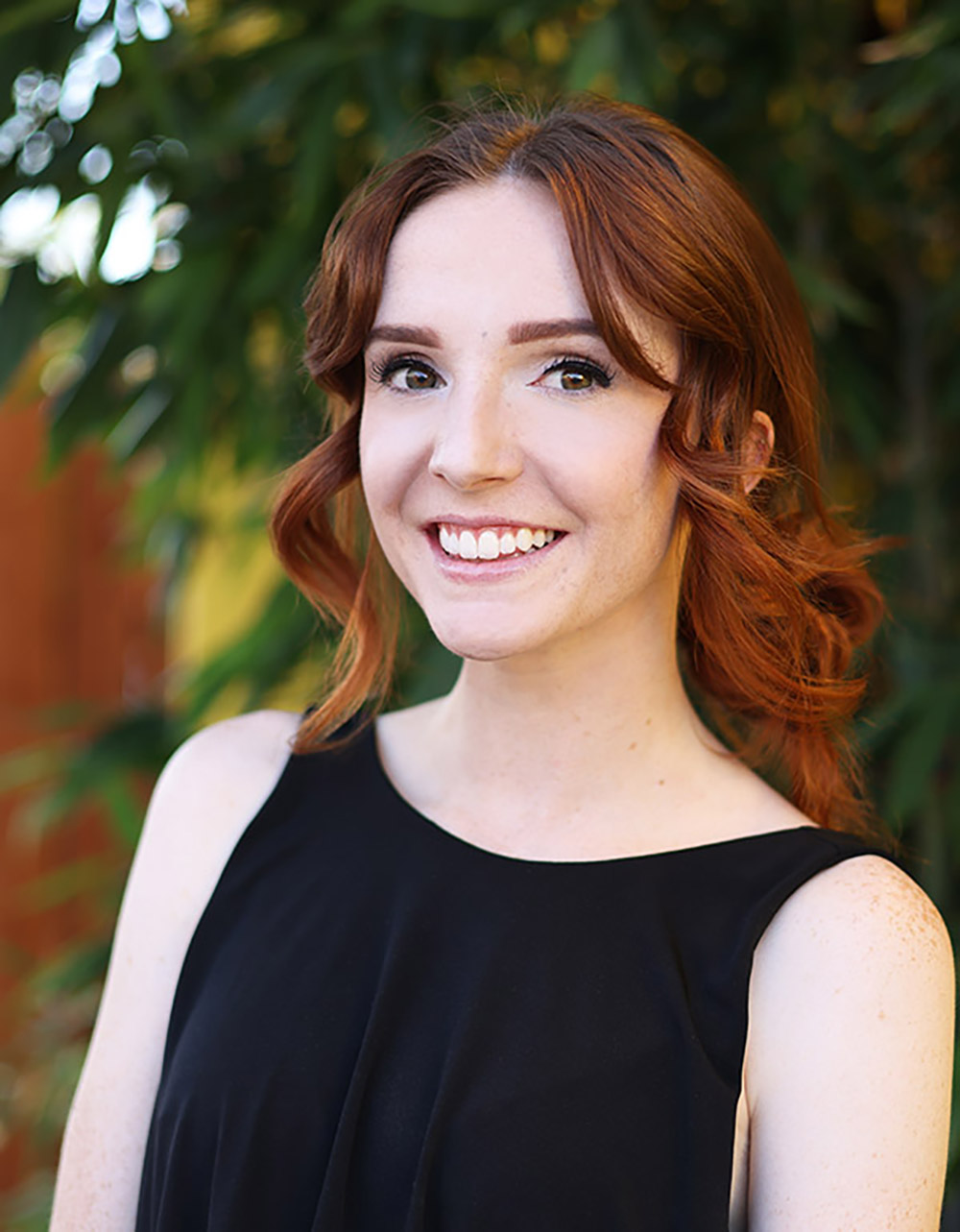 When a childhood doll became possessed by the soul of a serial killer in 1988, Chucky slashed his way across the silver screen and became one of the most terrifying and well-loved horror movie butchers of the '80s. Now, with eight movies under his belt and a currently airing television series, Chucky is ready for his next project: a documentary about his legacy. Living with Chucky is an ode to a horror franchise and a movie monster icon directed by Kyra Elise Gardener, the daughter of one of Chucky's longtime visual effects supervisors. Having grown up with a Chucky doll in her home since childhood, the filmmaker recounts the behind-the-scenes process of bringing the doll to life as well as the cultural impact of Chucky and his bloodthirsty family on modern horror.
We had the opportunity to interview Kyra Gardner about the so awaited film documentary Living with Chucky
Q : Hello Kyra Elise, I am a huge Chucky lovers since the first movie Child's play. What can you tell us about your background and your inspiration to become a documentary director ?
Kyra Elise Gardner : Well, I went to Florida State University to get a degree in filmmaking and it's one of the few programs I think that actually teaches documentary. They have a documentary semester. So, I actually never was intending to go into the documentary genre but then I took that semester and fell in love with storytelling in this capacity and I originally set out to make a short documentary on having a dad as a special effects makeup artist Tony Gardner but then it kind of became a focused piece on a franchise that he's worked on that has encompassed my entire life which is Chucky and so that's how this feature kind of came about was exploring it as a short and then expanding upon it in a feature length.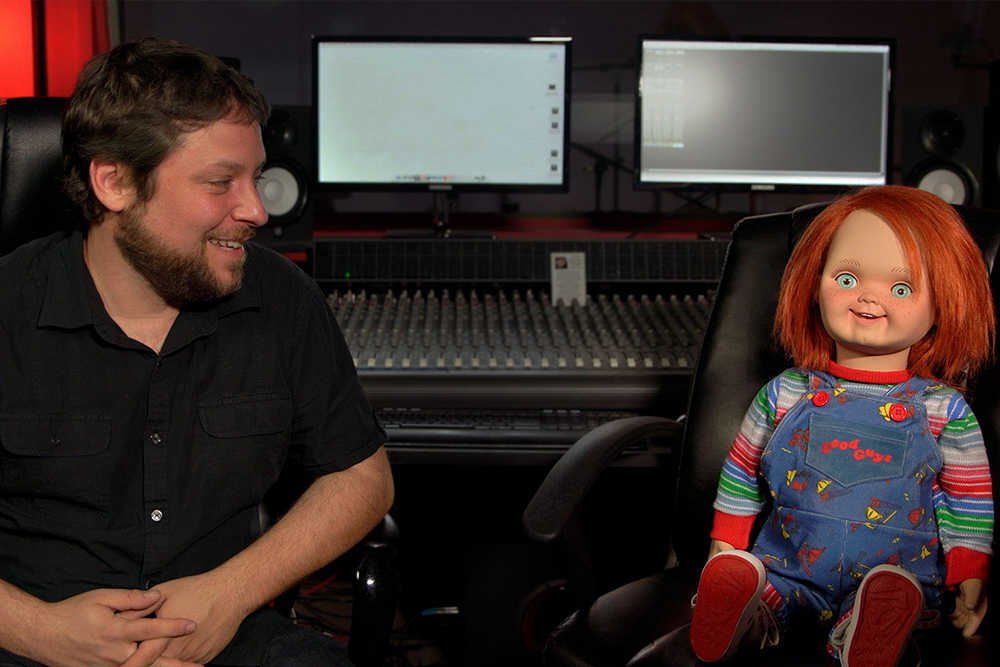 Q : In a few words how can you describe the movie Living with Chucky ?
Kyra Elise Gardner : oh goodness, that's a pressure. A filmmaker explores the relationships between the families at home and the families onset of making the child's play films
Q : Chucky seems to be an important part in your life. You father Tony Gardner is the lead Chucky puppeteer since Seed of Chucky in 2004 and actually work on the series. How can you describe the Chucky's world impact on your childhood and actual life ?
Kyra Elise Gardner : the impact he had on my childhood, dear Lord. My childhood was very Fantastical and Chucky was always a part of it. I'm an October baby so he was always at my birthday parties growing he was scaring my friends and making them cry which was an interesting facet of my childhood and then you know growing up and my dad working on them kind of just gave me a deeper appreciation of the work that goes into those movies and the people who make them especially puppeteers and everything that they have to put into making your favorite characters come to life.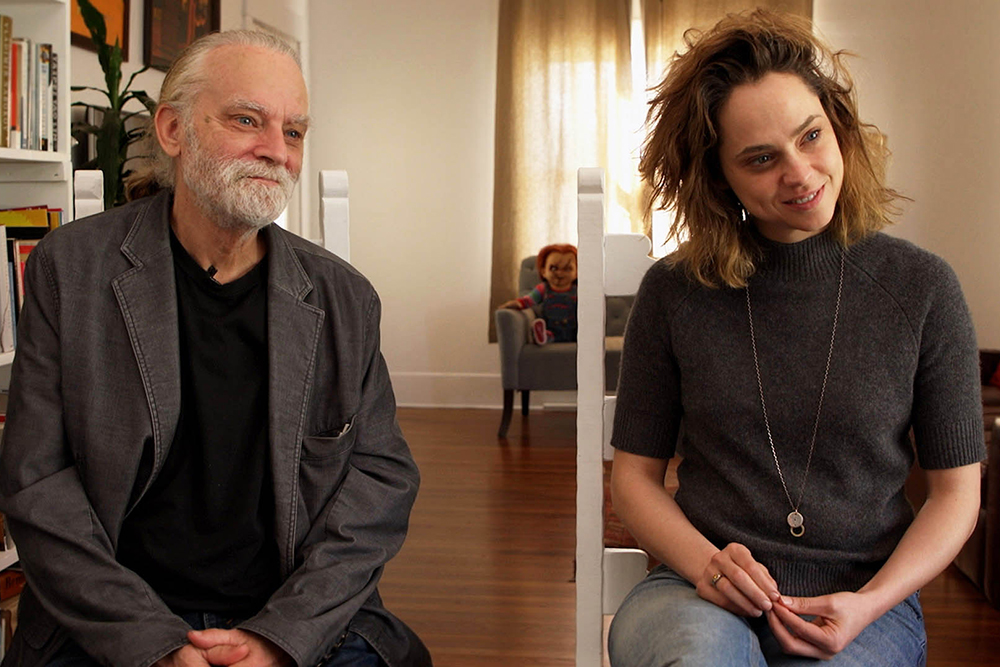 Q : In Living with Chucky you give fascinating anecdotes about the making of the Chucky movies but also about the current series. However, one film is not mentioned? Can you tell us about this choice ?
Kyra Elise Gardner : oh the reboot. The 2019 remake is what you're talking about. The choice there to not talk about that movie was just none of the original people on the franchise John Mancini, David Kirschner, Brad Dourif weren't involved in that movie and you know MGM which is now Amazon had the rights to that film. So because it didn't involve anybody from the original series I just felt including it in the documentary especially at the time code that it would come into just would kind of feel like almost a side tangent because those people aren't still with the series or anything like that. It was kind of just a one-off thing so that's why it's not covered because it was it didn't involve any of these people and was a total different storyline than Chucky it isn't really Chucky. You know it's an AI doll and isn't a voodoo inspired serial killer. So it didn't seem to be something that I was interested in exploring especially if the documentary was coming from a familial aspect those names you know don't resonate on a on a familiar aspect I don't know any of them of course.
Q : Living with Chucky is finally premiering in some days at Fantastic Fest after been presented In London Frightfest . How are you feeling about that ?
Kyra Elise Gardner : Super excited. This will be my first time playing at Fantastic Fest which will be really fun. I've heard nothing but wonderful things about his festival and how it celebrates you know the more Niche genres which is so awesome because I think horror is always underrepresented in the film industry so it's so cool to be a part of a big Festival that really celebrates filmmakers and horror filmmakers and so on we grew up.
Q : As someone who grew up with the Chucky Franchise, what are your explanation of this great success and that this dolls becomes a pop culture figure ?
Kyra Elise Gardner : You know, I think Chucky has a longevity because it is the same people who have been behind it for 35 years like Don Mancini is still doing it and show running the TV series which is fantastic and it's always been practical. I think that's really the thing that people respond in pop culture and as for fans it's something real and it's something that is actually on set the that the actors are interacting with and they know it's not CGI and I know we touched on that in the documentary but I think that really is a testament to its longevity and it's always progressed and tried to do something new throughout the movies and also the TV series it's satisfying younger generation fans gen Z bringing it to teenagers today and those issues while still touching on in issues with adults and those themes and satisfying both their fans by bringing back your favorite characters like Andy and Kyle are back in the TV series. I think it's just there's always something new and it's always uh sticking to its roots because the same core people have always been involved.
Q : Can you share some details about your long interview with Brad and Fiora Dourif ?
Kyra Elise Gardner : Interviewing Fiona and Brad was really special. Brad actually flew out from New York to do the interview which I really appreciated and it was interesting to see how similar Fiona and mine childhoods were in some capacity of her dad being an actor and mine being a special effects makeup artist you know movies are something that take time and film in Far Away places so it's interesting especially to hear that she was actually around the same age I was when my dad started on the Chucky films as well and so Fiona hearing her dad scream like he's being burned alive in the ADR booth at six years old and being traumatized. It was so interesting to me considering I've watched my dad die when I was eight and was traumatized by that as well so it's parallel lives we've LED which was so interesting to talk about in person and also to hear Brad's experience as an actor and what it's like to play a serial killer he has some amazing moments on talking what about what that's like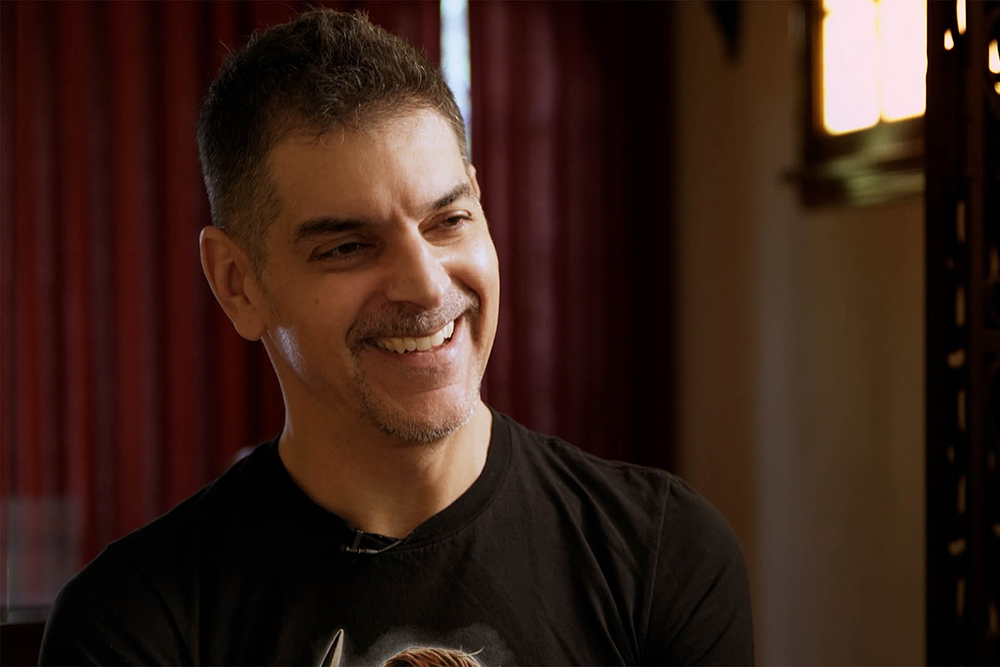 Q : Which is your favorite Chucky movie and why ?
Kyra Elise Gardner : my favorite Chucky's movie is Child's Play two. I really like Andy and Kyle's relationship in the second one and exploring a parent Dynamic. I love the color palette of that movie The Pink House and then the Toy Factory at the end is really fun and I think that ending is really iconic.
Q : Do you know which are the distribution wordwide plans for Living with Chucky ?
Kyra Elise Gardner : I've signed with the sales team Yellow Veil Pictures which is a great amazing team and very supportive and we are figuring out distribution and looking for North American sales right now so hopefully it'll be somewhere where you can watch it at home instead of your favorite.
Q : In seed of Chucky your father was decapited. It must have been a difficult experience in your childhood or did you know that it was only a movie and not the reality?
Kyra Elise Gardner : As an eight-year-old that was very hard to decipher while watching and the truth is I didn't know because my parents didn't tell me that he was in a movie or kind of explain it to me they tried to keep me away from it which was probably the downfall because I watched it anyways so I would I called my dad after I watched it and was crying because I was convinced he had died but we had a conversation after that and my parents kind of walked me through it and after that I kind of had more of an understanding of fake and reality which was good so I was kind of a push into the deep end.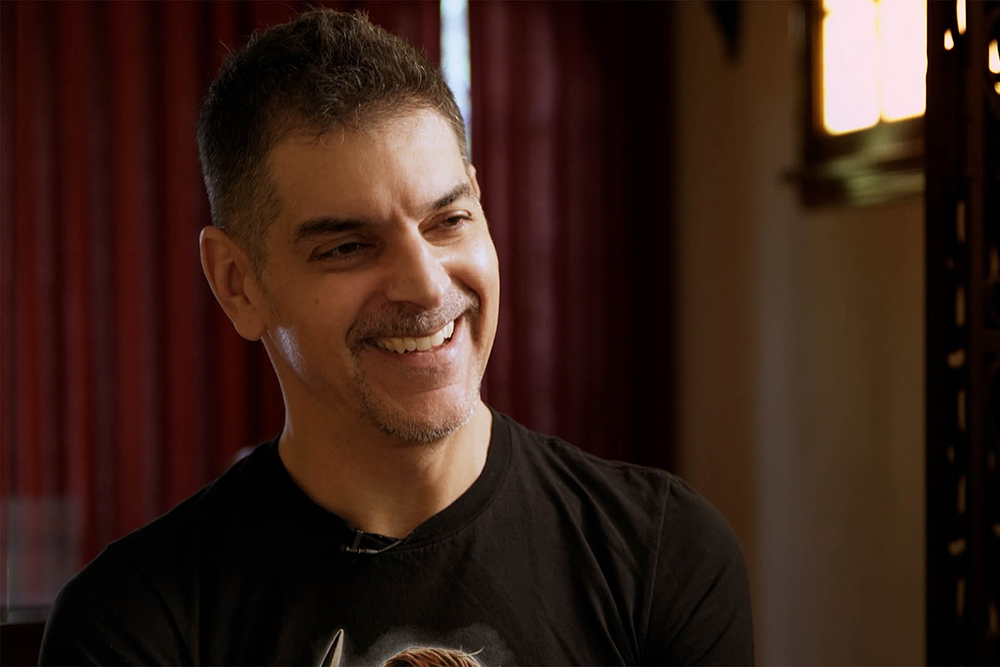 Q: what can you tell us about your next projects ?
Kyra Elise Gardner : I recently shot and directed the making of the Foo Fighters horror movie Studio 666 that came out in February of this year so I hope that gets put together for people to see at some point obviously not right now and then I am currently writing my first narrative for feature script that is a period piece which is super fun. By the way, I love your shirt (a Chucky black tee shirt)
With a dad in special effects makeup, blood and guts became a normality for Kyra Elise Gardner at a young age. Combat nursing was her first goal, but she soon discovered that real blood is way grosser than the fake stuff. She's been pursuing a career in directing since attending Florida State's film program and plans on creating quirky fantastical films from the lore of her unconventional childhood.
Living with Chucky
Written, produced, editor and directed by Kyra Elise Gardner
Starring Abigail Breslin, Adam Hurtig, Alex Vincent, Billy Boyd, Christine Elise McCarthy, Dan Povenmire, David Kirschner, Don Mancini, Elle Lorraine, Brad Dourif, Fiona Dourif, James A. Janisse, Jennifer Tilly, John Waters, Kyra Gardner, Lin Shaye, Marlon Wayans, Tony Gardner, Tony Timpone, Josh Schneider, Day Blackmon, Frank Minaya, Anne Richardson Collection
Music by Jerry Lambert
Cinematography : Scott Marino
Distributed by Yellow Veil Pictures
Running time : 100 minutes
With thanks to Kyra Elise Gardner for answering our questions