By Mulder, Los Angeles, Hollywood, TCL Chinese 6 Theaters, 24 august 2022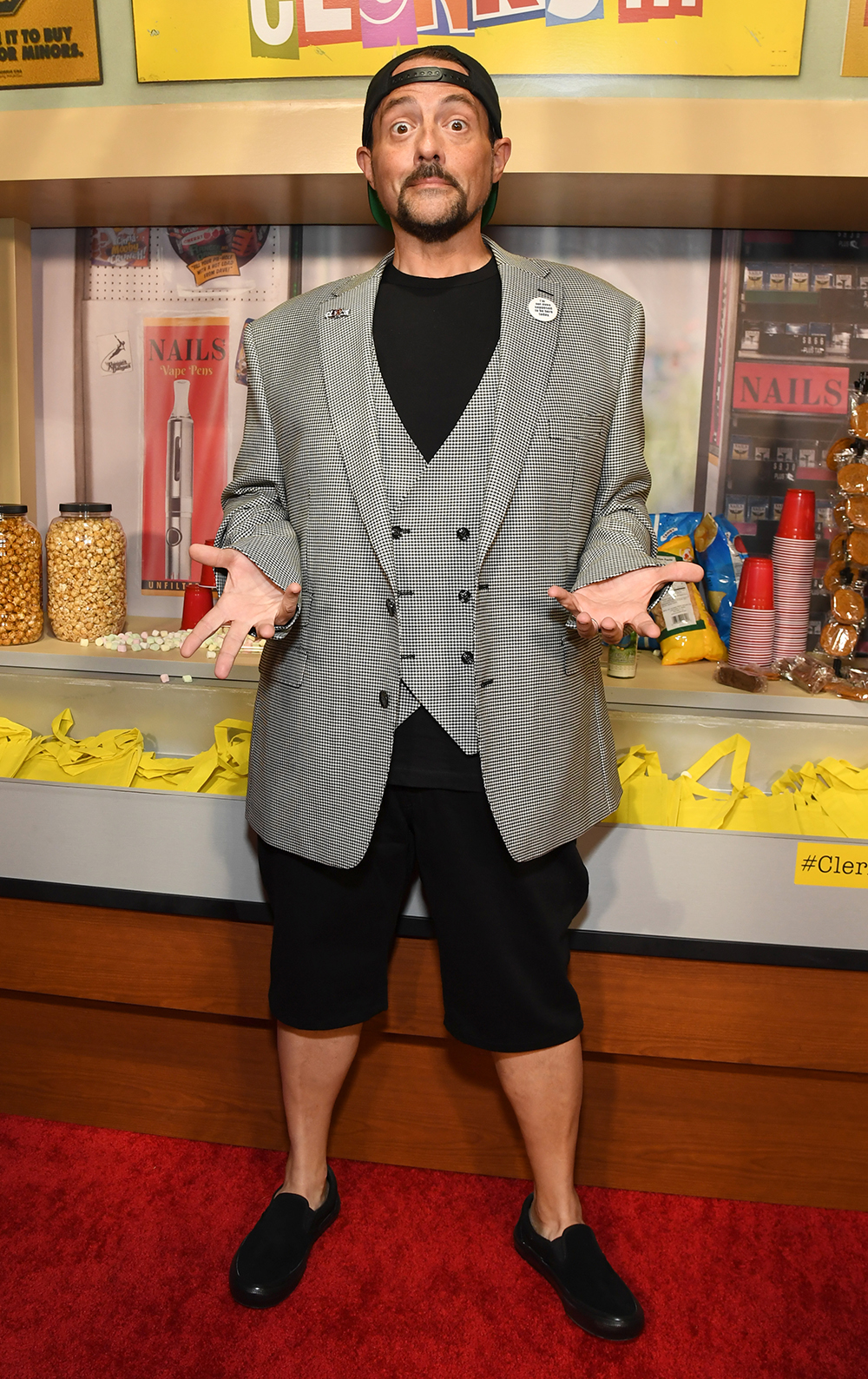 " It'll be a movie that concludes a saga. It'll be a movie about how you're never too old to completely change your life. It'll be a movie about how a decades-spanning friendship finally confronts the future. It'll be a movie that brings us back to the beginning—a return to the cradle of civilization in the great state of #newjersey. It'll be a movie that stars Jeff and Brian O'Halloran, with me and Jay in supporting roles. " – Kevin Smith
Eda Kowan, Jonah Leach, Kevin Smith, Jason Mewes, Rosario Dawson, Brian O'Halloran, Jeff Anderson and Jason Constantine attended Clerks III Premiere at the TCL Chinese 6 Theaters on August 24, 2022 in Los Angeles, California. You can discover the official photos on our Flickr page here
You can discover also the official interviews just below :
Itw Austin Zajur

Itw Brian O'Halloran

Itw Danny Trejo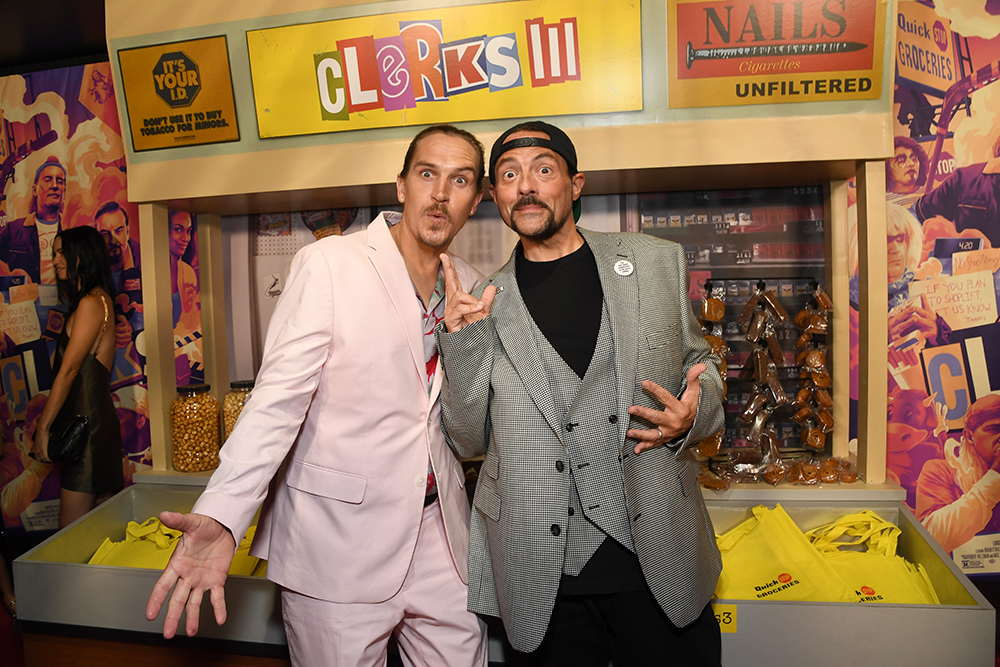 Itw Harley Quinn Smith

Itw Jeff Anderson

Itw Kate Micucci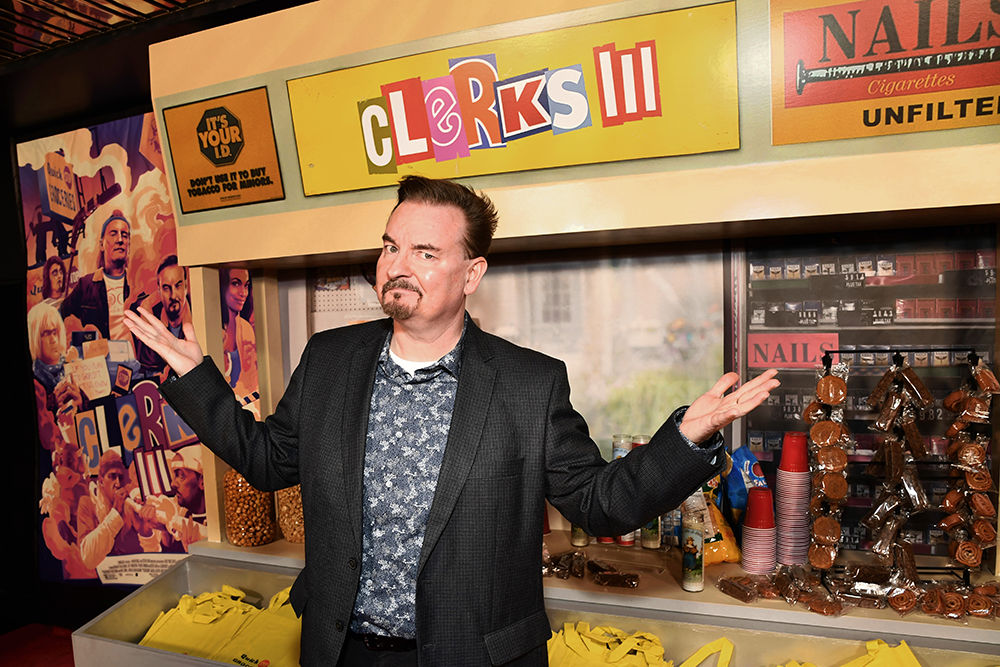 Itw Kevin Smith (Writer/Director)

Itw Learan Kahanov (Cinematographer)

Itw Marilyn Ghigliotti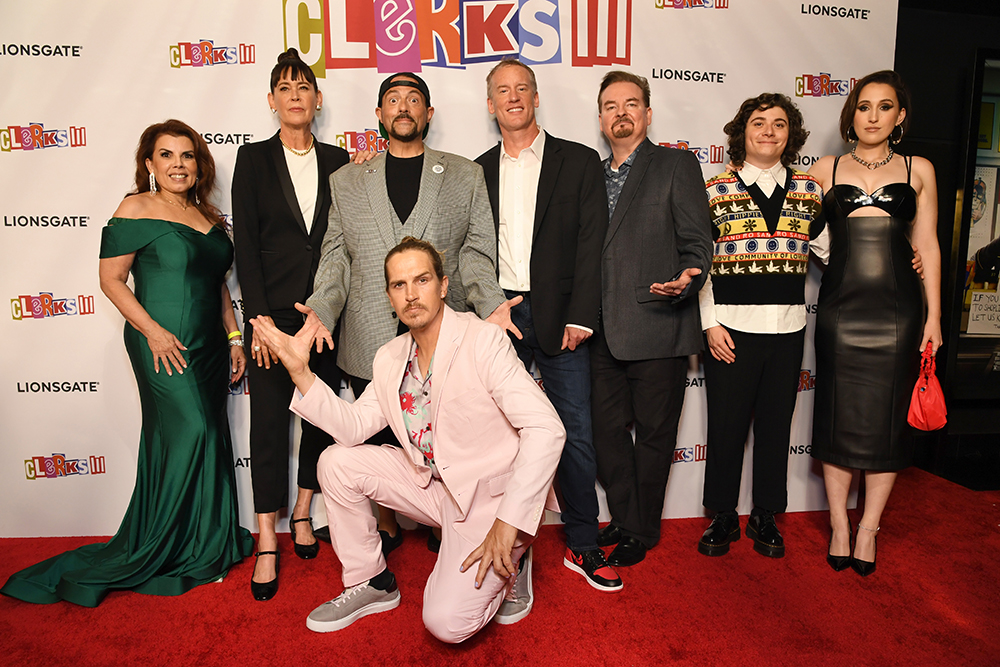 Clerks III is an upcoming American comedy film written, produced, directed, and edited by Kevin Smith. It is intended to serve as the sequel to the 1994 and 2006 films, and the ninth overall feature film set in the View Askewniverse. Starring Brian O'Halloran, Jeff Anderson, Trevor Fehrman, Austin Zajur, Jason Mewes, Rosario Dawson and Smith; the film revolves around Randal Graves, who after surviving a heart attack, wants to make a movie with Dante Hicks about their lives at the Quick Stop.
During press for Clerks II, Kevin Smith briefly discussed the possibility of a Clerks III. Stating that "if there's ever gonna be a Clerks III, it would be somewhere down the road in my 40s or 50s, when it might be interesting to check back in on Dante and Randal. But I don't know about Jay and Bob so much, 'cause at 45, leaning on a wall in front of a convenience store might be a little sad." Smith repeated this sentiment on one of the audio commentary tracks on the Clerks II DVD, to which Jeff Anderson jokingly replied, "Oh, don't get me started", referring to Anderson's well known doubts about making Clerks II when first approached by Smith. On December 10, 2012, Smith released a special Hollywood Babble-On episode, Hollywood Babble-On #000: Giant sized annual # 1: clerks iii, audience 0, in which he revealed greater details on his plans for Clerks III. Smith stated that an ongoing audit over residuals from Clerks II with The Weinstein Company was causing a delay in several key Clerks III cast and crew members, including Anderson and Scott Mosier, from coming on board until the audit was resolved.
Smith worked on a script for Clerks III from March to May 2013, stating when he completed it that it was "The Empire Strikes Back" of the series. There were plans to start shooting Clerks III in May 2015, but these were put on hold to film another sequel, Mallrats 2.However, by June 2016 the plans for a Mallrats sequel had been turned into plans for a Mallrats TV series. The initial plans to film Clerks III came to a halt in 2017, when Smith announced that one of the four leads, whom he later revealed to be Jeff Anderson, opted out of reprising his role despite a completed script. At the time, Smith doubted the film would ever be made. In 2018, Smith suffered a near-fatal heart attack before one of his comedy shows. This experience inspired him to rewrite the Clerks III script from scratch, doing away with the original planned storyline. In July 2019, Smith announced that he would do a live reading of the original, now-aborted Clerks III script at the First Avenue Playhouse in Atlantic Highlands, New Jersey. The reading was held on August 3, 2019. That same month, Smith revealed at San Diego Comic Con that he was writing a new script for Clerks III and promised to make the film.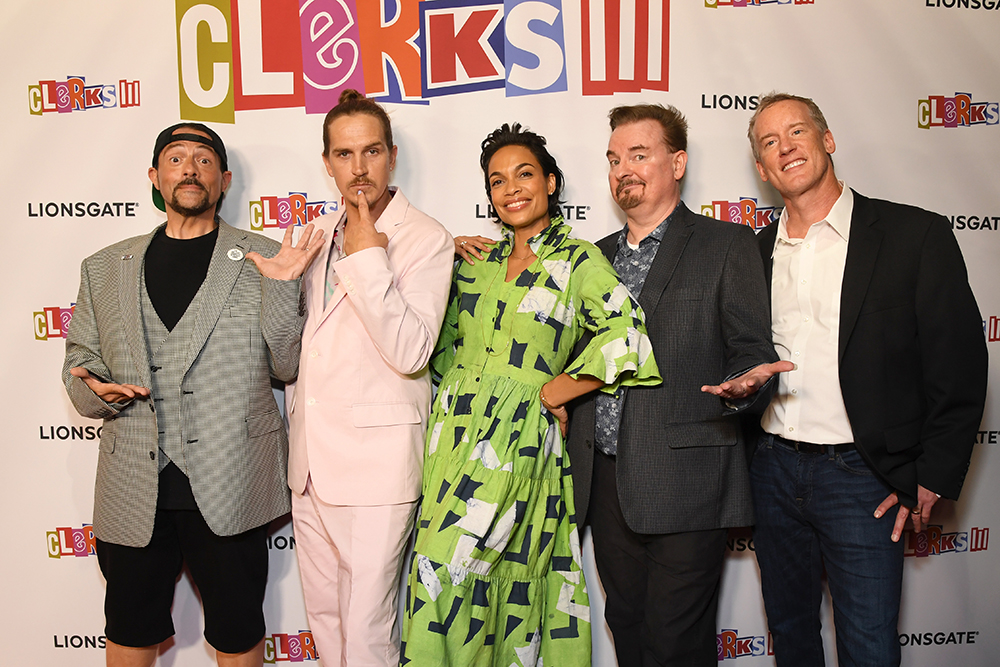 The new script will follow Randal, after surviving a heart attack, and Dante making a movie about their lives at the store, a plot initially conceived as a film adaptation of Clerks: The Animated Series titled Clerks: Sell Out. In January 2021, Smith announced the script was complete. In July 2021, Lionsgate obtained the rights to produce and distribute the film, while also confirming Rosario Dawson and Trevor Fehrman would reprise their roles of Becky Scott and Elias Grover from Clerks II respectively. Principal photography began on August 2, 2021, in Red Bank, New Jersey. Filming wrapped on August 31, 2021.
Post-production was completed on February 13, 2022, with Smith announcing a trailer was slated to debut in May.On May 28, 2022, Smith stated he viewed the first cut of the trailer and was set to release it during San Diego Comic-Con 2022, which would run from July 21–24.On June 29, 2022, Smith announced the trailer would instead drop online on July 6. Clerks III is set to have its world premiere on September 4, 2022, in Red Bank, New Jersey, followed by its wide release on September 13, by Lionsgate and Fathom Events. The film was previously scheduled for release in July 2022.
Synopsis :
After suffering a massive heart attack, Randal enlists friends and fellow clerks Dante, Elias, Jay and Silent Bob to help him make a movie about life at the Quick Stop.
Clerks III
Written and directed by Kevin Smith
Based on Characters by Kevin Smith
Produced by Liz Destro, Jordan Monsanto, Kevin Smith
Starring Brian O'Halloran, Jeff Anderson, Trevor Fehrman, Austin Zajur, Jason Mewes, Rosario Dawson, Kevin Smith
Cinematography: Learan Kahanov
Edited by Kevin Smith
Music by James L. Venable
Production companies : View Askew Productions, Bondit Media Capital, Mewesings, Destro Films, Three Point Capital
Distributed by Lionsgate
Release dates : September 4, 2022 (Red Bank, New Jersey), September 13, 2022 (United States)
Photos : Copyright Getty Images for Lionsgate
Photos : Getty Images for Lionsgate