By Alvin H Revilas, San Diego, Comic-Con Museum, 30 june 2022
While the San Diego comic-con is only 21 days away, we were able to discover very early this morning during a press morning the must-see exhibition in the beautiful city of San Diego. What a pleasure to dive back into the Spider-man universe from its creation in 1962 until now. Through a journey through time, this perfectly designed exhibition immerses us totally in the universe of this emblematic Marvel-Comics character. Through numerous comic book plates, photos, emblematic objects of comics, movies and video games, we take a real pleasure to follow this exhibition which requires at least a good hour and a half to be read, listened and when we leave we have only one idea to dive back into the movies of Columbia Pictures and Marvel Studios and the comics of Marvel editions.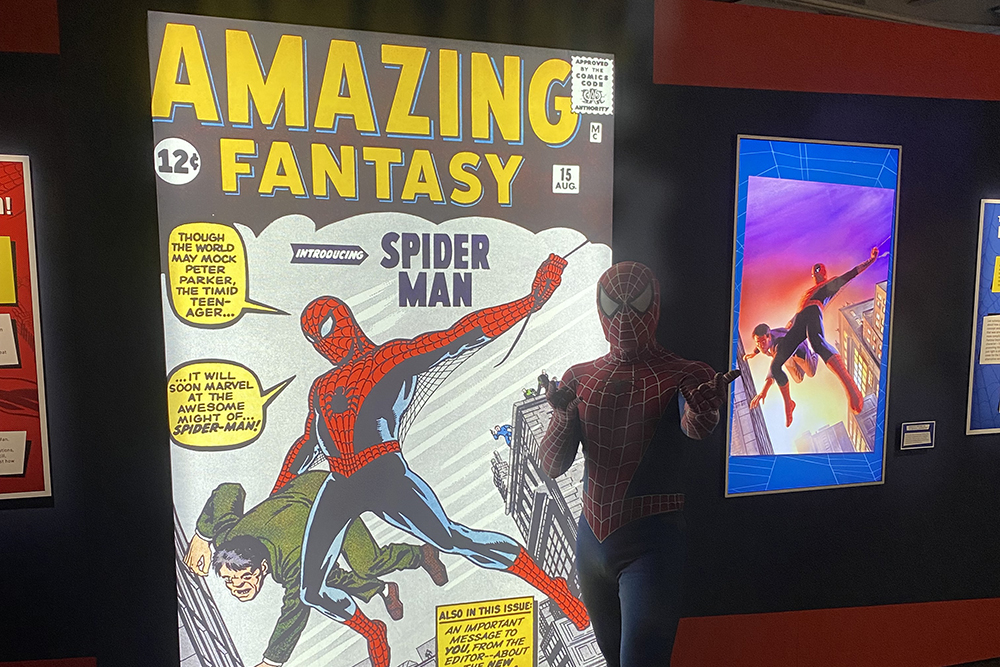 Sixty Years of Spider-Man Displayed in Groundbreaking Exhibit, Located in San Diego's Historic Balboa Park
Created by writer-editor Stan Lee and artist Steve Ditko, he first appeared in the anthology comic book Amazing Fantasy #15 (August 1962) in the Silver Age of Comic Books. He has since been featured in films, television shows, video games, and plays. Spider-Man is the alias of Peter Parker, an orphan raised by his Aunt May and Uncle Ben in New York City after his parents Richard and Mary Parker died in a plane crash. Lee and Ditko had the character deal with the struggles of adolescence and financial issues and gave him many supporting characters, such as Flash Thompson, J. Jonah Jameson, and Harry Osborn; romantic interests Gwen Stacy, Mary Jane Watson, and the Black Cat; and foes such as Doctor Octopus, the Green Goblin, and Venom. In his origin story, he gets spider-related abilities from a bite from a radioactive spider; these include clinging to surfaces, superhuman strength and agility, and detecting danger with his spider-sense. He also builds wrist-mounted web-shooter devices that shoot artificial spider webs of his own design.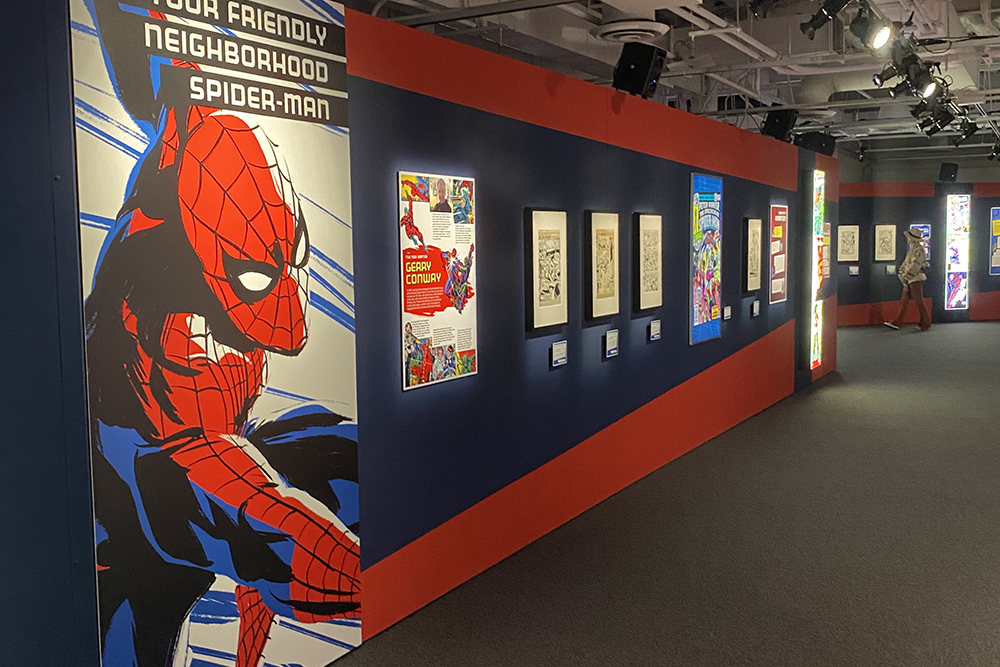 To celebrate the 60th anniversary of Marvel's legendary Spider-Man, the Comic-Con Museum will be home to the world premiere of "Marvel's Spider-Man: Beyond Amazing – The Exhibition," opening to the public on Friday, July 1.
This exhibition, located at the Comic-Con Museum in Balboa Park (2131 Pan American Plaza, San Diego, CA, 92101), welcomes visitors of all ages to explore the Web-Slinger's storied history, through original comic art, movie props, costumes and more priceless original artifacts.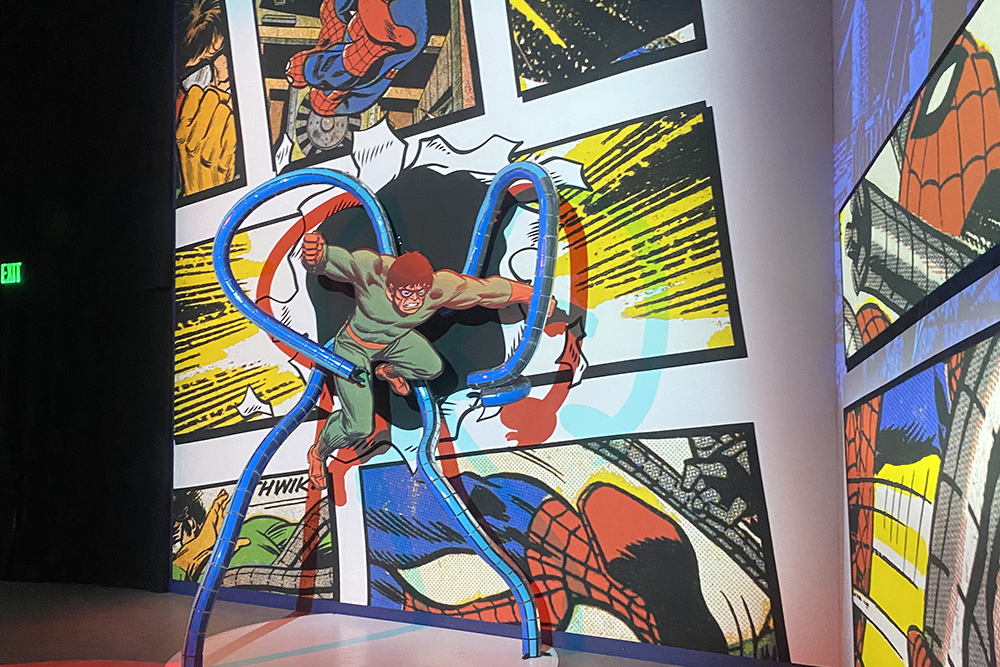 Audiences can immerse themselves in the expansive exhibit, learning about the many creators who have contributed to the Spider-Man mythos; posing with life-size character sculptures; encountering some of Spidey's fiercest foes through cutting-edge digital elements; and celebrating the cultural impact of Peter Parker and his cast of supporting characters. Attendees can also visit the Marvel gift shop, which will feature an array of exclusive exhibition merchandise, including t-shirts, mugs and magnets.
The world met Spider-Man in 1962, and he remains a sensation today. This 7,500 square-foot exhibit mixes collectible artifacts with innovative technology," said Rita Vandergaw, executive director of the Comic-Con Museum.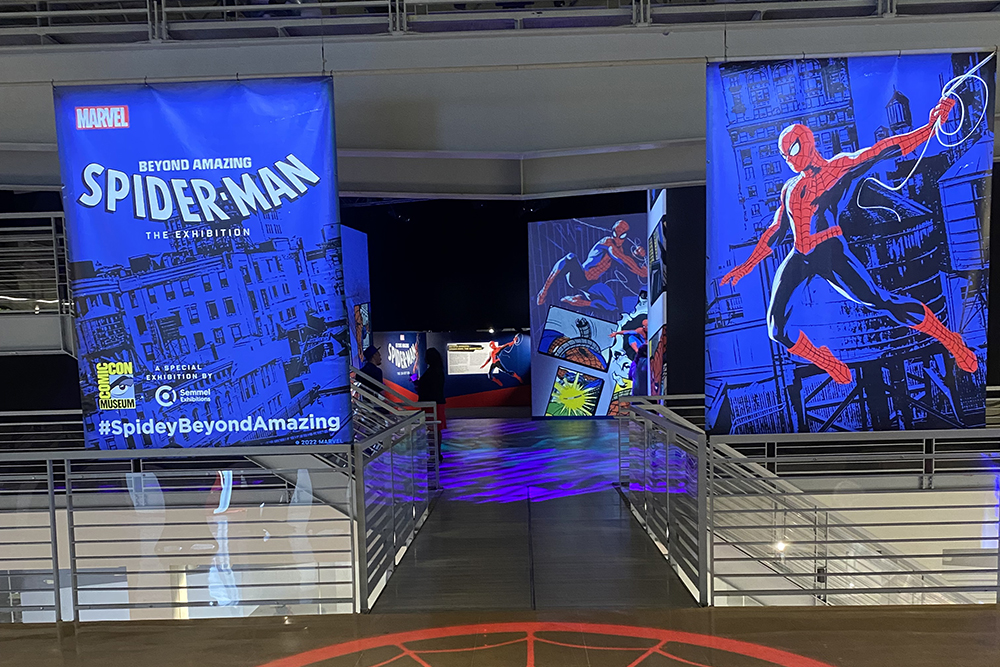 "Spider-Man: Beyond Amazing – The Exhibition" is a co-production of Marvel Entertainment and Semmel Exhibitions, and is presented by special arrangement with the Comic-Con Museum and Comic-Con International.
With purchase of admission, guests can see all the museum's exhibits, including:
- PAC-MAN Arcade – PAC-MAN, a neon-lit arcade room featuring one of the most recognized images on the planet, including arcade games, artwork and memorabilia.
- Dave Stevens and the Rocketeer: Art for Arf' Sake" – In addition to over 40 original covers and pages from "The Rocketeer," this one-of-a-kind exhibit will also feature Stevens' early works, his artwork for Comic-Con, animation storyboards, and other uniquely designed props and pieces.
- Eight Decades of Archie – a unique exhibition that explores artifacts including vintage comic books, animation production materials, priceless pieces of original art and pieces from the WB's popular "Riverdale" series.
- A Sneak Preview of "Hemingway in the Comics" – Ernest Hemingway an artist and a pop culture icon through the lens of comics.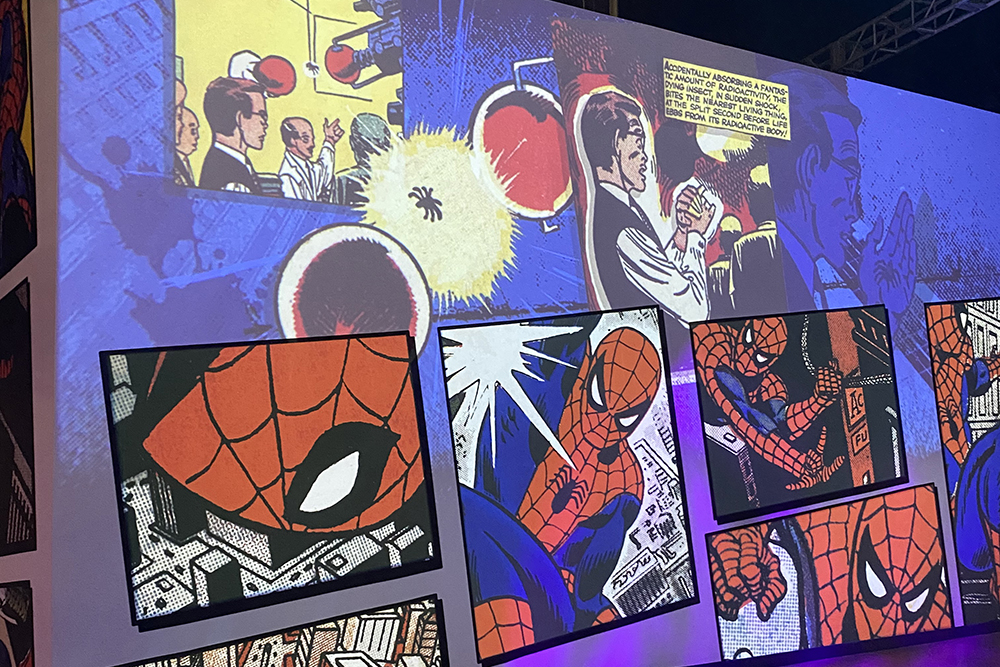 The Comic-Con Museum will also honor the world's favorite web-slinging Super Hero as the fourth inductee into its Museum Character Hall of Fame at "Night at the Comic-Con Museum" – a special event that will take place on Comic-Con's Preview Night, July 20, 2022. The event will include access to the exhibit as well as live entertainment, special guests, food and drink. On July 20, Spider-Man will be recognized for his impact on pop culture. With the generous support and participation of Marvel Entertainment, the event will celebrate the 60th anniversary of Spider-Man. Tickets for the special Hall of Fame event can be purchased at comic-con.museum/night.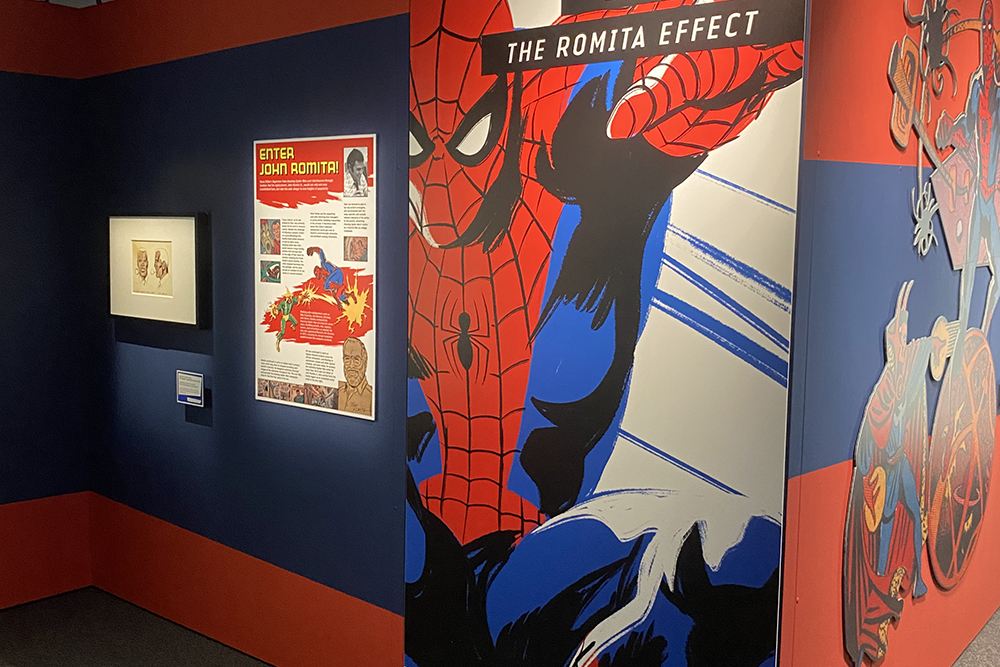 The Comic-Con Museum is open daily from 10 a.m. to 6 p.m., with the last entry at 5 p.m. Standard admission, including "Spider-Man: Beyond Amazing – The Exhibition," (adults ages 18+) is $30; children (ages 4-12) are $18; seniors (65+), students (13-17) and military are $24; and group bundles for 10 or more are $25 per ticket. Tickets can be purchased in advance through Fever: beyondamazingexhibition.com.
Marvel Entertainment, LLC, a wholly owned subsidiary of The Walt Disney Company, is one of the world's most prominent character-based entertainment companies, built on a proven library of more than 8,000 characters featured in a variety of media for over eighty years. Marvel utilizes its character franchises in entertainment, licensing, publishing, games, and digital media. More information at marvel.com. © 2022 MARVEL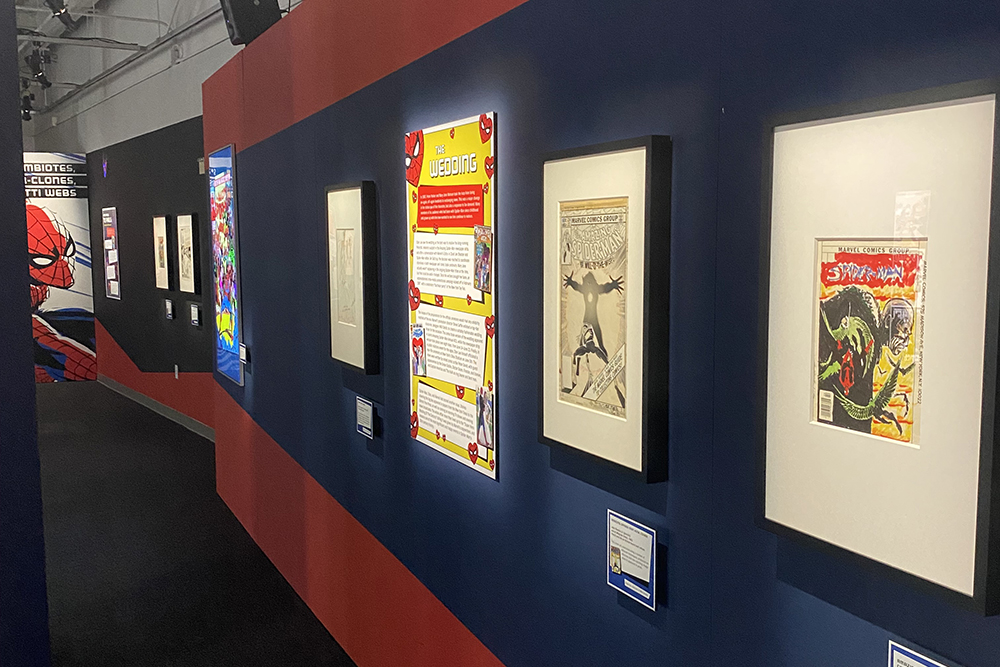 Semmel Exhibitions creates exhibitions, which travel worldwide, and hosts international exhibitions in Germany, Austria, and German-speaking Switzerland. Semmel Exhibitions is a division of Semmel Concerts Entertainment, the large German live entertainment producer. Since Semmel Exhibitions started touring its exhibitions Tutankhamun – his tomb and his treasures; the discovery of king tut; and most recently Marvel: universe of super heroes, they have reached an audience of more than seven million people worldwide, and built a strong international network within museums, science centers, cultural venues and the creative industries. More information at semmel-exhibitions.com.
Comic-Con Museum is a division of San Diego Comic Convention (SDCC) a California Nonprofit Public Benefit Corporation organized for charitable purposes and dedicated to creating the general public's awareness of and appreciation for comics and related popular art forms, including participation in and support of public presentations, conventions, exhibits, museums and other public outreach activities which celebrate the historic and ongoing contribution of comics to art and culture. In addition to its San Diego convention each summer Comic-Con (the premier comics convention of its kind in the world), SDCC organizes the Anaheim-based WonderCon each spring, and the SAM: Storytelling Across Media symposium in the fall. On the web: Comic-Con.org/Museum, Facebook.com/ComicConMuseum, and follow us on Twitter (@ComicConMuseum) and on Instagram (@comicconmuseum).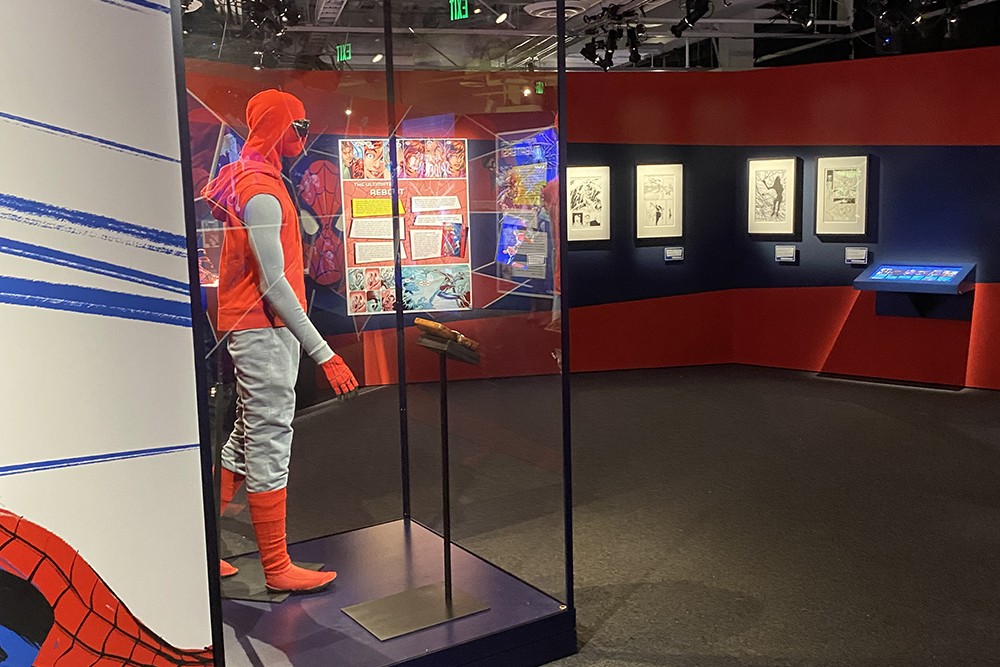 You can discover our photos on our Flickr page
Photos and video : Alvin H Revilas
(Source : press release)