By Mulder, Burbank, Studios Warner Bros, Steven J. Ross theater, 22 june 2022
Last night at the Steven J. Ross theater on the lot at Warner Brothers the so awaited movie Elvis was presented and followed by a Q&A with director/producer/writer Baz Luhrmann, producers Gail Berman and Schuyler Weiss and actor Austin Butler. The screening was a pre-release guild screening with members of BAFTA, Producers Guild and other guilds in the audience. The screening started at 7 PM and after the full credits ran, the Q&A started immediately after. The audience applauded enthusiastically at the end of the film and when he came out on stage many of the members of the audience stood up
The question that was asked how did Baz decide what to keep and what to cut out as part of assembling the life of Elvis for this film. Which is why he started talking about the 4-hour cut that he has available, and he answers that question with his usual long and detailed manner.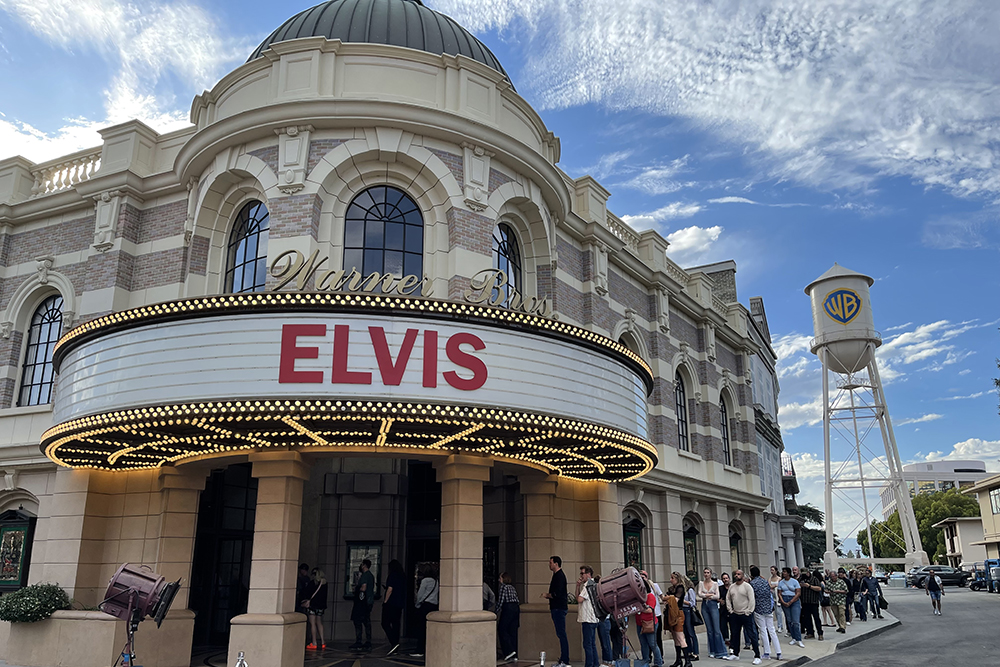 Elvis is a 2022 biographical musical drama film directed by Baz Luhrmann, who co-wrote the screenplay with Sam Bromell, Craig Pearce and Jeremy Doner, from a story by Luhrmann and Doner. It stars Austin Butler as Elvis Presley, with Tom Hanks, Helen Thomson, Richard Roxburgh, Olivia DeJonge, Luke Bracey, Natasha Bassett, David Wenham, Kelvin Harrison Jr., Xavier Samuel, and Kodi Smit-McPhee in supporting roles. The film is dedicated to the memory of the Ladd Company's founder, Alan Ladd Jr., who died in March 2022.
It was announced in 2014 that Luhrmann would be directing an Elvis Presley biopic, though the project was not officially announced until March 2019. Butler was cast in the title role that July, beating out several other actors, including Ansel Elgort, Miles Teller and Harry Styles for the part. Filming began in Luhrmann's native Australia in January 2020, but paused from March through September following the onset of the COVID-19 pandemic. Filming wrapped over a year after it began, in March 2021.
Elvis premiered at several festivals, namely in France at the 2022 Cannes Film Festival on May 25, 2022, and was theatrically released by Warner Bros. Pictures in Australia on June 23, 2022, and in the United States on June 24, 2022. The film received generally positive reviews from critics, with Butler's performance garnering acclaim.
You can check the photos on our official Flickr page
You can read our review here
Synopsis :
The film explores the life and music of Elvis Presley (Austin Butler), seen through the prism of his complicated relationship with his enigmatic manager, Colonel Tom Parker (Tom Hanks). The story delves into the complex dynamic between Presley and Parker spanning over 20 years, from Presley's rise to fame to his unprecedented stardom, against the backdrop of the evolving cultural landscape and loss of innocence in America. Central to that journey is one of the most significant and influential people in Elvis's life, Priscilla Presley (Olivia DeJonge).
Elvis
Directed by Baz Luhrmann
Screenplay by Baz Luhrmann, Sam Bromell, Craig Pearce, Jeremy Doner
Story by Baz Luhrmann, Jeremy Doner
Produced by Baz Luhrmann, Gail Berman, Catherine Martin, Patrick McCormick, Schuyler Weiss
Starring Austin Butler, Tom Hanks
Cinematography : Mandy Walker
Edited by Matt Villa, Jonathan Redmond
Music by Elliott Wheeler
Production companies : Bazmark Films, The Jackal Group
Distributed by Warner Bros. Pictures
Release date June 22, 2022 (France), June 24, 2022 (United States)
Running time : 163 minutes
Thanks to Phillip for his photos and his video of this event