By Mulder, France, Paris, 19 november 2021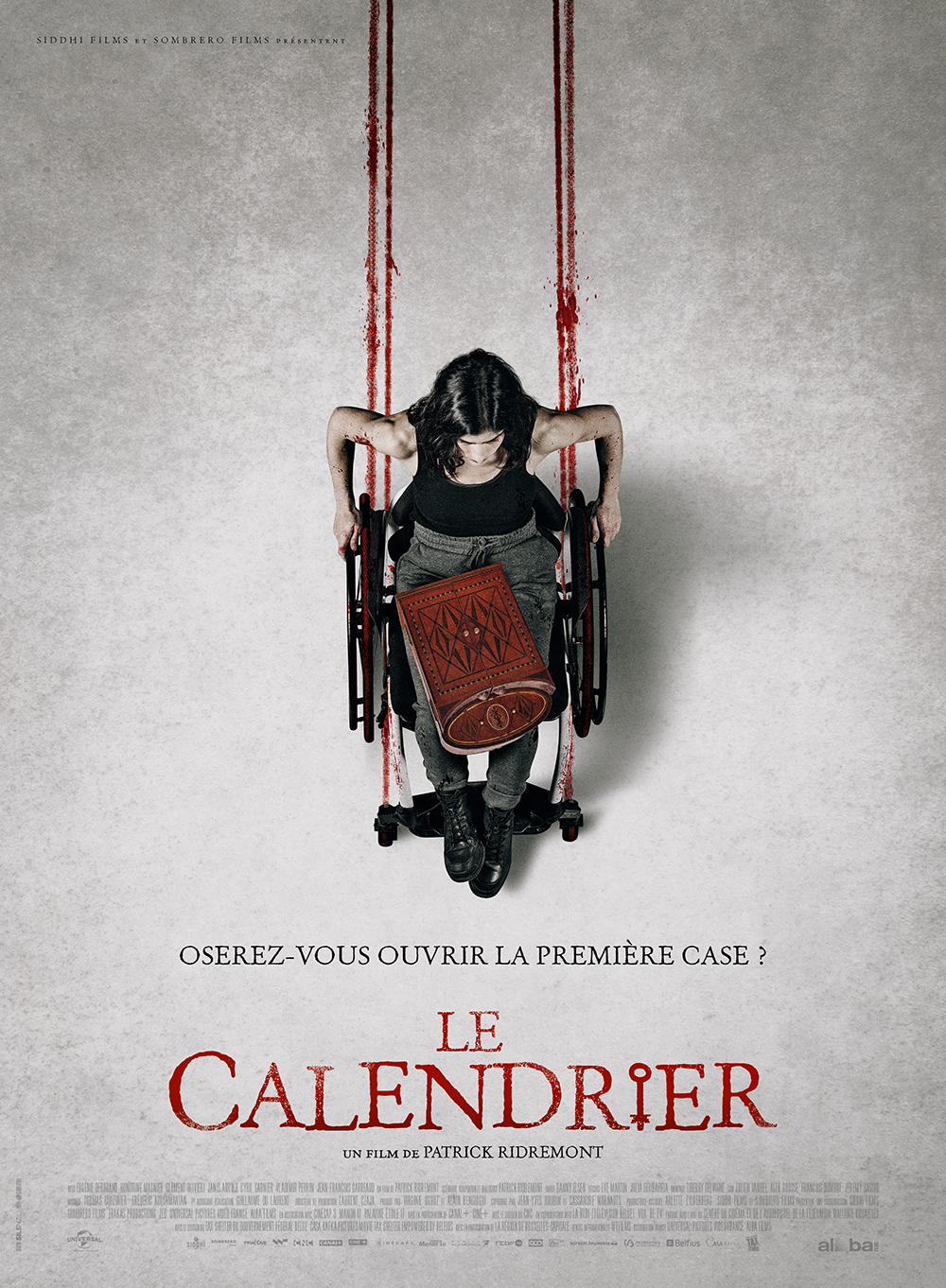 Eva (Eugénie Derouand, Paris Police 1900), a former dancer, is now in a wheelchair, unable to walk. When her friend Sophie (Honorine Magnier, Demain nous appartient) gives her an old wooden advent calendar before Christmas, she realizes that each window contains a surprise that triggers real-life repercussions. Some of them are good, but most are bad, really bad. Eva will now have to choose between getting rid of the calendar or walking again - even if it means the death and destruction of everyone she cherishes around her.
We were lucky enough to be able to interview director and writer Patrick Ridremont and actress Eugénie Derouand
Q : Hello Eugénie and Patrick, as a preamble for those who don't know you yet, can you introduce yourselves briefly and tell us about your career ?
Eugénie Derouand : My background, I did several training courses and theater school, I didn't have only one training of three years in one school and then I started to work. Here, I began by making the talents Cannes Adami besides Patrick 'directed even I am on the short film which is called the station. That was not with me. You can also see me in a series called Paris police 1900, it is on Canal +.
Patrick Ridremont : You play on Canal +, yes, so everyone knows you. Well, my name is Patrick Ridremont and I come from Belgium. This is my second film as a director and I also played in films that your audience may have seen. I was Danny Boon's neighbor in Radin. I'm the neighbor with the five kids. A lot of people have seen this movie called Rebelles with Cécile De France. She works in a fish shop. I am the foreman in the fishmonger's shop, she cuts off my sex and then she crushes it and puts it in sardine cans. I also played in a series on TF1 called Emma. I was a cop and my partner was a robot. So I've done a few things. I do weddings, divorces and stuff and this is my second movie as a director and it's a horror movie.
Q : The Advent calendar is in our eyes an excellent horror thriller that works wonderfully without any dead time. We were able to discover it before its release in theaters on December 1st. Patrick, this is your second film after Dead Man Talking in 2012. Can you tell us about the genesis of this film ?
Patrick Ridremont : So the idea before making this horror film I had started on a comedy a bit mainstream with bankable actors, stars whose agendas were absolutely impossible to match and with financial claims that began to briefly each actor cost the pix of two films and so I said to myself oh there is enough let's make a film with actors who really believe in the project namely a horror film with younger actors , who want to go to the fire, female warriors and that's when the idea of writing a genre film came up and then we had to go beyond the genre film to know what we were going to tell as a story. The Advent calendar of the front imposed itself a little because I reflected in the middle of the Christmas period I found that everybody was having a good time and with Christmas with good things- mood and everyone was in a good mood I said to myself: "This is perfect, a horror film at Christmas, not at all my taste, not at all my good mood, let's make sense instead of frost under the tree" and then inside this advent calendar I started to tell a story, it took 24 windows, 24 sweets and what happens after that was the longest part, writing the script, but to summarize, that's a bit of a problem, why not take the opposite side of the films of romantic comedies? Why not take the opposite of the romantic comedies that we are used to seeing at Christmas and make a horror film.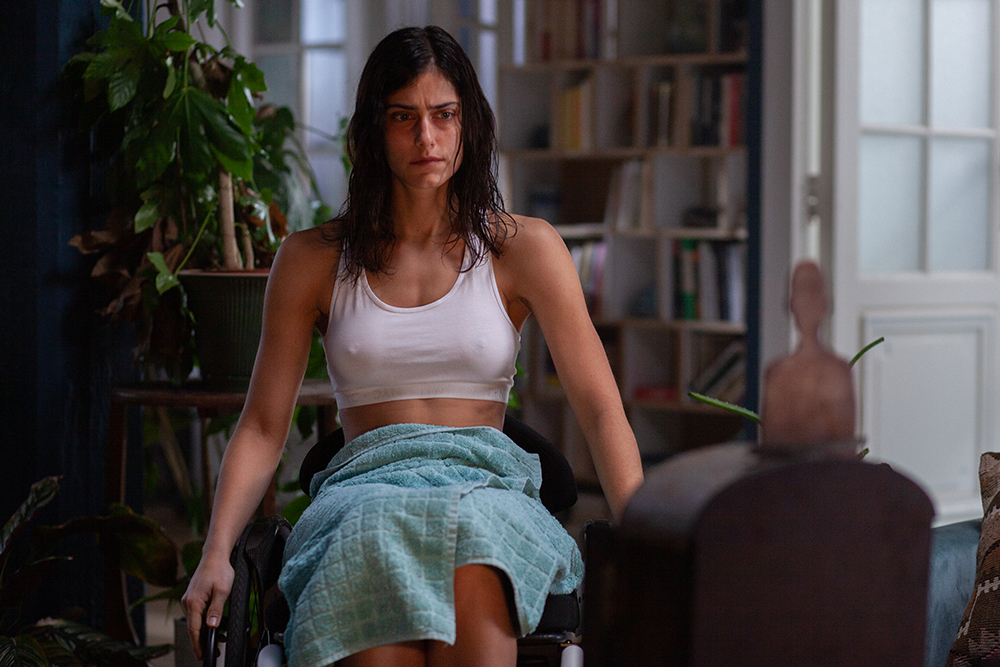 Q : Eugenie, the character you play Eva is a young former dancer who, after an accident, has become a paraplegic and who will find herself facing supernatural events. Can you tell us about your approach to this character and what you have in common with her ?
Eugénie Derouand : So the approach with this character, already when I read the script I was completely seduced by the character of Eva. I had a kind of admiration for her, to have embodied this woman who fights against her handicap every day and my common point with her can be the will to take up challenges and maybe her sensitivity
Patrick Ridremont : It's true, there is something in common between Eugenie and her character, they look fragile as I've been told they have a gun, a knife, a dog or potentially lethal things and you'll see that you have to deal with a kind of badass, so underneath the kind of fragile skin, there are women who fight, so in the movies, when you're an actress, it's always the case.
Q: Patrick, I found your film fascinating because of the great care taken with the sound, which creates a real immersion in this film and thus reinforces our adhesion. How did you approach this important element of your film and what difficulties did you encounter ?
Patrick Ridremont: I'm very happy to hear you say that, especially since I'm going to ask you a question if you've seen this film on what medium (video) and already the video sound works, so imagine in theaters, and that's why for me it was very important to fight for the film to be released in theaters even with a year's delay, because the sound is amazing. There is a work that has been done on the composition of the music of the sound design, the voices, it's a French film, the French actors, but that we hear and understand, it's still something and so everything was done so that the sound is almost an American-style sound and light show, a little grandiose and I'm very pleased that this question is a little confirmation of what we wanted to do, so obviously it's an enormous care I say that because we didn't have a lot of money either, but we knew that we could afford millions in the sense of design, but everything was done very seriously and that's it, I forgot the question because I was very happy to hear that we had even put the emphasis on the fact that it was quality sound and image, so what exactly was the question?
Q: What were the main difficulties you encountered on this film ?
Patrick Ridremont: there is no difficulty I think that at times there is a form of laziness but it's not complicated in Belgium or in the cinema in general to convince sound engineers that you want the best possible sound recording. It's not difficult to convince a music composer that you want the best music possible. It's not difficult to convince sound engineers who are going to do the sound design that we want to make films where there are sounds all the time where the bass is important and we want people to have it in their ears and in their guts. In fact, what we need to do is to tell everyone that you have carte blanche, you have a green light, go ahead and have fun. My role is not to bully you, but to tell you that the sky is not even the limit, and once all the people who work on the sound and image have understood that, well, you have a schedule with images, what the fuck, terrible actors who have been let loose with a sound, we say to ourselves, "Oh, my God, how much care did they take with that? That's what we did and it was not complicated in fact it is enough to say to each one make your trade.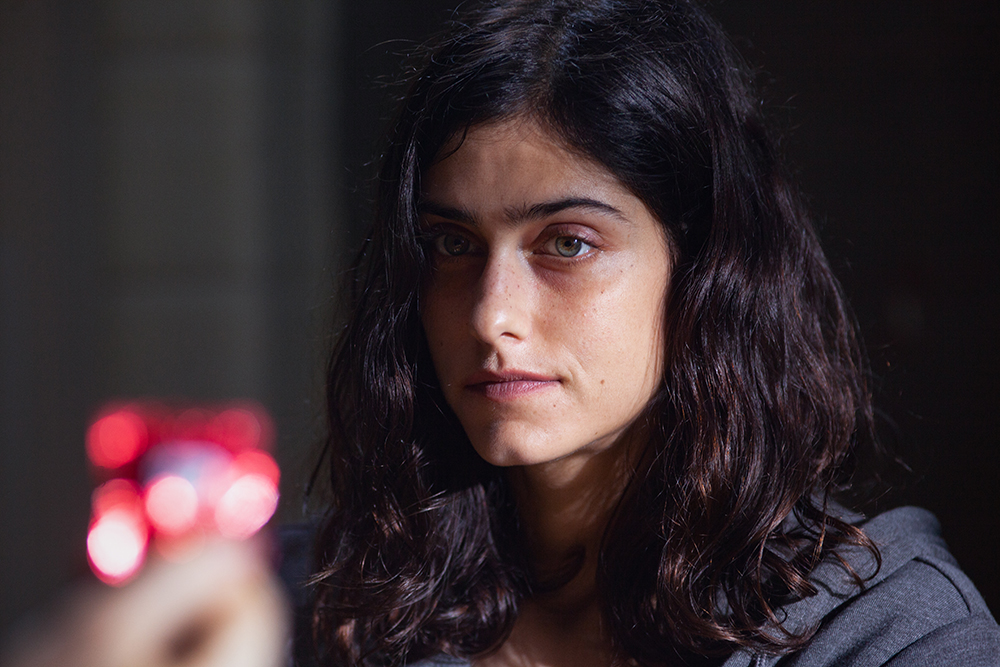 Q: Eugenie, can you tell us about your physical preparation for your character. You make it totally realistic and you reinforce the adhesion of the public ?
Eugénie Derouand : I did some sport, I didn't have much time before the film. As the shooting was quite dense, I ran a lot, I did weight training because I use only the strength of my arms and even in the picture I didn't have to have small arms enough drawn and I was lucky to meet Lara who was there to coach me throughout the shooting, who taught me the right movements.
Patrick Ridremont : Lara is paraplegic, like the character of Eugénie
Eugénie Derouand: Lara has been paraplegic for about ten years and she showed me who was there, who was supportive
Patrick Ridremont: that is to say, for paraplegics, we also talk about the handicap, there is a social part in this film, it's also a bit of revenge for people with a handicap on destiny, on fatality, it's still very pleasant to see that it was a hard chair, a girl who walks around with a cart
Eugénie Derouand: anyway, right away when I found myself on this wheelchair, sitting down, not at the same level as the other people, it was as if I was chained to my chair
Patrick Ridremont: It almost became a basis, an extrapolation, the lower part of his body was this chair and we shot a lot of very realistic shots on how to move and it was a moment we didn't leave too much on the screen because it doesn't only tell the story. It is not a film of Ken Loach of the Dardenne brothers, it remains a horror film, a fantastic film but I know that Lara the coach told us that at a given moment Eugénie behaved in her chair as paraplegics behave in their chair, the same small movements to get back a little straight she had acquired all that it was very important for me for the credibility of the film and the character. Paraplegics shouldn't go to the movies and say, guys, this has nothing to do with our reality. It has to do with reality.
Q: Patrick, what can you tell us about the filming locations ?
Patrick Ridremont: Everything was shot in Brussels for the most part. These are shooting locations, you always have to find places that are a little sexy, it's part of the same process as the sound and image. We must be able to say to ourselves that their skyscraper is high. We shot a shot over a hotel and skyscrapers that look high. It looks like it's filmed in huge cities. It's Brussels. So there's a real casting also for the locations what we call location scouting and we did it very carefully. They have to look good on screen and work well. You have to feel comfortable with them. The most difficult part was the house where Eva lived. We spent nine days shooting it, we had to be able to put a whole team of teeth, it had to be practical for a character living in a chair, it had to be realistic and that's it, so that's a very important part of the job, but the whole movie was shot exclusively in Belgium.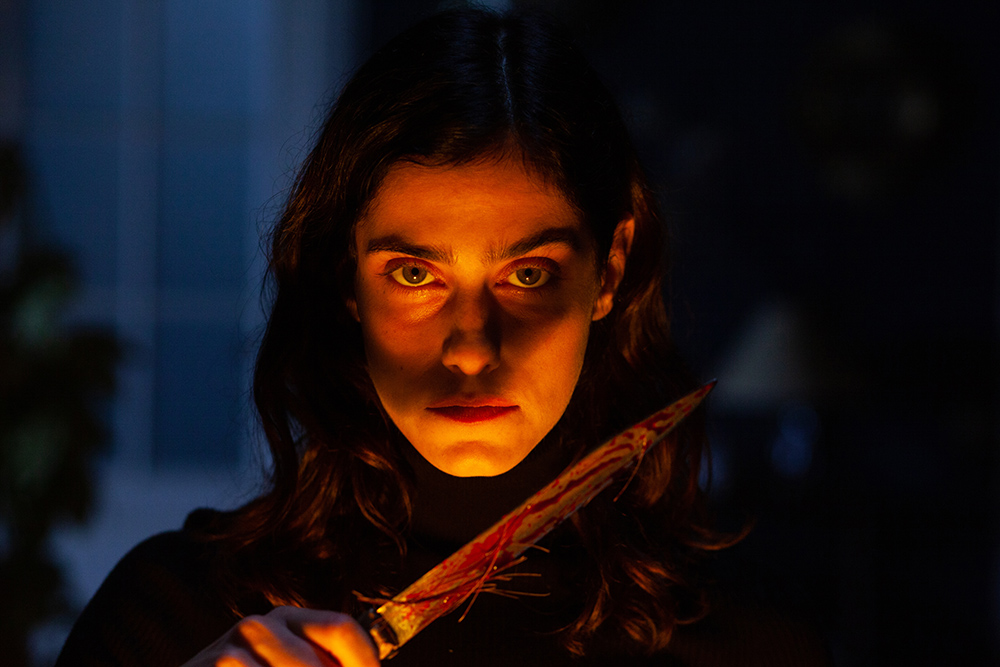 Q: Eugenie, what was the most difficult scene for you to shoot and why ?
Patrick Ridremont: she is looking for a scene that was not difficult
Eugénie Derouand : but there were many scenes that were difficult after I tried at a certain moment when I was launched in the shooting, I tried not to ask myself too many questions and even one does not realize but for example to shout in life one never shouts I even try to train that in my room and I did not arrive and that I do not know the kind of liberation on the shooting a particularly difficult scene no finally, we had several but I liked to make them even if that was difficult
Patrick Ridremont: there are two scenes that impressed me, in which Eugénie played. What impressed me is that for me it will be hyper complicated and she took this scene there in an impressive way. The first one is the first day of shooting, I think an actor, so there is a rape scene in the film, an attempted rape in a car, a guy allows himself to try to rape a paraplegic. The film is forbidden to under 12 years old so there are reasons not just because there is blood and open throats and also had at times we do not need the monster for the film to be monstrous. The actor who was supposed to play this character fell ill and had to be replaced the day before. Eugenie found herself facing an actor she had never met for the first day of shooting with ok hello he had not even almost perfect casting. So these are two strangers who do the same job but a little foreign and who find themselves in a car with a rape scene I said to myself fuck and these actors are great. I had the flair to choose this actress who is marvelous, I was lucky enough to find the actor (Cyil) who came
Eugénie Derouand: because in fact I think that even this scene for Cyril who was there I think that it was more difficult for him to have to play this scene is therefore I do not know naturally I think that both of us did not want to spend the night there and therefore I said to him one go you can go and I believe that of the blow that it completely reassured him because I felt stressed to make this scene perhaps more than me.
Patrick Ridremont: and then it's complicated. We were talking about it earlier, there are also periods with hashtags on all sides, I'll throw your pig at you and stuff like that, so hello, we meet, rape scene it's complicated at times the cinema and the second scene where she really scared the shit out of me was to find herself in a bathing suit in a canal that wasn't the cleanest water you could find in Belgium and not the warmest either in the month of October and vatan that I leave you in it and that you go back and forth between the middle of the canal I leave you in it and you go back and forth between the middle of the canal and the ambulance crew is almost resuscitating a male actor who is suffering from hypothermia because he just put his feet in it, whereas I have an actress who puts her whole head in it, and I said to myself, no, by God, I'm shooting with Lara Croft, it's Lara Croft and not even an actress anymore, it's a character at that moment. So you tell me that she didn't even list this scene in the difficult scenes for her, it was quiet, but I recall that I have a young actor who was in water up to his waist, he was moving less than Eugenie of course, but the paramedics took his temperature and they said that we wouldn't shoot with this gentleman anymore because he was in hypothermia, it wasn't going to work anymore, and during this time we put Eugenie in the water for a good hour, and her hypothermia, we didn't care.
Q: Patrick, at that time, was it difficult to create a film and to find funds to make it ?
Patrick Ridremont: I know that I have to thank my producers and my distributors often for believing in the film until the end because the pitfall was not only to find the funds it is once the film was made is to believe that we could, that it is not serious that the cinemas close in December 2020 there will be another month of December 2021 because it was complicated the film is a Christmas film it is difficult to come out at Easter when the cinemas have actually reopened, the producers of the distributors everyone to resist the sirens that sang on digital platforms like we have a cinema called Netflix we have a cinema called Prime video or something else know that there are partners in the film that are also digital platforms that would have been delighted to have the film a little faster than expected without going through theaters and they held out so beyond- Beyond finding funds, which is not easy, we also had to continue to believe in the film, which we had already believed in, and all the flour that was made to finish the film will be released in theatres, so we can be very proud, or at least very happy, and very grateful to all those people who put money into the film and who refused to spend it in any other way than in theatres, so it's important to see it in theatres.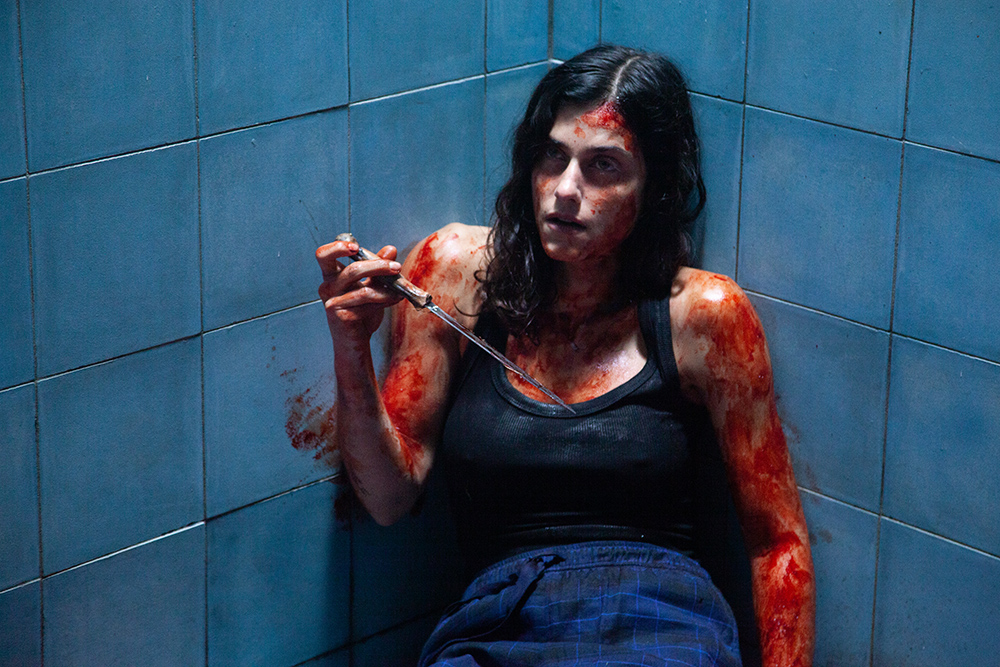 Q : In general, the end of the year is synonymous with Christmas and this theme has been taken up in several horror classics such as The Gremlins, Krampus, Black Christmas, Silent Night. What was your trigger to turn to a forward calendar rather than a horror movie about Christmas ?
Patrick Ridremont: Precisely the object, I like horror films with mythical objects, sacred objects entrusted to humans extraordinary objects entrusted to ordinary people. I like the game of Jumanji, I like the cube in Hellraiser, I like objects apart from the magic wand in Harry Potter but I like objects and so once I saw this idea of a calendar I said to myself, I have a good object that will chapter the film into a little series.
Eugénie Derouand: and I'm sorry, speaking of that and beyond that, speaking of the fact of the calendar object, as soon as I had it in my hands, there was something or I don't know, something quite magical, in fact, nothing about the solid wood object, and all of a sudden, like a child, I found myself looking at it, and I was immediately.
Patrick Ridremont: it's a character, in fact it's a thousand, we can hold this object like the car in Christine, so we held on to an object and it's true that all the films you mentioned are Christmas films that go to hell, we'll say bloodier Christmases and it wasn't a tradition in French cinema except that there was an experience that was 36 15 codes père noël which was an experience that I also found successful. It was a film that had left a strong impression on me and without wanting to pay homage to that film, I think that Christmas is a good time to tell stories that are not just children's tales. There are other children, called adults, who love to be told a story about once upon a time, about horror at Christmas.
Q : Without saying too much, Eugénie, how does it feel to transform yourself into a real killer in this film in order to be able to stay alive ?
Eugénie Derouand : That's it. I became completely addicted. I became obsessed with Eva the actress, I was a little bit mixed with this idea so to feel and it's especially for me as an actress to have this chance to have a very important evolution in the scenario what. I answered the question ?
Q: Patrick, your film borrows as much from W.W. Jacobs' novel The Monkey's Paw as it does from the Faustian myth. What were the main literary, series or film influences for this film? We feel in your film a real American influence, whether it is the work of Stephen King or horror classics like Evil Dead, Silent Hill. There is a strong character and a real reconstruction all around ?
Patrick Ridremont : I've seen them all before so without copying them, I'm inhabited without even taking inspiration from them then why are there so many references in this movie is because there are a lot of windows too and to avoid each window being just a killer candy that would make the main character swallow it, There are differences in the effects of these sweets, some of them are frankly horror, which leads to a bloody reaction, others lead to more metaphysical reactions, we're talking about Faust, and others to more fantastic reactions, we talk about Stephen King there is even a moment given by the end of the film of other quotations that I could make other references that would be more of Christopher Nolan where I can talk about this scene where she enters her bathroom and she sees through the mirror the scene that happened the day before in her living room is almost in Interstellar and that was a consequence of the fact that I did not want your spectator to be bored or a feeling of a monotony of 24 candies with 24 corpses it was necessary to change the styles there is even of the romantic comedy and the candies which are pure red heart that one takes and which makes that one falls in love that somebody falls in love thus one goes a little in all the directions because this calendar of the advent this film The Advent calendar is a true calendar of the advent each window is different it is the box of chocolates of Forrest Gump, it does not have all the same taste and the scenes that one filmed on its all a little different me I do not have I can still quote others of reference but here is to essential were quoted then one can also even if you are the Exorcist since there was a part when even a little public and christic in The Advent calendar it is not for nothing that jesus of a little present here is I like all its films I like all its films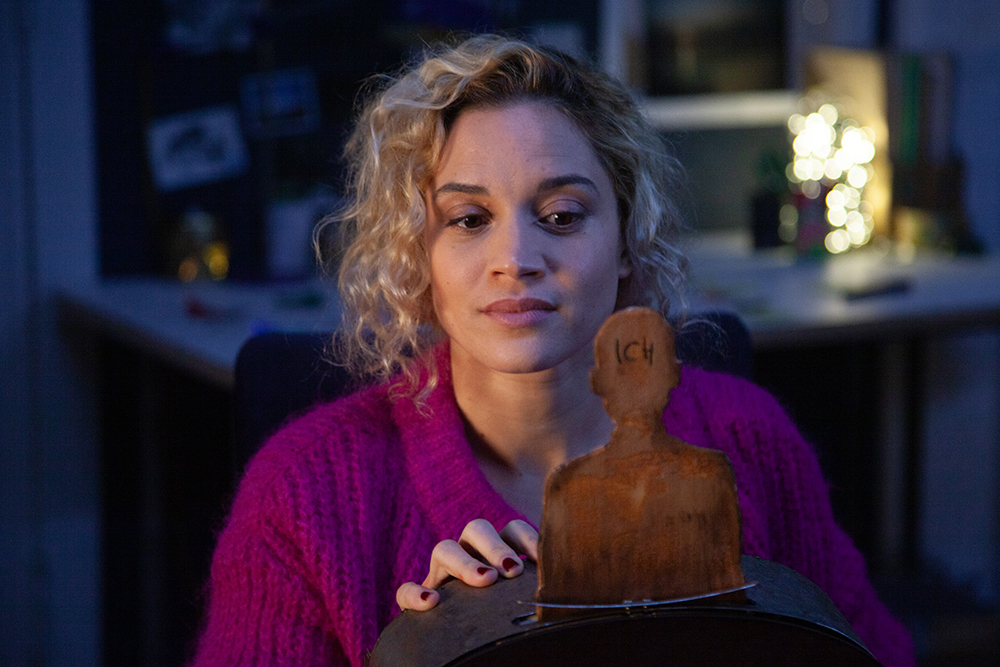 Q : Concerning the very successful creature of this film Eugénie, can you tell us about your feeling when you discovered it and Patrick about your collaboration with the make-up artist and make-up effects specialist, Lionel Lé ?
Eugénie Derouand : I was impressed to see the work and to be in front of this monster. I, anyway, I lived everything, I was really there. In the end it's the same. It is a monster, the makeup and special effects were very successful. I was impressed to see the work and to be in front of this monster and at the same time a certain benevolence came out of him and without speaking, without communicating there is something that was created between us but yes it is true that when I saw him the first time
Patrick Ridremont: there is something impressive with the costumes and in this case it is a famous costume, I know that for example on certain shootings as an actor when there are extras, so not even actors, people that we don't know who play cops who have a cop costume, we approach them a little differently. We wonder if it's a real cop or not, so there's something about the costume that impresses us a little, so I can tell you that when we have a monster on the set, a guy wearing makeup who has a prosthesis in his mouth that makes us see his insides and makes him drool because There is something between it is embarrassing it is frightening it was something a little particular the presence of Fabien who plays the world iIch on the set yes it is something a little chilling we also know that there were more than ten hours of make-up. I will answer the question that was asked to me Lionel Lé prosthetist is not just anyone Lionel. He also works on American productions and is in great demand, he is an artist, even a maestro. This creature is for me a form of masterpiece of the seventh art I have a lot to say because not that we had to fight to put it on the screen but we were told to be careful anyway you are sure that it has not to be ridiculous we are nevertheless in French cinema. Let's not interfere with what the Americans do. We are not capable of doing. That's the idea behind it too, let's not show too much because if we're bad we'll make fun of it and there's no reason to make fun of it because it's really and I thank you once again because after the sound you've made, but also the point about a creature we can be proud of in the French-speaking cinema first put to the test one uses it with parsimony it helped to the screen one minute and half to all break on one hour and forty of films but it comes at the good moment and with Lionel Lé I invented him the history of this character therefore that can make the object of another film, prequels if you want, he has a real story and to summarize it is a pastor of the German army who took in the trenches in 1918 a shrapnel in the face he kept half of his face he was scarified on the body and some time before his death until- He was scarred on his body and some time before his death, on his hospital bed, a divine or evil entity came to propose him to live through The Advent calendar in his calendar and he accepted so he found himself locked in this calendar that he haunts every year by creating miracles for those who need them. So since 1918, every year a person receives this calendar and passes from hand to hand and in 2020 it was Eugénie through her character Eva who received The Advent calendar. In 2020 it was Eugenie through her character Eva who received The Advent calendar but we also see that a year before 2019 it was a blind German who had received this calendar and we already anticipate the following year by showing that the following year it is an Italian who received The Advent calendar so The Advent calendar this extraordinary object and entrusted to ordinary people suffering from a disability not necessarily physical. It can also be an emotional handicap and The Advent calendar offers them a miracle on the 24th, that's a little bit what it tells. So Lionel Lé leaves the bases of this story that I told him, to create a creature whose face is hidden by a kind of metal plate which is in fact the rest of a gas mask of the German army. He is dressed with a priest's cassock that probably had to wear in the trenches. It was perhaps not a good idea to go into the trenches but in any case he has a cassock and wears leather boots which are boots of the German army of 1914. We pushed the envelope quite far in the back story of this character because there is a folklore around the calendar before the calendar of the half then invented in Germany and it is not for nothing that he was brought back by his girlfriend from the Christmas market of Munich and therefore we inquired we do not tell only bullshit in this film even if it is a great film on a history which does not exist.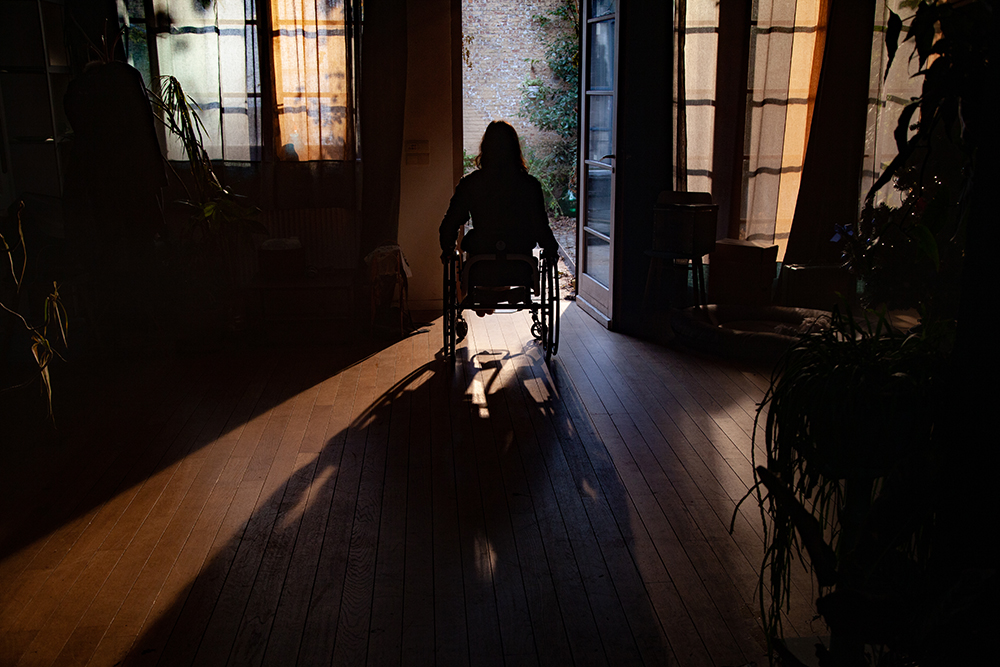 Q: Patrick, can you tell us where you stand in relation to current horror cinema ?
Patrick Ridremont: I wouldn't say that I have an influence because everything is to be created I think in the French language so it's like there's a door that's opened and I want to go through it. I am not a hungry director. I'm not on my twelfth film, it's only my second film. I would like to be able to make another genre film because there is room for genre films in the French language. It's uninhibited now and that's a very good thing so I'm not influenced, I'm just eager to do it.
Q: The Advent calendar is finally released in France on December 1st and in the US on the Shudder platform on December 2nd. Did you expect such an international reception ?
Patrick Ridremont: No, we're a bit surprised. It's the same joy to know that it will also be released in France and that Americans want the film. We are very proud of it. We didn't expect that.
Q: Can we hope to have a sequel to this film like many horror films ?
Patrick Ridremont: I would love that but all that now will depend on the people you're dealing with, namely the spectators and it's sure that making 400 thousand entries and making 8000 entries is not the same thing so the film now there are the producers do not need to wait for the release to know if the film is good or not, it's there it exists. They can judge it now is there a place is there a demand is there that the public would want a sequel there all that now it belongs to other people than us.
Q: Finally, my last question, can you tell us about your current projects ?
Eugénie Derouand : so I'm going to play in a series called Paris Police 1900, I had already done the first season and the second season will be shot from January.
Patrick Ridremont: no I don't have any current projects. I don't need to know that I had taken the shares in Pfizer AstraZeneca and Moderna so for the moment it's going well for me. It's a great time and I don't have any plans right now, I'm really looking forward to the release of the film, I'm just soaking in this very nice interview I have with you. Now, because we had doubts for a year, we know that this film exists, the release exists and I don't want to think about anything else for the moment, it's just that, and then we'll see what I'll do in 2022, but I have no concrete project. I don't have any shooting, nothing written, I have nothing.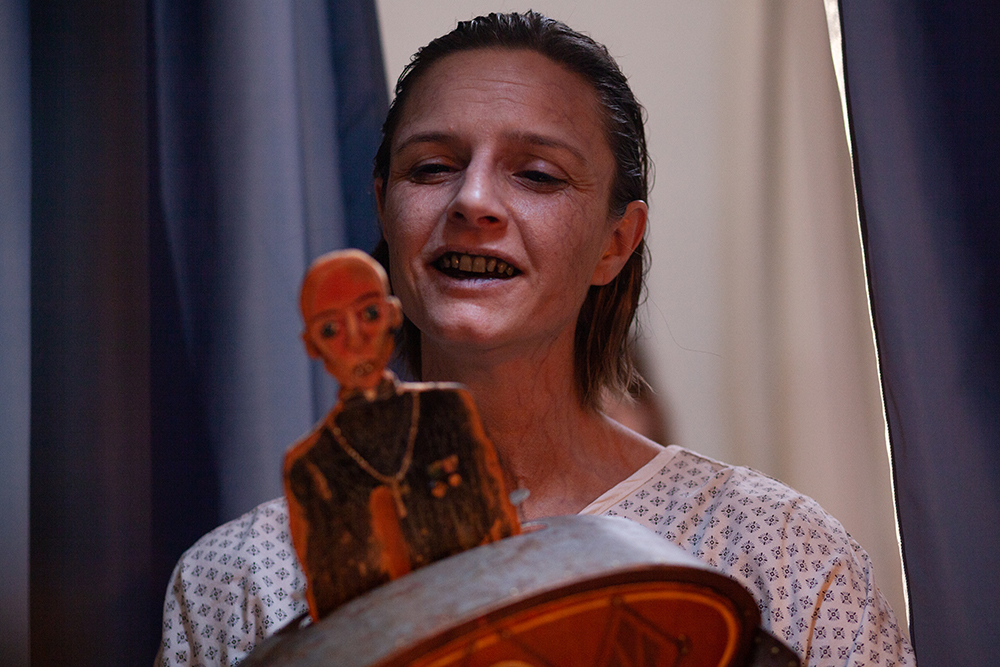 Synopsis:
Eva has been paraplegic for three years. For her birthday, she receives a strange advent calendar as a gift. But it's not the traditional candy she discovers every day, but more disturbing surprises, sometimes pleasant, often terrifying, and increasingly bloody. This year, Christmas is going to be deadly!
The Advent calendar
A film written and directed by Patrick Ridremont
Produced by Virginie Ogouz, Alain Benguigui
With Eugénie Derouand, Honorine Magnier, Janis Abrikh, Clément Olivieri
Music by Thomas Couzinier, Frédéric Kooshmanian
Director of photography : Danny Elsen
Editing : Thierry Delvigne
Production: Sombrero Films, Siddhi Films, Frakas Productions, Universal Pictures Video, Alba Films, ZED, RTBF, Voo, Be TV
Distribution : Alba Films (France)
Release date : December 1, 2021 (France), December 2, 2022 (USA)
Running time: 104 minutes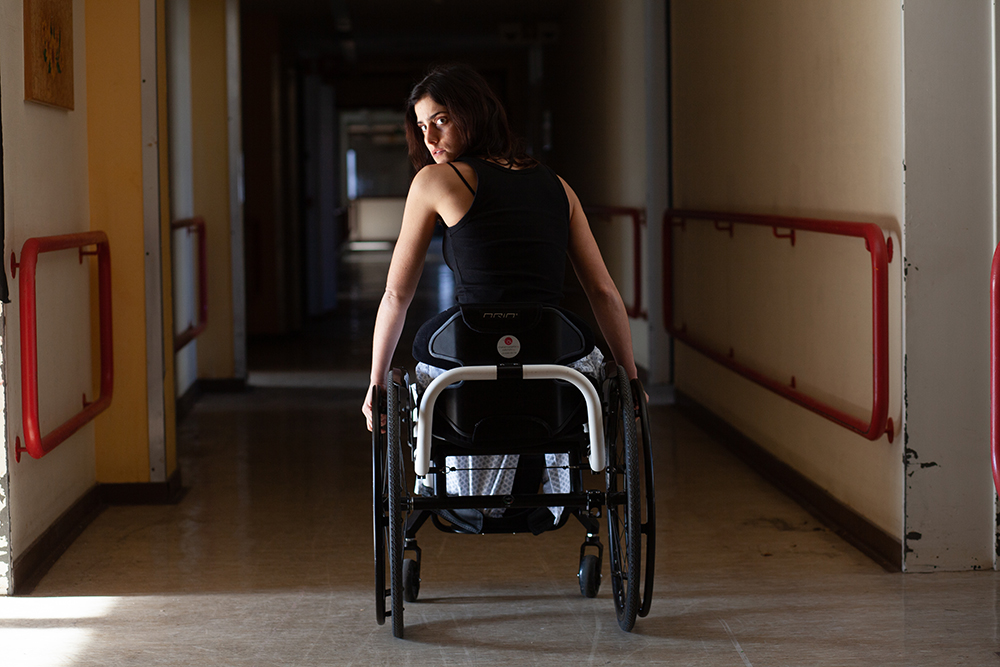 Photos : Copyright Alba Films
With all our thanks to Patrick Ridremont and Eugénie Derouand for answering our questions and to Stéphane Ribola