By Mulder, Zoom Event, 16 march 2021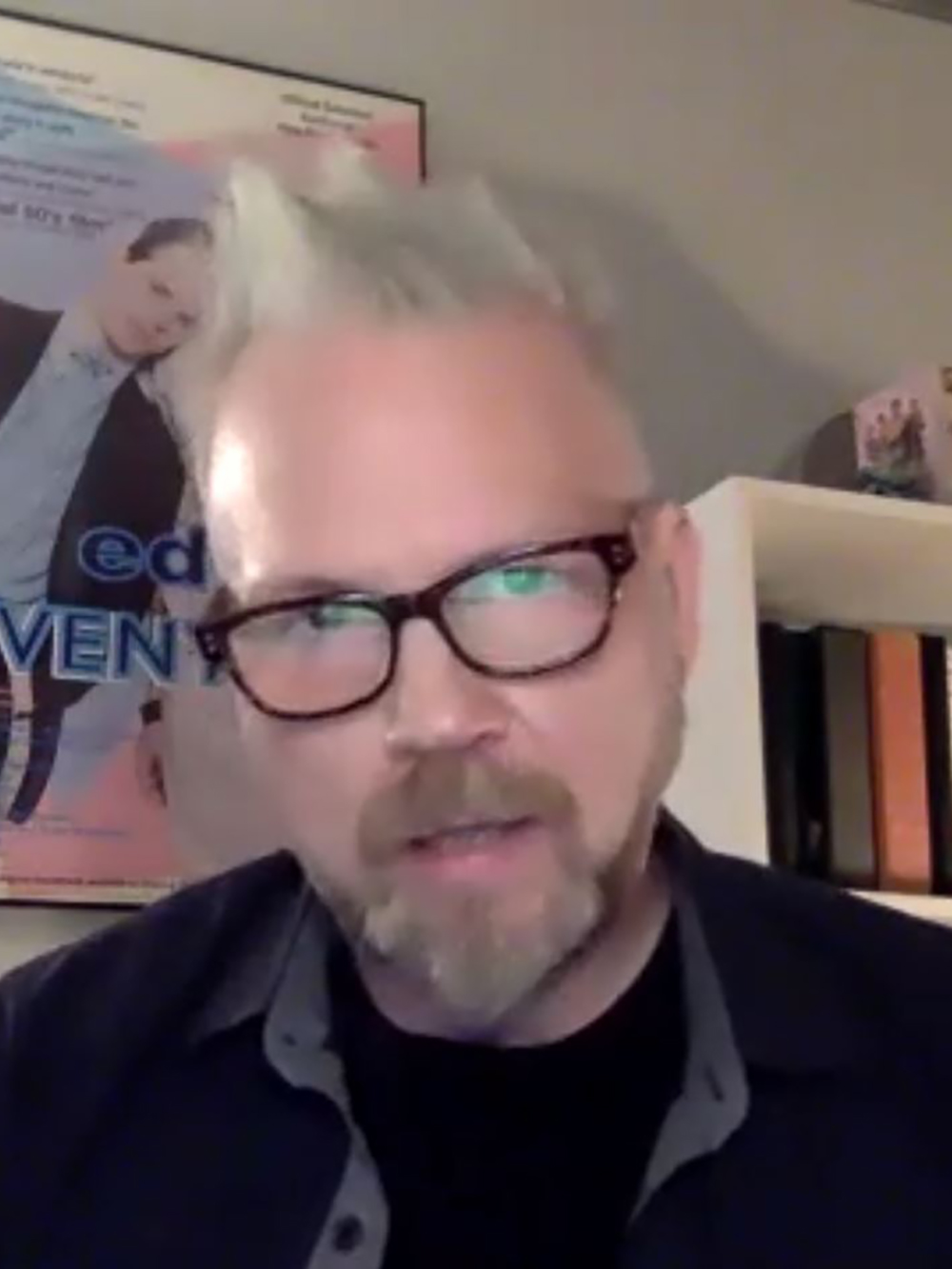 Todd Stephens is an American film director, writer, and producer. He was raised in Sandusky, Ohio, which has served as the setting for several of his films, many of which are gay-themed. He both wrote and produced the autobiographical coming out film Edge of Seventeen, which was released in 1998. He has directed the 2001 film, Gypsy 83, and Another Gay Movie, which was released in 2006, as well as the follow-up Another Gay Sequel: Gays Gone Wild! which premiered at the Frameline Film Festival in San Francisco on June 28, 2008.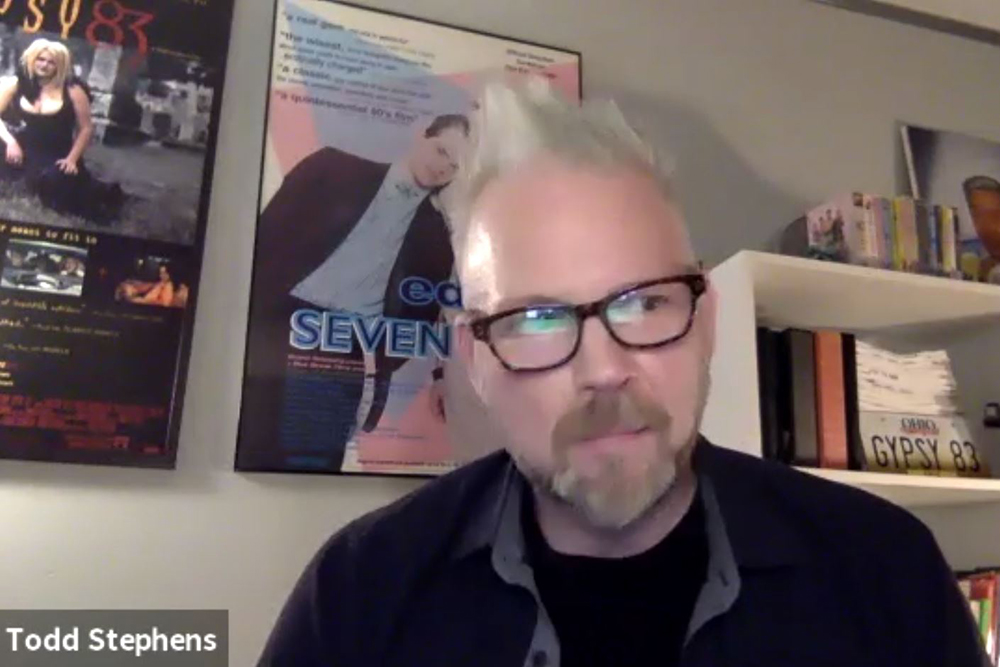 Q : Hello Todd , please can you introduce yourself and tell us a little bit about your background ?
Tood Stephens : my name is Todd Stevens i am from a small town in Ohio called Sandusky which i left when i when i graduated from high school and moved to New York City and that's where i've lived ever since.
Q : After Gypsy 83 (2001), Another Gay Movie (2006), Another Gay Sequel: Gays Gone Wild! (2008), Swan Song is your new movie. What was your main motivation for directing this film ?
Todd Stephens : I wanted to pay tribute to this man Mr Pat that was sort of a legendary flamboyant and courageous figure in my hometown that had a big influence on me growing up because I always felt a bit different myself and Pat was very different than anybody else in town so he was always like a role model to me and i always knew i wanted to make a film about him. It just it took me you know a number of years to figure out what it was.
Q : What should be for you a good acting direction ?
Todd Stephens : I find that i try not to direct too much you know that the best directing that i can do is casting the right person in the part to begin with i think that's 90 of directing and then you know talking hanging out getting to know each other getting to trust each other and then you know when we're actually shooting. I don't give a lot of direction just little nudges here and there you know but if you cast the right person sometimes it's best to just stay out of the way you know and let it happen.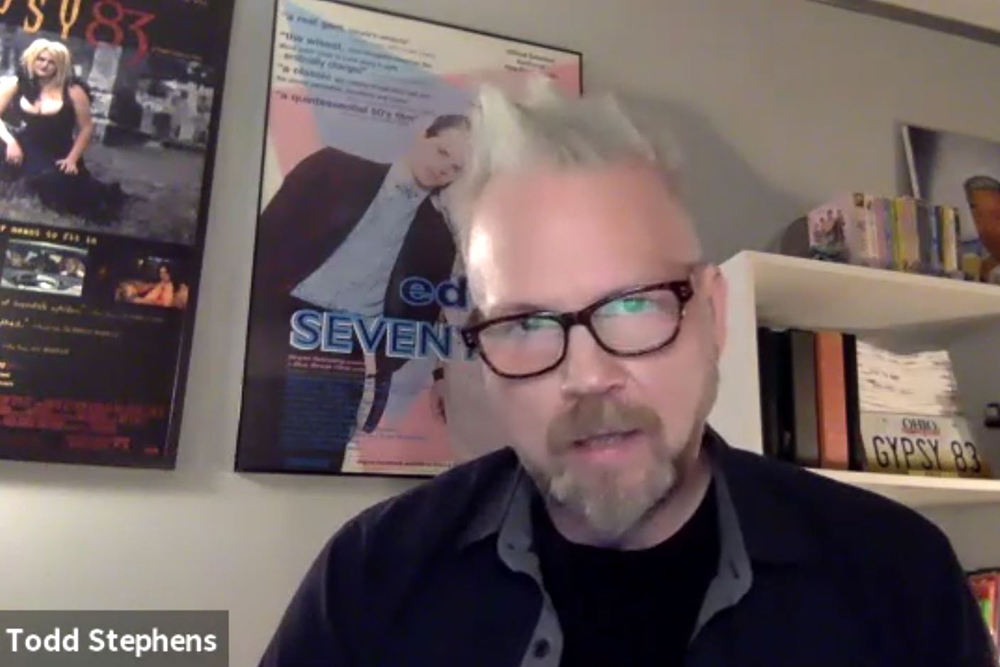 Q : As One of the pioneers of queer cinema, writer/director , Swan song completes your Ohio trilogy and can be seen as a fictionalized memoir of flamboyant hairdresser Mister Pat, in 1980s small town Sandusky. Which differences have you seen between the production of your first movie and this one ?
Todd Stephens : that's a good question they were both shot in the same town which was my town where i grew up where my parents and brothers still live and the big difference is that when we made edge of 17 there 20 years ago it also had gay subject matter that was actually the like my autobiographical coming out story and at the time we felt that we needed to keep that story the what it was actually about a secret so we created like a fake script and kept the gay subject matter in the closet almost because we were afraid that people wouldn't help us you know when you're shooting in a small town you need a lot of cooperation for locations extras all that so we kind of kept it what it was about a secret which was sad you know but the big difference is that now when i showed up there to start pre-production they're having the third annual gay pride festival so times have changed a lot and you know this time everybody welcomed us for the open arms they celebrated the subject matter of the film so it really showed me it almost kind of blew my mind you know but it really showed me how just looking at my hometown specifically how much it changed in 20 years and that that gave me a lot of hope and made me feel really good.
Q : What means for you to see your movie In the SXSW festival ?
Todd Stephens : i have always been a bit a big admirer of films that have come out at south by southwest and i've never been to the festival this is the first time that I've been a part of this one and I'm just it's a huge honor you know like the only thing I'm sad about is that we can't all be together in person and because i really am dying to see the film with an audience you know there's nothing like that you know but it'll happen at some point. I have faith.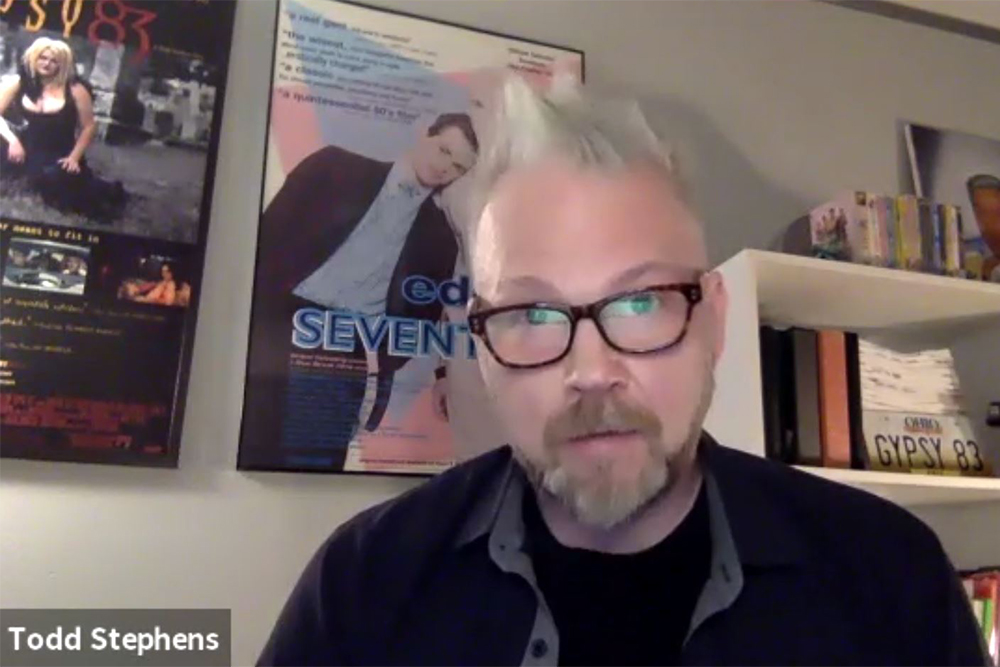 Q : What can you tell us about you the cast of Swan song and more precisely about your collaboration with Udo Kier and Jennifer Coolidge ?
Todd Stephens : it was a very hard part to cast you know. We spent over a year trying to find the perfect Mr. Pat. My casting director suggested Udo and like as soon as she said it like a light you know bulb went off in my brain and i went out to palm springs where Udo lives to meet him and we just really connected you know we really hit it off and i went back again because we did a Kickstarter crowdfunding campaign so by the time we shot the movie we were friends you know and we knew each other and that was really amazing Udo said from the beginning that he didn't want to act you know he just wanted to be you know and not overdo it, you know so that was really amazing I really felt like I was watching every day like a master class and film acting you know and I knew that I wanted his face and his eyes are so amazing that I knew that I wanted to have like a lot of close-ups in the film to really like capture the subtleties of his performance. Jennifer Coolidge was like one of my all-time favorites you know so she was my first choice to play the part and it was a dream to work with her you know I wrote the scene but half the things she says in the scene are improved you know they're tum stuff that just comes out of you never know what's going to come out of her mouth and that is the thrill of working with Jennifer is that she never ceases to surprise you and I also love that we get to see a whole other side of her in this film than what we're usually used to seeing she's still funny but there's also like a real human side and almost a sadness in her performance that i really love that I'm really proud of it.
Q : In this specific time, how is difficult actually to create a movie and found some funds to do it ?
Todd Stephens : This film luckily was shot before the pandemic happened i don't know how i would have made it you knowI don't think it would have been possible for independent films small films like this you know most of them just had to wait until this is over because it costs so much more money to shoot a film during the pandemic than it than it would normally so luckily we shot it before but the pandemic provided a great opportunity to really be able to take my time with the editing you know in the post-production so it actually was kind of like it worked out well because I think I got to edit I got a chance to edit it you know longer than i normally would have so it worked out well for this film.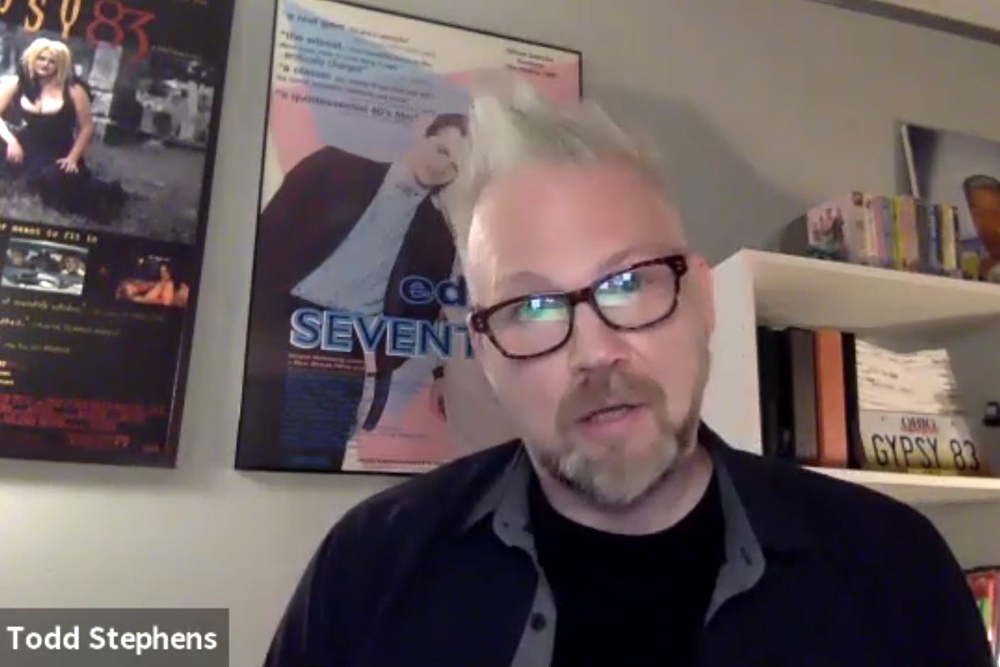 Q : Which are for you the main ingredients to create a drama comedy movie ?
Todd Stephens : i don't set out to make it's funny I never knew that like I had like a funny side but all the films that I write you know seem to have like part light moments that like just come out i don't know what it is I don't i don't think too much about it is just kind of what comes out naturally but i really do love that combination of you know watching a film or one moment you're crying one moment you're laughing and so i you know that i guess that was kind of the goal you know is to to show both of those sides of human emotion.
Q : What were the main difficulties you encountered during the making of this film ?
Todd Stephens : we had to shoot it in a very short amount of time you know being a low budget film it had to be shot in 18 days so that means that you usually only have time to do like two or three takes of every shop but so a lot of times it was very rushed you know like we had to shoot really quickly but luckily Udo sort of thrived in that environment like under that pressure and you know you don't have like 10 or 15 takes to figure something out you kind of have to like capture it and move on and you know i don't know somehow that pressure helped make it better you know that urgency created like an urgency in the film and in Udo's performance.
Q : What can you tell us about the different places where you have shoot this movie ?
Todd Stephens : well it was all really shot you know in a very small area just within the city limits of my hometown most of it was shot downtown and you know in places that i grew up you know hanging out and that there's a fountain in the town called the boy with the boot and that's kind of like the symbol of our town and that was kind of like the center of everything but i mean honestly you know being back home and shooting like a movie where you grew up is like a dream you know i there were times when i was like I'm so lucky and that we were met with such love and welcome from the town the town even gave us a grant you know as part of our budget so it was really. It was wonderful i mean all these places in the film i grew up in so that was like a dream you know.
Q : Can you say some words about your collaboration with the composer Chris Stephens on this movie ?
Todd Stephens : Absolutely, Chris is my brother. He's my younger brother and I'm about 10 years older so I used to change his diapers when he was little you know and I think I brought him to his first concert which was Eurythmics in Detroit and Annie Lennox is like you know one of my favorite singers of all time so we started like a musical conversation from the time he was like a really young little boy and he has this amazing collection of like analog synthesizers from the 70s and 80s that he used to create the score and it was really like a dream. I keep talking about dreams but like that was a dream as well to be able to like work with my little brother you know for the first time it's the first time we work together and I just think that his score he just captured he was also a part of the shoot and we shot in his house you know so and he actually created the score in the same house that we shot in so it was amazing to come full circle with finally getting a chance to work with him.
Q : Who are your favorite directors and which films are the main driving force behind your artistic creation ?
Todd Stephens : I love Richard Linklater. I love Alexander Payne. Nebraska was like a film that was a big influence on this one. Those are a couple of my favorites. I have like another side of me that does these crazy comedies and David Lynch is one of my favorites speaking of the straight story which is another influence on the film but John Waters is like a huge idol of mine.
Q : Which are your currents projects ?
Todd Stephens : I'm not sure. I literally have like this whole like list of ideas that i was just working on today and yeah i mean I'm not sure yet but I'm not sure yet we'll see but I have a like I'm very excited to start writing something again it's been a while you know so we'll see where it goes.
Synopsis :
A formerly flamboyant hairdresser takes a long walk across a small town to style a dead woman's hair.
Swan Song
Written and directed by Todd Stephens
Produced by Todd Stephens, Stephen Israel, Eric Eisenbrey
Starring Udo Kier, Jennifer Coolidge, Linda Evans, Michael Urie, Roshon Thomas, Ira Hawkins, Annie Kitral, Tom Bloom, Eric Eisenbrey, Dave Sorboro, Bryant Carroll, Catherine L. Albers, Shanessa Sweeney, Ray Perrin, Shelby Garrett
Music by Chris Stephens
Cinematography: Jackson Warner Lewis
Edited by Spencer Schilly, Santiago Figueira W.
Production companies : Swan Song Film LLC
Distributed by XYZ Films
Release date: March 21, 2021 (SXSW)
Running time: 105 minutes