By Mulder, France-Angleterre, 10 october 2020
Truth Seekers is a supernatural comedy-drama featuring a team of paranormal investigators who team up to film ghostly apparitions across the UK and share them on an online video channel. As they stake out haunted churches, underground bunkers and abandoned hospitals with their homemade ghost-detection gadgets, supernatural experiences become more frequent, more terrifying and even deadly, leading them to uncover a conspiracy that could spark the Apocalypse.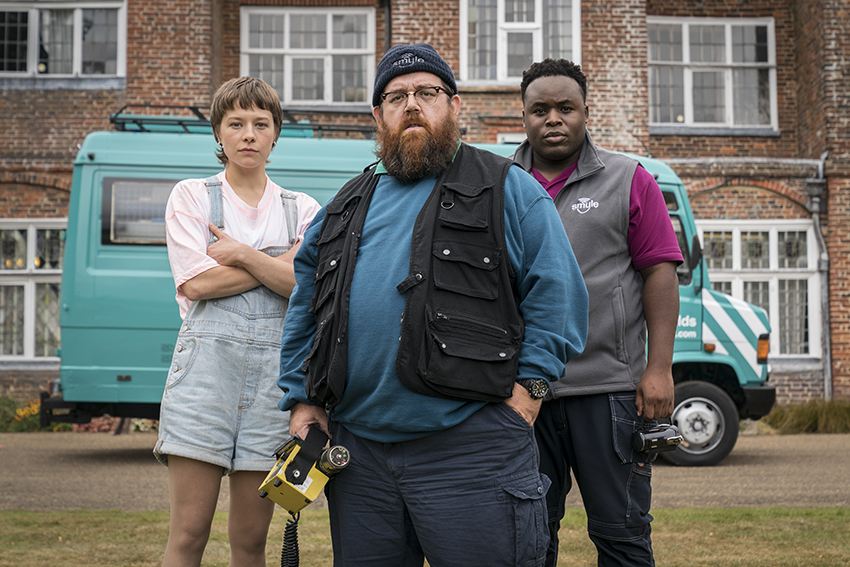 Set in a mysterious world filled with terrifying monsters, Truth Seekers mixes styles from hilarious to very scary scenes through an exciting story. The series stars Nick Frost as Gus, Simon Pegg as Dave, Samson Kayo as Elton, Malcolm McDowell as Richard, Emma D'Arcy as Astrid, and Susan Wokoma as Helen. Truth Seekers, from the same minds that revealed Shaun of the Dead, Hot Fuzz, Sick Note and Paul, is co-written by Simon Pegg, Nick Frost, Nat Saunders and James Serafinowicz, who is producing it alongside Miles Ketley and director Jim Field Smith.
During Canneseries we had the luck to interview Samson Kayo who plays an important character, Elton, in this news series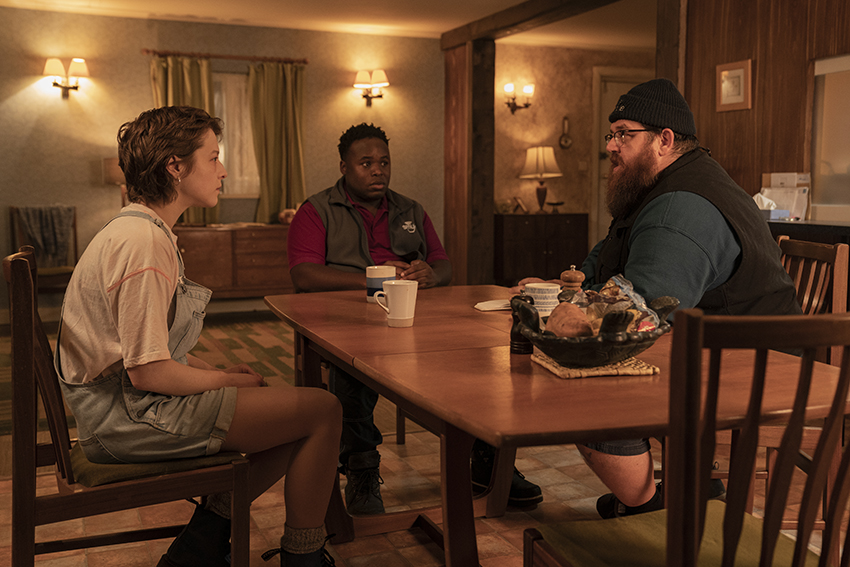 Q : Hello Samson Kayo, to begin, I would like to say bravo for this great new series that is for me a great mix between X files, Doctor Who and Ghostbusters ? In a few words how can you define the series Truth Seekers ?
Samson Kayo : i'm glad you said ghostbusters because no one has said that yet. I'm glad you like tha. Truth seekers is a mix of all three. It's essentially a show about two installation guys who go on a journey of self-discovery and supernatural discovery. I always feel like all the characters are have a mysterious past and that is what we will bring to bring to light as they go on through their journey. There's it's quite, it's full of horrors and fun that's at first.
Q : What can you tell us about your character Elton in this series ?
Samson Kayo : I play Elton who is, you know, an happy guy really down to earth that wants to just live a normal life as i said he has a really intense and traumatic back story as we'll see in the series but he really wants to just you know live a normal life have a normal job but then he encounters a man Gus who has other ideas and is into a world of secrets that Elton didn't think that he'd go, he'd have to step back into.
Q : What can you tell us about your work with Simon Pegg and Nick Frost ?
Samson Kayo : they're amazing. You know I have always loved their work and grew up watching a lot of their, you know, their stuff like you know Shaun of the dead and Hot fuzz which are like one of my favorite movies. It was really nice to be able to hang out with them on set and kind of soak up a lot a bunch of information about stories and you know and their lives and especially in the scripts like they gave me a lot of freedom to just be myself and just to enjoy the character and play the character how I felt he should be played and so did our director Jim Field Smith who was just you know so cool with giving us as much freedom to roam as possible
Q : what was difficult for you to the most difficult scene to play ?
Samson Kayo : I think .. There was an hospital scene and in the hospital when we were filming it looked really scary in real life like it looked as if there were real ghosts in there that we didn't even need to get any actors we could have just stayed there for a night um so that was difficult to see mainly because i kept laughing at one of the scenes and then and for the fact that it was it was really scary.
Q : Do you believe in some supernatural activities ?
Samson Kayo : i think there's a sense of everyone believing that. There's a sense of supernatural or spiritual elements that are around us it's just about where they are coming from through the floors in your bed under your carpets..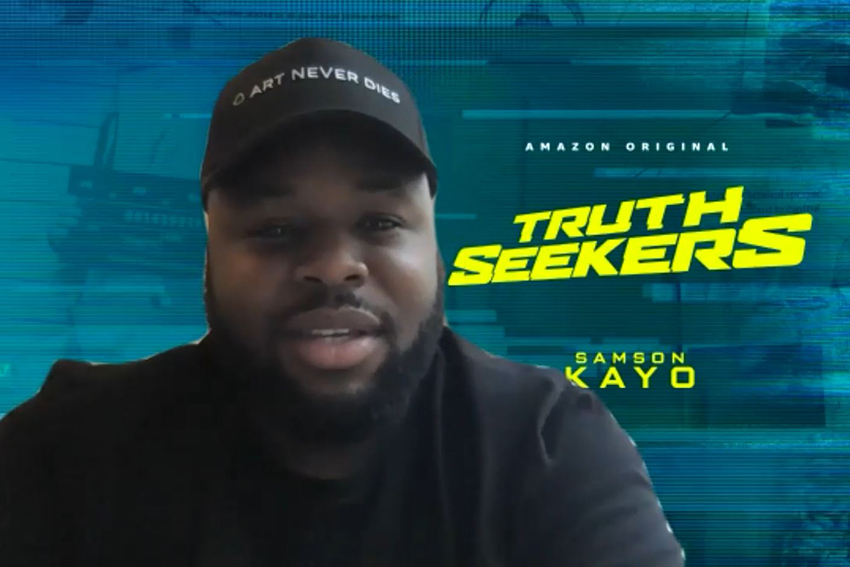 Q : What should be for you a great sci-fi series ?
Samson Kayo : a great sci-fi series. do you mean if I want to make one myself if i was to make a sci-fi series myself it would be sort of like animals right with superpowers kind of thing i don't know something like that before to play this series
Q : Have you read some books or watch some movies or series to give a good interpretation for your character ?
Samson Kayo : yes i have watched a bunch of you know ghost hunting stuff. I watched a lot of Scooby-doo and also watch a lot of you know old school kind of horror movies and stuff because Truth Seekers this is a kind of pay homage to the old school kind of ghost comedies and ghost sort of genres. So i watched a bunch of stuff from back in the day as also
Q : Do you have any directors that you dream to work with ?
Samson Kayo : I would like to work with Jordan Peele of course. If you're gonna ask, I wouldd love to work with Ava DuVernay, who else there's so many there's so many, Quentin Tarantino i love all those guys..
Q : Which are your current projects ?
Samson Kayo : so right now i'm doing obviously doing all of that stuff. i'm doing a show about paramedics called Bloods where i play an ambulance paramedic and doing that's a comedy and Julian Barrett who's also in Truth Seekers. I'm doing a movie soon but i can't really speak too much about but i'm doing like a nice movie comedy movie very soon.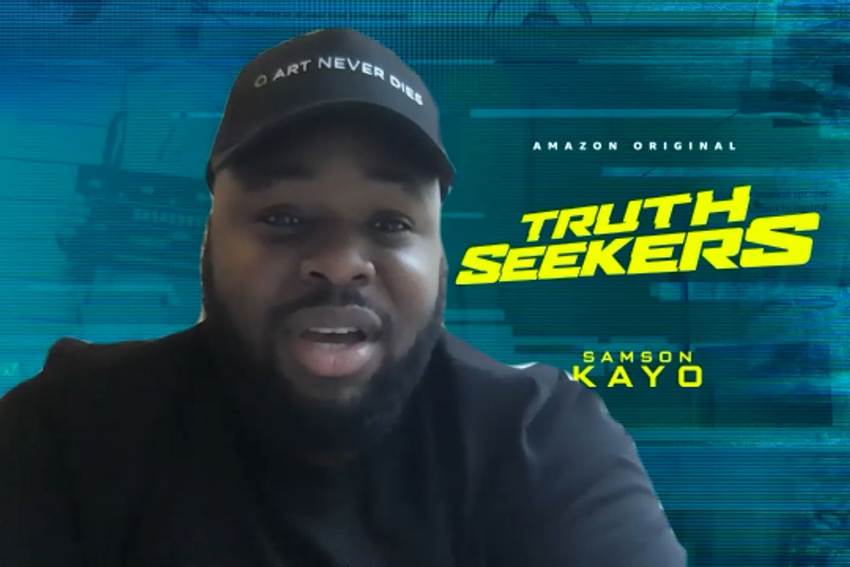 Synopsis :
Truth Seekers is a supernatural comedy drama series about a team of part-time paranormal investigators who team up to uncover and film ghost sightings across the UK, sharing their adventures on an online channel for all to see. However, as they stake out haunted churches, underground bunkers and abandoned hospitals with their array of homemade ghost-detecting gizmos, their supernatural experiences grow more frequent, more terrifying and even deadly, as they begin to uncover a conspiracy that could bring about Armageddon for the entire human race.
Truth Seekers
Directed by Jim Field Smith
Created by Nick Frost, Simon Pegg, James Serafinowicz, Nat Saunders
Starring Nick Frost, Emma D'Arcy, Samson Kayo, Malcolm McDowell, Simon Pegg, Susie Wokoma, Julian Barratt
Music by Robin Foster
Executive producers: Nick Frost, Simon Pegg, Nat Saunders, James Serafinowicz, Miles Ketley, Jim Field Smith
Cinematography: Arthur Mulhern
Editors : Steve Ackroyd, David Webb
Production companies : Sony Pictures Television, Stolen Picture
Original network: Prime Video
Release Date : October 30, 2020 (World)