By Mulder, Canada, Quebec, 27 august 2020
25 years after Tromeo and Juliet, William Shakespeare's The Tempest becomes: #ShakespearesShitstorm a supreme satire with Kaufman sauce of this best of worlds, intolerant of different opinions, allergic to micro-aggressions and complaining excessively. Here comes back our dear uncle Lloyd and his gang of Tromanarchists, who give a well-deserved finger of honour to the ambient hyper-hypocrisy, and who laughs in the face of the United States of Decency. A hurricane of madness, a filmic Tourette's Syndrome, celebrating Troma's 45 years of irreverent cinema, to the joy of film buffs around the world.
During the Fantasia international festival, we had the chance to speak at length with Lloyd Kaufman.
Q : We are with the legendary director, producer, actor Lloyd Kaufman? Your company, Troma Entertainment, is the oldest independent film company. You created it with Michael Herz. You directed The Toxic Avenger and Tromeo and Juliet. From your first film The Coming Back Girl. For #ShakespearesShitstorm , how do you see your filmography as a director ?
Lloyd Kaufman : I am very proud. The only film I'm ashamed of is Big Gus, What's the Fuss? (1973). It's a film we shot in Israel and I lost the freedom to direct. It was a nightmare but all the other films are like Toxic Avenger, thirty-five years old, no commercials, no PR problems, nothing and there are cinemas that still show it. It's the same with Citizen Toxie: The Toxic Avenger IV (2000) in drive-ins. In the past, some people were afraid to show a Trauma movie because some people might be afraid. More and more drive-ins are showing our films. Our films are festive.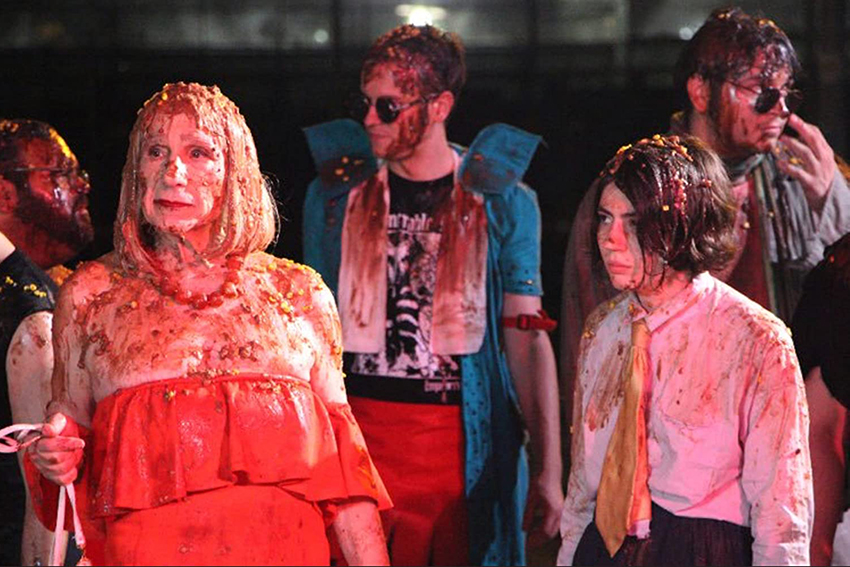 Q: What was your main inspiration to become a director ?

Lloyd Kaufman: That's a very good question. The inspiration comes from watching auteur films and also from film libraries, film books. When I was at Yales University, my roommate was the head of the film department at the university. My intention was not to work in film, I wanted to be a teacher or a social worker or something like that. Gradually I watched the films my friend had chosen for Yale University. I was inspired. I saw as many films as I could. I was watching what was playing in the theaters in New York and there were a lot of retrospectives and there was also a movie theater on 42nd Street that had two movies a day and it was showing movies by John Ford, Howard Hawks, Samuel Fuller. Every Sunday the New York Times listed all the movies that were going to be released in the theater and I checked the list and so I could see for example the movie Play Dirty by André De Toth, you could also see Tay Garnett's movies in the theater like One Way Passage (1932). It's now impossible to see Tay Garnett's films on the big screen. He was a good director. You could see films in the 60s in 35 mm like Cheyenne Autumn, John Ford's Seven Women, Howard Hawks' films. There were a lot of good films that were shown on 42nd Street in New York. Because of the notebooks of the cinema, the films of Claude Chabrol, Jean Luc Godard, François Truffaut and the authors who thought that the film should be felt by your heart, your brain and your soul and that the engine of creation should not necessarily be money. The art of directing is important. Creating a film is a team effort and we always say that it is the Trauma team that creates films. I have never signed one of my films as a Lloyd Kaufman film. It's the Trauma Team. I'm the dictator but a volunteer dictator.
Q: Can you tell us about the production of #ShakespearesShitstorm ?
Lloyd Kaufman: It takes two to three years to put together a film, Tromeo and Juliet five years. #ShakespearesShitstorm took two years to write and edit this film and one year to prepare and five weeks to shoot. It really is a fifty million dollar film shot for less than five hundred thousand dollars. It was a very hard film to make. If we're talking about the writers and directors, I'm a big fan of Alfred Hitchcock's films. When the shooting of this film was finished, I fell ill for three days and I went back to the film Vertigo. It's so difficult to make a film. This film is really made for our fans. Some of the people who participated in this film came voluntarily from France, Canada (Montreal, Toronto), California. The cinematographer came from California. The first camera person came from Denmark (Copenhagen). The production designer came from Japan. They are all fans of Troma films. They wanted to make a film they will be proud of. This is better than receiving an Academy Award because you can buy it. Harvey Weinstein bought it with a lot of commercials. Now the Academy Awards has lost its splendor. In one of my first jobs, I worked on the set of director John G Avildsen's film Joe (1970). It was the first film by Peter Boyle and Susan Sarandon. It only cost 125 thousand dollars. He was an unknown director. The actors were not known. They had a nomination for best screenplay by the Academy Awards. It's impossible to see that today.
Q: Can we talk about a recipe for Troma in the conception of your films ?
Lloyd Kaufman: For me, the only thing that's in my head is to shoot something I believe in. Our films are social satires, they are about women's rights. The film Class of Nuke 'Em High, for example, deals with the dangers of nuclear power, especially a power plant that was going to be built near New York City. The film Poultrygeist: Night of the Chicken Dead (2006) deals with McDonalds. I love musicals.

Q: What were the main difficulties encountered in making this film? What are your plans for the distribution of this film ?

Lloyd Kaufman : It's getting harder and harder to distribute films. In the United States all the laws and rules against monopolies have disappeared. Not because of Donald Trump but because of Bill Clinton and Ronald Reagan. Now because of Donald Trump they want to destroy the neutrality of the internet, the democratic internet. Some film studios are owned by telecommunications companies. In the past, the law allowed to put everything on the internet. Now only big companies are helped. If we can't pay to exist on the internet, they will block us. The big companies will be able to continue to exist and develop, but we won't be able to. It's not nice. On the other hand, the good thing is that I am now producing a film that is currently being edited in England. The film cost less than fifty thousand dollars. Mercedes The Muse is shooting Divide & Conquer a film also in California but she had to stop because of the coronavirus. There are a lot of movies and fortunately Troma has fans but it's getting harder and harder to please our fans. For example, youtube removed our channel which contained three hundred free movies and eight hundred thousand fans. They said that it did not fulfill the obligations of youtube channels. However, I am honored in all countries, even in Africa, in Egypt. I've had a hundred awards in Italy, England, France, Japan, China, Russia. The Museum of Modern Art in New York proposed a retrospective for two seasons with Tromeo and Juliette. The whole audience was old people. The museum is very proud of Troma. It is becoming more and more difficult to talk with our fans. We are like in Russia where the government takes your passports so you don't exist. I was in Cannes two years ago and I was told "Lloyd Kaufman, you're still alive" . they were amazed that Troma still exists. Thanks to the fans, we keep shooting. It's very difficult to make money even though our films are better than most independent films. We are artists. Van Gogh cut his ear and killed himself.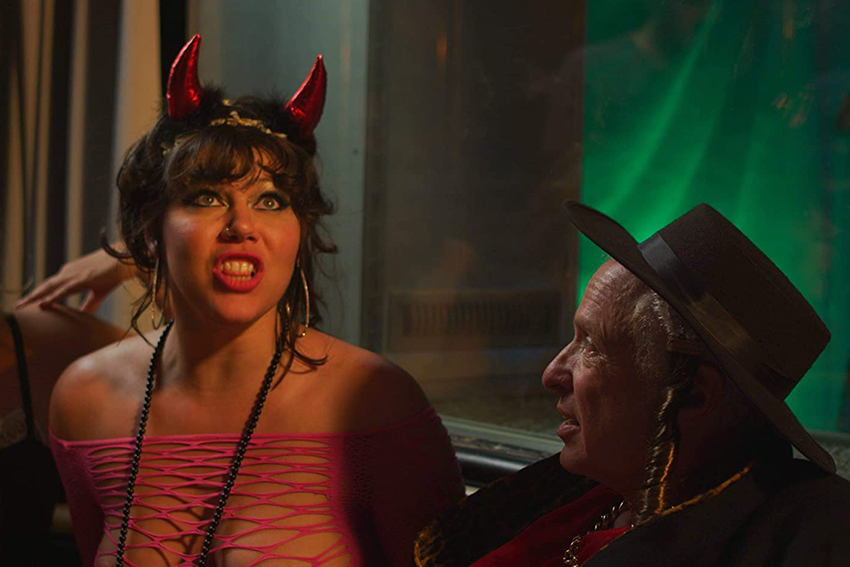 Q: Kate McGarrigle is so amazing, funny, nice in this movie. Every scene with her is perfect. How did you meet her and how did your collaboration with her go ?
Lloyd Kaufman : She's great. She's incredible. We take a lot of time to find our actors. We don't pay a lot of money. The two main lovers in the film have had some nudity even though everyone wants to be naked on the big screen. She came a dozen times to audition and she was a lot of fun. She's very good as an actress. Her voice is great when she sings. It was absolutely amazing. What's interesting is that we lost our actor, who was supposed to be her lover in the film, a week before shooting. Kate told us that her boyfriend is funny and that maybe he could replace him. He came. He was great and very funny. We were lucky to have him.

Q : When we see your film, we actually think about Troma's films but also about films like Peter Jackson's BrainDead, Frank Henenlotter's Basket Case. We also think of Mel Brooks' comedies that you mention in the film. How is this mix of comedy and horror ? What can you tell us about your collaboration with Gabriel Friedman ?
Lloyd Kaufman : I'm writing the story. Gabriel Friedman who wrote Poultrygeist: Night of the Chicken Dead (2016) and who also edited our films for ten years. He organizes the story with me. He thought of the whales shitting for this film because his father had shown him a book. The country of Albania also lent us a boat that was in their army.
Q : Your film is a horrible comedy that does not shy away from any excess, it is deflowered, irreverent and at the same time it seems to be a way of looking at your past ?
Lloyd Kaufman : We do a lot of rehearsals. In our building in New York City in Queens, the whole film has been shot and we're videotaping with the handycam. Afterwards we visit the sets and rehearse again with small cameras. We see which objects are to be created especially for the film and how we are going to use them. All our actors and actresses are very young. Most of them have never worked on a set. Rehearsals give young actors the opportunity to get used to shooting in front of a camera. During the shooting, it is always possible to rewrite the script. If I have new ideas, I have an assistant to help me change the script but also during pre-production anyone can bring ideas. Kate McGarrigle and Erin Patrick Miller, the two lovers of the film, improvised a lot. Kate and Erin Patrick are also lovers in life and were a bit worried in front of the camera. Zac Amico who played in Return to Return to Nuke 'Em High Aka 1 & 2 was also an actor and second assistant director in both films is also an actor. He was also the second director in this film. When he wasn't in front of the camera, he stayed with me and we talked together while we were shooting. He gave me a lot of improvisation even after a year of preparation and months of rehearsals. We could have all the discussions and lose time during the rehearsals. There's not a lot of money spent during rehearsals but when you're shooting it's very expensive. Everyone is on the same wavelength. It gives us enough confidence to improvise and we do it a lot.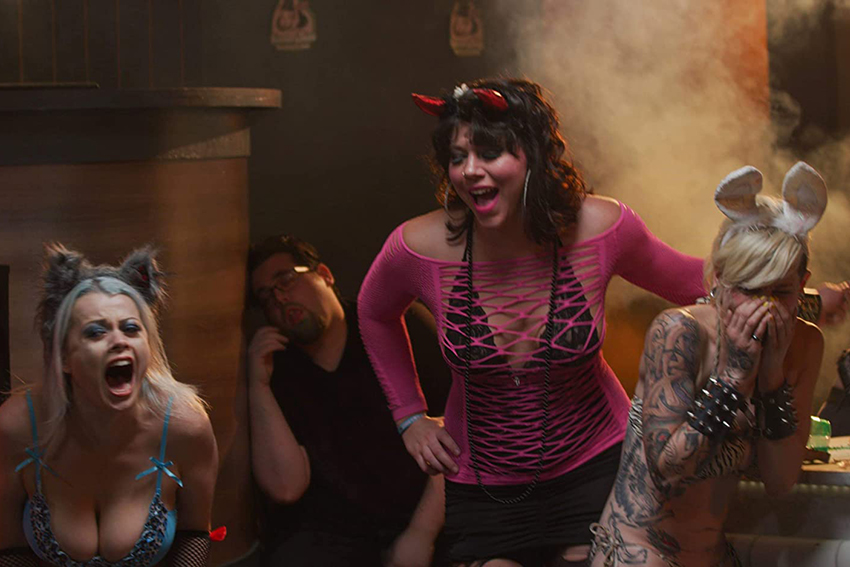 Synopsis:
Mad scientist Prospero (Lloyd Kaufman) and his blind daughter Miranda (Kate McGarrigle) find refuge in Tromaville, to escape from a group of evil pharmaceutical executives, including his sister Antoinette (Lloyd Kaufman... in drag!), who ruined his career when he found a cure for opioid addiction. With the help of a crack-addicted disabled prostitute (Amanda Flowers), he takes his revenge and gives a huge amount of laxative to whales while his enemies are on a cruise ship bound for North Korea. A gigantic, and literal, shit storm hits the ship and they all end up stranded in Tromaville. Prospero can finally set his ultimate revenge in motion.
Shakespeare's Shitstorm
Directed by Lloyd Kaufman
Produced by Justin Brennan, Patricia Kaufman, Justin Martell
Written by Brandon Bassham
Based on The Tempest by William Shakespeare
Starring Zac Amico, Frazer Brown, Vada Callisto, Catherine Corcoran, Elizabeth D'Ambrosio, Monique Dupree, Amanda Flowers, Ahkai Franklin, Zoë Geltman, Dai Green, Dylan Mars Greenberg, Teresa Hui, Lloyd Kaufman, Kate McGarrigle, Erin Miller, Julie Ann Prescot, Debbie Rochon, Abraham Sparrow, Nadia White
Music by Filipe Melo
Cinematography : Lucas Pitassi
Edited by : Sebastian Martinez
Production company : Troma Entertainment INC
Distrbuted by Troma Entertainment INC
Release date : Augsut 20 2020 (Canada)
Running time : 94mns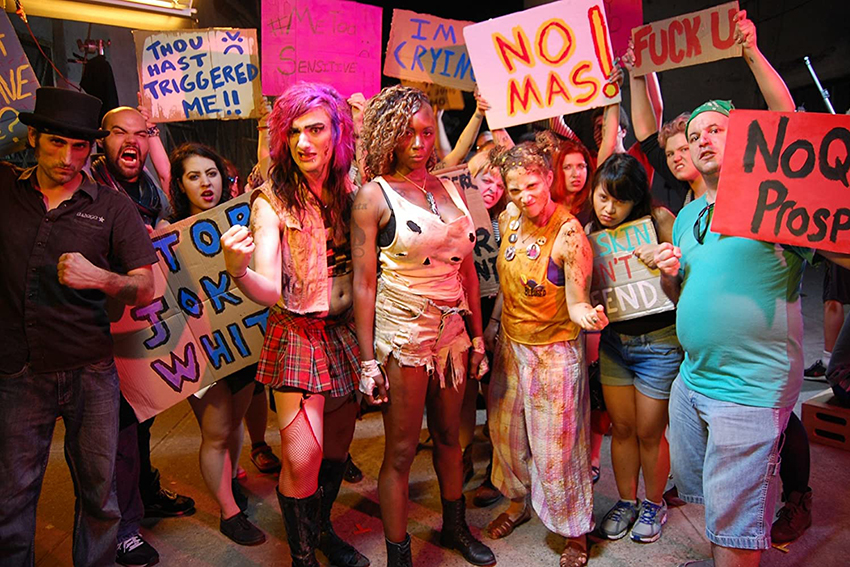 Photos : Copyright Troma