By Mulder, Canada, Quebec, 28 august 2020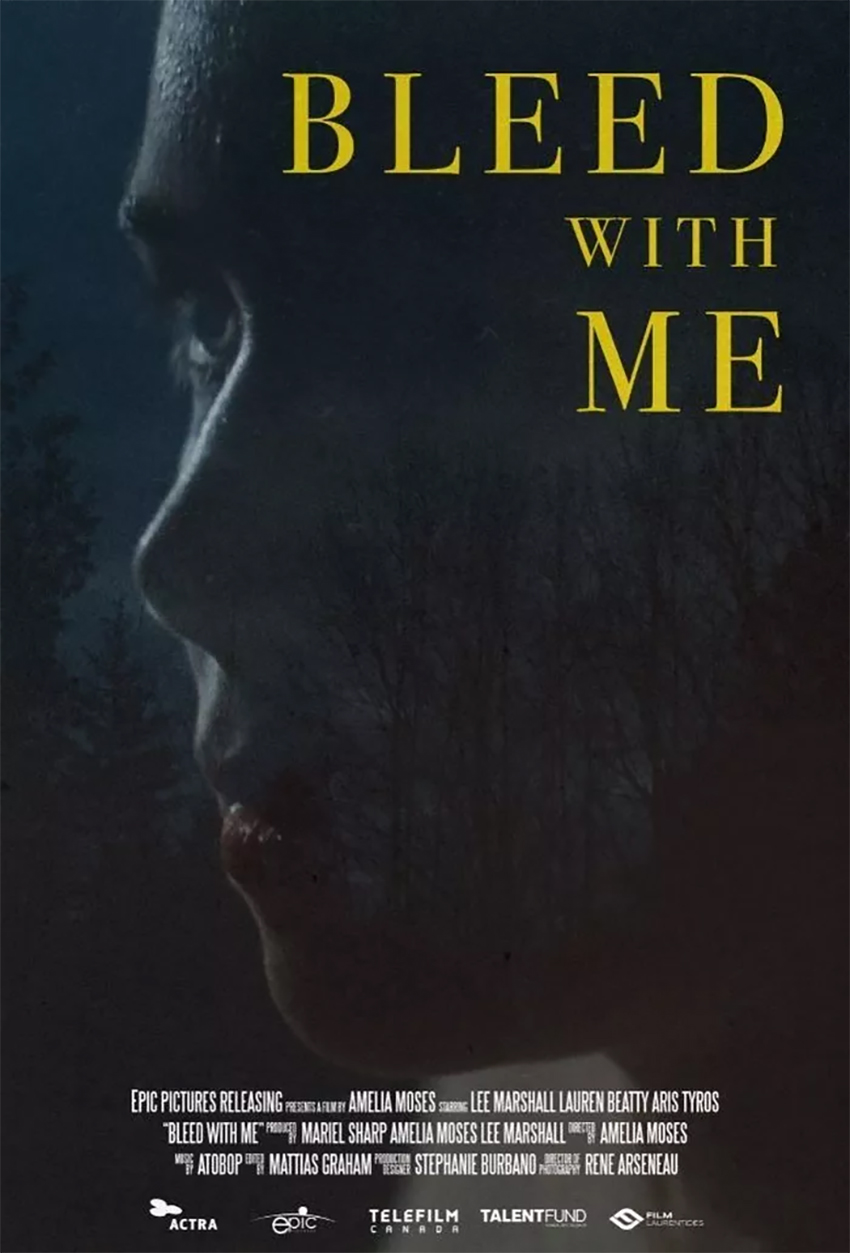 With her first feature film Bleed with me, director Amelia Moses takes us into an intimate stay at the cottage where boundaries will be crossed and relationships will deteriorate. Bleed with me is a thriller with striking imagery that manages to paint the state of vulnerability and discomfort that can be experienced when exploring the issues of self-harm and social isolation. In its winter setting, Bleed with me made the most of its small budget Since her illustrious and bloody short film Undress me, which was presented at Fantasia as part of the Born of Woman program, Amelia Moses has explored the boundaries of individuality, sexuality and violence. As her characters become progressively more uncomfortable and inhibited by their bodies, a sense of physical and spiritual reclusion and annihilation grips them. Rooted in Lee Marshall's introspective performance, the film plunges us into the heart of Rowan's world and the uneasiness of feeling out of place. As paranoia sets in, the boundary between reality and fiction begins to blur little by little. Is Rowan in the midst of a psychotic break or, on the contrary, should she be wary of her best friend?
Q : Hello Amelia, please can you introduce yourself and tell us a little bit about your background?
Amelia Moses : I am a Canadian filmmaker based in Montreal, originally from Vancouver. I did the film production program at Concordia University. I explore female anxieties through a horror lens. And Bleed With Me is my first feature!
Q : After the short film Undress me, Bleed with me is your first feature film . Please can you tell us the origins of this movie ?
Amelia Moses : A big part of coming up with the premise was knowing that I would probably have very little money to do it so I had to have an idea that would be simple to execute. I knew I wanted to explore the dynamic between a single person and a couple in an isolated location as well as tell a story from a single perspective. The film is very much about how we can project narratives, both positive and negative, onto the people around us so I knew I wanted to deal with an unreliable narrator. Deciding what the core conflict would be changed around a bit but I eventually landed on the blood-letting/stealing because it felt like a different take of the vampire trope as well as quite an intimate yet distributing act that felt relevant to the themes.
Q : Your first film gives an important place to the sound aspect whether it is the sounds or the music, can you tell us about your collaboration with Dominic Caterina (composer) and Zachary Scholes (sound mix) ?
Amelia Moses : We all worked very closely together to make sure the sound design and score felt like one cohesive piece. The style of the score is quite minimal and textural so I liked the idea of it kind of melding together with the soundscape. In terms of sound design, I also wanted to keep that quite minimal and sparse. What's interesting about a snowy location is the lack of sound, things become muffled, so we worked together to find that balance of a rich soundscape but also space for quieter moments.
Q : Can you tell us about your filming? Where did you shoot, how did you find this cabin ? At what time of the year did you shoot this film and on how many days ?
Amelia Moses : We shot at a remote cabin in Harrington in the Laurentides, about two hours north of Montreal. It took us quite a long time to find the perfect cabin because it had to be really special. The whole film takes place there so it needed to be impactful. On top of that we needed a location that had a lot of furniture and decor because we didn't have the budget to bring much in. We really lucked out to find the location we did. It was quite isolated and on top of a small hill so logistically it was a bit of a nightmare but it was worth it! We shot over 17 days in January/February 2019. Since it was late in the winter the snow had built up a lot. We really had to fight against the elements - snow storms, power outages and a frozen well (meaning there was no running water at the cabin!)
Q : what should good acting direction be for you? What can you tell us about Lee Marshall, Lauren Beatty and Aris Tyros ?
Amelia Moses : I really enjoy collaborating with actors and taking their input on the characters. As a director I'm thinking of so many different things but the actors are just focusing on the character so I like to give them space to make some of their own decisions. We did a lot of rehearsals and spent time just talking about the characters and the dynamic between them. There were some pretty specific subtle dynamics I wanted to express so it was important to establish that early on with the actors. Since the film is all told from Rowan's perspective, I knew I had to also remain in that perspective as the director. At one point Lauren Beatty asked me whether Emily truly was harming Rowan and I told her that she should decide for herself and not let me know. I wanted Emily to feel like an enigma to me as much as she did to Rowan.
Q : What do you think are the ingredients for a good thriller ?
Amelia Moses : That's a good question - I definitely see Bleed With Me more as a horror film but I can see how it can feel like a thriller as well. I think tone and atmosphere are super important. Establishing a mood that makes the audience on edge and uneasy; make them not sure who to trust.
Q : What were the main difficulties encountered during the making of this film ?
Amelia Moses : The logistics of the locations were pretty tough. The cabin was pretty isolated with limited service, no running water and little heating. Because we shot in January/February, the snow has really built up and because the cabin was on a hill, we had to load up all the gear with a sled and winch. On our first day, we lost power and on our second to last day, which was a night shoot, we had to stop shooting halfway through the night because there was a major snowstorm and the roads were becoming dangerous. I had never seen so much snow in my life!
Q : What was the most difficult scene for you to shoot and why ?
Amelia Moses : I don't want to give away any spoilers but most of the night exterior scenes were quite challenging. A few of the scenes in and around the car we shot when it was about -30C and that was very difficult. The final scene of the film was shot as the sun was rising so we had to get it quickly!
Q : Your film is presented as a World Premiere at the Fantasia festival. how does it feel to see your first film selected in such an important international festival ?
Amelia Moses : It feels amazing! I've been big fan of Fantasia for a while and since having my short film Undress Me there in 2017, its been a huge goal to play there again. It's unfortunate that the world is in the state it is because I would have loved to see the film on a big screen with an audience but I think the festival organizers have done a great job in making the festival fun and accessible.
Q : What were your main sources of inspiration for Bleed with me ?
Amelia Moses : Early on in the writing process the mumblecore film 'Baghead' (the Duplass brothers) was a big inspiration. I liked how the film just took the time to "hangout" with its characters and explore those interpersonal dynamics. Stylistically the film ended up being quite different but a big part of why Bleed With Me is primarily shot handheld is because of that film. Ever since I saw Karyn Kusama's 'The Invitation' at Fantasia in 2016, that film has been a huge inspiration for me. The sense of unease the film creates without being too overt is really intriguing. Structurally and visually it was a big inspiration. Finally, Lars Von Trier's 'Anti-Christ' was also a touchstone, both visually and tonally. That film is a cabin-in-the-woods film but doesn't deal with an external threat, it's very internal.
Q : Who are your favourite directors and which films are the main driving force behind your artistic creation ?
Amelia Moses : In terms of directors who have directly inspired my style, I would say David Lynch and David Cronenberg. More recent directors would be Karyn Kusama, Aris Aster and Jordan Peel. Some films that influenced the film were Baghead (The Duplass Brothers), The Invitation (Karyn Kusama), Anti-Christ (Lars von Trier) and Repulsion (Roman Polanski).
Q : Do you have any French actors you'd like to work with ?
Amelia Moses : I thought Garance Marillier was amazing in 'Raw'!
Q : Do you have a few words around your film that you would like to say to your audience as a preamble ?
Amelia Moses : Bleed With Me is an unsettling, intimate psychological horror which looks at the twisted side of female friendships.
Q : Which are your currents projects ? What can you tell us about Bloodthirsty ?
Amelia Moses : We are currently in post-production on Bloodthirsty - a werewolf thriller about a young indie singer writing her second album. The film also stars Lauren Beatty and is written by Wendy Hill-Tout & Canadian singer Lowell. We shot in January/February of this year in Edmonton and finished just a few weeks before all the productions were shut down.
Synopsis :
On a getaway with her best friend Emily (Lauren Beatty) and her hostile boyfriend Brendan (Aris Tyros), Rowan (Lee Marshall), a reserved and awkward young woman, feels she is too much. To calm her nerves, she drinks and pushes her body and mind into a deep trance, where she begins to have terrible night visions that make her feel more like an intruder, insecure and unstable.
Bleed With Me
Written and Directed by Amelia Moses
Produced by Mariel Sharp, Amelia Moses, Lee Marshall
Starring Lauren Beatty, Lee Marshall, Aris Tyros
Score by Dominic Caterina
Cinematography : Rene Arseneau
Edited by : Mattias Graham
Release date : August 20 2020 (USA) - this is incorrect. The world premiere date is August 26th 2020 and the US release in TBA.
Running time : 79mns
We would like to thank Amelia Moses for this interview.